England's Tommy Fleetwood and American Tom Hoge finished Thursday with an early share of the Players Championship lead after a weather-disrupted opening day.
The first round of one of the PGA Tour's marquee events was initially delayed by over an hour due to over an inch of rain falling overnight at TPC Sawgrass, Florida.
And then later in the day, play was delayed by four hours and 14 minutes after thunderstorms rolled into the area.
The delays and an early finish because of darkness meant that more than half of the field were unable to finish their opening rounds.
Fleetwood, who has gone two years since his last victory, was one of those who was able to finish, shooting a six-under-par 66 to lead with Hoge.
The 31-year-old returned from the delay with three straight birdies to really kickstart his round, saying that he was "quite happy when the delay came" as it allowed him to practice certain putts.
"I'm chuffed to be in on that score," Fleetwood said. "I felt like I drove the ball well aside from a couple, and I felt like I chipped and putted great. For sure, that was the most I could have got out of the round. So days like that are very, very pleasing."
Six players from the early side of the draw did not finish, meaning they will return early on Friday morning to play just one or two holes before getting the rest of the day off while 12 players never even hit a tee shot.
England's Ian Poulter was one of those who did finish, but he had to inject some speed to complete his 18 holes.
With the horn looming to halt play for darkness, the 46-year-old sped through the final two holes in attempt to avoid an early start.
By ruling, a group can finish any hole that they have started before the horn sounded.
Poulter subsequently sprinted round the lake on the famous par-three 17th hole to cheers from the crowd, claiming a rapid birdie before running to the 18th tee box.
Having alerted the group in front of him – who moved to the side of the fairway – he smashed his drive on the final hole way to the right, salvaging a par and finishing with a one-over 73.
It's not the first time Poulter has done this at TPC Sawgrass, as the Englishman sprinted round the 17th in 2011.
Visit CNN.com/sport for more news, features, and videos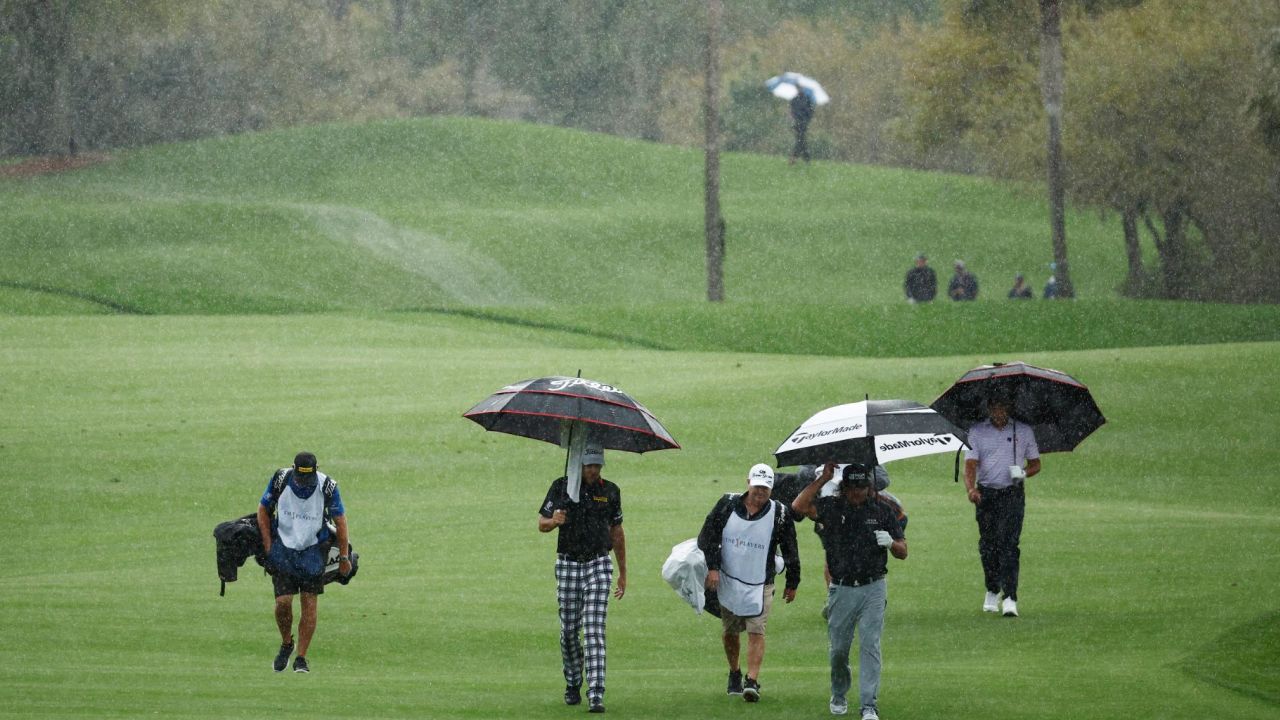 His playing partner Pat Perez appreciated Poulter's hustle. And with more poor weather scheduled for Friday, he isn't predicting taking to the course.
"I'm very excited, I don't think we're going to play tomorrow," Perez said. "It's nice, it's nice. Now I don't have to do s**t tomorrow. It's perfect."
Perez added: "Poulter just said I'm running. He's done it before. God bless him … I told him, I would have had a heart attack running around the water."