Andriy Yarmolenko sank to his knees and buried his face in his hands, overcome with emotion after scoring the opening goal in West Ham's 2-1 Premier League win over Aston Villa.
The Ukraine forward hadn't featured for the Hammers for more than a month and told Sky Sports after the game that it was "impossible" to even train with the team in the days after Russia began its invasion of his home country.
"I was just thinking about my family and my people," Yarmolenko told Sky. "I just tried to give everything on the pitch."
Pablo Fornals went on to secure the three points with a goal inside the final 10 minutes, before Aston Villa's Jacob Ramsey fired in a consolation goal in stoppage time.
Yarmolenko's opener was one of sheer quality, controlling a drilled pass with his right foot, before spinning on the spot and finding the bottom corner with his left.
The 32-year-old, who was greeted with applause from both sets of supporters when he came on as a substitute in the second half, thanked West Ham fans for their support over the past few weeks.
READ: Death and destruction in Ukraine overshadows Roman Abramovich's legacy at Chelsea
A number of Ukraine flags were visible in the stands during the game, while West Ham memorabilia in Ukrainian colors was being sold outside the stadium before the match.
"It was so emotional for me because of the situation in my country," Yarmolenko told Sky. "It's so difficult for me right now in this moment thinking about football because, every day, the Russian army is killing Ukrainian people.
"I just want to say thank you to my teammates, who support me all the time, every day. To West Ham fans, they also support me and Ukrainian people, and also to all British people because we feel you support us. Thank you, really.
READ: The world of sport has shunned Vladimir Putin. So what?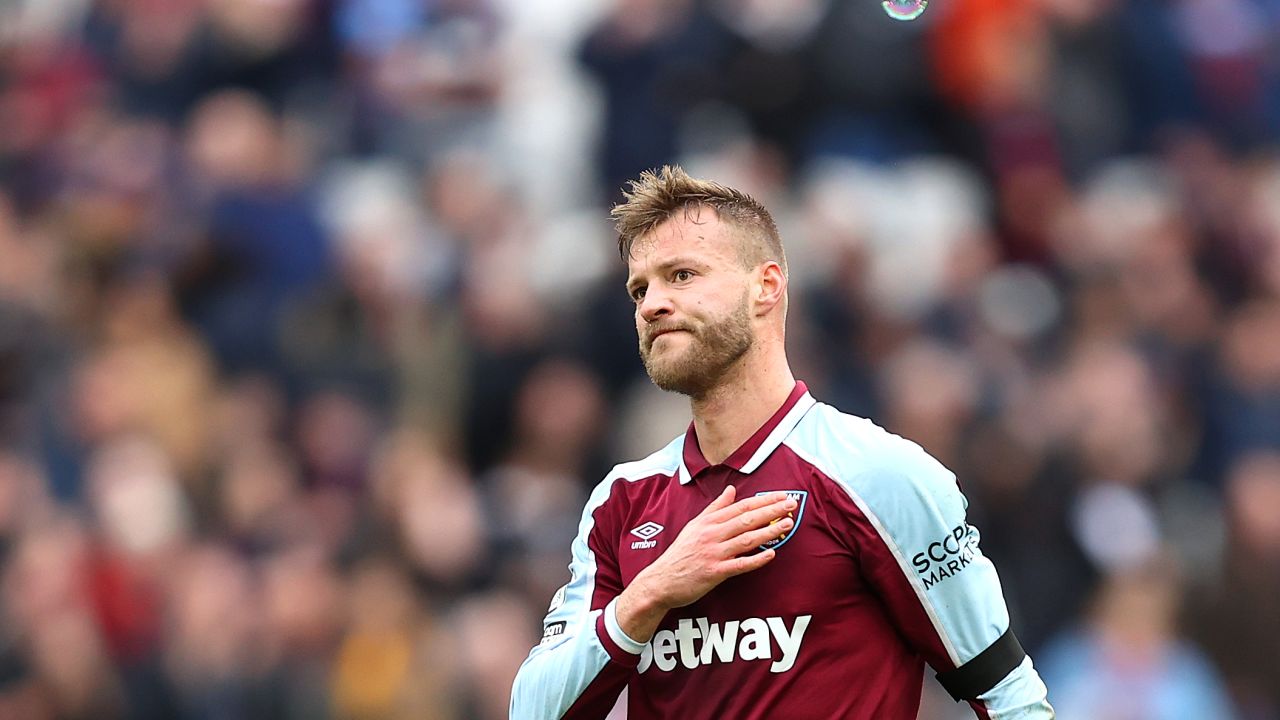 "I felt the support from the fans and I tried to give everything on the pitch because I know how important the game was for us today. I'm not ready 100% because the last two weeks I trained maybe three or four times."
Though Yarmolenko's goal was perhaps bigger than just a result on the pitch, it was one that set West Ham on its way to a much-needed win.
Sunday's victory ended a run of three consecutive defeats and keeps the Hammers in the hunt for a place in next season's Champions League.
On Thursday, David Moyes' side faces arguably its biggest game of the season so far as it welcomes Sevilla FC to London for the second leg of their Europa League round of 16 tie.
West Ham will need to overturn a 1-0 deficit from the first leg if it is to reach its first European quarterfinal since the 1999 Intertoto Cup.