They were woken in the early hours by the sound of bombs landing within earshot of their apartment in Kyiv. Like many others, they fled Ukraine, setting off on a perilous journey to safety.
Paulo Fonseca, the former Shakhtar Donetsk and AS Roma football manager, and his Ukrainian wife Katerina, first attempted to flee the country by car, along with their toddler and Katerina's parents.
After encountering gridlocked traffic, they were forced to spend another night in the capital inside a hotel bunker, before enduring a 30-hour car journey through Moldova to Romania.
"It was really very difficult, but I think it's much more difficult for the Ukrainians which continue there in Ukraine where the situation is becoming worse and worse every single day," Katerina told CNN Sport's Amanda Davies.
"This war is, I believe, one of the cruelest in the story of all of the world, because the soldiers that are killing us, they are talking the same language and it's unbelievable."
"We left everything in Ukraine," Katerina added, including friends and relatives who have remained in the country, "All the places that mean so much for us are still there, so my heart is there and my heart is broken for everything."
READ: Basketball star is the latest American to be detained in Russia
More than 3 million Ukrainians have fled in a refugee exodus following Russia's invasion of the country, according to the United Nations. To put that into context, it took six months for one million refugees to leave Syria in 2013, nearly two years after that country's civil war began.
Many cities in Ukraine have been devastated, Katerina said, adding that it was important to stop the war and prevent it from spreading to other European countries.
The Fonseca family arrived in Paulo's home country of Portugal on February 28 and are now working with the Portuguese Football Federation as ambassadors of an initiative with Portuguese national football clubs which aims to help Ukrainian refugees find homes and jobs.
After his playing career, mainly with Lisbon club Estrela da Amadora, the 49-year old Fonseca first became a manager in Portugal in 2005. He then went on to earn the distinction of best coach in the Ukrainian Premier League in 2016-17 as Shakhtar Donetsk coach, where he won seven trophies in three seasons.
"I'm very proud to be part of this world, to be part of football, what the people in football are doing, it's amazing. But I think we can do more," Fonseca told CNN Sport.
"I would like to see the great personalities of football defending the peace in Europe. I think it can be very important," he said.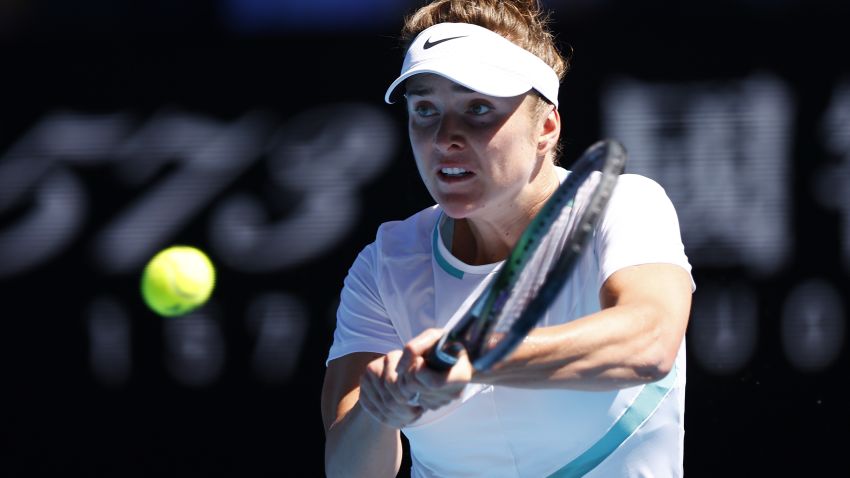 Ukrainian tennis star Elina Svitolina speaks out against Russian invasion
During the 2017-18 UEFA Champions League season, Fonseca's Shakhtar Donetsk dealt Pep Guardiola's Manchester City their first defeat in 29 games to progress to the knockout stages.
Memorably, he made headlines after that famous victory when he appeared in the post-match press conference dressed as his childhood hero, Zorro.
A move to Italy followed and after an almost two-year run with AS Roma, the Portuguese was last year linked with the top jobs at English Premier League clubs Tottenham and Newcastle United.
Since ending his time at Roma in May 2021, the manager had engaged in various speaking events in Ukraine.
He returned to Ukraine early from a holiday to help his wife and family escape.
In an Instagram post announcing the Fonsecas' new roles as ambassadors for the Ukrainian refugee initiative, the former Roma manager added that the Portuguese Football Federation had "demonstrated that football can and should be used as a tool for social change."
He appealed to all clubs to join in solidarity with the initiative.
Katerina expressed her gratitude for the Portuguese Football Federation, saying: "They are receiving with open arms our little young players. It is a really big support for the kids, which lost all the happiness in their everyday lives."