Editor's Note: Sign up to get this weekly column as a newsletter. We're looking back at the strongest, smartest opinion takes of the week from CNN and other outlets.
Weeks after the Berlin Wall fell in 1989, Leonard Bernstein led a performance of Beethoven's Ninth Symphony near the center of the no-longer divided city.
The American composer and conductor tweaked the German text of "Ode to Joy" in the final movement, replacing the original word "freude," or joy, with "freiheit," which means freedom.
"Freedom, bright spark of divinity," the chorus sang. "Thy magic power reunites all that custom has divided. All men become brothers, under the sway of thy gentle wings."
When Ukraine President Volodymyr Zelensky addressed the US Congress from Kyiv Wednesday, wearing a green t-shirt and sitting next to the blue-and-yellow flag of his country, the speech was also an ode to freedom – and a plea for help to preserve it.
"Right now the destiny of our country is being decided," Zelensky said. "The destiny of our people, whether Ukrainians will be free, whether they will be able to preserve their democracy. Russia has attacked not just us, not just our land, not just our cities; it went on a brutal offensive against our values, basic human values. It threw tanks and planes against our freedom, against our right to live freely in our own country choosing our own future."
As Frida Ghitis wrote, "When America's top Democrats and Republicans rose side by side to give Zelensky a standing ovation, we knew the Ukrainian President had made his mark. Zelensky, reminding Americans what freedom really means after the country has spent years devaluing it in petty political battles, proves there is a new seriousness in the nation."
"As he has with other audiences, Zelensky tailored his message. Imagine being struck from the sky, as on 9/11, but every day, he told Americans. He spoke about Pearl Harbor, and he cited Martin Luther King. 'I have a dream …,' he intoned, I can say, I have a need. I need to protect our sky," Ghitis noted.
Teach the children
"This is a world-shaking moment in history," SE Cupp observed, "one that will define a generation, one that could change our maps, and one that is already seeing horrific loss and devastation." She is making sure to show her 7-year-old son some of the news coverage of the Ukraine war.
"Concepts like democracy and sovereignty, freedom and war, can be vague and abstract, but as we watch a tyrant march into a sovereign nation, threatening democracy there and everywhere else, we must show our children what is happening – what can happen to a free people, and what it looks like when the world unites to defend democratic ideals."
As Jill Filipovic pointed out, "No images have captured the hellishness of war quite as starkly as those taken in the aftermath of Russian troops bombing a maternity hospital in Mariupol. In one photo, a pregnant woman with a bloodied face is staggering out of a bombed building; in another, an ashen-faced woman lays on a stretcher, her left hand cradling her full belly. The woman in the second photo and her baby have now both died of their injuries."
War takes a huge toll on everyone but can be especially cruel for women, Filipovic added. "Pregnant women in war zones are also, like everyone else, under tremendous stress – but that level of stress can have deadly results for mother or baby. And pregnant women, and particularly those who are having complications, simply may not be able to escape when violence strikes."
For more:
Michael A. Newton: Russian invaders are crossing a line
Julian Zelizer: Trump's 'America First' policy is dead
Dean Obeidallah: Whose side is Tucker Carlson on?
Roman Badanin: As a Russian journalist, this is the knock I dread
Russia's invasion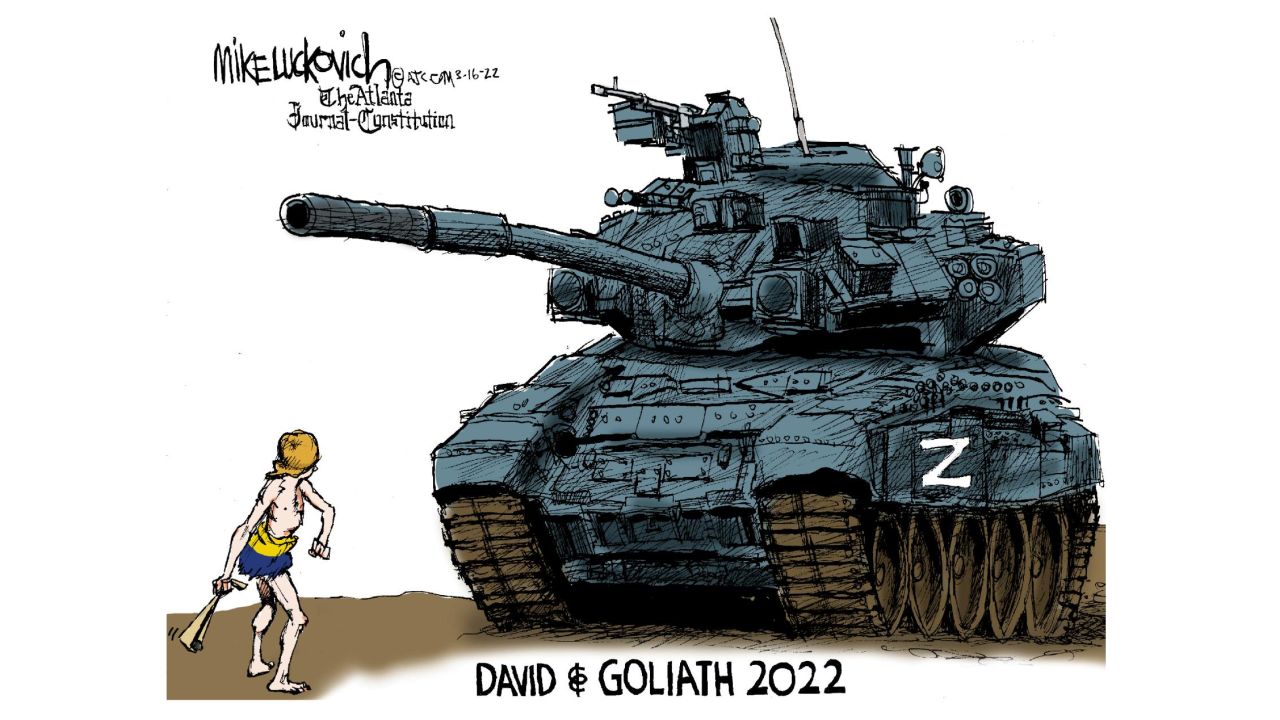 When Vladimir Putin's forces invaded Ukraine on February 24, many people expected that Russia's military, considered the second strongest in the world, would roll over Ukraine in a matter of days. That hasn't happened.
In a conversation with CNN national security analyst Peter Bergen, retired US Gen. David Petraeus assessed the war so far. "There are many reasons for the Russians' abysmal performance," Petraeus said. "They're fighting against a very determined, quite capable Ukrainian force that is composed of special ops, conventional forces, territorial forces and even private citizens, all of whom are determined not to allow Russia to achieve its objectives. They are fighting for their national survival, their homeland and their way of life, and they have the home-field advantage, knowing the terrain and communities.
"But beyond that, the Russians are just surprisingly unprofessional. They clearly have very poor standards when it comes to performing basic tactical tasks such as achieving combined arms operations, involving armor, infantry, engineers, artillery and mortars. They are very poor at maintaining their vehicles and weapon systems and have abandoned many of them. They are also poor at resupply and logistical tasks."
Looking ahead, Petraeus observed, "Clearly, they do not have enough forces to take, much less to control, Kyiv and some of the other major cities, but they do have missiles, rockets, artillery, and bombs and an apparent willingness to use them in a very indiscriminate fashion."
"And so, they continue the approach they used in Chechnya, particularly with Grozny, and in Syria, particularly with Aleppo, where they depopulated the cities by indiscriminate use of bombs. And it is going to be an endurance contest between the Russians' willingness to destroy cities and the Ukrainians' ability to survive such destruction."
For more:
Naureen Chowdhury Fink: Putin is calling in favors from Syria and Africa. It's a dangerous move
Nuclear nightmare
For decades, some of the most eloquent and informed voices warning of the dangers of nuclear weapons have been physicians, among them Dr. Ira Helfand, past president of International Physicians for the Prevention of Nuclear War, which won the Nobel Peace Prize in 1985.
This week, he and colleagues Barry Levy and Matt Bivens, wrote, "The world is shocked by the violence in Ukrainian cities besieged by Russian forces, as they suffer under indiscriminate mortar, bomb and missile attacks. But these horrors could lead to something far worse – escalation to nuclear war. If we are going to avoid this ultimate catastrophe, we need to work urgently for the elimination of all nuclear weapons."
There are about 13,000 nuclear warheads around the world. "Experts were decrying these thousands of nuclear weapons as an ongoing existential threat to humanity even before Russian President Vladimir's Putin's recent warnings that he may use Russia's nuclear weapons … A nuclear war between Russia and NATO allies would be an unimaginable tragedy." In a nightmare scenario where 300 bombs are deployed, 75 to 100 million people would die the first day, with the vast majority of survivors dying "over the coming months from radiation sickness, infectious diseases, famine and exposure," the physicians wrote.
A helping hand
In April 1999, then Vice President Al Gore announced on Ellis Island that the US would take in up to 20,000 refugees from Kosovo, who were fleeing Serbian attacks, recalled Mark Hetfield, president of HIAS, which was founded as the Hebrew Immigrant Aid Society.
More than 3 million people have fled Ukraine "but this time, there has been no Ellis Island announcement." He noted that Vice President Kamala Harris talked of helping Poland with the wave of refugees entering the country while President Joe Biden only spoke of taking refugees on a conditional basis: "If, in fact, they come all the way here."
"Words matter, actions matter," wrote Hetfield. "When it comes to refugees and leadership, the United States is falling short on both fronts. It is getting late, but the Biden-Harris administration still has an opportunity to demonstrate American leadership by welcoming refugees – instead of relying on Eastern Europe to shoulder that responsibility alone."
Fallen journalists
Brent Renaud, a filmmaker working on a project about refugees for Time magazine's studio unit, was shot and killed by Russian soldiers outside Kyiv on Sunday, said the deputy chief of police in Irpin. Photojournalist Juan Arredondo also was injured in the shooting.
Renaud became the first journalist on assignment from an American news organization to die during the conflict, according to The New York Times. The next day, Fox News cameraman Pierre Zakrzewski was killed along with Ukrainian journalist Oleksandra Kuvshynova when the vehicle they were traveling in came under fire. Benjamin Hall, a Fox News correspondent, was injured in the shooting.
In Time, Sebastian Junger remembered Renaud as "a highly-regarded freelancer who worked all over the world documenting some of the most violent and inhuman circumstances civilians are subjected to, including desperately poor areas of Chicago."
"Without the work of these brave people there could be no such thing as democracy or freedom in the world – elections would be stolen, war crimes would be denied, injustices would be hidden," Junger observed. "In a world without journalists, leaders like Vladimir Putin could claim whatever self-serving reality they wanted and remain utterly unaccountable for their crimes."
Oily politics
The cruelest irony of the Ukraine war, wrote Aaron David Miller, is that "even as President Joe Biden's administration stands up for Ukraine in the face of Russia's aggression and preaches the values of democracy and freedom, it is under increasing pressure to make nice and cut deals with authoritarians."
With oil prices increasing, the war has deepened concern about supplies from "three authoritarian petro-states (Venezuela, Saudi Arabia and the UAE) and increased the urgency of getting to a nuclear agreement with a fourth, Iran."
Biden chose to "make the fight for democracy the central element of his foreign policy – a grand struggle with authoritarians for control in the 21st century." But even as he opposes Putin's war, Miller wrote, he has to reckon with "hard, cold interests" as he decides how to deal with autocrats who can control the flow of oil. "America's interests will continue to take precedence over values."
Spring forward no more?
With many Americans still adjusting to last weekend's time shift, the Senate passed the Sunshine Protection Act Tuesday to make Daylight Saving Time permanent. Before the vote, Sens. Edward J. Markey and Marco Rubio wrote, "The effects of darker afternoons on our mental and physical health can be serious. The biannual transition of 'spring forward' and 'fall back' disrupts circadian sleeping patterns, causing confusion, sleep disturbances and even an elevated risk to heart health."
"The rate of heart attacks spikes by 24% in the days following 'spring forward' in March, according to a 2014 study from the University of Michigan." They argued that there are also economic and mental health benefits from a permanent shift to DST.
In the Washington Post, Dana Milbank described the Senate's passage of the bill as an accident. "There were no hearings, no discussion, no debate, and no vote," he wrote. "It just happened, because nobody objected — in large part because many senators didn't even know it was happening."
Get our free weekly newsletter
Sign up for CNN Opinion's new newsletter.
"Reporting by The Post's Paul Kane and BuzzFeed's Paul McLeod indicates Sen. Roger Wicker (R-Miss.), top Republican on the commerce committee, had planned to object to the 'unanimous consent' request to pass what he calls 'bad legislation,' but decided not to at the last minute because he's focused on more pressing matters, such as the war in Ukraine."
"In other words, it's Vladimir Putin's fault that our clocks may change."
Now it's up to the House and President Biden to decide if the bill will become law.
'Turning Red'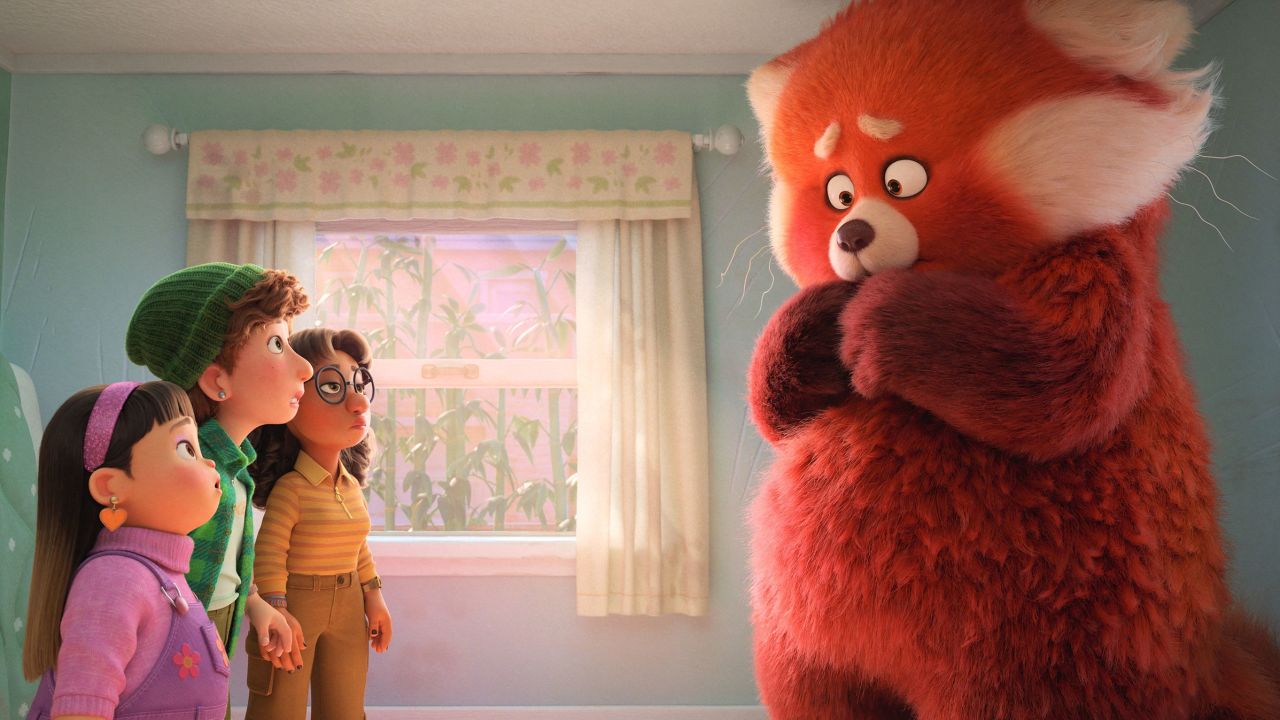 In the Pixar film "Turning Red," anytime the lead character "gets riled up, she transforms into a cuddly, gigantic red panda." As Vanessa Hua wrote, "'Turning Red' makes the struggles of this particular 13-year-old universal as she learns who she is and wants to be – ultimately embracing her red panda exuberance."
"The film is among the many movies and novels released in recent years that portray characters of Asian descent as fully human – flawed, eccentric and dreaming of a bigger life…" Such depictions resonate at a time when hate incidents against Asian Americans and Pacific Islanders have spiked. It has been a year since the Atlanta spa shootings, in which a White gunman killed eight people, six of whom were women of Asian descent. Prosecutors are treating the case as a hate crime.
"We cannot let up on protesting, organizing and voting. We must continue to support victims and improve mental health services, and address systemic racism and sexism," wrote Hua. "'Turning Red' gives me hope, though, in its captivating challenge to stereotypes that can often lead people to view Asian Americans as 'other' – the first step toward targeting them."
For more:
Govs. J.B. Pritzker and Phil Murphy: We can't address anti-AAPI hate without improving K-12 education
March madness
Christmas morning can't compare with Michael Croley's favorite time of year, the first weekend of March Madness. "Before the internet, Dad brought brackets home from his office for us to fill out – always Xeroxed copies from the Monday edition of Lexington Herald-Leader," Croley wrote. "When I was ten, I won, and Dad brought home all the cash and handed it to me."
"I love the tournament for all the reasons any sports fan loves the tournament, but as I've gotten older, I know that I love the tournament because of these memories and how it kept me close to my brother and our father. And we were already very close."
Croley's older brother Tim often shared the ritual of watching the NCAA tournament with him, as they munched on wings and rooted for the University of Kentucky's Wildcats as long as they were still in it.
A year ago, Croley added, "As Tim's health worsened, neither of us filled out a bracket. We watched the games and we texted. I didn't know then that I'd never fill out a bracket again. I didn't know then that I'd never spend another long day with him, watching games deep into the night, barely able to keep our eyes open but still at it because it was March, a game was in overtime and a 13-seed had a 4-seed on the ropes.
"I hoped against what common sense and medical science told us since he was first diagnosed with lung cancer because hope was all we had left by then."
Don't miss
Gunisha Kaur: The country where 30 farmers die each day
Claire McCully: Florida and Texas can't outlaw my family
Kristen Rowe-Finkbeiner: This Equal Pay Day, let's smash the maternal wall
Jeffrey Toobin: Iowa and New Hampshire's preposterous reign over the Democratic primaries may soon end
David Daley: Good news from state judges on gerrymandering
AND…
Bad business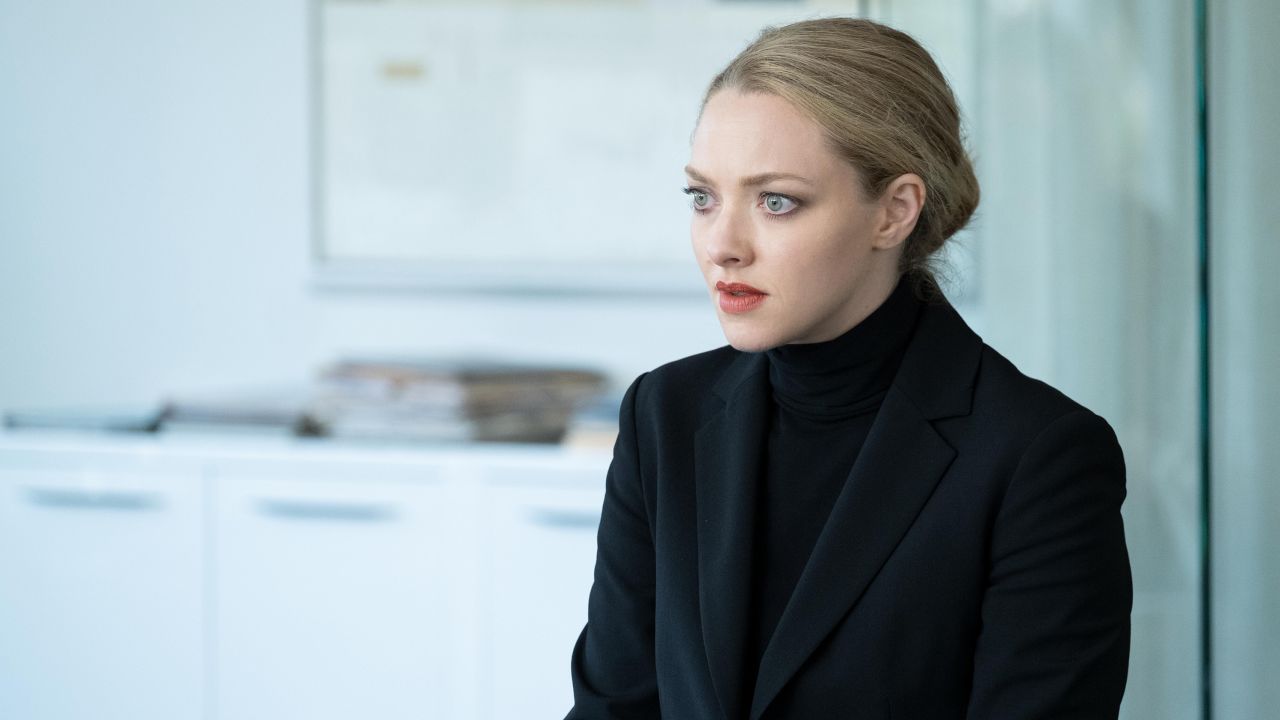 Name your streaming service, pick your tale of fakery and business gone wrong:
Hulu: "The Dropout"
Apple TV+: "WeCrashed"
Showtime: "Super Pumped"
Netflix: "Inventing Anna"
HBOMax: "Succession"
The latest episode of "The Dropout" featured actor Amanda Seyfried, who plays Theranos founder Elizabeth Holmes, proclaiming that her company was "a religion." The fictional Apple+ series "Severance" made it clearer than ever last week that the mysterious Lumon company is a cult while a trailer for "WeCrashed" showed its protagonist Adam Neumann of WeWork, played by Jared Leto, comparing himself to God.
Looking at a few of these shows through the lens of history, Nicole Hemmer wrote that the themes they explore aren't entirely new, finding antecedents in Herman Melville's "Bartleby, the Scrivener," the 1955 novel "The Man in the Gray Flannel Suit" and films and shows including "The Office" and "Office Space."
But there is a difference. Shows like "The Dropout" and "WeCrashed," Hemmer observed, "represent a damning examination of the Silicon-Valley-centered, venture-capital-funded economy. The stories are ready-made for dramatization, stories of hubris and excess that hurtle toward an inevitable crash. But they also reveal a deep anxiety about the new economy, a sense that, at the end of the day, it creates overnight billionaires but little of lasting value."
Investors seem "to have no way of discerning the difference between visionary and fantastical, and … the least scrupulous walk away with the most money, even after their ventures fail. Of course, venture capital also fuels the companies that succeed."