Taylor Fritz ended Rafael Nadal's perfect start to 2022 with a surprise victory in the final at Indian Wells, beating the Spaniard 6-3 7-6 to win his first Masters 1000 title.
In the lead up to the biggest match of his career, Fritz had been struggling with an ankle injury sustained in his semifinal win over Andrey Rublev, but there were no signs of it hampering him on Sunday.
Fritz, who became the first American to win the title in Indian Wells since Andre Agassi in 2001, now climbs to a career-high No. 8 in the world rankings.
"This is just one of those childhood dreams – winning this tournament especially, Indian Wells – this is one of those childhood dreams that you never even think could come true," an emotional Fritz said in his on-court interview. "I just keep saying: 'No, there's just no way it's real.'
"I can't even begin to describe how ridiculous it is I could play like I did today. I've never experienced worse pain than that before a match. I took a couple of changes in direction with my steps and screamed. It was tough.
"We did a lot of work on the ankle leading up to the match. I went through a roller coaster of emotions thinking there's no way I can play. Then I went out hitting on the back courts and feeling happy, thinking I can play. It didn't affect me at all on court, so I couldn't be happier," he added.
READ: Nick Kyrgios apologizes after smashed racket almost hits ball boy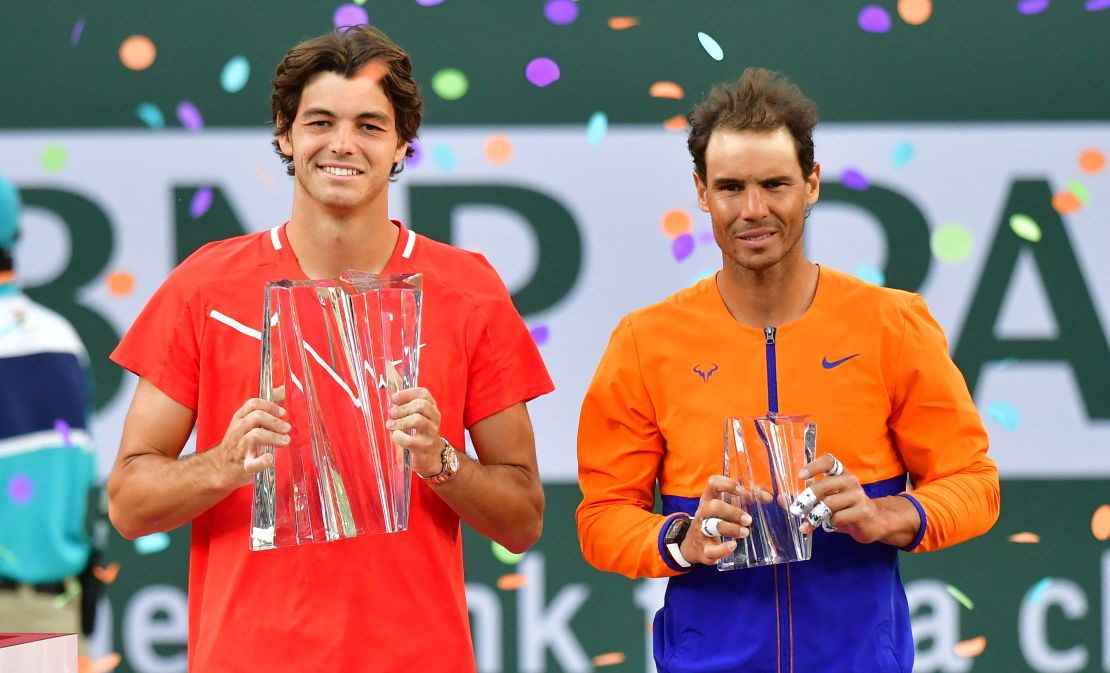 "I've lost these matches against the big guys my whole life, it's always felt like they're just unbeatable, so to do it on the biggest stage there's no other way, you know. To win a big title, I feel like you gotta beat the best and he's unbeaten this year, and obviously, I hope hes okay.
"Obviously, there's some stuff going on, I can't imagine how the body is feeling after 20-something matches."
Nadal came into the final on a 20-match winning streak – his best ever start to a season – that included his record-breaking 21st grand slam victory at the Australian Open.
However, the 35-year-old was similarly struggling with injury coming into Sunday's final and was seen wincing throughout the match, regularly touching the left side of his torso.
Nadal said he wanted to make his start to the season "perfect" before his transition onto clay, but an unknown problem near his rib meant he was unable to compete at his best.
"It [the run] has been very, very beautiful," he told reporters. "I honestly am sad because of the way I was not able to compete and it's tough to have these feelings any day, but especially in a final, it's very ugly.
"In sport, it's not about talking of the past, we need to talk about today and today is a difficult day for me. I have problems breathing, I don't know if it's something on the rib, I'm not sure yet and, when I am breathing and moving, it's like a needle all the time inside and I get dizzy a little bit because it's painful.
"It's the kind of pain that limited me a lot and it's not only about pain, it's about not feeling very well because it affects my breathing. More than [being] sad for losing, something that I accepted immediately and even before the match ends, it's about that I am suffering a little bit, honestly."