When Eric Bengi was a boy, his father would wake him in the dead of night just to see the cars. Around 3 a.m. they would arrive at his village, Chogoria in central Kenya. In the wet – it was usually wet – the cars would fly past, sometimes sideways, headlights blaring, before roaring off into the dark. No sooner had they come than they'd gone, but the impression they left on the young boy lasted much longer than the tire tracks in the mud.
As an adult, Bengi leads a double life. Most days he's a lawyer in Kenya's capital, Nairobi. But on others he trades in his legal pad for a jumpsuit and crash helmet. That's when life comes at him fast. In a car older than he is, Bengi is willing to race for thousands of miles across some of the world's toughest rally driving terrain, pushing himself to the very limits in the name of motorsport glory. "It's just about you, the road and your maker," he says.
Rally driving is in Bengi's blood as it is for many Kenyans, where the sport has deep and abiding roots. But drivers behind the wheel have not always reflected the sport's audience. This year Bengi and his navigator Mindo Gatimu became the first all-indigenous Kenyan team to compete in the East African Safari Classic, one of the nation's most celebrated rally events.
The race has its origins in the inaugural East African Coronation Rally in 1953, in honor of Queen Elizabeth II, when Kenya was still part of the British Empire. It was conceived by cousins Eric Cecil and Neil Vincent, raced between Kenya, Uganda and part of present-day Tanzania, and timed to finish as the new queen was being crowned at Westminster Abbey, London.
The Coronation Rally became the East African Safari Rally in 1960 and was added to the World Rally Championship (WRC) calendar during the following decade before being dropped in 2003 and continuing as an independent event.
Read more: Esports is on the rise in Africa and these two Kenyans are leading the charge
Rallies were broadcast on national TV, with leading politicians waving flags to start races and an infectious energy that swept through the public, recalls photographer Mwangi "Mwarv" Kirubi, who documented this year's rally and has been watching them since he was a child. "It doesn't matter what your upbringing was, what your tribe was, your educational status or even your age. It's one thing that actually brought everyone together," he says.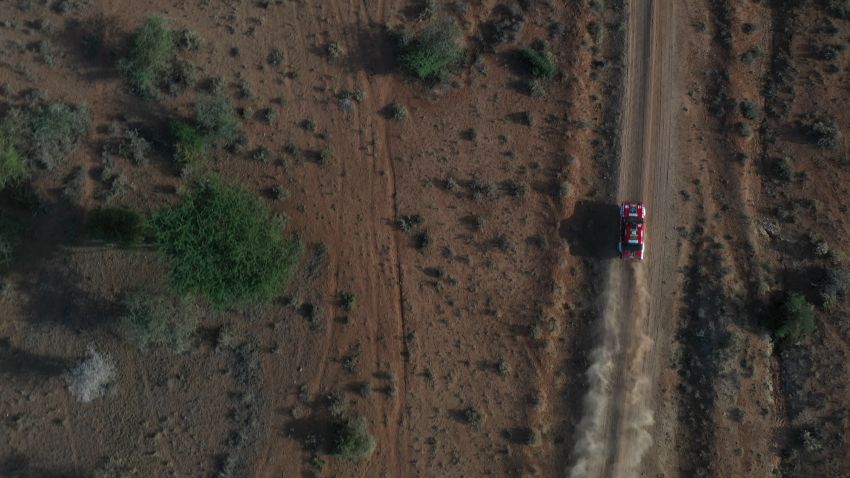 The East African Safari Classic: Kenya's ultimate endurance rally
"It's no joke"
In its current incarnation, the East African Safari Classic, the country's longest race, has a distinctly old-school ethos. Cars must be built before 1985, with only limited tinkering permitted (changing the suspension is allowed, but replacing the gearbox or engine isn't, for example). The cars – Porsche 911s and Ford Escorts feature heavily – race across 24 stages in nine days on a 5,000-kilometer route, with drivers covering more than 700 kilometers on some days. "It's no joke," says Bengi. "It's (a longer race than) a whole season of motorsports in other disciplines."
Read more: Nigeria's 'Drift Hunters' are putting their own spin on this popular motorsport
With no prize, drivers compete solely for bragging rights. As a result, the event attracts motorsport legends looking to test their mettle. This year, 46 teams from around the world made it to the start line. One of the biggest names was international rally champion and five-time X Games medalist Ken Block.
"I've always wanted to come and do it," he told CNN. "It's just a genuinely really difficult event and one of the best classic rallies in the entire world."
The rally pits professionals like Block against part-timers like Bengi, and though there may be a gulf between the quality of their cars, the event has enough unpredictability in its DNA to allow for upsets.
One aspect is the local conditions, which can swing between downpours and dustbowl. Then there's the many wild animals on the route, which drivers sometimes have to wait for or drive around. The main factor, however, is that the race is conducted blind – that is, drivers and navigators do not get to inspect the route ahead of racing and create detailed notes. Instead, stage routes are shared with teams a day in advance, with no opportunity to preview the terrain.
As clerk of the course, it's Raju Chaggar's job to create the roadbook – a year-round task that sees him driving approximately 52,000 kilometers to mark out the route and check its condition in the lead up to the race. "Nobody knows where we are rallying … It's the hardest secret to keep," he admits.
This year's race, held between February 10 and 18, traversed Kenya and took teams through towns and cities including Naivasha, Nakuru, Nanyuki, Amboseli, Taita-Taveta and Watamu, as well as passing through multiple national parks. Racing takes place on public roads and is generally slower than most rallies, on account of the older cars' top speeds, the long, demanding stages and blind racing. But unlike WRC events, teams can rely on the public when things go awry; organizers have no issue with spectators providing roadside assistance if a car gets stuck.
"You can tell a Kenyan there's a rally coming up (and) they will leave everything," says Chaggar. "They're willing to spend nine hours out in the sun just to watch the rally. It's very unique. I think we're crazy."
Teams need all the help they can get. From sourcing fuel, servicing the cars and sleeping in a new town every night, "it's a whole logistical nightmare," says Bengi.
A race for the ages
In their first year together competing in the Classic rally, Bengi and Gatimu overcame every hurdle to cross the finishing line in a respectable 17th position (surpassing Block in 19th place). First place went to Kenyan Baldev Chager driving a Porsche 911, who triumphed in the overall race despite not winning a single stage, testament to the rally's fickle nature.
Kenyan drivers occupied three of the top five positions. Even so, there's space for expansion and professionalization in the country, says Bengi, who points out the country has no factory drivers (professional drivers backed by car manufacturers). "There's room for development, and I think with more and more events coming up we can develop new talent," he says.
Rally racing is experiencing a resurgence in Kenya. The WRC returned after a 19-year absence with the 2021 Safari Rally Kenya, which has since been extended through to 2026. While a stronger foothold in the international scene might take time and investment, at home Kenyan drivers are in their element and thriving.
"This is our backyard," says photographer Kirubi. "These are the roads we grew up on; the roads we used (to go) to school, to work, to the farm … It comes as no surprise that we have local drivers taking top spots within the (Classic) rally. Somebody may come with a racing pedigree from the US or Europe, but man, this is Africa – and we play it different."