It's that time of year again, when we prep our springtime yards for warm weather hangouts. Sunshine is just around the corner, and curating an outdoor oasis is a top priority for many. Jump-start your outdoor living room, deck or patio with the foundation for the whole space: outdoor furniture. If you're looking for quality, all-weather pieces, Ashley's refreshed selection is your best bet. The brand's durable, stylish finds are perfect for creating an inviting backyard getaway.
Whether you're doing a total patio overhaul, or you just need a piece or two to complete your deck, Ashley has the outdoor pieces to bring your vision to life. When planning an outdoor space, durable furniture is a must. What's the use of a beautiful piece if it fades or comes apart after a season? Ashley's all-weather materials ensure that your furniture lasts, without worry.
Nuvella® high-performance fabric is fade- and stain-resistant, for instance, and it's easy to clean. HDPE material can withstand all kinds of weather. Handwoven resin wicker has the trendy look of wicker but with added longevity. Wood, of course, looks great and comes in various stains and finishes. And rust-resistant aluminum will endure season after season. Ashley's pieces are crafted to last.
It's an easy online shopping experience with Ashley, and plenty of outdoor items are in stock and ready to ship. Because when you find exactly what you need, you shouldn't have to wait to enjoy your new space!
Here are some of Ashley's best sellers to jump-start your outdoor space.
Beachcroft Collection
An easy-breezy collection inspired by driftwood, Beachcroft employs neutral tones and farmhouse chic design as well as sturdy resin wicker.
For the outdoor living room: Beachcroft 3-Piece Outdoor Sectional (ashley.com)
This three-piece sectional is comfy and cool, and it's also made to last. The wicker look belies a rustproof aluminum frame, and zippered cushions and throw pillows are covered in high-performing Nuvella® fabric.
For a beachy dining experience: Beachcroft Outdoor Dining Table and 6 Chairs (ashley.com)
Enjoy meals al fresco at this impressive dining set. The farmhouse-inspired table boasts a porcelain top, and the resin wicker chairs are topped with plush, easy-to-clean Nuvella® cushions.
Visola Collection
The beachy Visola Collection features classic Adirondack chairs and other functional pieces in a textured wood-look gray finish. The HDPE material ensures that this outdoor furniture is made to last.
For the patio entertainer: Visola 4-Piece Outdoor Sofa Conversation Set (ashley.com)
Get the whole outdoor suite in one swoop. A couch, two chairs, a cocktail table and two throw pillows are included in this set — a great value. The couch and chairs feature Nuvella® high-performance fabric for carefree entertaining.
For the casual outdoor dinner: Visola Outdoor Dining Table With 4 Chairs (ashley.com)
Visola puts a twist on the farm-style dining table. In addition to the HDPE wood-look table, there are four modern armchairs complete with outdoor cushions, and it's finished in trendy gray tones.
Fynnegan Collection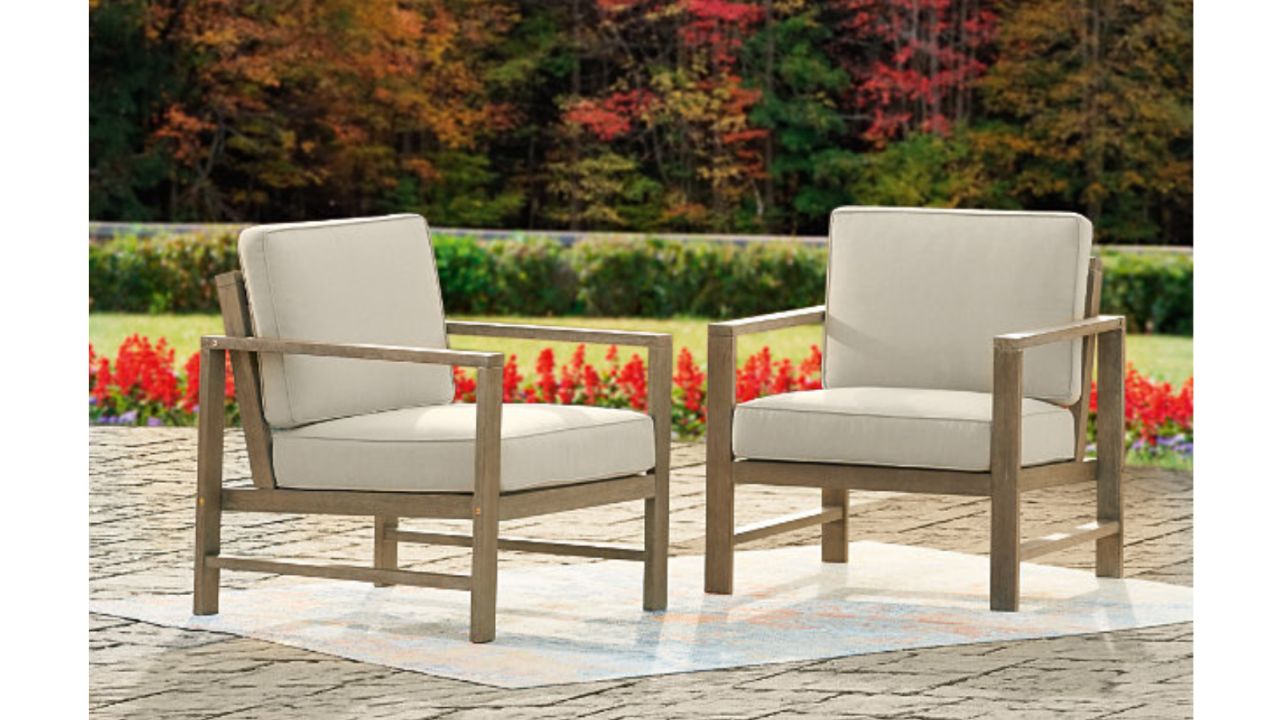 Sleek and simple, Ashley's Fynnegan Collection complements any yard design. Driftwood tones give these pieces a resort vibe, and the all-weather construction means they're stylish and sturdy.
For the small space: Fynnegan Lounge Chair With Cushion (ashley.com)
Add extra seating with this dynamic duo. Made from eucalyptus wood, the Fynnegan lounge chairs have been treated to withstand the weather. And the cushions are easy-to-clean Nuvella® fabric — what a combo!
For cozy companions: Fynnegan Outdoor Love Seat With Table (ashley.com)
Want an outdoor couch but have a small space? That's where the Fynnegan love seat shines. Comfy, weatherproof cushions top this driftwood-toned couch, and two blue throw pillows and a coffee table complete the set.
Accessories and covers
Once you've got your outdoor furniture picked out, you can turn to the fun stuff: accessories! Ashley has a great selection of outdoor accessories. The brand has some helpful ideas for improving your outdoor space with accessories, and a whole section on the website to peruse. From deck tiles to hammock stands, this is the place to pick up those finishing touches that really make your outdoor space complete. There's a cozy fire pit, a storage bin and so many more products you never knew you needed.
Speaking of things you never knew you needed, patio furniture covers are a must-have for your new outdoor pieces to ensure that your furniture stays clean and protected. They're not the most exciting items to buy, but you'll be so glad you invested in them when inclement weather hits. Covers will help your outdoor space last for years to come.