Five times stronger than steel, spider silk's unique qualities were recognized by the Ancient Greeks — and more recently, scientists have looked at applications from medicine to engineering.
Now, one Japanese startup, Spiber, is exploring how spider webs could transform the textile industry. The biotech company started by making a spider silk replica in the lab and has since spun out its fabric range to include more sustainable alternatives to wool, cashmere and denim, says Kenji Higashi, head of business development at Spiber.
The company's trademarked fiber, Brewed Protein, has been used in limited edition collections with brands including Japanese streetwear label Sacai and outdoor apparel specialists The North Face Japan.
Currently scaling up production and getting ready for a full commercial launch of its textiles, Spiber hopes its technology will help to "solve some of the big global challenges that we're facing," says Higashi.
Fermenting fabrics
Spiders create webs by spinning liquid protein into silk. Although silkworms have been bred to produce silk for thousands of years, spiders are cannibals which makes them impossible to farm.
That's why friends Kazuhide Sekiyama and Junichi Sugahara, Spiber's founders, decided to create a synthetic material that is molecularly identical to spider silk. The duo began experimenting as students at Keio University in Yamagata Prefecture in 2004, and founded the company in 2007.
Spiber studied "thousands of different spider species," as well as other silk-producing species, and compiled a database of silk varieties, says Higashi.
Having successfully produced the spider silk alternative, the team went on to develop a range of Brewed Protein fabrics by altering the protein sequence, says Higashi.
Spiber's fibers are made by fermenting water, sugar and nutrients with specially modified microbes in steel tanks, similar to those used in beer making, to produce protein polymers. The polymers are fed through a nozzle and spun into a fiber, says Higashi.
It hasn't been an easy journey, though. In 2015, Spiber partnered with The North Face Japan to produce a limited-edition run of 50 "Moon Parka" jackets to commemorate the 50th anniversary of the moon landings.
But during the design process, the team discovered that spider silk shrinks when wet, and had to modify the protein to make the fiber suitable for an outdoor jacket.
It took four years "to produce a garment that met their standards," says Higashi. The parkas retailed for ¥150,000 (worth around $1,400 in 2019) and the small collection sold out.
A recycling revolution
Fashion is one of the most polluting industries in the world. It produces around 2.1 billion metric tons of CO2 every year, according to management consultants McKinsey & Company. Around 70% of that comes from production, and manufacturing textiles uses large amounts of raw materials and water.
Higashi says Spiber's biodegradable textiles are predicted to generate just one-fifth of the carbon emissions of animal-based fibers once they are in full-scale production, according to a life cycle analysis conducted by the company.
Spiber wants to reduce its environmental impact further, though. The company currently uses sugarcane and corn for its fermentation process — crops that use large volumes of land and divert food resources, says Higashi.
To resolve this, Spiber is developing a process called "biosphere circulation" that will convert discarded garments made from natural materials like cotton into the sugars needed for fermentation.
Around 40 million metric tons of textile waste is produced every year and most of this goes to landfills or incinerators: keeping these textiles in the loop could create a more sustainable alternative, says Higashi.
Global expansion
Spiber isn't the only company taking inspiration from arachnids. In 2016, Adidas incorporated AMSilk's Biosteel fiber in a sneaker and in 2017, California textile innovator Bolt Threads unveiled its spider-silk-inspired thread, Microsilk, in a gold dress designed by Stella McCartney.
In addition to its collaborations with The North Face Japan, Spiber's Brewed Protein has been used by Japanese designer Yuima Nakazato for several of his collections, and streetwear brand Sacai for a limited-edition T-shirt range. Higashi says Spiber is exploring opportunities in the automotive industry, too.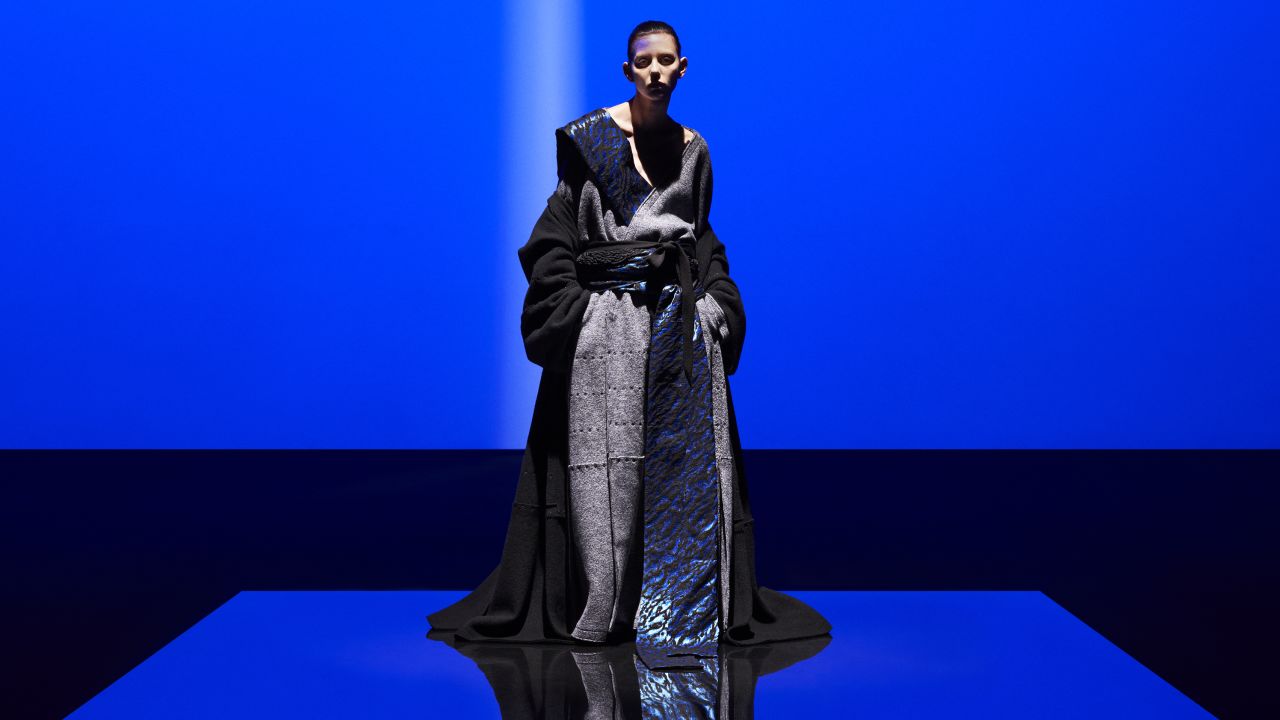 According to the company, Spiber has raised around ¥100 billion ($783 million) from investors including finance firms Carlyle and Mitsubishi UFJ Morgan Stanley Securities, along with grants from government organizations and startup development funds.
This funding will allow the company to expand beyond its pilot plant in Yamagata — opening a small plant in Thailand later this year, and a larger facility in the US next year in a partnership with food processing multinational Archer Daniels Midland Company. Higashi says this will enable production of thousands of tons of Brewed Protein over the next few years.
Higashi says scaling will help bring the price of Brewed Protein down and allow Spiber to expand beyond the high-end designer market.
"We have the means to create solutions to enable more circular fashion," says Higashi. "It's our mission to bring those solutions to the world."
An earlier version of this story stated that Spiber's expansion plans would enable the production of thousands of tons of Brewed Protein by the end of 2023. This time frame has been changed to reflect new information from the company.