We may never know why a shooter gunned down 19 children and two teachers in a massacre Tuesday at Robb Elementary School in Uvalde, Texas, two days before summer break.
But as the nation mourns 21 lives lost, disturbing details have emerged about the shooter's behavior in the weeks leading up to the shooting as well as unsettling questions about police officers' delayed response to America's deadliest school shooting since 2012.
Perhaps the most pressing questions are how and why the shooter managed to remain inside the school for more than an hour before law enforcement shot him dead.
Armed with a rifle, the 18-year-old barricaded himself inside adjoining classrooms, where he shot and killed children and their teachers who tried to protect their them.
One 11-year-old student survivor, Miah Cerrillo, told CNN on Friday that she smeared her classmate's blood on her face and played dead to avoid being targeted by the shooter.
Outside the bloody crime scene, up to 19 officers were in the hallway but did not storm the classrooms because the commanding officer mistakenly believed the "active shooter" portion of the attack had ended, Col. Steven McCraw, who heads the Texas Department of Public Safety, said Friday during a news conference. Most of the shots were heard in the initial minutes of the siege, with later outbursts seemingly directed at the door.
"Of course it was not the right decision," McCraw said. "It was the wrong decision, period. There's no excuse for that."
A school resource officer was not on campus when the violence started, and he then drove past the suspect to meet with a teacher he mistook for the shooter, officials said Friday, contradicting earlier information that the shooter was met by officers upon entering the school.
Also revealed Friday: A teacher had propped open the door the shooter used to enter the school, where he fired more than 100 bullets.
GET THE LATEST UPDATES ON THE SHOOTING
Here's what we know and what we don't know:
Gunman shot his grandmother, texted his plans and crashed his car
Salvador Ramos, an 18-year-old from Uvalde, was the gunman, authorities have said. Officials said the gunman purchased his rifles, one of which was used in the attack, with a debit card.
Minutes before the horrific attack, Ramos allegedly sent a series of text messages to a teenage girl in Europe whom he had met online, describing how he had just shot his grandmother and would "shoot up a(n) elementary school."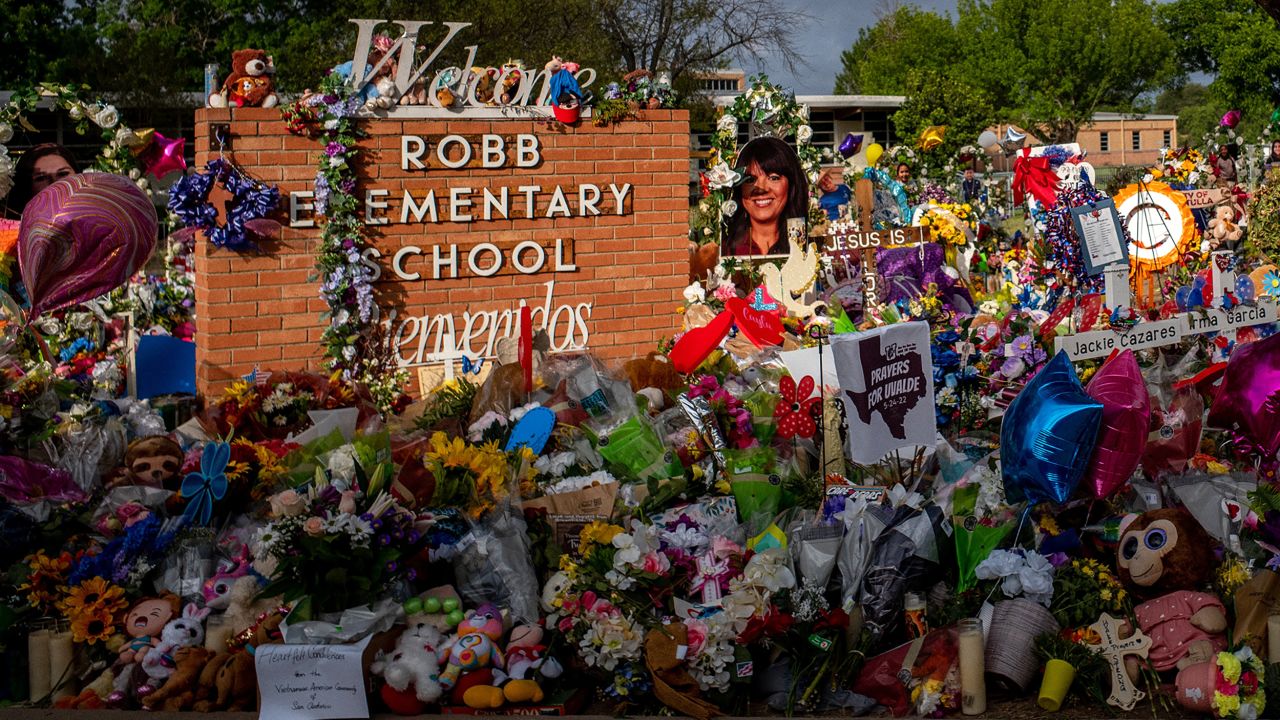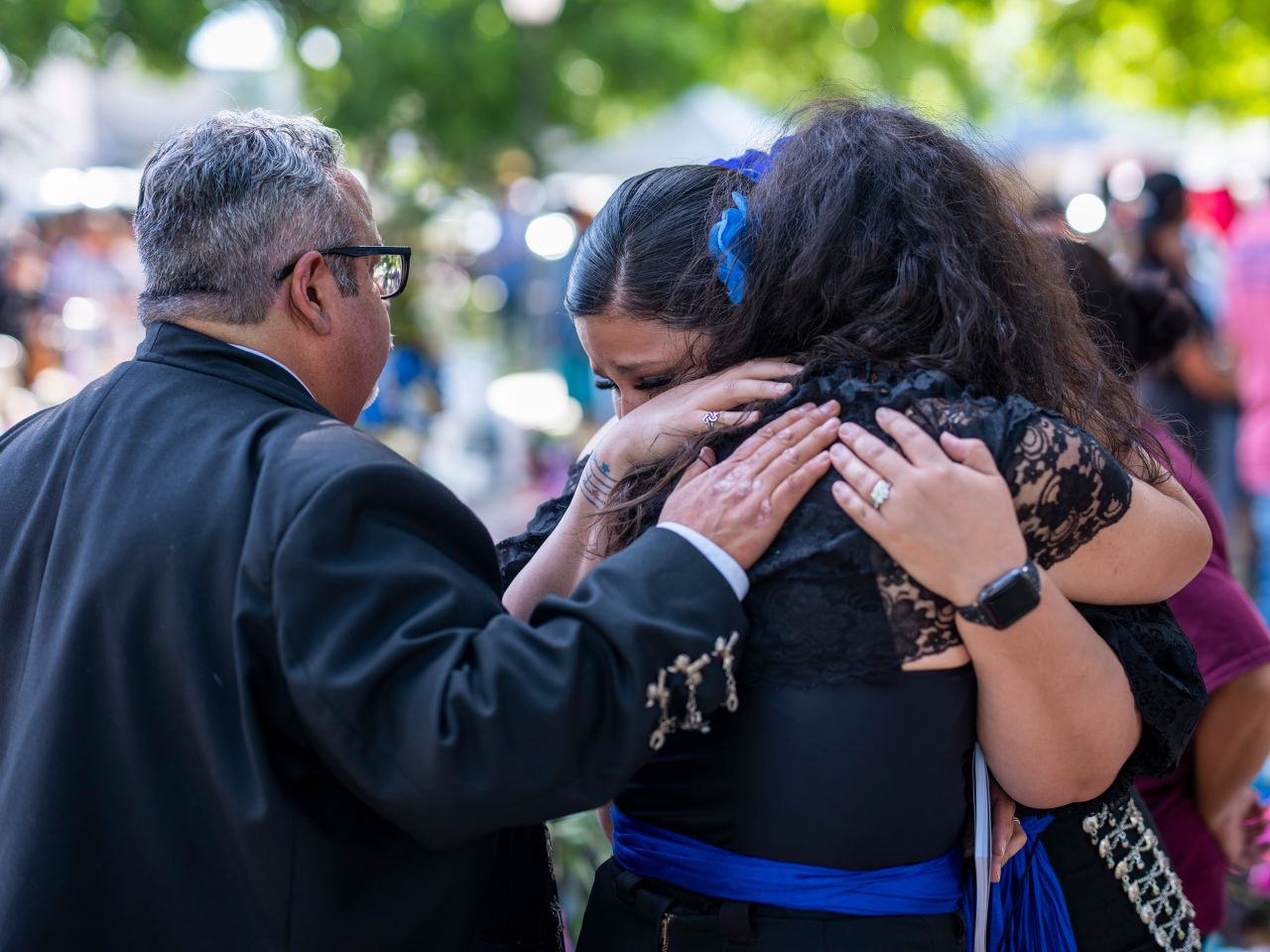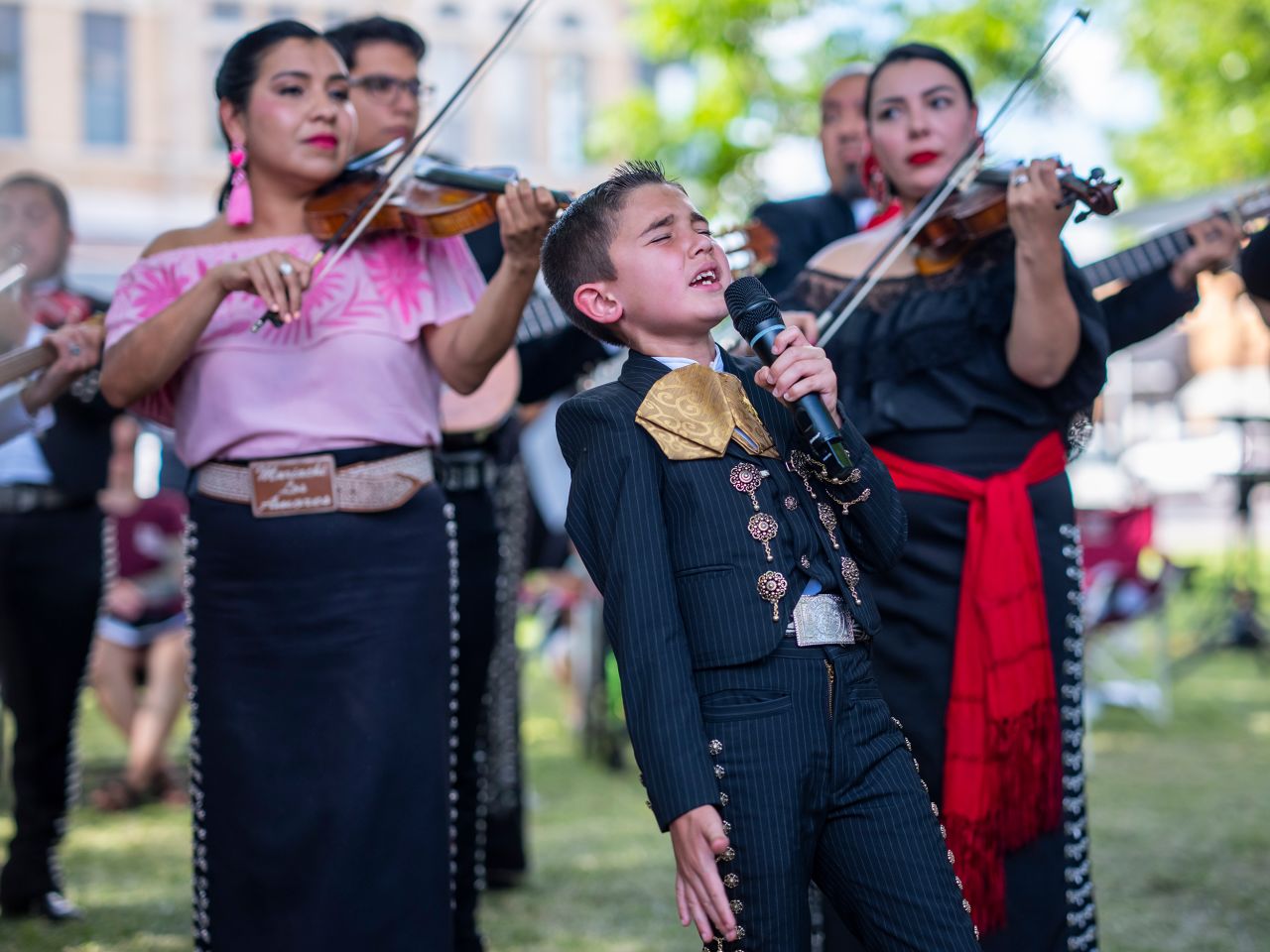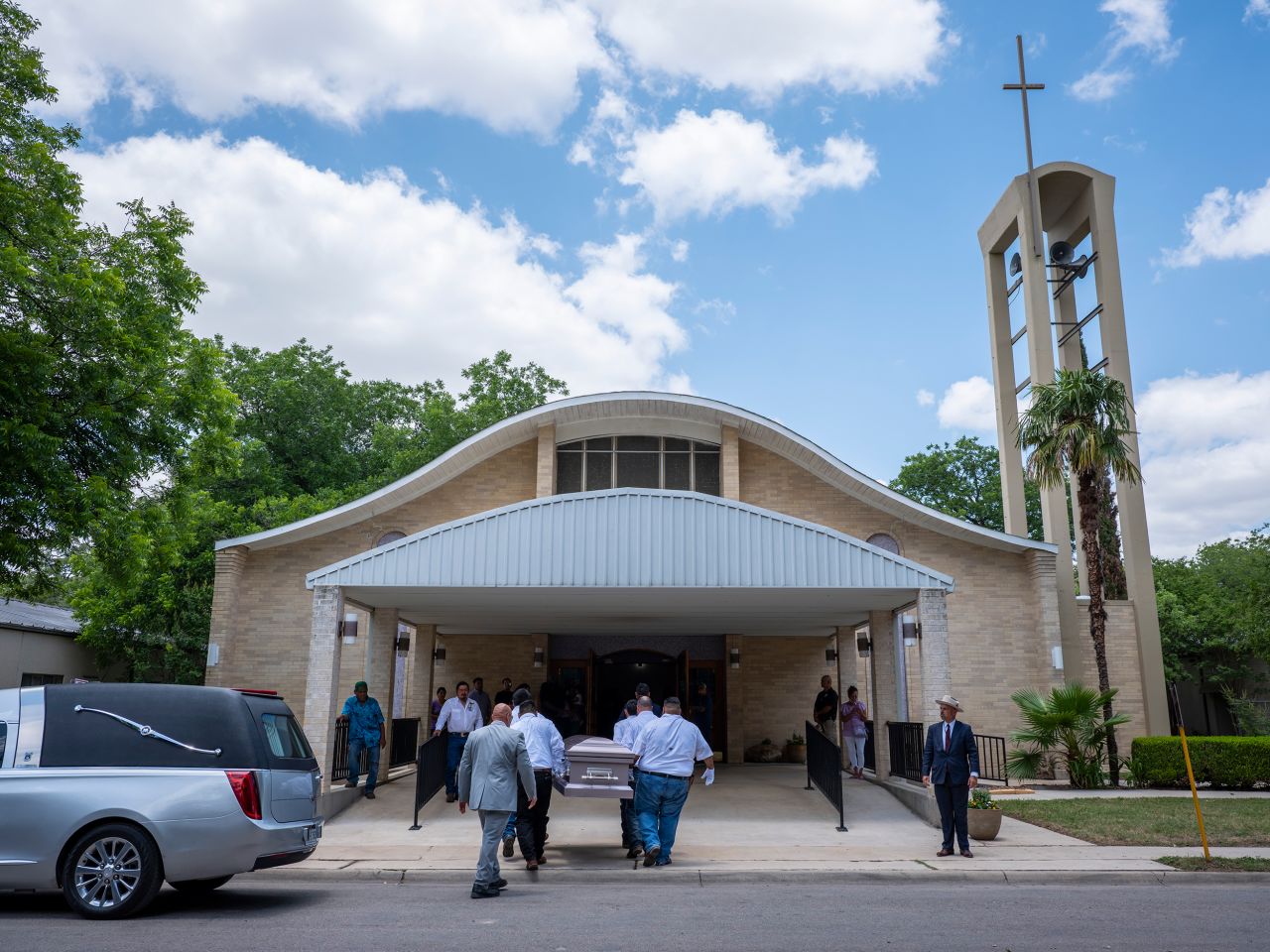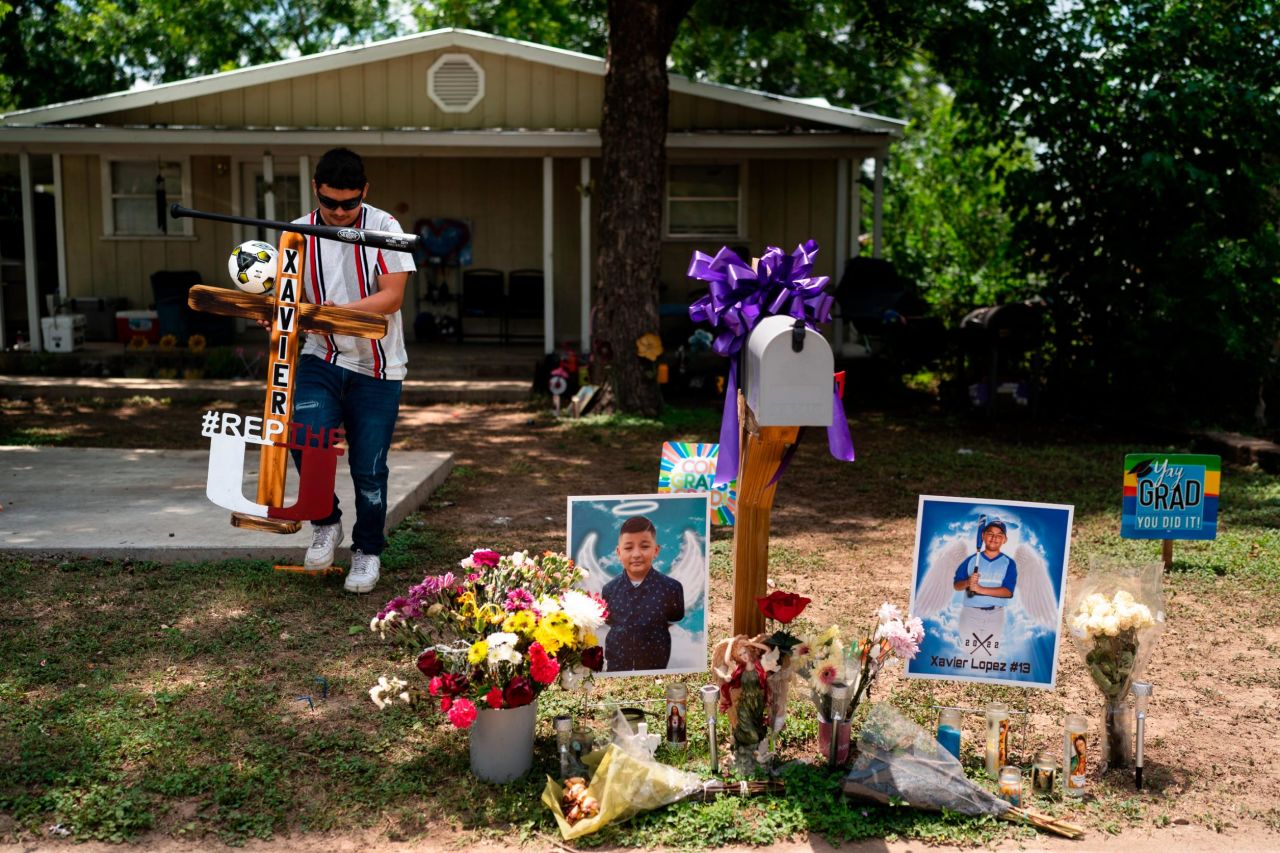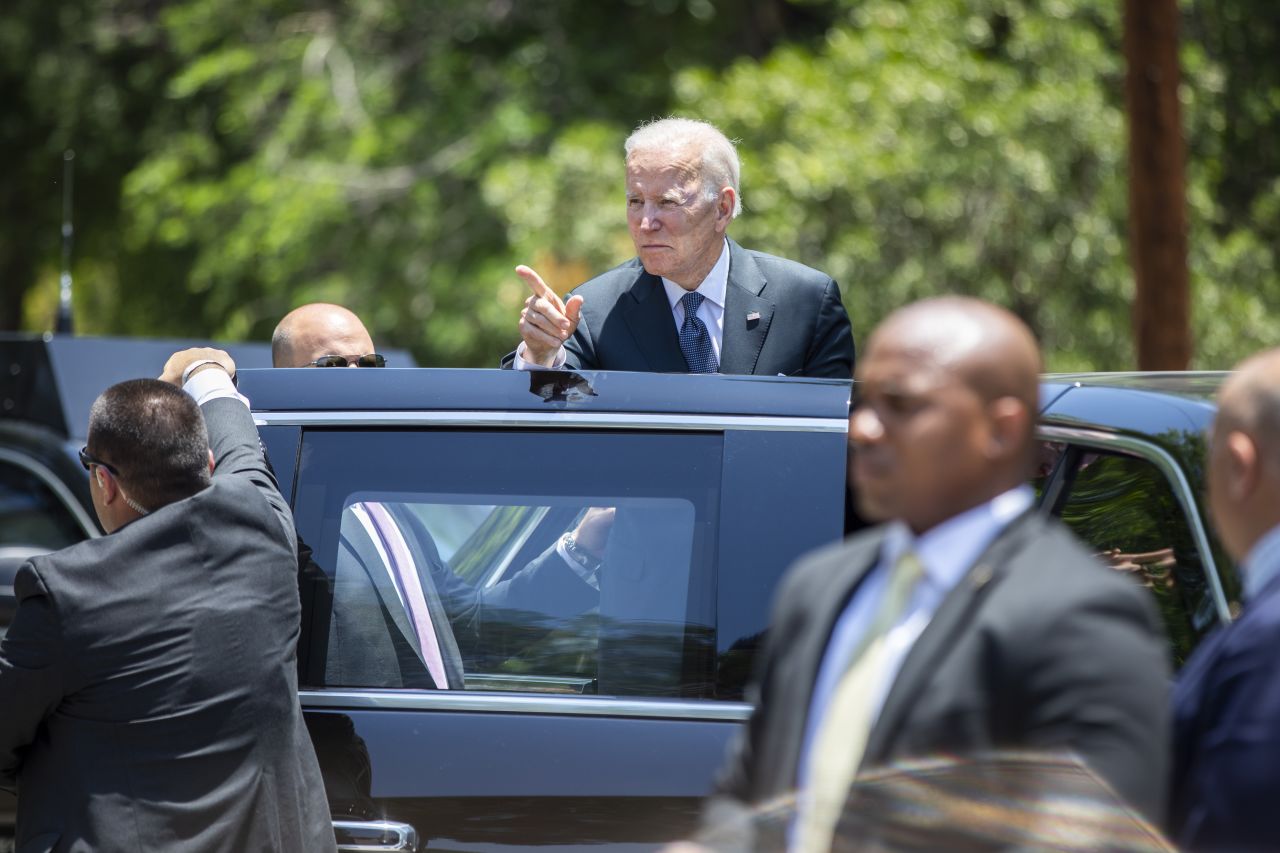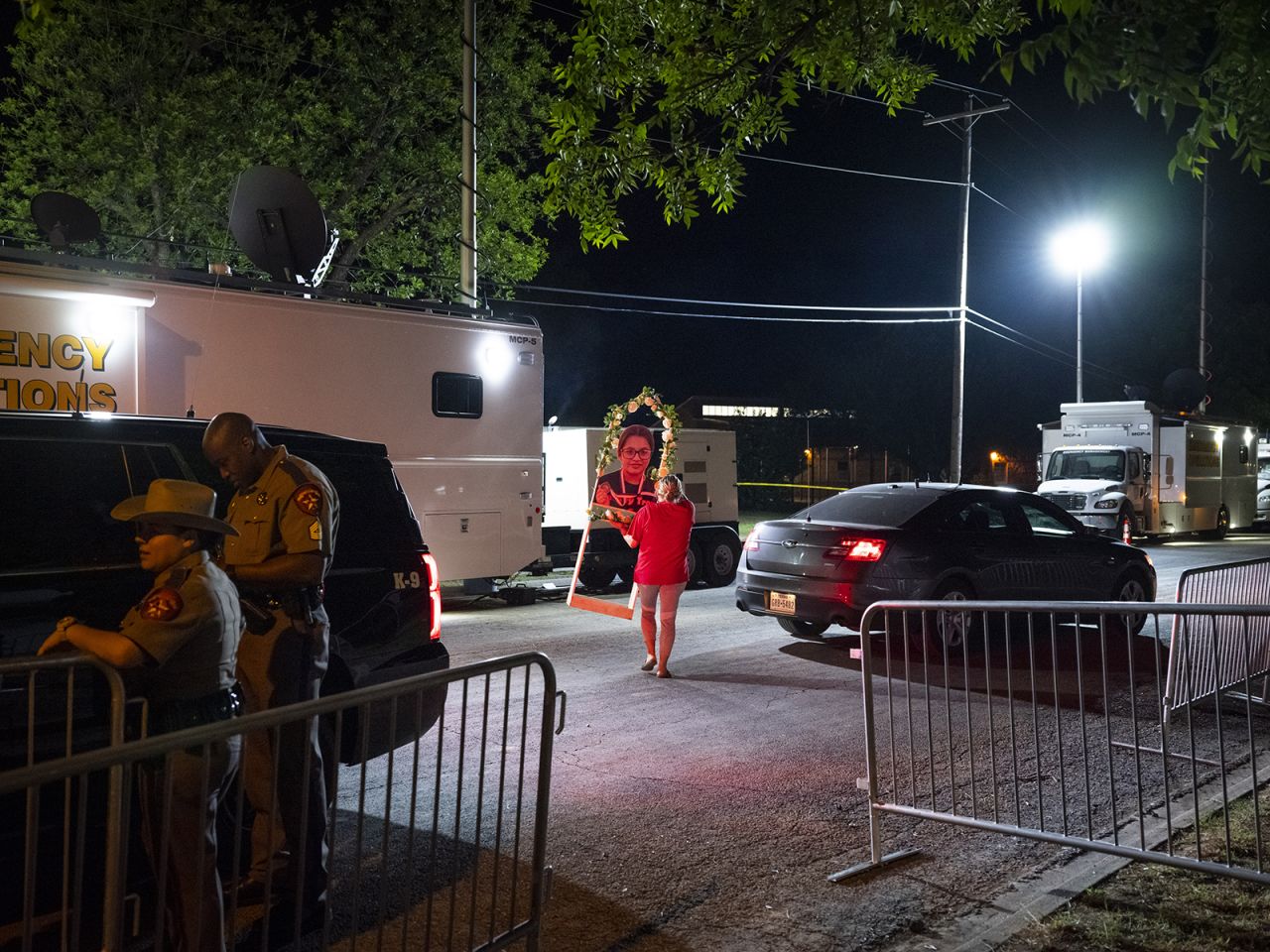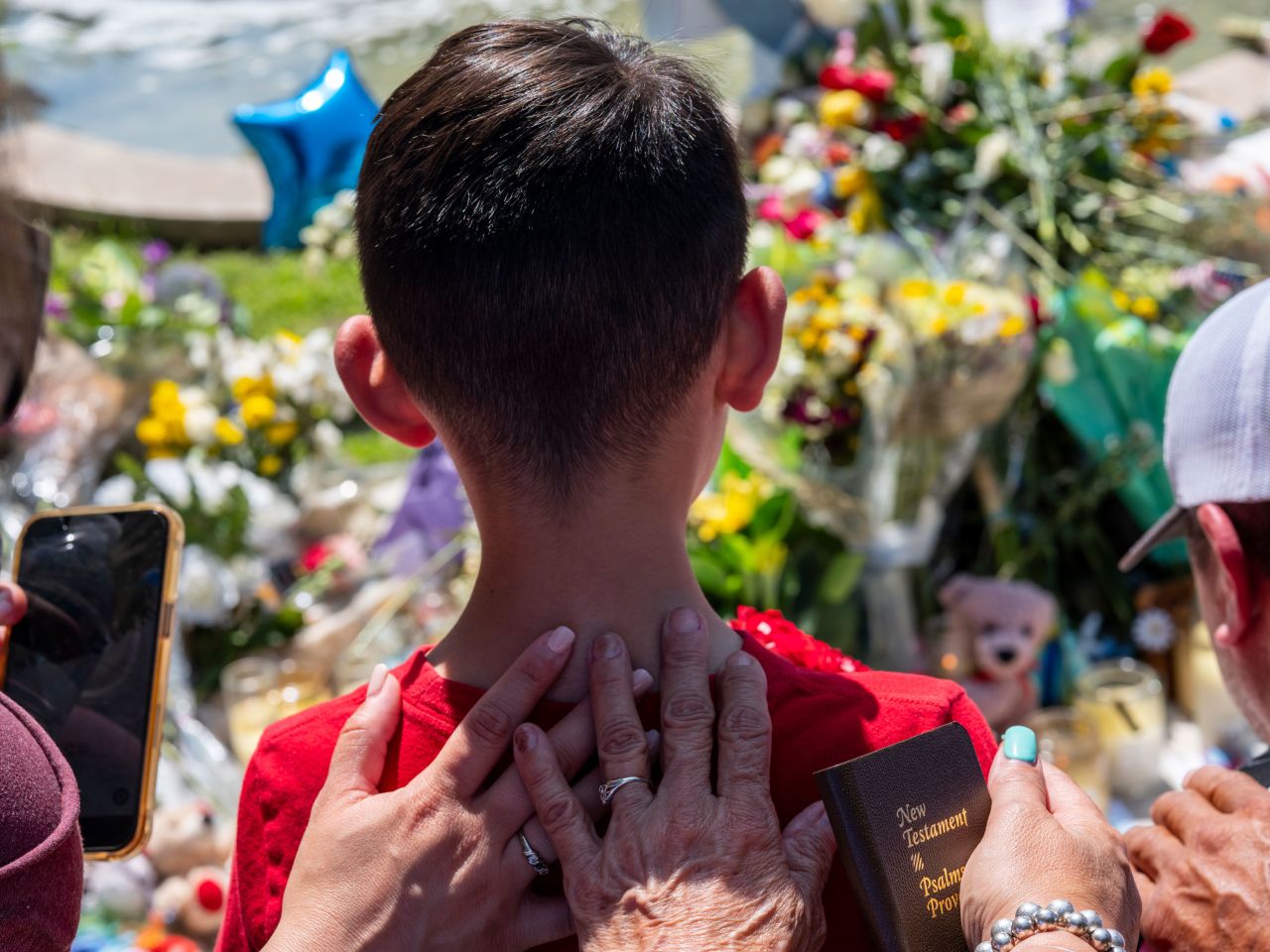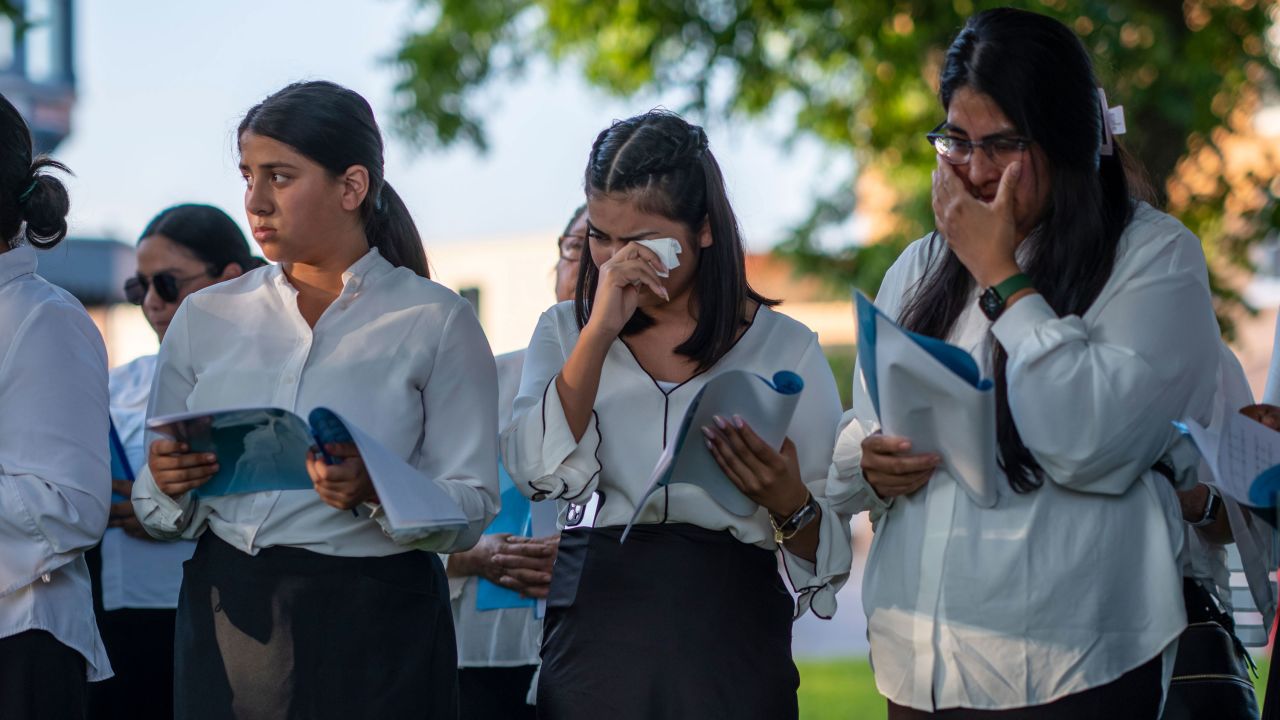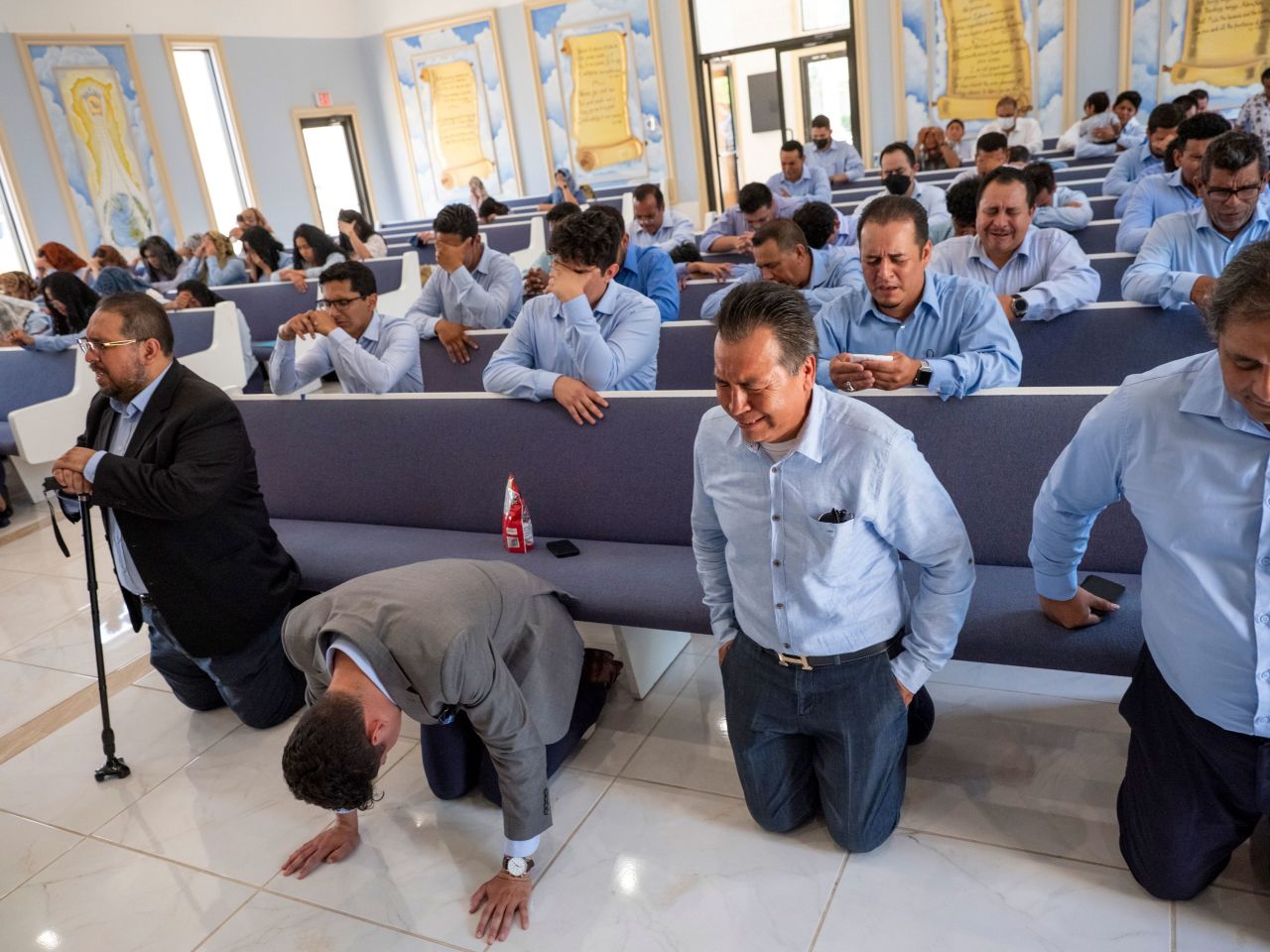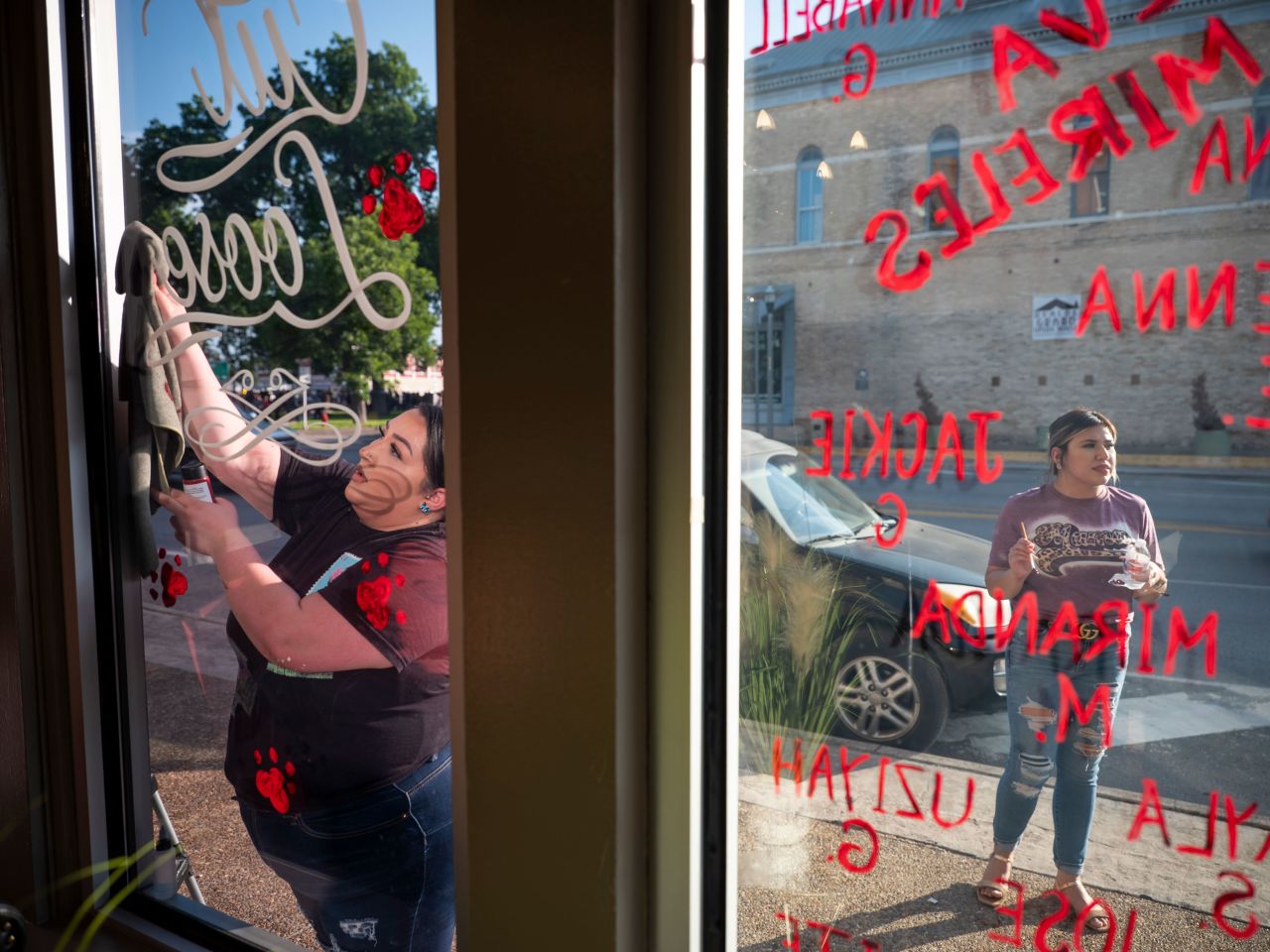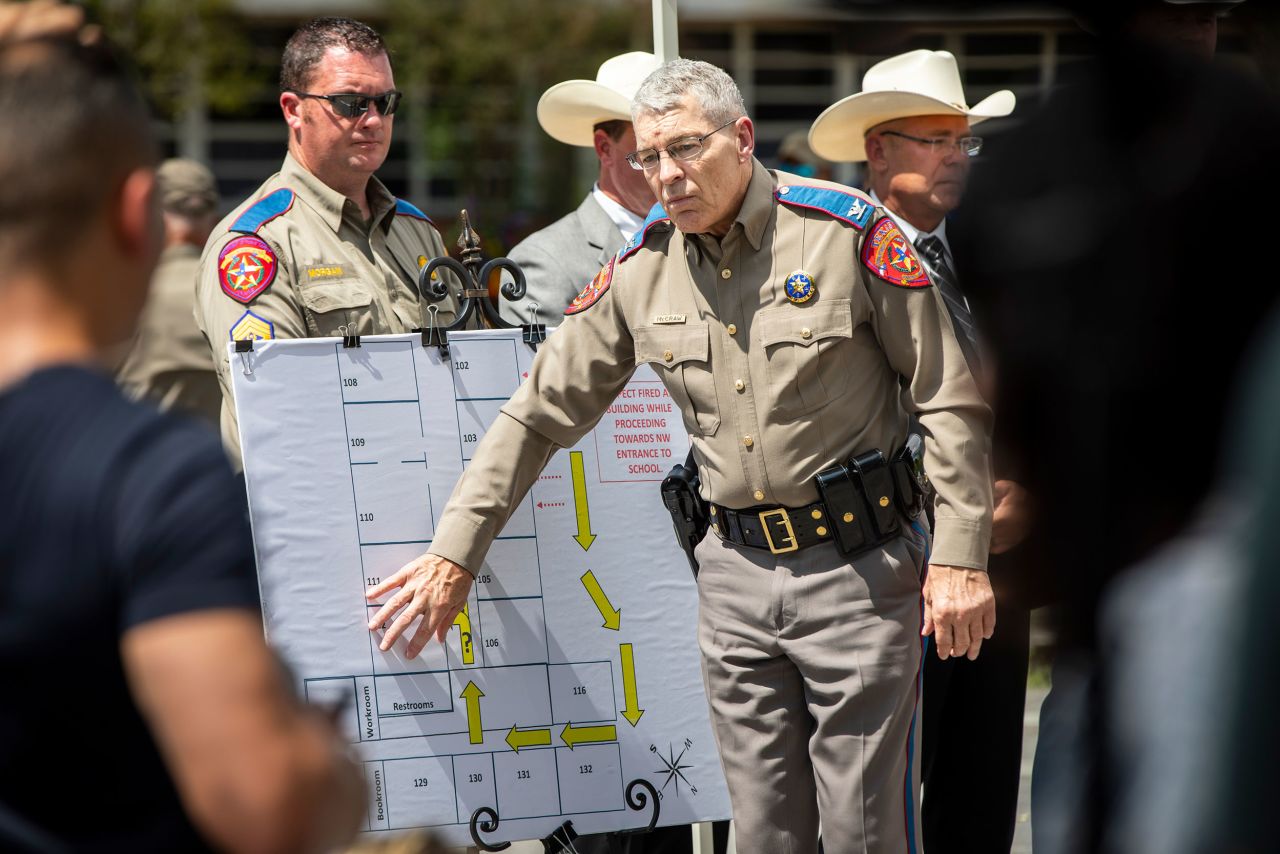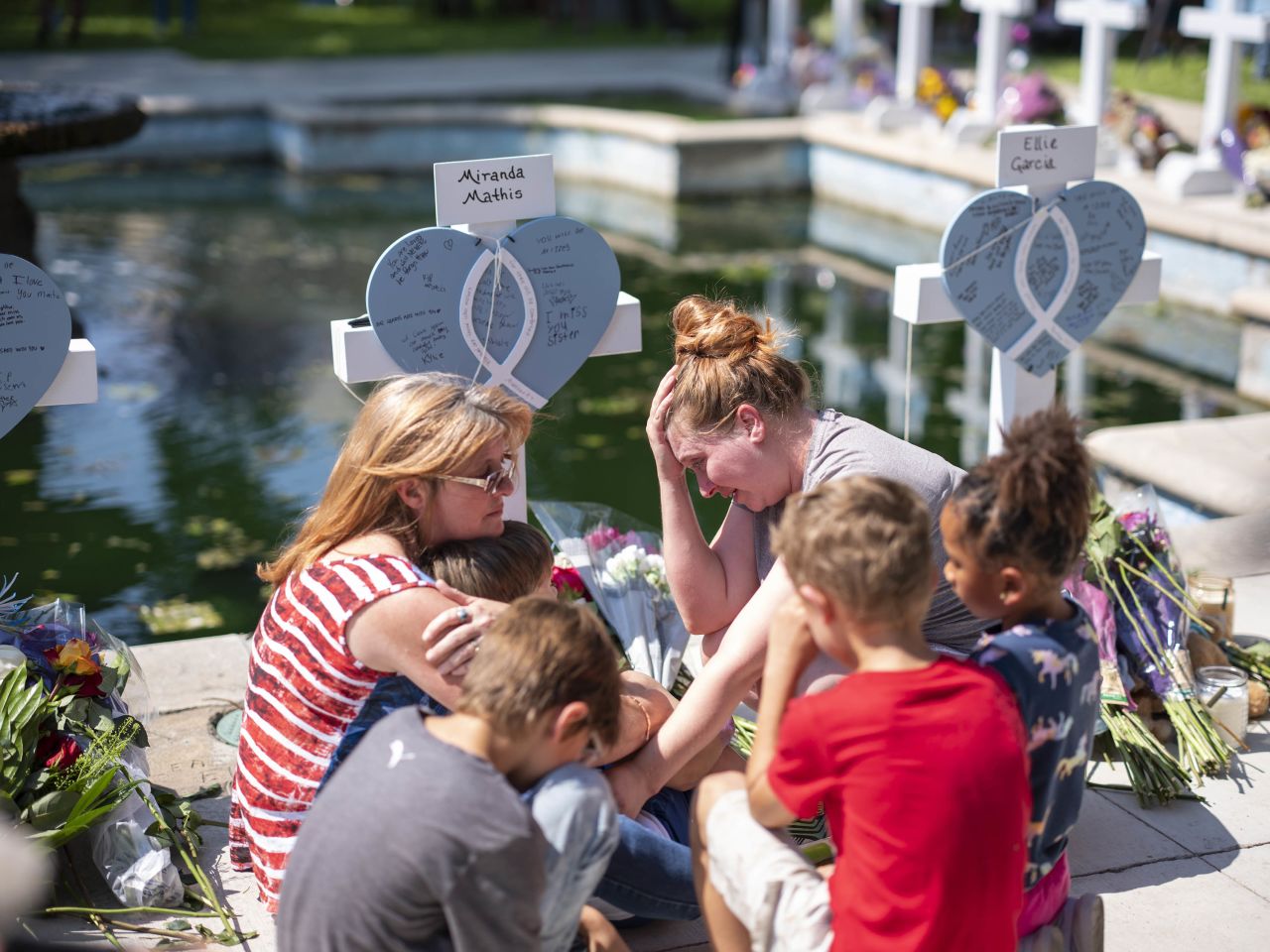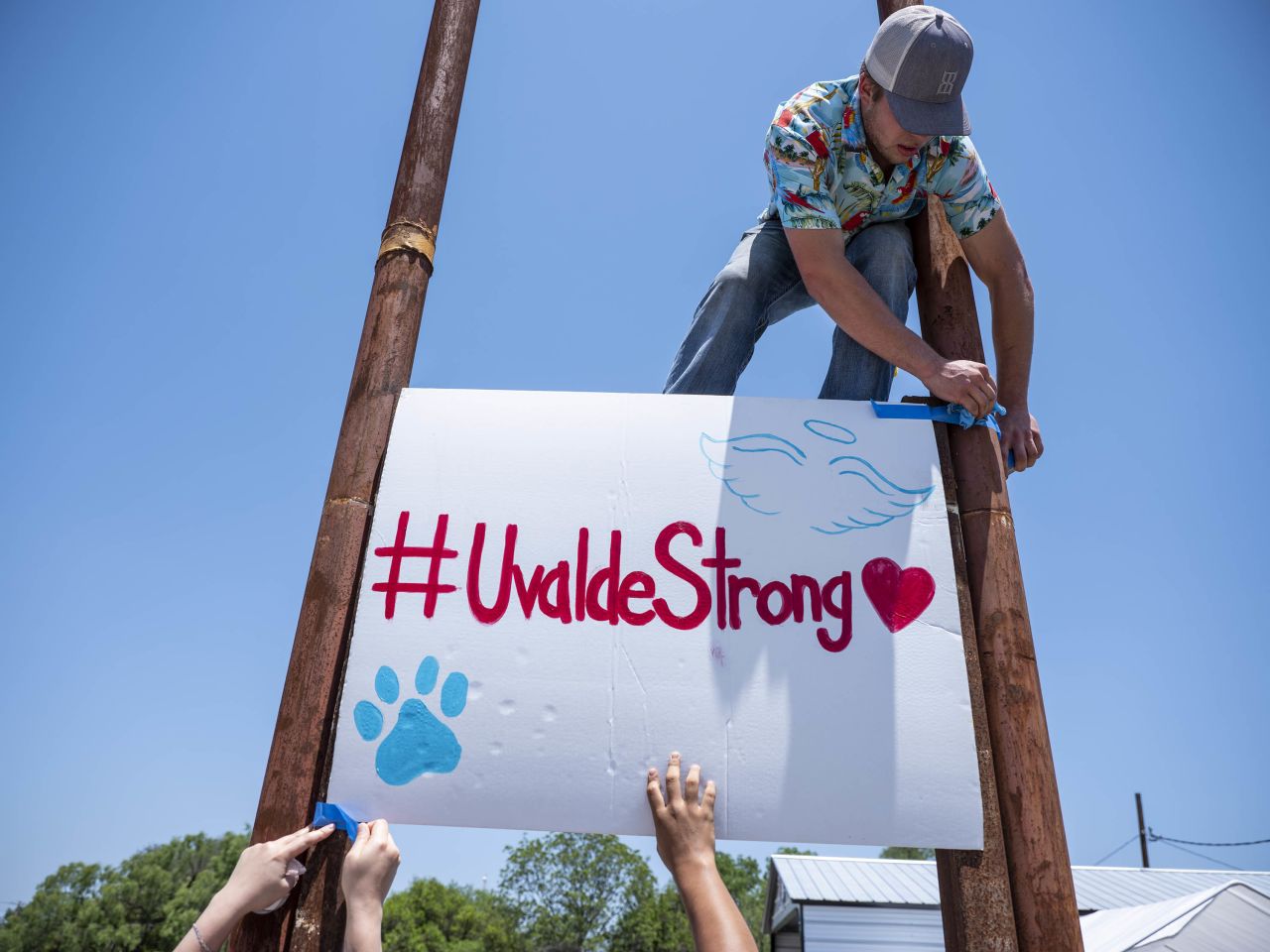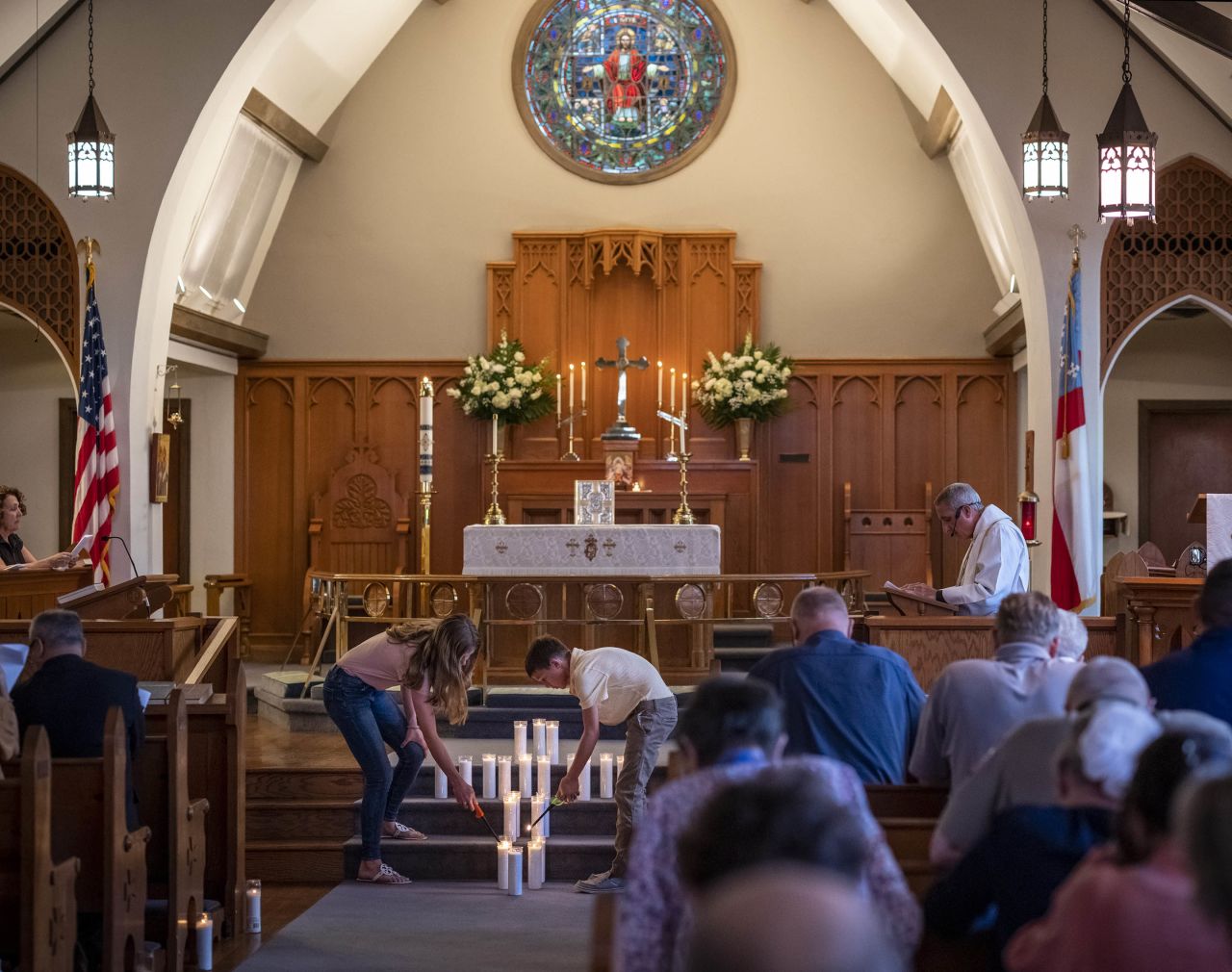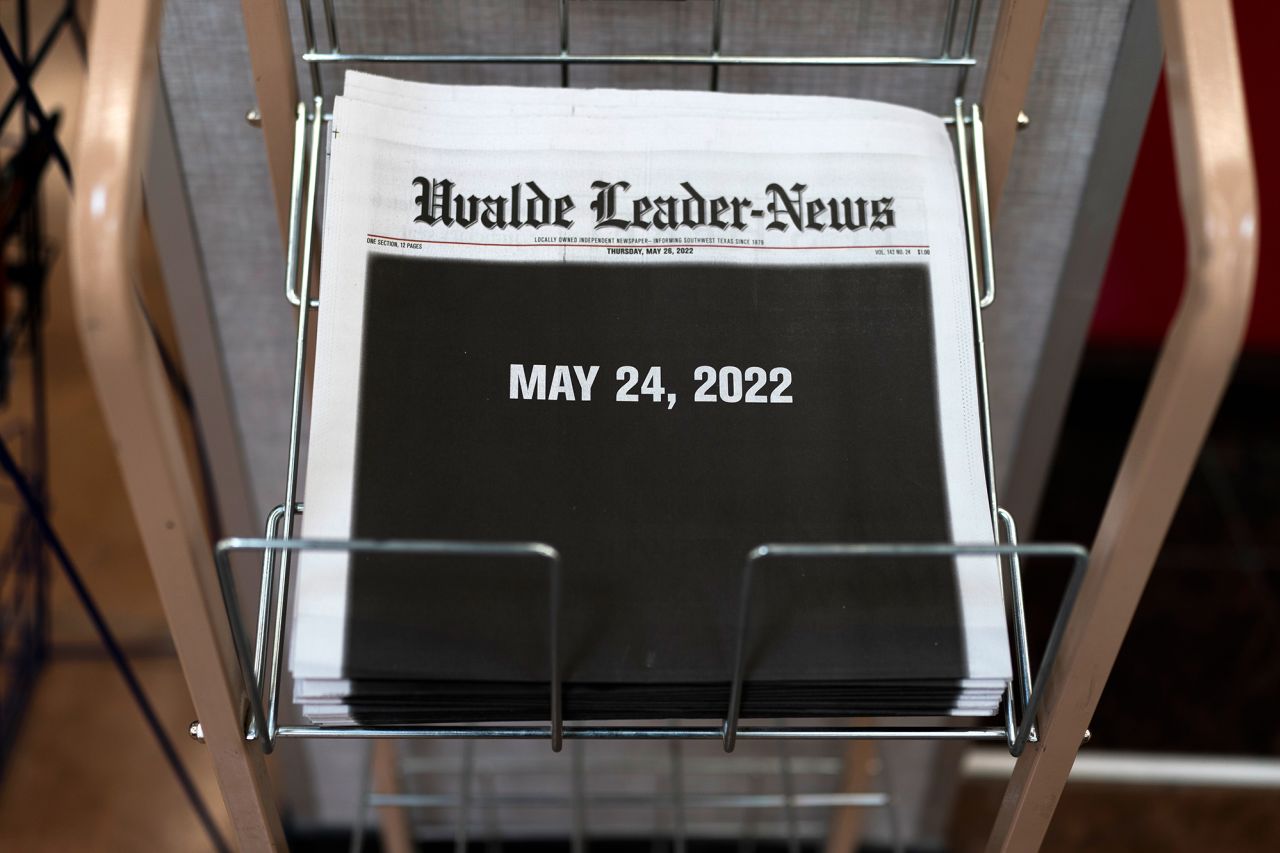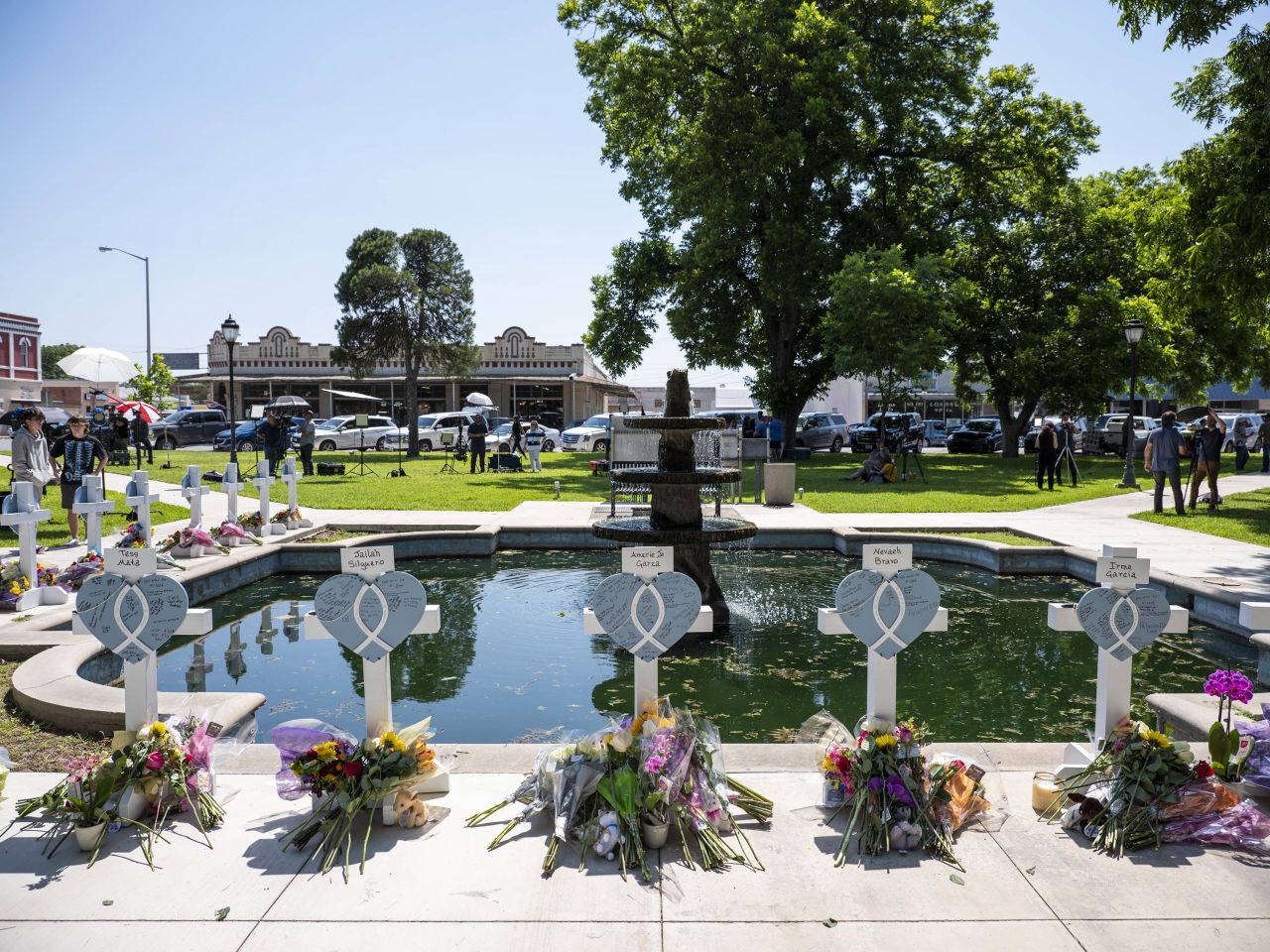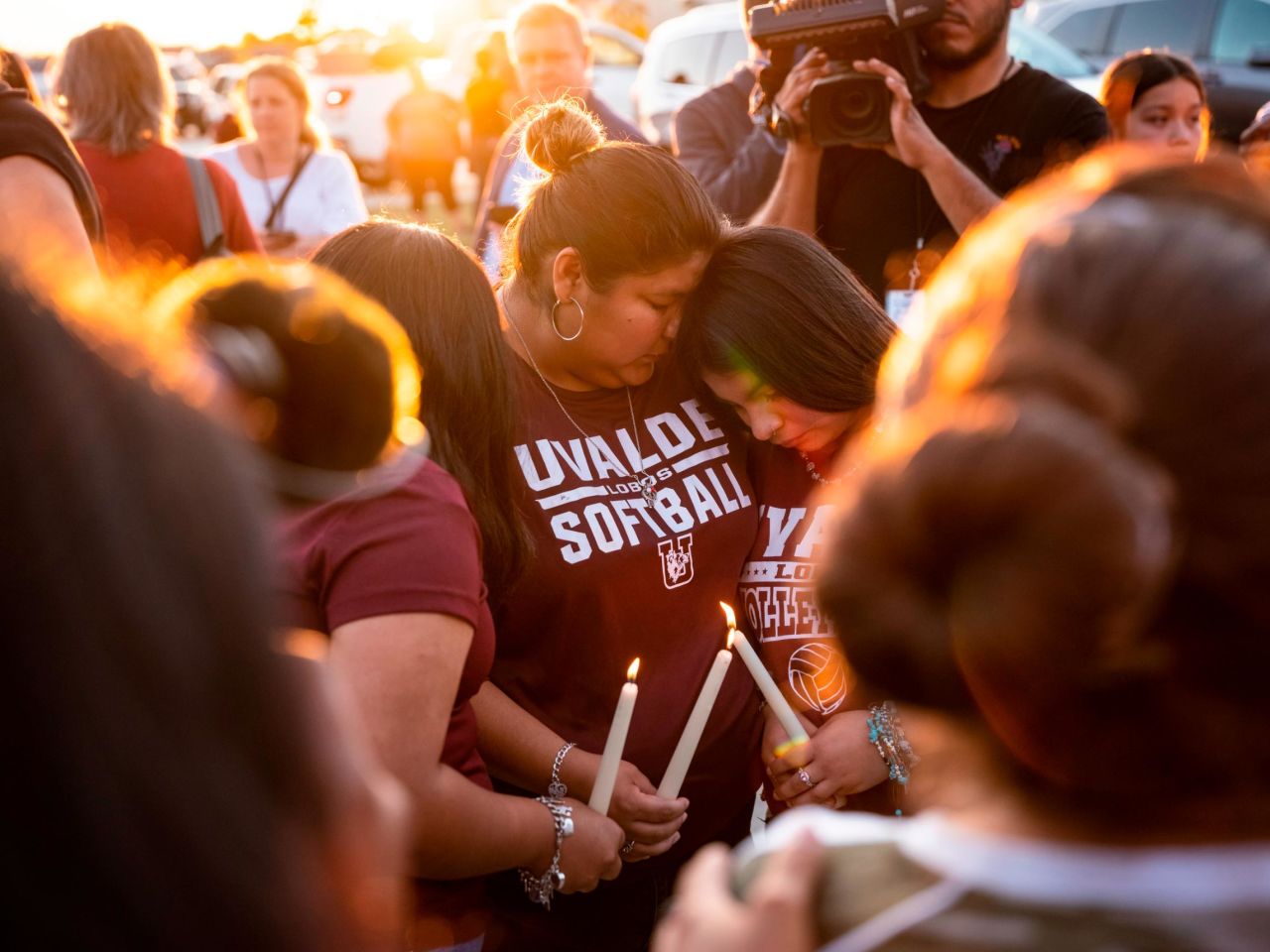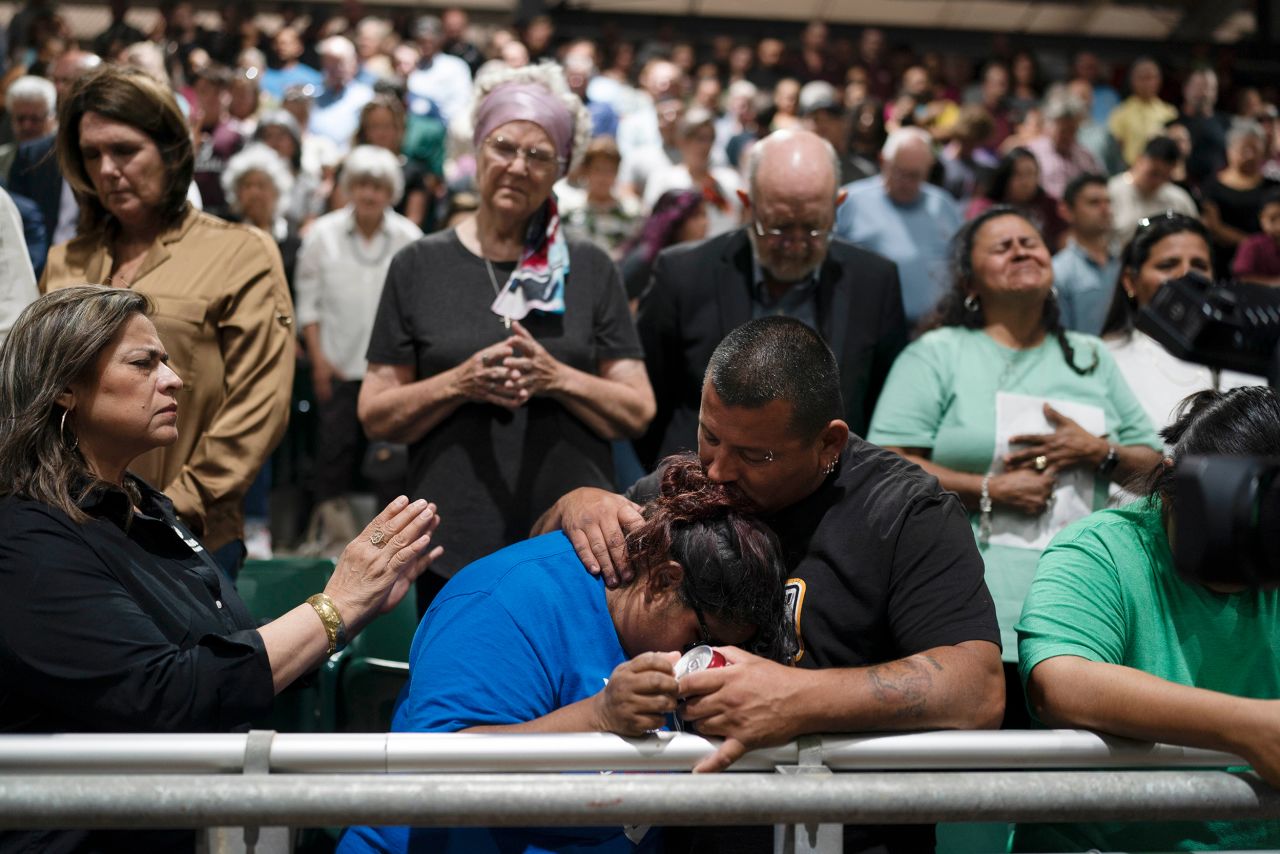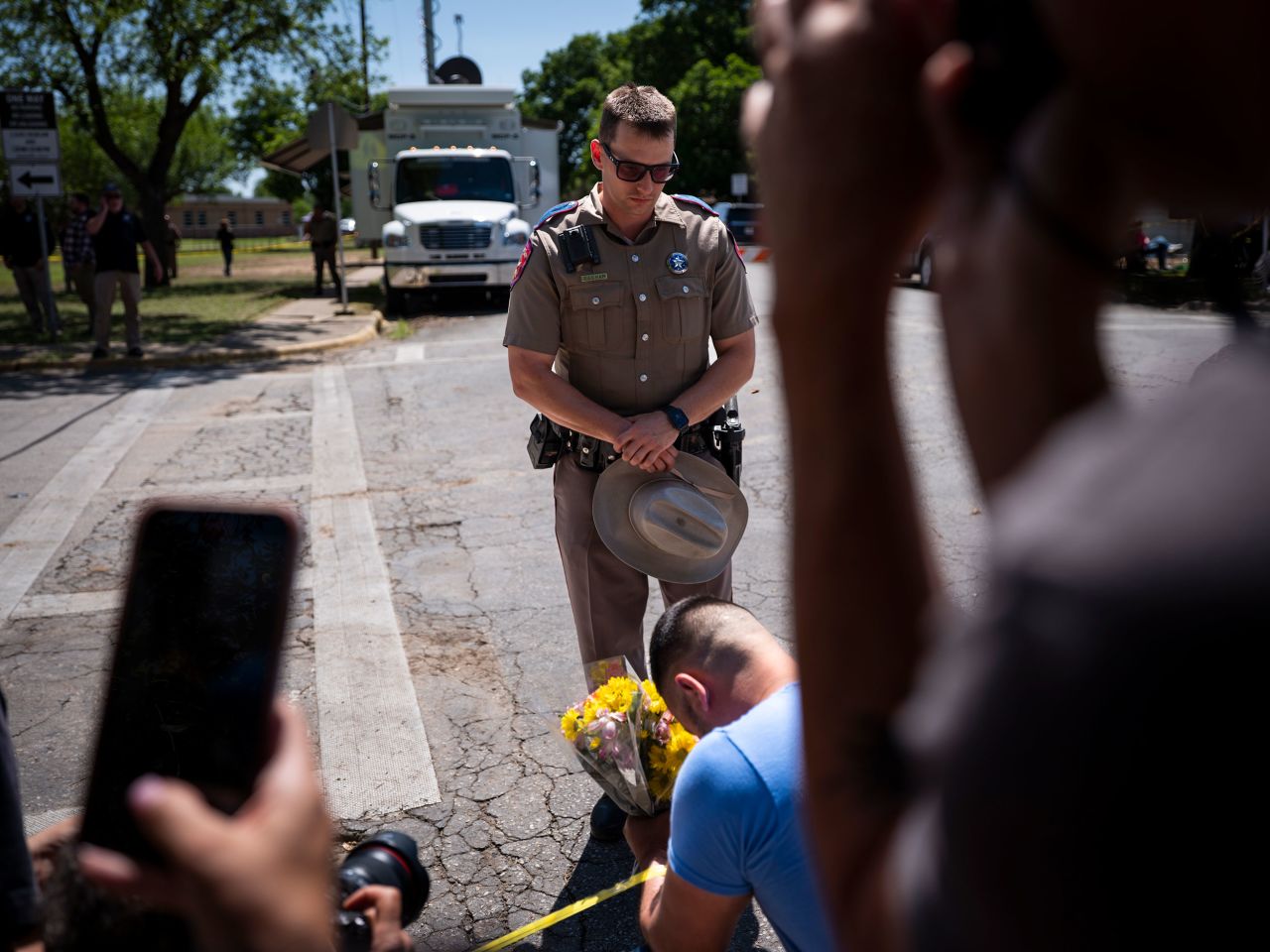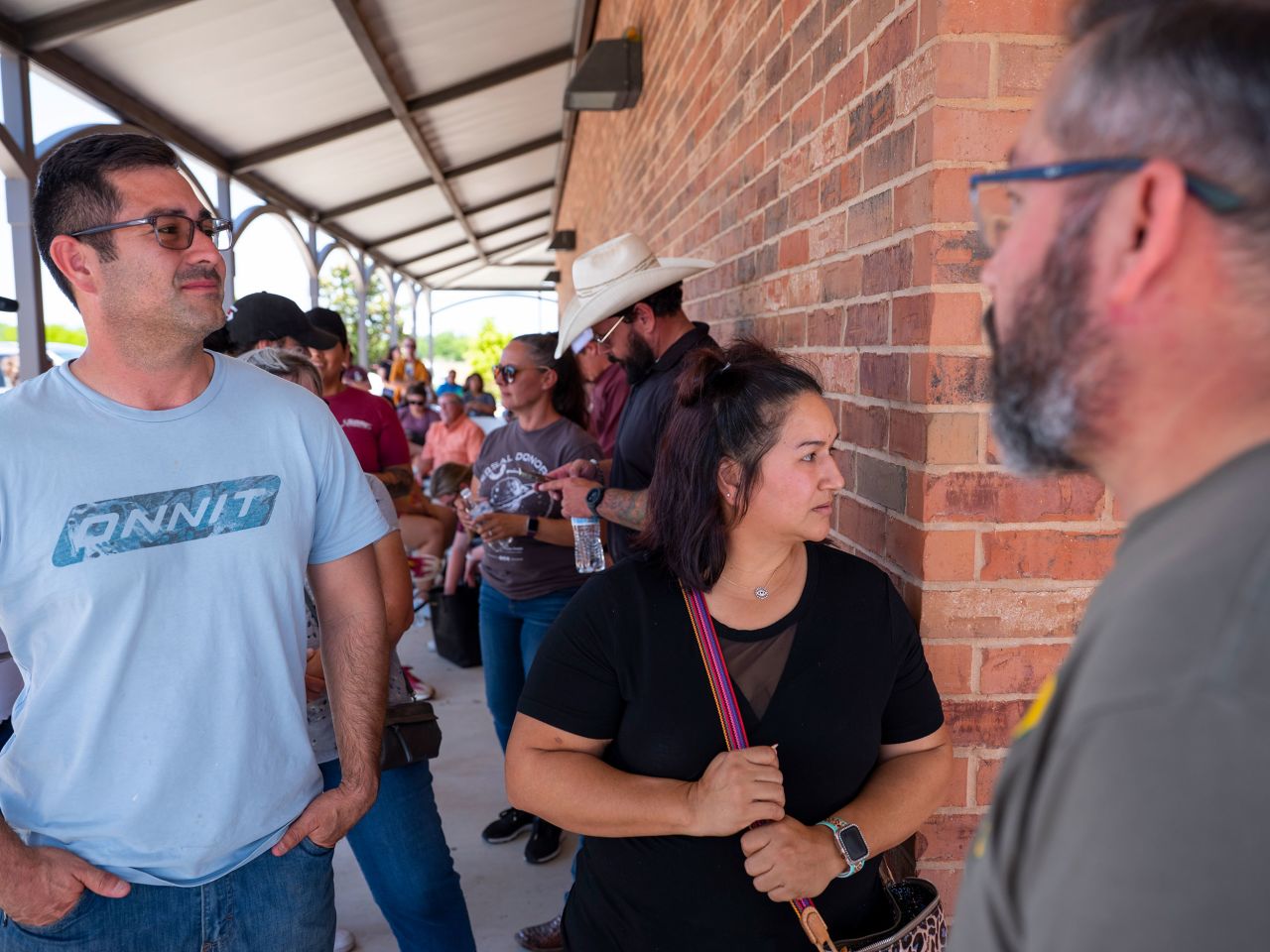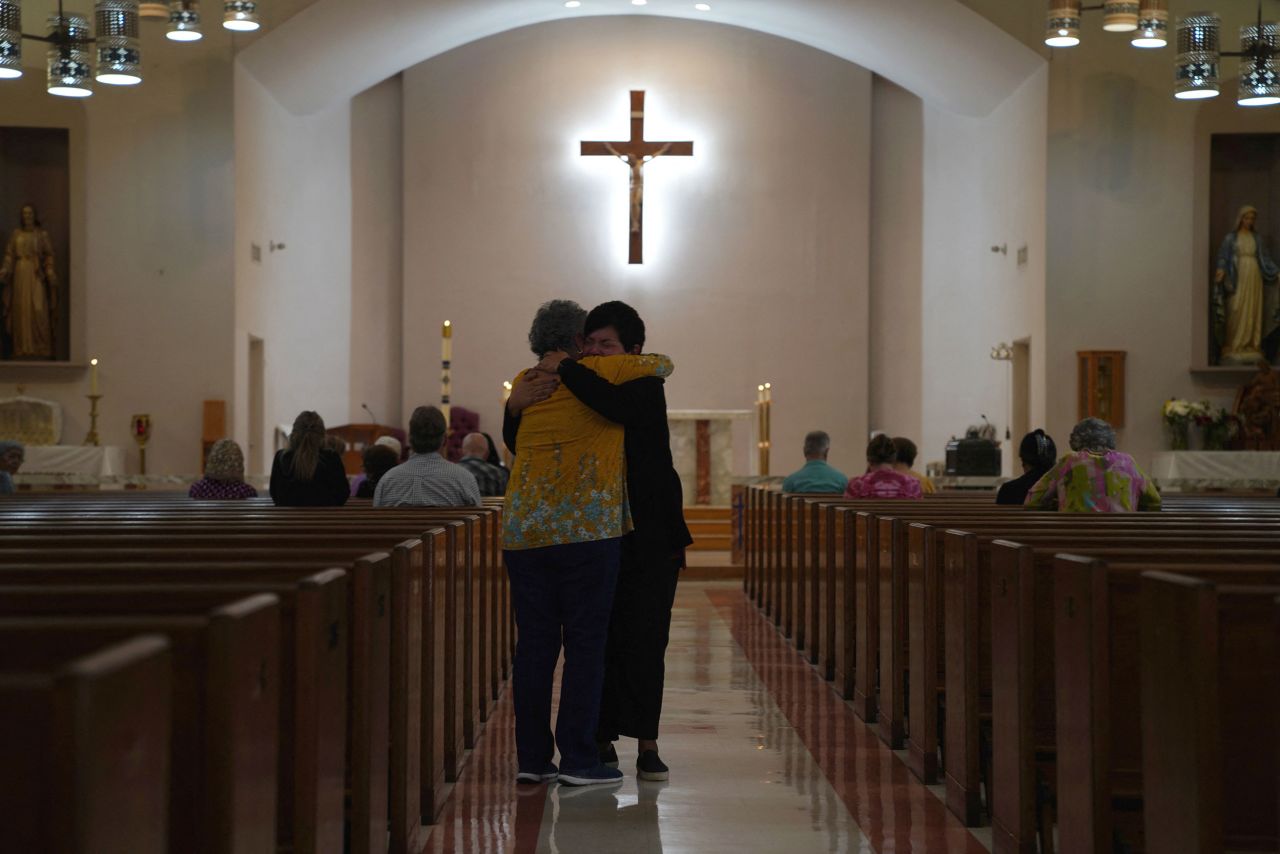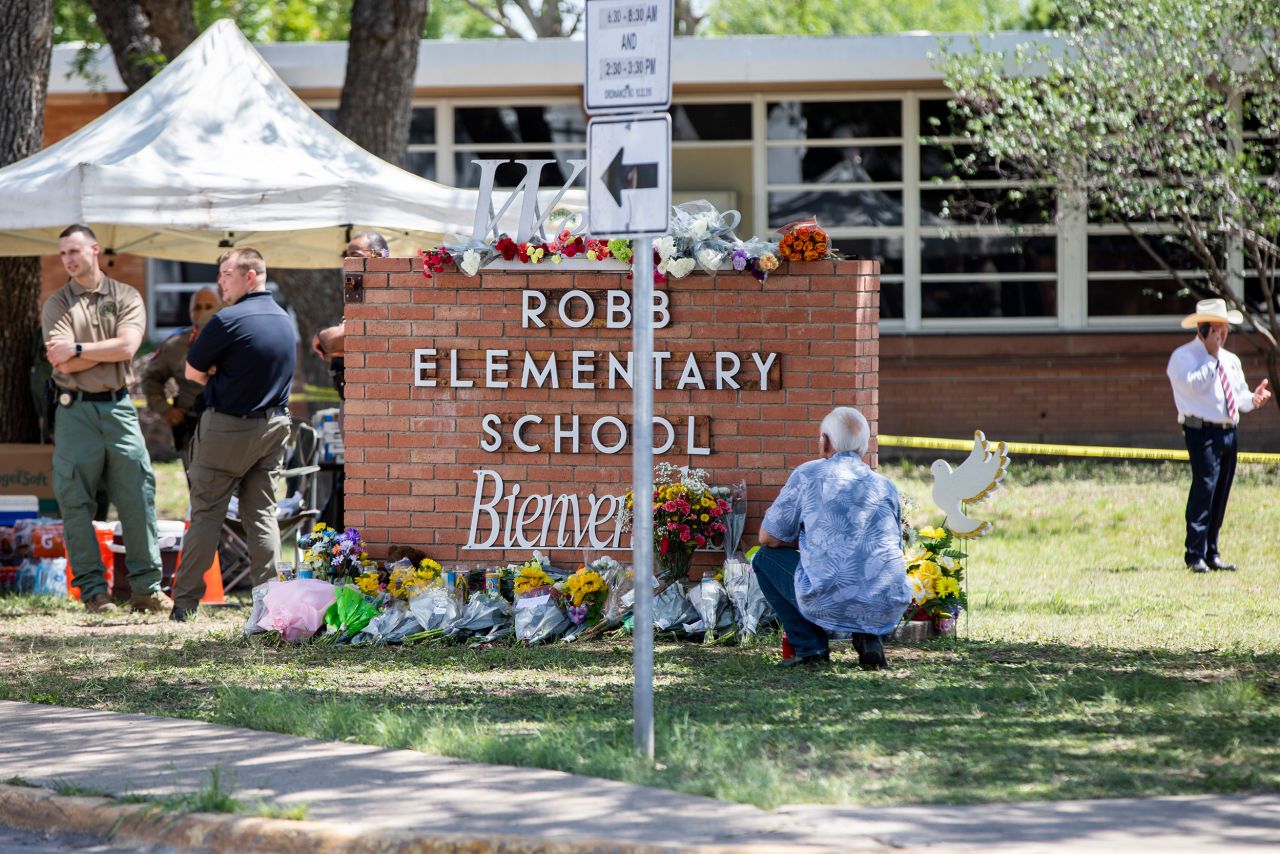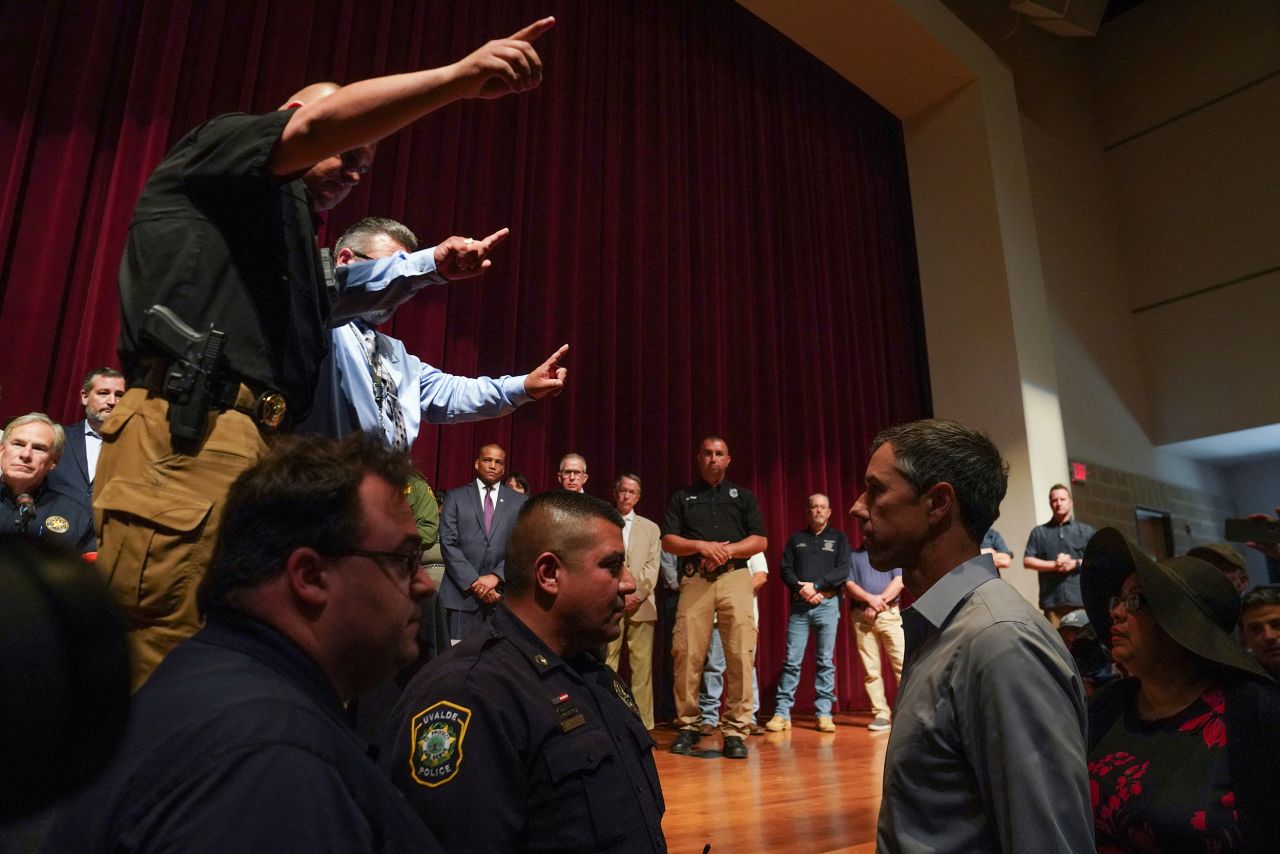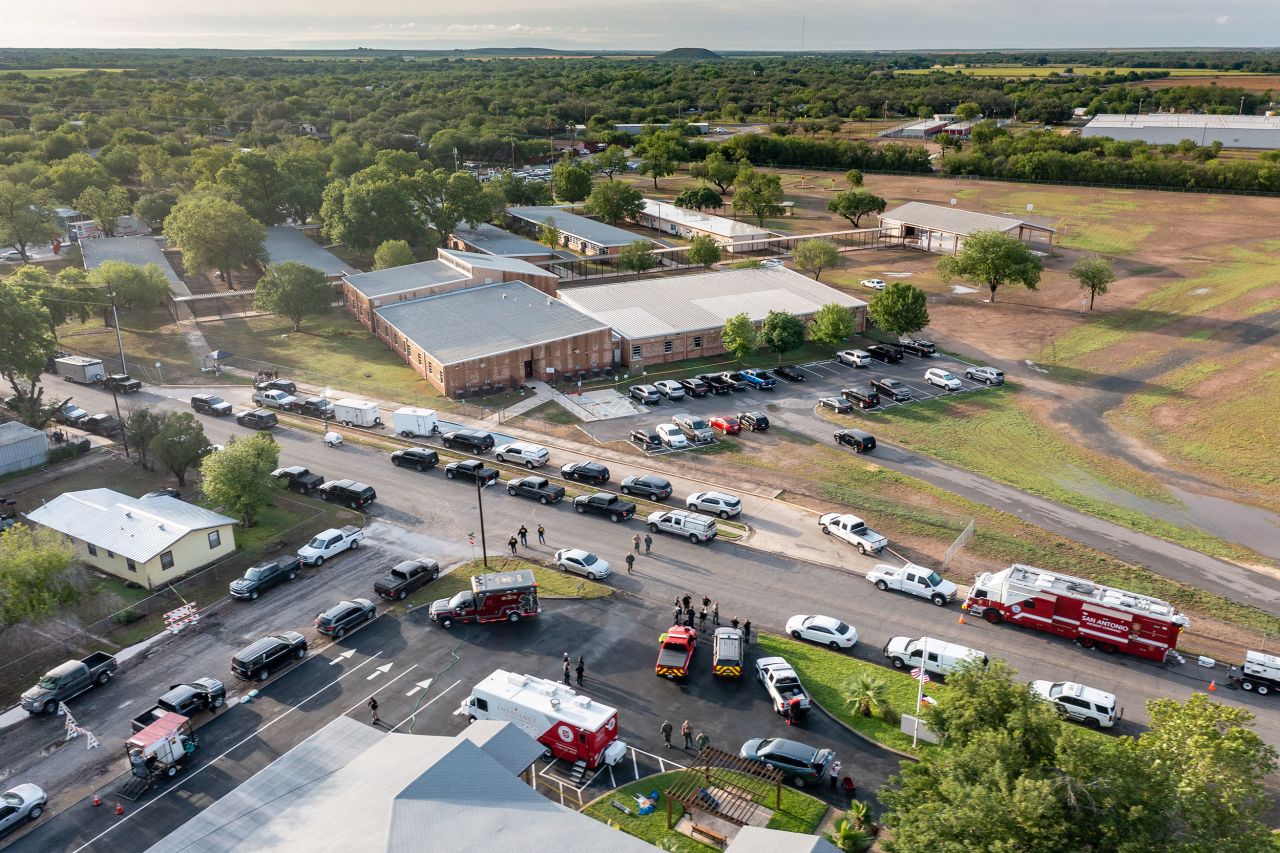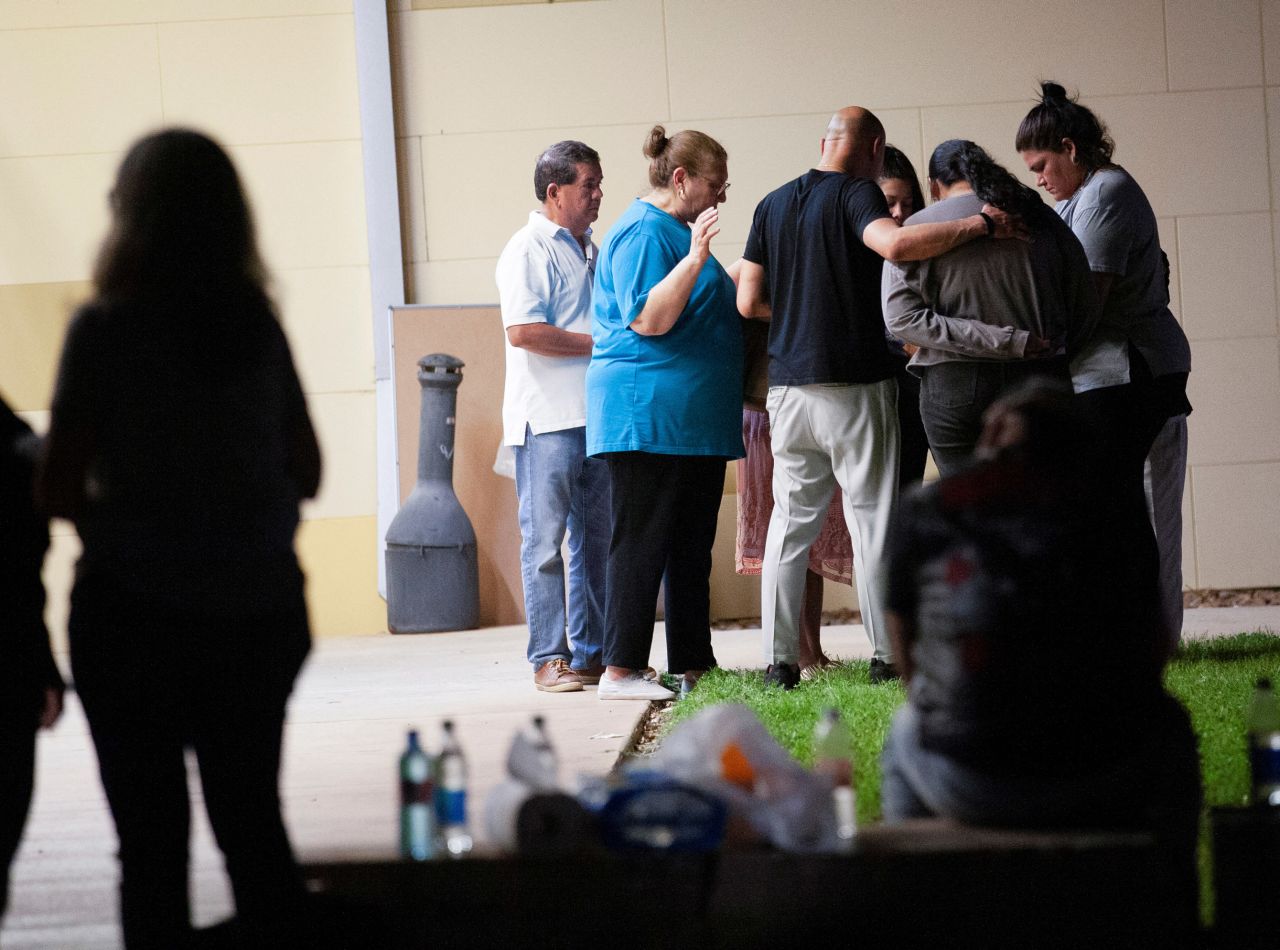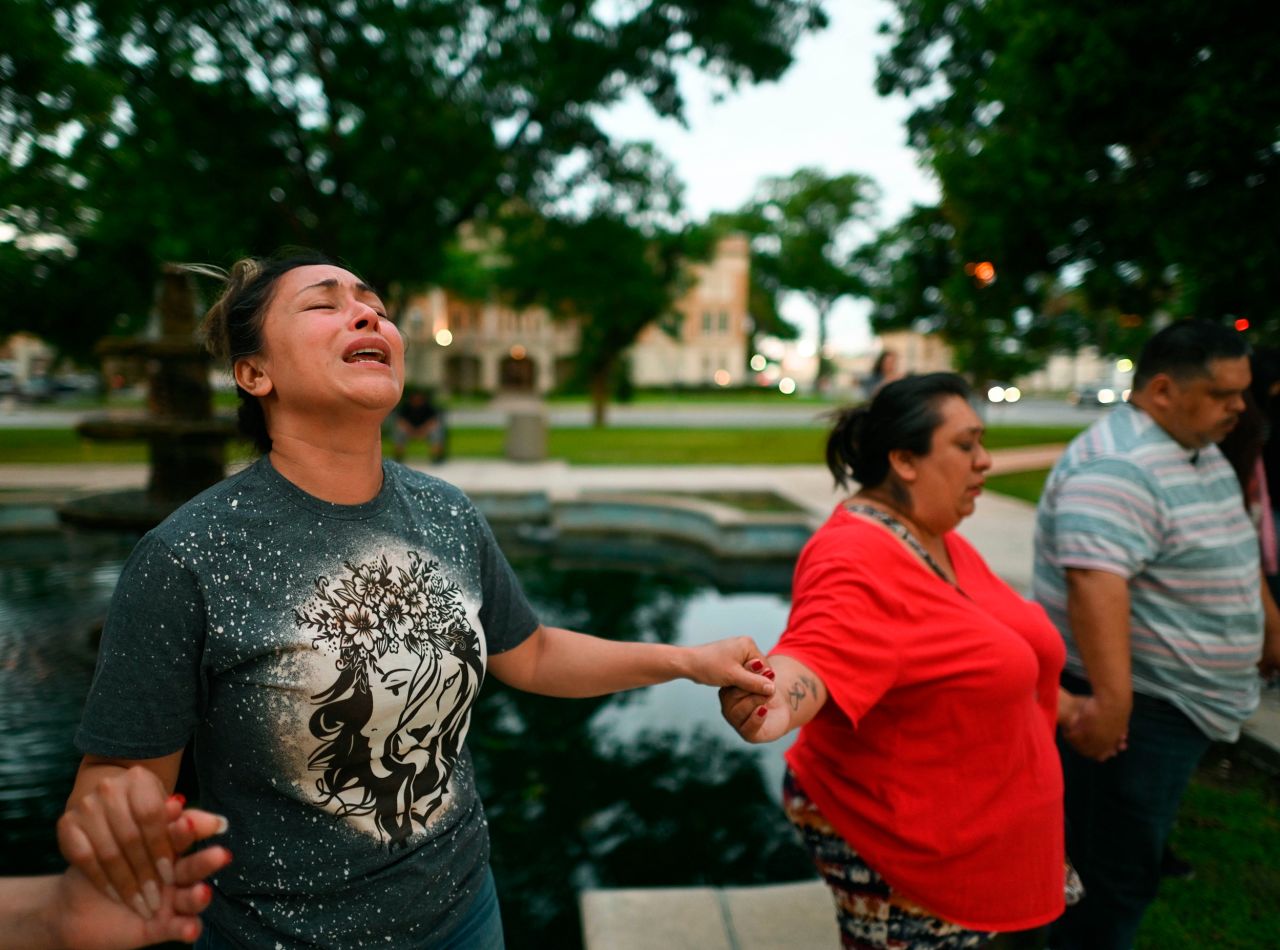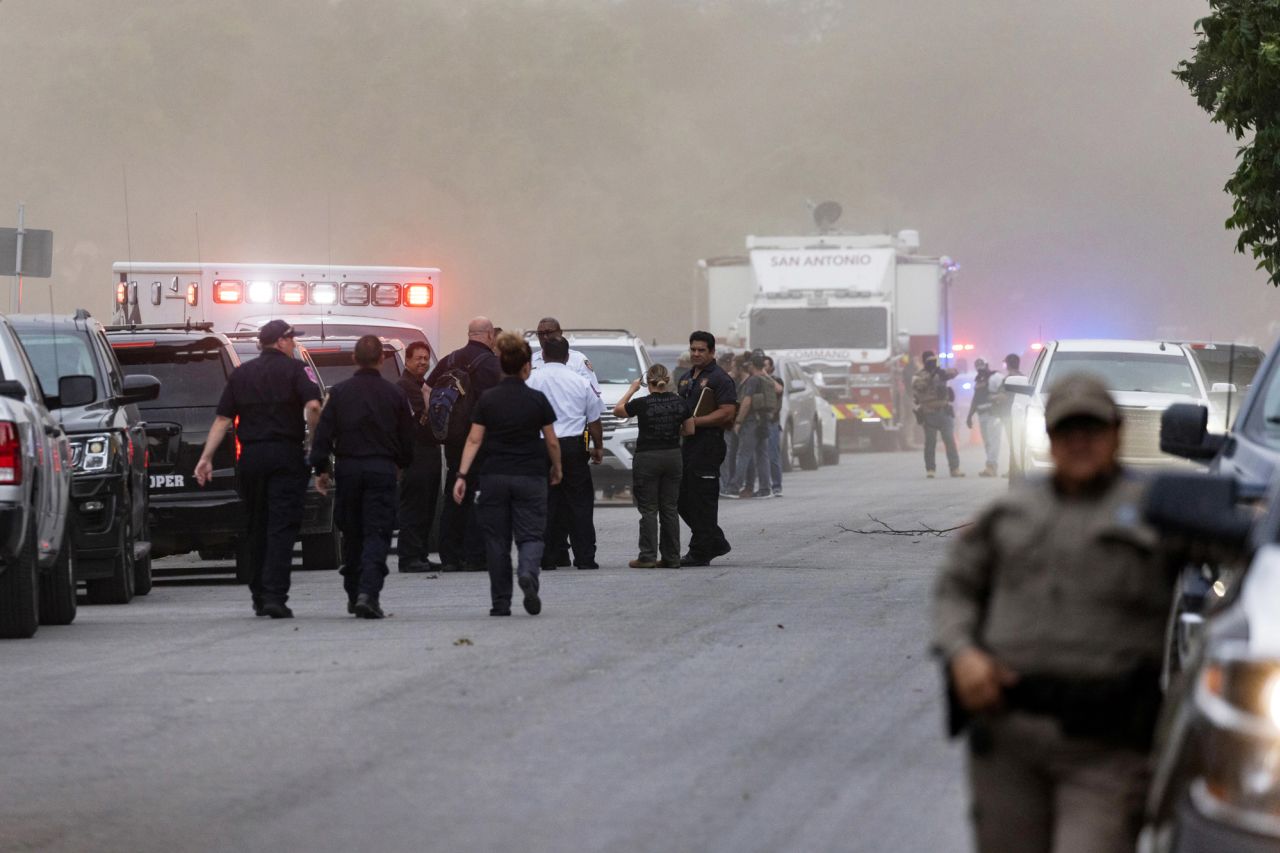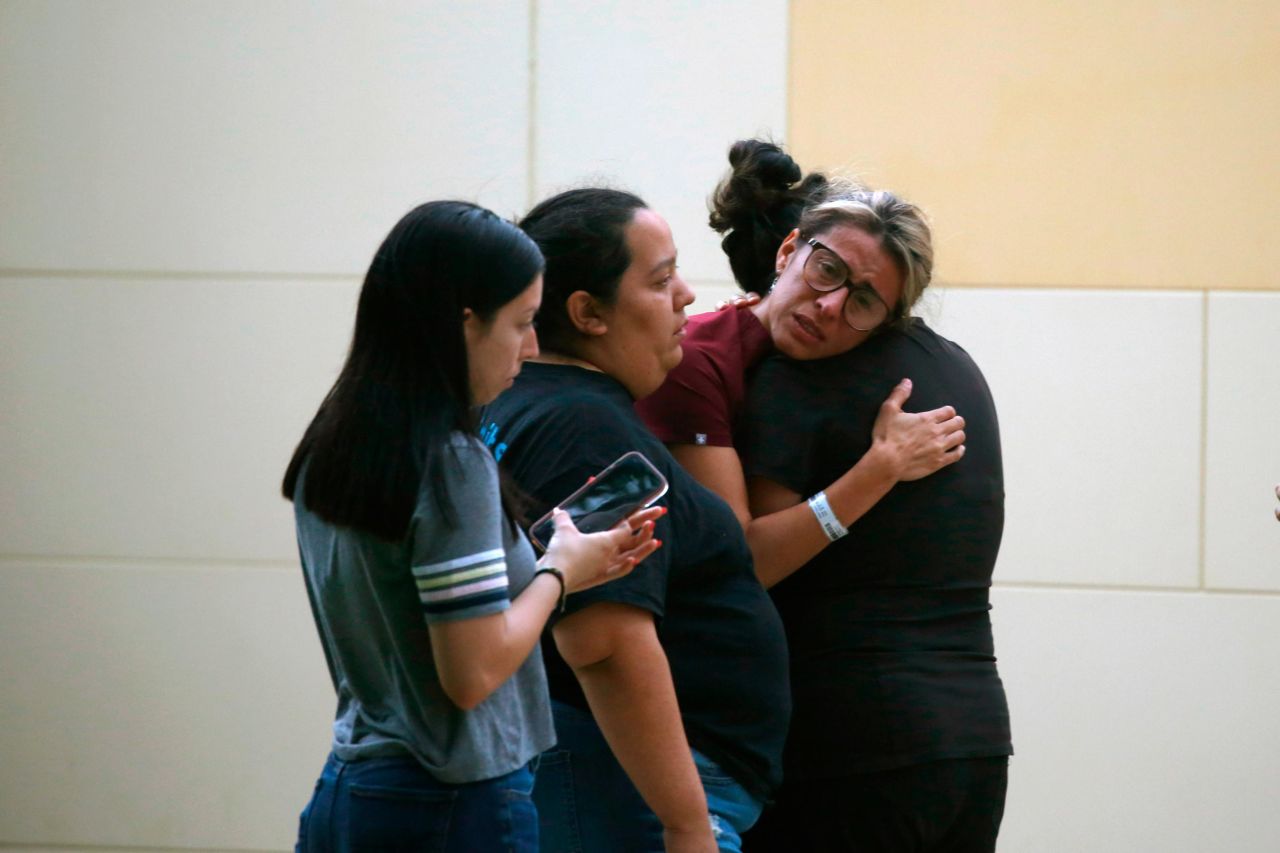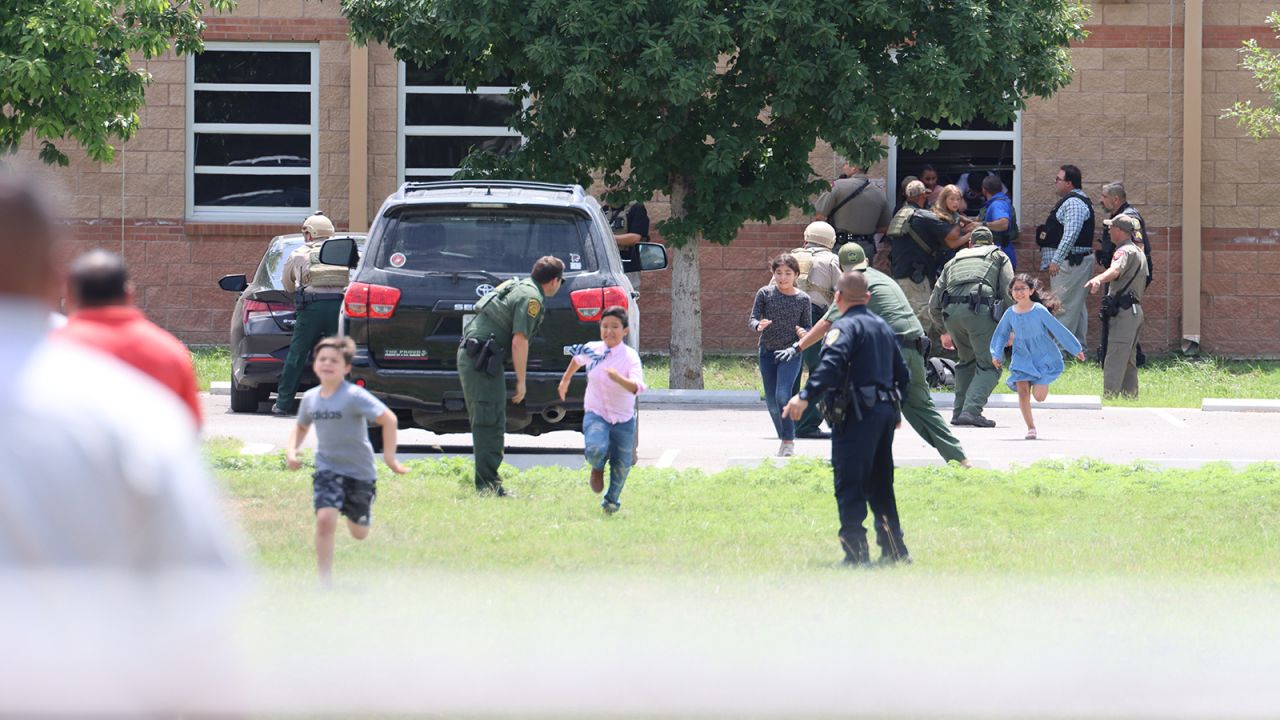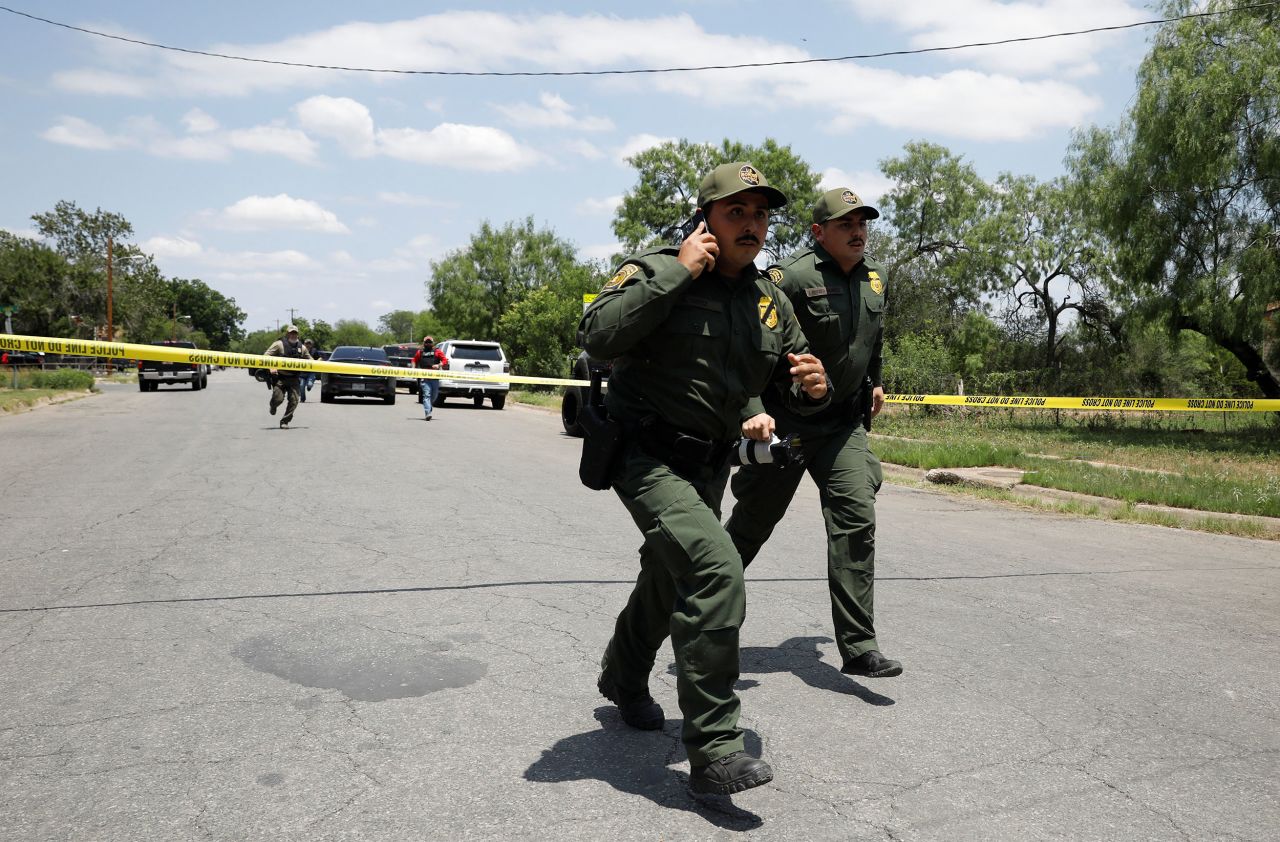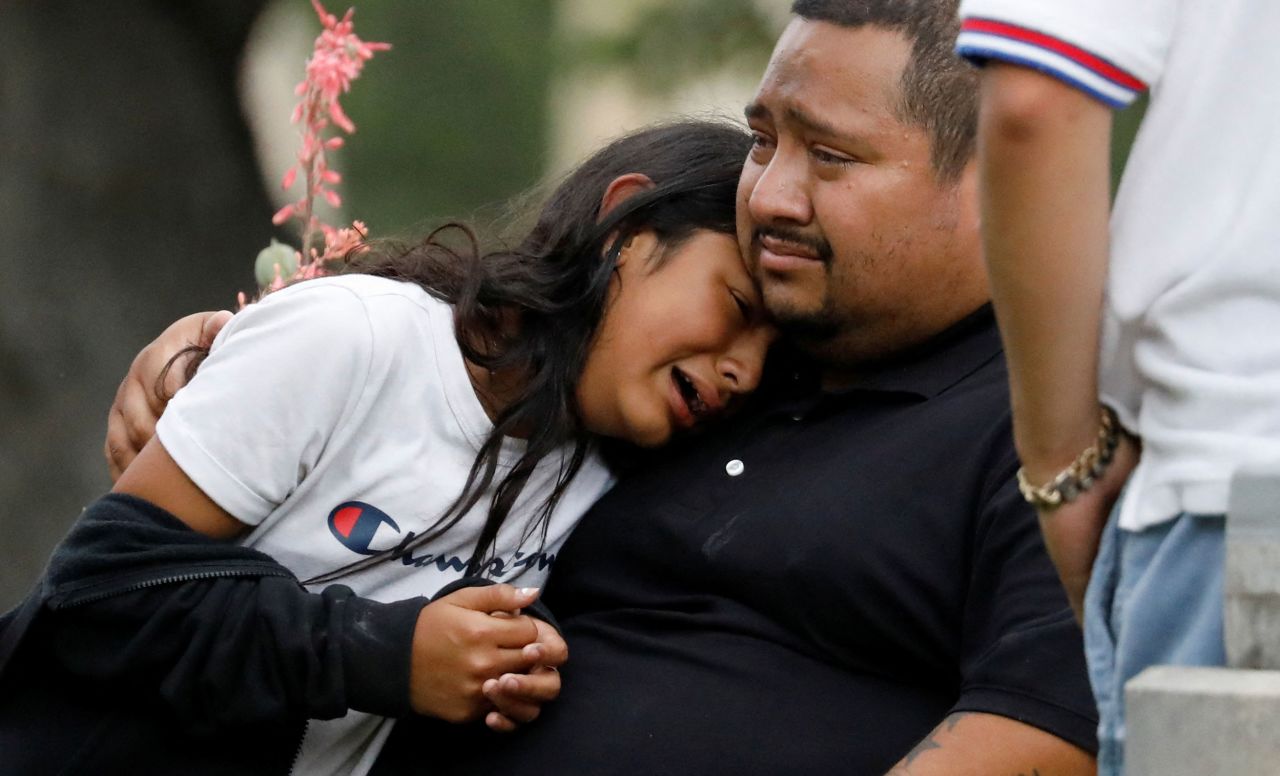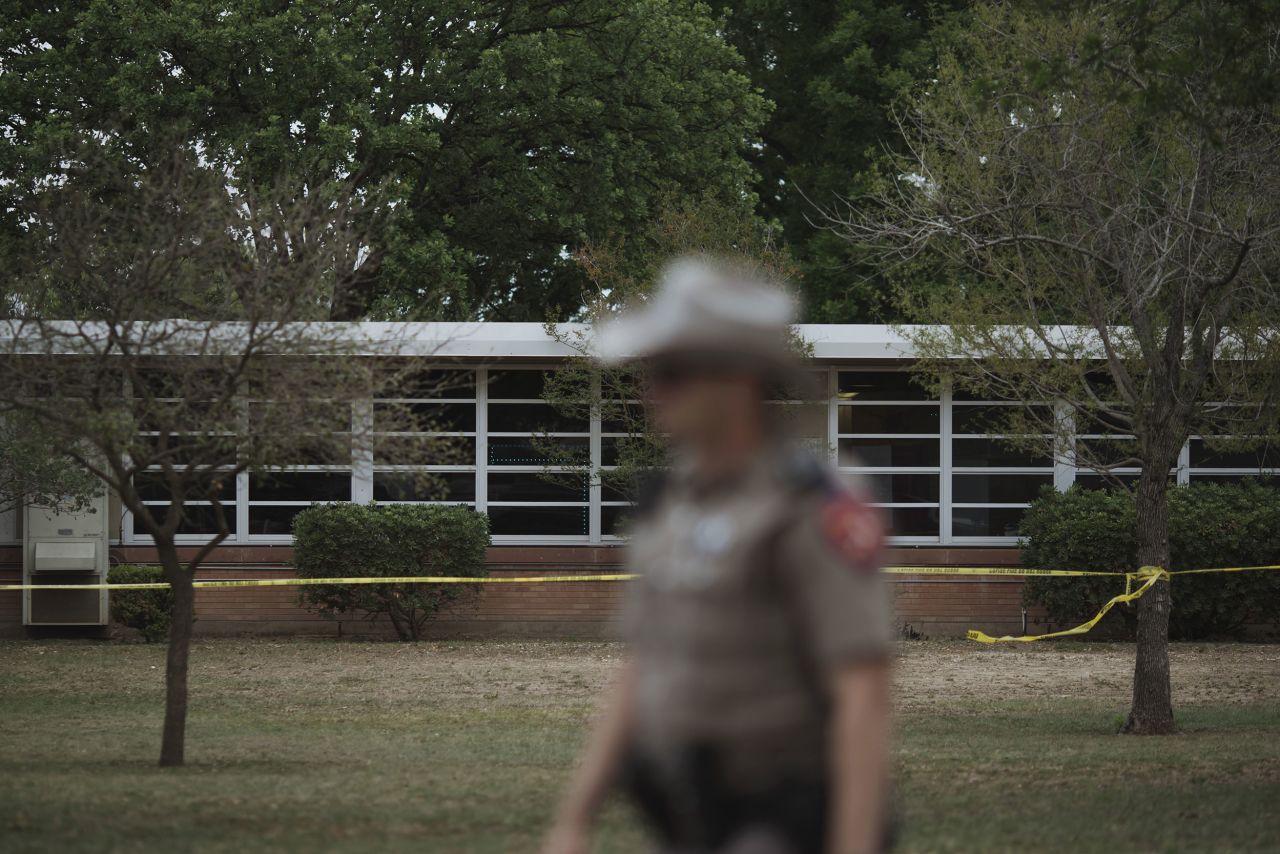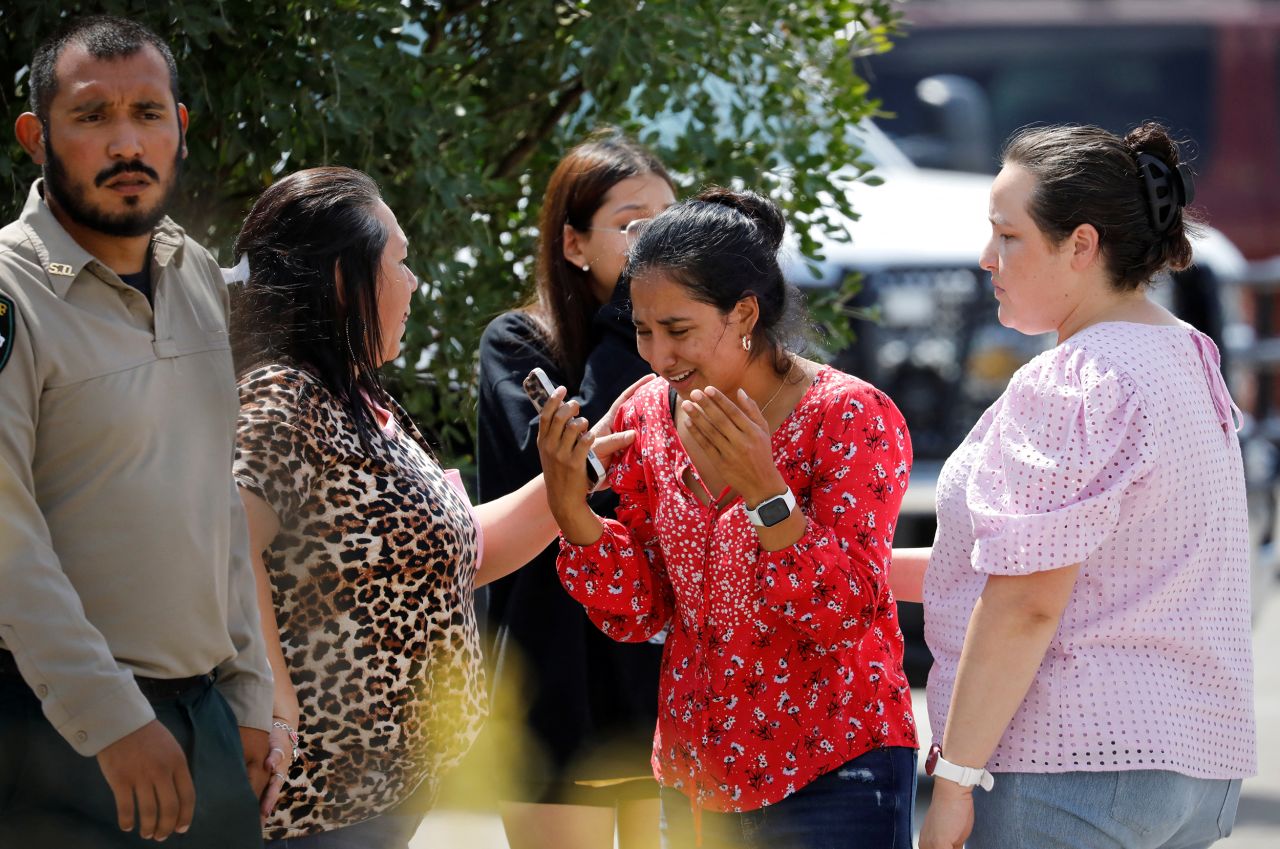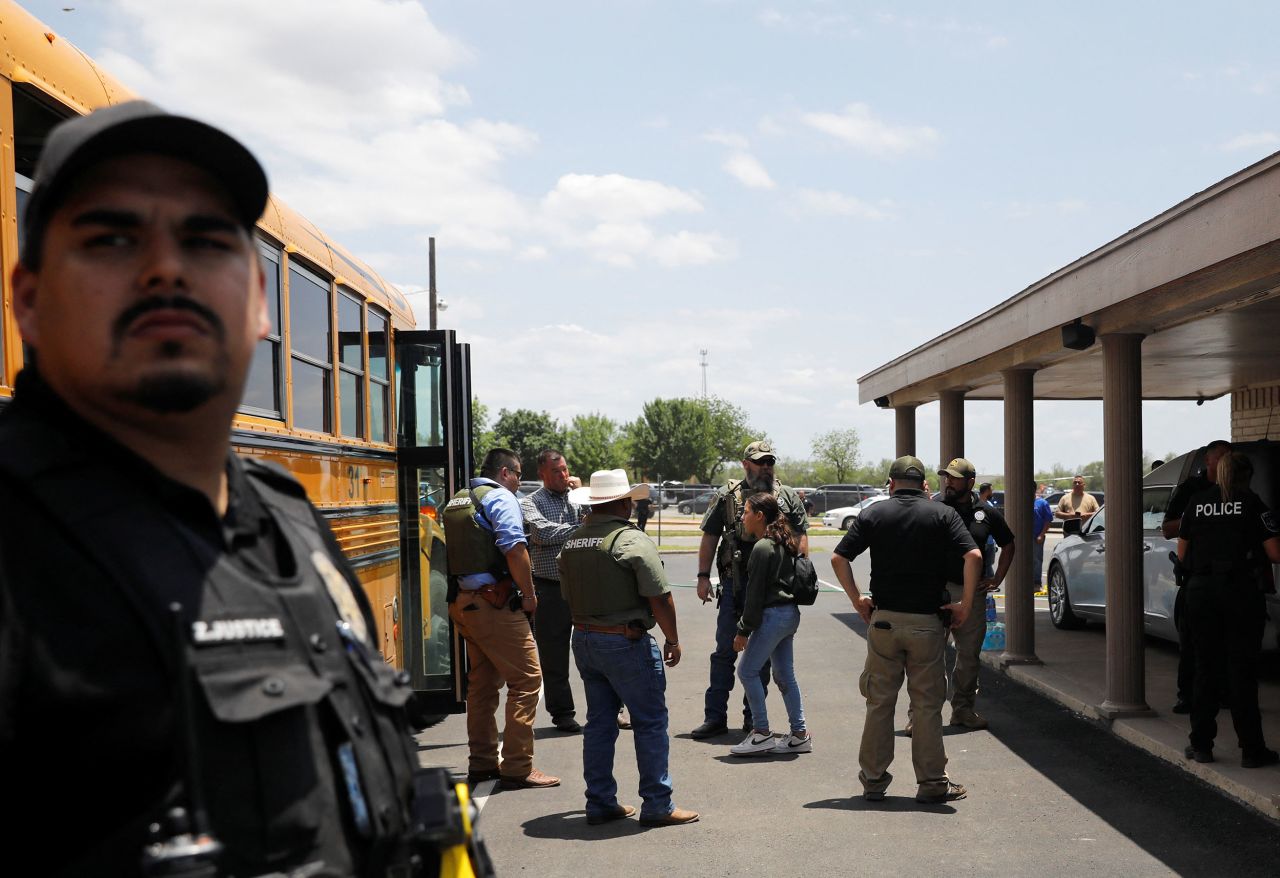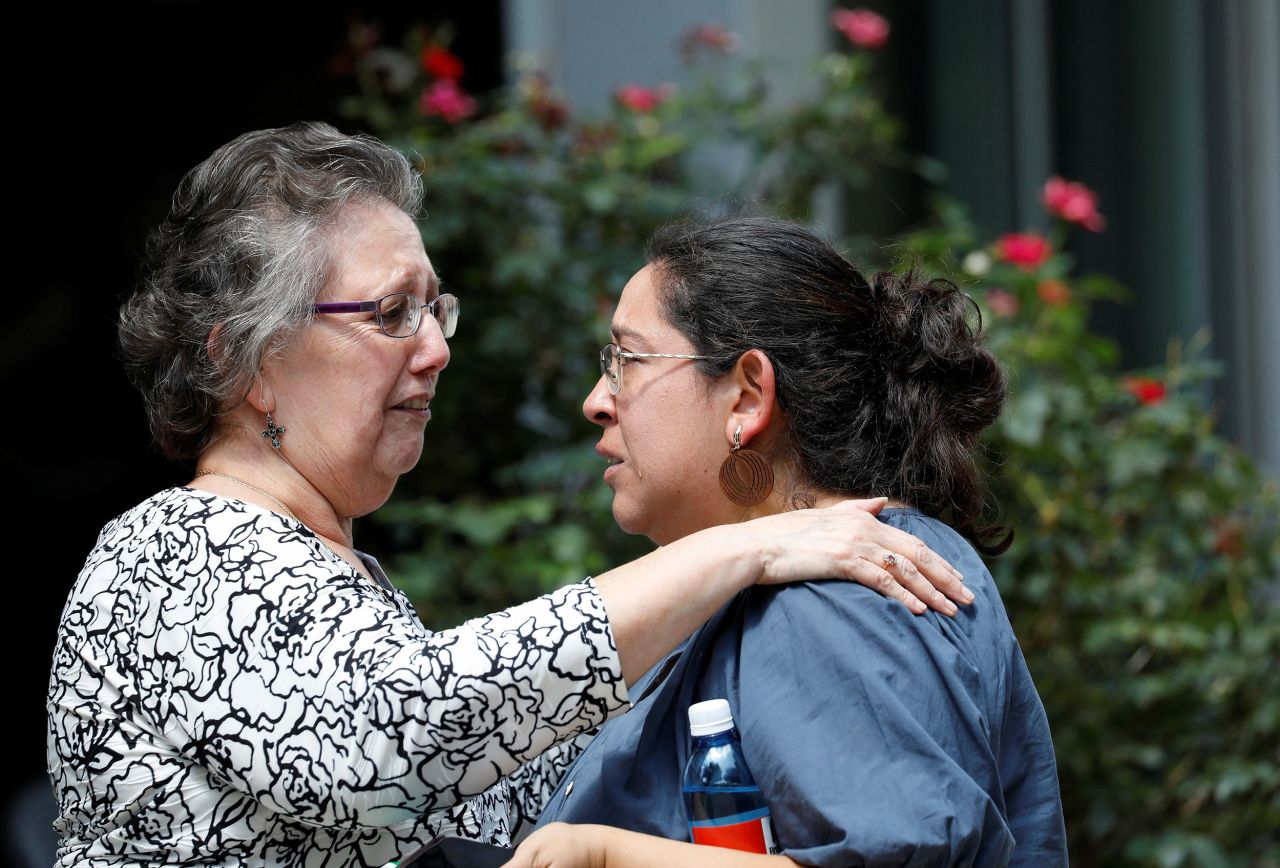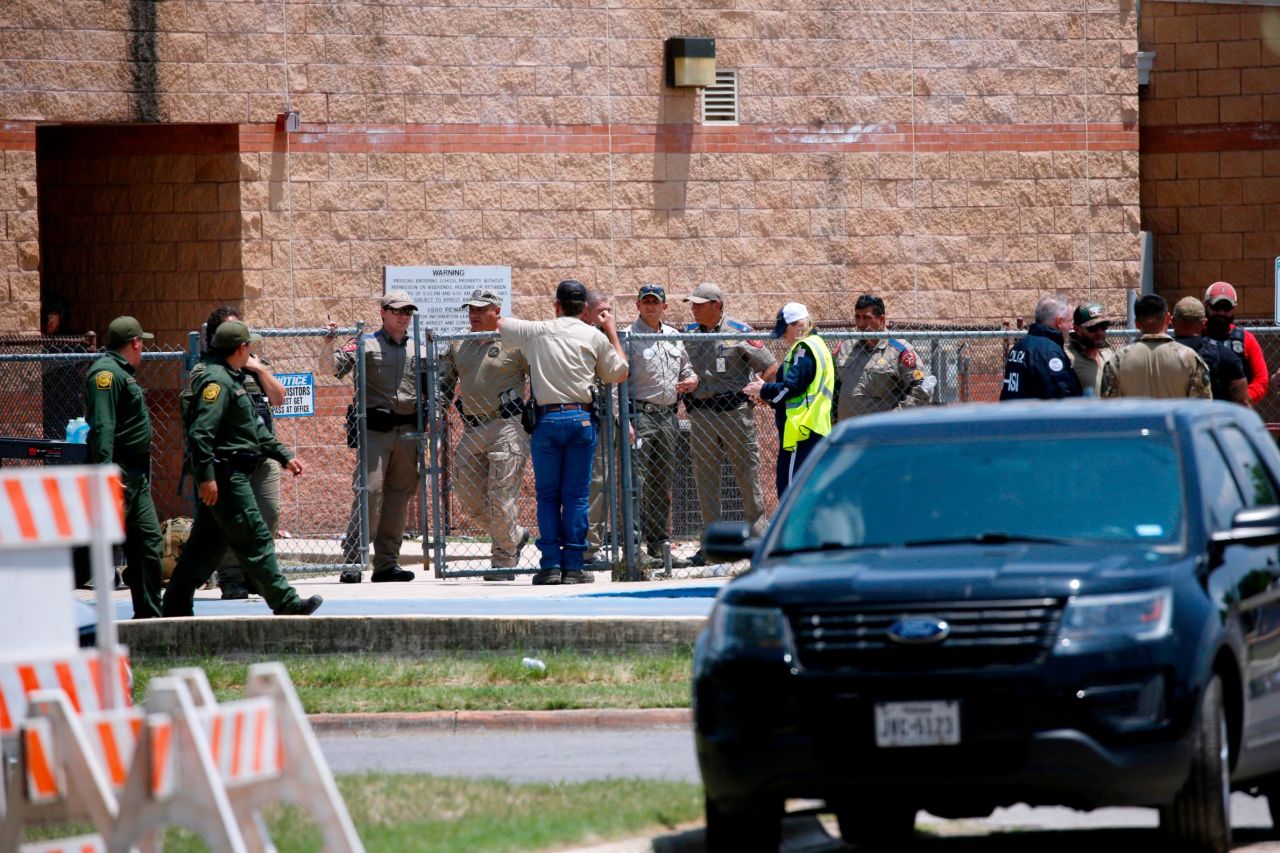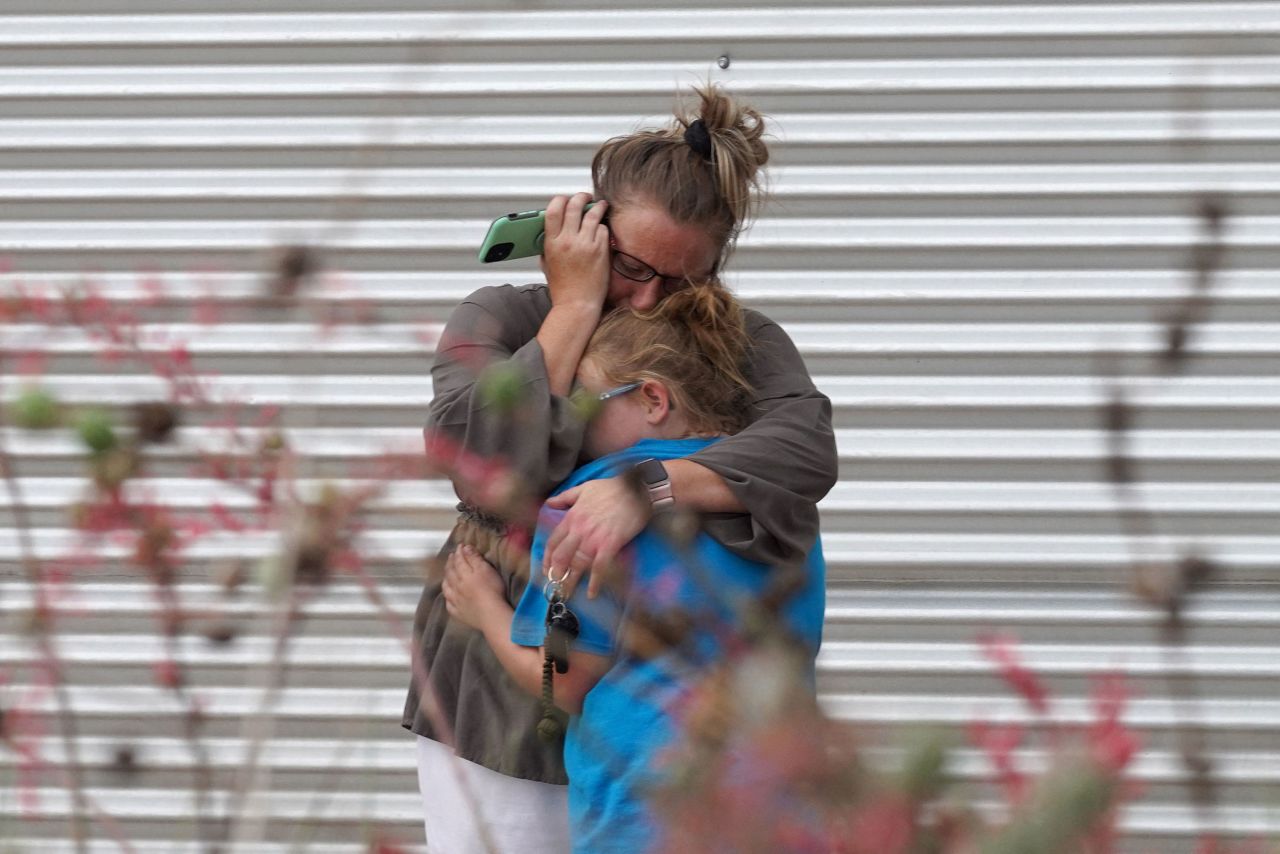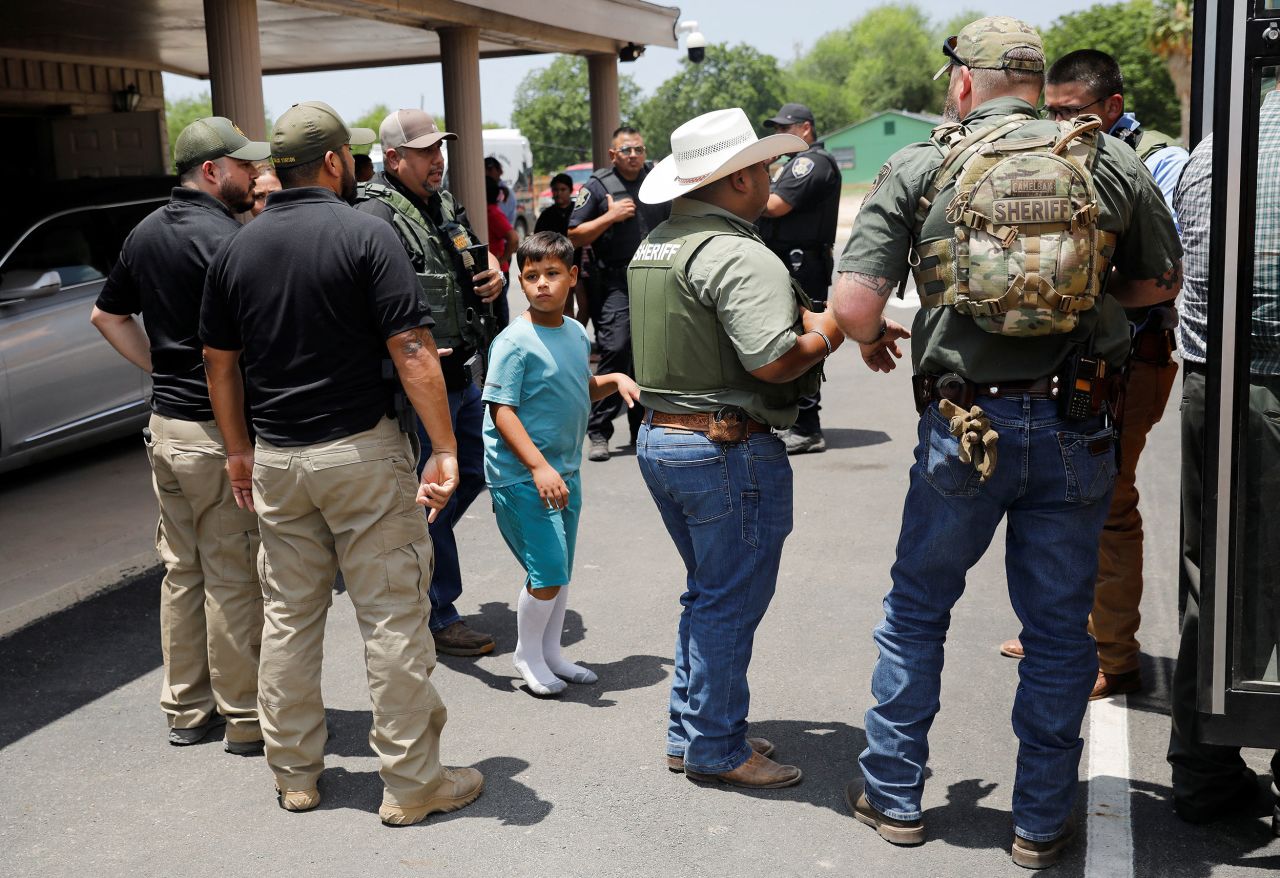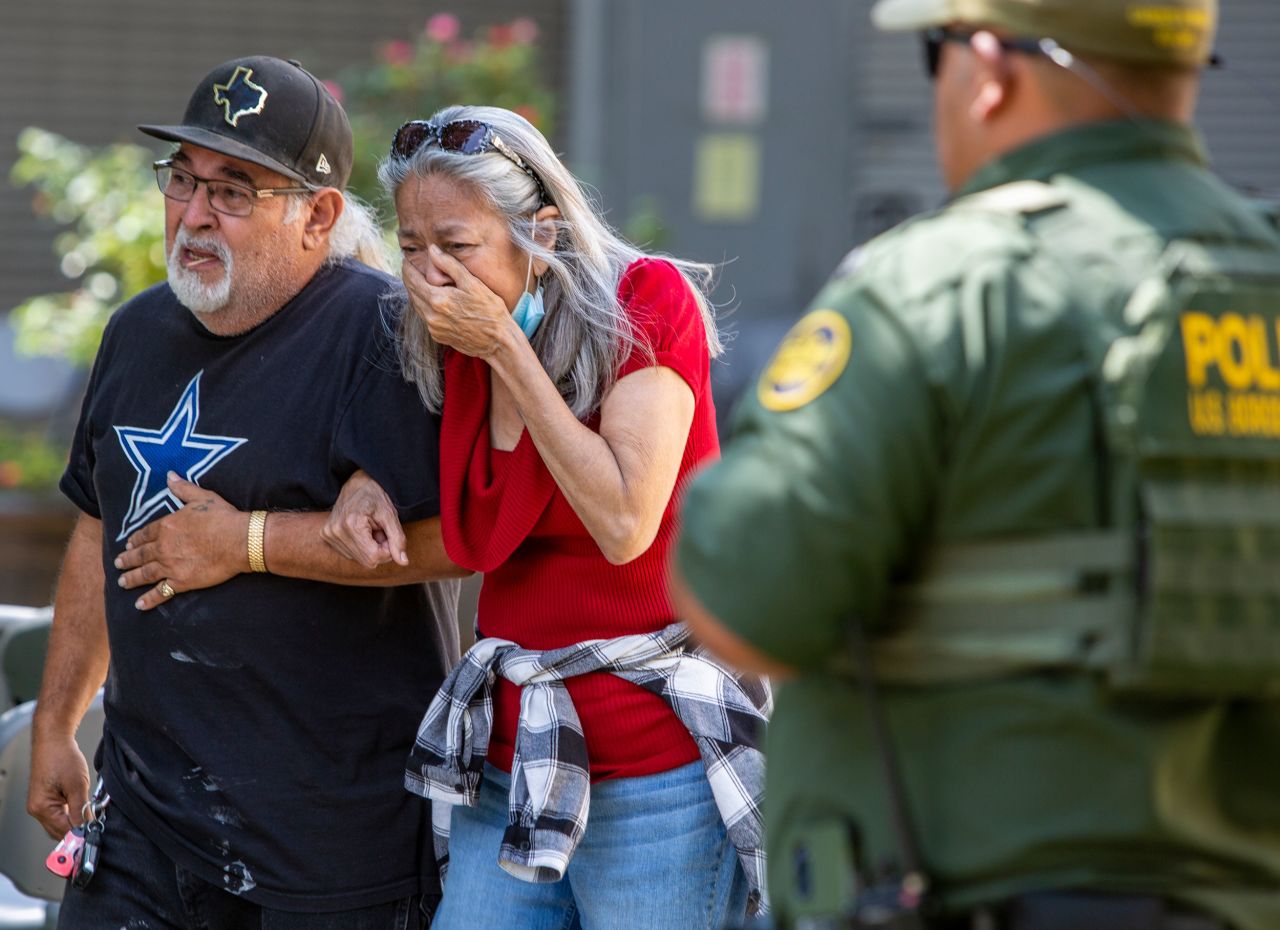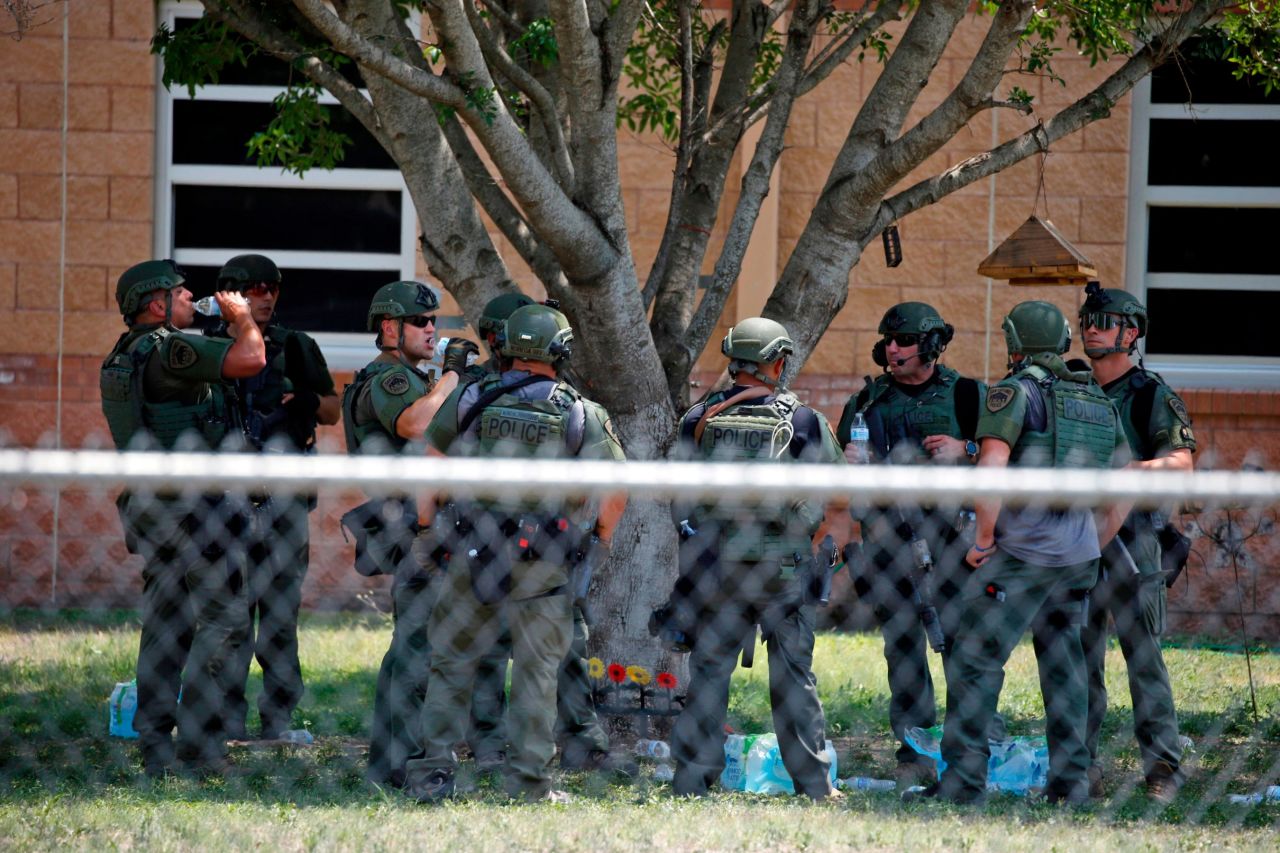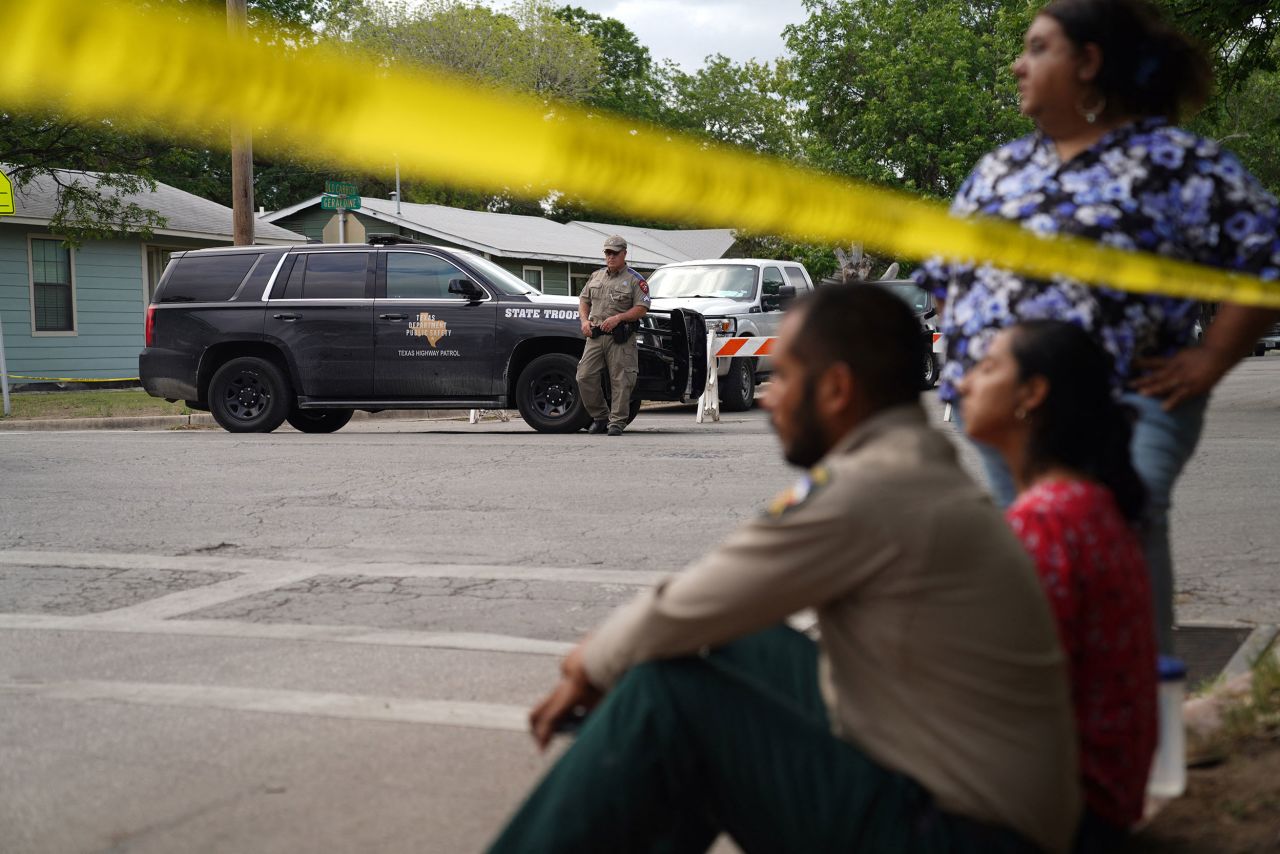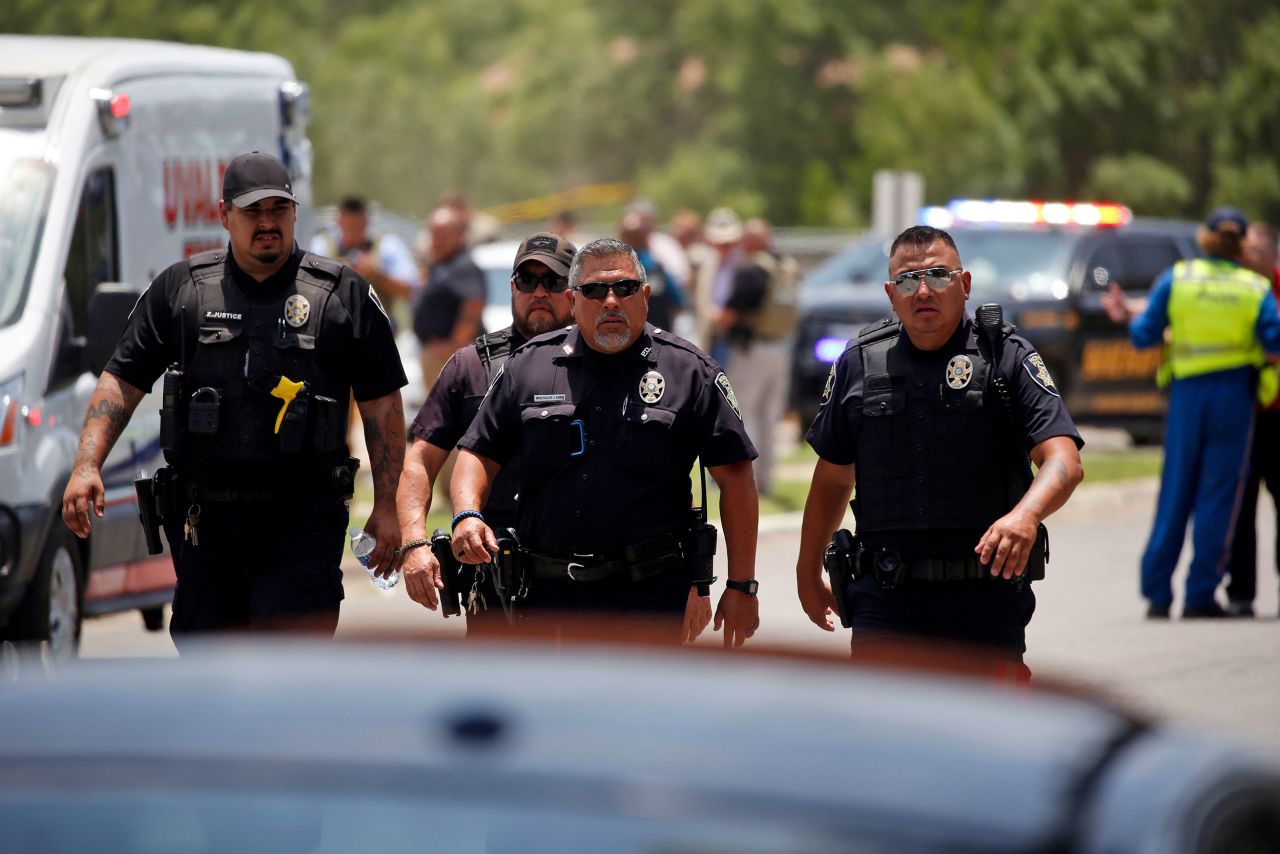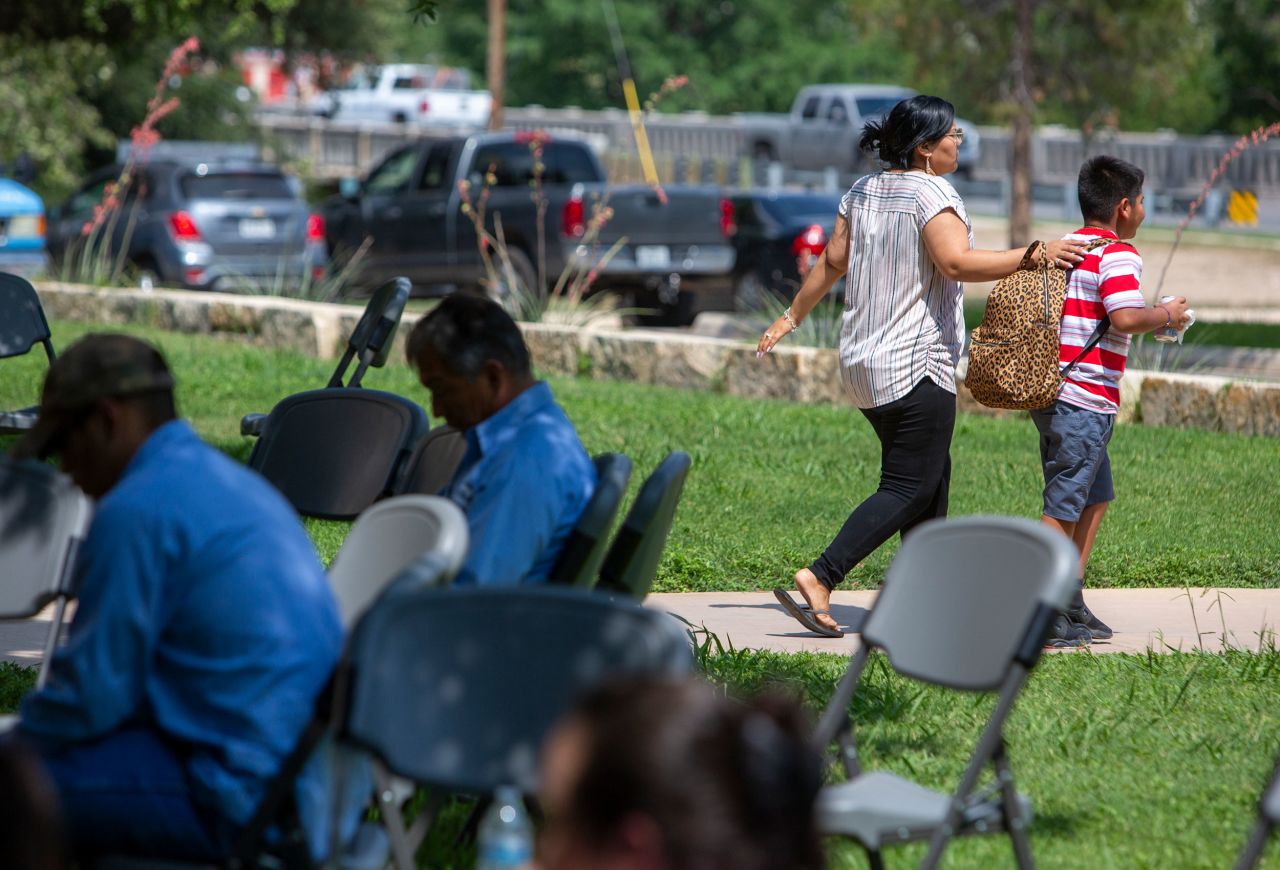 In pictures: Mass shooting at Texas elementary school
Ramos complained about his grandmother being "on the phone with AT&T abojt (sic) my phone," according to screenshots reviewed by CNN and an interview with the girl, whose mother gave permission for her to be interviewed.
"It's annoying," he texted.
Six minutes later, he texted: "I just shot my grandma in her head."
Seconds later, he said, "Ima go shoot up a(n) elementary school rn (right now)."
It's not clear why Ramos then targeted Robb Elementary, a school of 535 students in grades 2 through 4 as of last school year.
The 15-year-old girl, who lives in Frankfurt, Germany, had begun chatting with Ramos on May 9 on a social media app, she said later.
Ramos told her Monday he got a package of ammunition and the bullets would expand when they struck somebody, she said.
At some point, the girl asked what he planned to do. He told her it was a surprise and to "just wait for it," she said.
On Tuesday, at 11:01 a.m. CT, Ramos called and told her he loved her, she said.
When the horrific school attack unfolded
Although authorities have released conflicting information on law enforcement's response to the shooting, here's what we know about the timeline of Tuesday's shooting (all times Central) – as of Friday night.
• 11:21 a.m.: The shooter allegedly engaged in a text message exchange with the girl in Germany, telling her he shot his grandmother. The 66-year-old was in serious condition Wednesday at a San Antonio hospital, officials said.
• 11:27: Video shows a teacher propping open a school door to the outside, McCraw said Friday. The door is "typically locked," said Ross McGlothlin, a former principal for the school. "It's an exterior door that you don't need to go to unless you're leaving to go home on a school bus," McGlothlin said.
• 11:28 a.m.:The shooter crashed his grandmother's pickup in a ditch near the school, DPS Regional Director Victor Escalon said during a news conference Thursday. Ramos got out of the truck, carrying a rifle and bag, Escalon added. The cause of the crash was not clear, officials have said.
The shooter saw two people at a funeral home across the street and fired at them before continuing to walk toward the school, Escalon said. He climbed a fence into a parking lot and began shooting at the school.
At that point, no officers were at the school, Escalon said, walking back earlier information released by his agency that the gunman first encountered an armed school resource officer.
A school resource officer "was not on campus," McCraw said. The officer heard a 911 call, went to school and saw a teacher he mistook for the shooter, McCraw said. "In doing so, he drove right by the suspect who was hunkered down behind the vehicle where he began shooting at the school."
• 11:30 a.m.: US Marshals receive a call for help from an Uvalde police officer, the US Marshals Service said in a statement Friday. On Wednesday, US Border Patrol Chief Raul Ortiz said his team received a call around this time.
• 11:31 a.m.: The teacher who kept the door open called 911 to report the crash and a man with a gun, McCraw said.
• 11:33 a.m.: The shooter walked into the west side of the school through the door propped open by the teacher, McCraw said. The shooter fired more than 100 rounds into classroom 111 or 112, which are adjoined, McCraw said.
• 11:37 a.m.: More shots are heard from inside the classrooms. Officers gather in the hallway, McCraw said.
"Officers are there, the initial officers, they received gunfire, they don't make entry initially because of the gunfire they're receiving. But we have officers that are calling for additional resources," Escalon said, describing requests for equipment and personnel, including negotiators.
• 12:03 p.m.: A student makes a 911 call from room 112 lasting 1 minute, 23 seconds. She calls back at 12:10 to report multiple deaths. She calls back at 12:13 and at 12:16 to say "eight or nine students" were alive, McCraw said.
• 12:15 p.m.: Members of the Border Patrol Tactical Unit begin to arrive, according to McCraw. Some agents came from the field, and some who were off duty also sped in to respond, according to a source familiar with the situation.
• 12:36 p.m.: Shots are heard on another 911 call.
• 12:50 p.m.: The tactical team opens the door with a key from the janitor and shots can be heard on a 911 call, according to McCraw.
Shooter was in the school for an hour
Authorities faced backlash over the conflicting nature of information that has been released about the timeline of the shooting spree, particularly over the length of time the gunman was in the school before he was fatally shot.
Pedro "Pete" Arredondo, the Uvalde School District police chief, was acting as commander during law enforcement's response to the mass shooting, McCraw said.
When special agents with the US Border Patrol finally arrived at the school to offer backup, the chief made the call for the officers not to breach the classrooms the shooter had locked from the inside, McCraw said.
The officers waited for about 40 minutes before entering the classrooms. Some children called 911 and pleaded for help as the officers stood outside, McCraw said. The officers took no action while waiting for room keys and tactical equipment, a state official said at a news conference.
In all, 80 minutes had passed between when officers were first called to the school at 11:30 a.m. to when a tactical team entered locked classrooms and killed the gunman at 12:50 p.m., McCraw said.
CNN attempted to reach Arredondo at his home on Friday, but there was no response.
The district had created a safety plan with its own police force, social media monitoring, and a threat-reporting system to "provide a safe and secure environment" for students, its website states. It's not clear to what degree the plan was developed with active shooters in mind.
What we know so far about the shooter …
Three days before the shooting, a photo of two AR-15-style rifles appeared on an Instagram account tied to Ramos.
Ramos recently sent a former classmate a photo showing an AR-platform rifle, a backpack with rounds of ammunition, and several ammo magazines, said the peer, who didn't want to be identified.
"I was like, 'Bro, why do you have this?' and he was like, 'Don't worry about it,'" the friend told CNN. "He proceeded to text me, 'I look very different now. You wouldn't recognize me.'"
Ramos had stopped attending school regularly, the friend said. He worked at a local Wendy's, the restaurant's manager told CNN.
Ramos "kept to himself mostly" and "didn't really socialize with the other employees," evening manager Adrian Mendes said. "He just worked, got paid, and came in to get his check."
The teen in Germany who said she and Ramos had communicated for weeks said Ramos told her he spent a lot of time alone at home.
"Every time I talked to him," she said. "He never had plans with his friends."
Using the social media app Yubo, Ramos threatened girls he would rape them, showed off a rifle he bought and threatened to shoot up schools in livestreams.
Amanda Robbins, 19, said Ramos verbally threatened to break down her door and rape and murder her after she rebuffed his sexual advances during a livestream.
During another livestream, an 18-year-old Yubo user Hannah from Ontario, Canada, said she reported Ramos to Yubo in early April after he threatened to shoot up her school, rape, kill her and her mother.
In a statement to CNN, a Yubo spokesperson said, "We are deeply saddened by this unspeakable loss and are fully cooperating with law enforcement on their investigation," adding that an account has been banned and under investigation.
… and the victims whose lives were stolen
By Wednesday morning, after hours filled with agony, several of the victims' families confirmed they had received devastating news.
Just hours before he was killed, 10-year-old Xavier Lopez was celebrated at Robb Elementary's honor roll ceremony, his mother Felicha Martinez told The Washington Post.
"He really couldn't wait to go to middle school," she said.
Angel Garza spent seven hours searching for his 10-year-old daughter before learning Amerie Jo Garza was among the children killed, he said.
"Please don't take a second for granted," Garza posted on Facebook. "Hug your family. Tell them you love them."
Ten-year-old Eliahana "Elijah" Cruz Torres was also a victim, her aunt Leandra Vera told CNN. "Our baby gained her wings," she said.
Tess Marie Mata, also 10, was killed in the shooting, too, her sister Faith Mata, 21, confirmed to the Washington Post. Tess was a fourth-grader who loved TikTok dances, Ariana Grande and the Houston Astros, Mata told the Post. She had been saving money for a family trip to Disney World.
"My precious angel you are loved so deeply. In my eyes you are not a victim but a survivor. I love you always and past forever baby sister, may your wings soar higher than you could ever dream," Mata wrote on Twitter.
As of Thursday, six victims remained hospitalized, four of whom – including the gunman's grandmother, who is in serious condition – are at University Hospital in San Antonio, according to the hospital.
Two 10-year-old girls are among those in the hospital – one in serious condition and the other in good condition. A 9-year-old child is in good condition, the hospital said Thursday.
Brooke Army Medical Center in San Antonio was treating two adult patients from the shooting, both in serious condition, a spokesperson said.
The remains of 19 victims had been taken to funeral homes by midday Thursday, with the final two due to be released that afternoon, Judge Lalo Diaz said.
CNN's Whitney Wild, Isabelle Chapman, Daniel A. Medina, Peter Nickeas, Paradise Afshar, Curt Devine, Jeff Winter, Evan Perez, Andy Rose, Priscilla Alvarez, Jamiel Lynch, Donie O'Sullivan, Jose Lesh, Amanda Jackson, David Williams, Sara Smart, Amanda Watts, Chris Boyette, Joe Sutton, Victor Blackwell, Ashley Killough, Joseph Bonheim and Jennifer Henderson contributed to this report.