The gunman who killed 19 kids and two teachers at a Texas elementary school in Uvalde, Texas, was a local high school student with few if any friends who officials said legally purchased two assault rifles and scores of ammo last week for his 18th birthday.
Salvador Ramos was identified as the gunman who stormed into Robb Elementary on Tuesday with an assault rifle and tactical vest, barricaded himself in adjoining classrooms of children and opened fire, authorities said. Responding officers eventually entered the room and a Border Patrol officer fatally shot him.
The heinous attack came just two days before students were set to be released for the summer and left a community – and nation – asking yet again: Who would do this, and why?
An examination of Ramos' personal background reveals a bullied loner with no criminal history and – like so many other mass shooters in America – an interest in and access to high-powered firearms and ammunition in a political system that prioritizes gun rights.
He purchased guns and ammo the week before
The suspect's actions leading up to the shooting offer hints at his mindset and plan.
Ramos legally purchased two AR platform rifles at a local federal firearms licensee on May 17 and on May 20, according to state Sen. John Whitmire, who received a briefing from law enforcement Tuesday night. He also purchased 375 rounds of ammunition on May 18, Whitmire said, citing law enforcement.
State Sen. Roland Gutierrez, who represents Uvalde, said the purchases were made for the suspect's 18th birthday.
"It's the first thing he did when he turned 18," he told CNN's Erin Burnett on Tuesday evening, citing a briefing he received from Texas Rangers.
Gutierrez said the guns were bought legally from a federally authorized dealer in the Uvalde area. "(He) had no problem accessing those weapons," he said.
A photo of two AR15-style rifles appeared on an Instagram account tied to the suspect just three days before the massacre. The photo was posted as a story under the username "salv8dor_." Multiple classmates confirmed the account belonged to the suspected gunman.
He shot his grandmother and crashed vehicle before entering school
The shooting spree began Tuesday prior to Ramos arriving at Robb Elementary. Ramos first shot his grandmother at her home and then fled the scene, authorities said. The grandmother was airlifted to a hospital and was being treated in serious condition, officials said Wednesday.
"The first thing that happened was the gunman shot his grandmother … She then contacted police. The gunman fled, and as he was fleeing had an accident just outside the elementary school," Gov. Greg Abbott said at a news conference Wednesday.
The suspect crashed his vehicle into what appears to be a flood control channel near the elementary school and emerged with a rifle and a backpack while wearing a tactical vest that holds extra ammunition, Texas Department of Public Safety (DPS) Sgt. Erick Estrada said.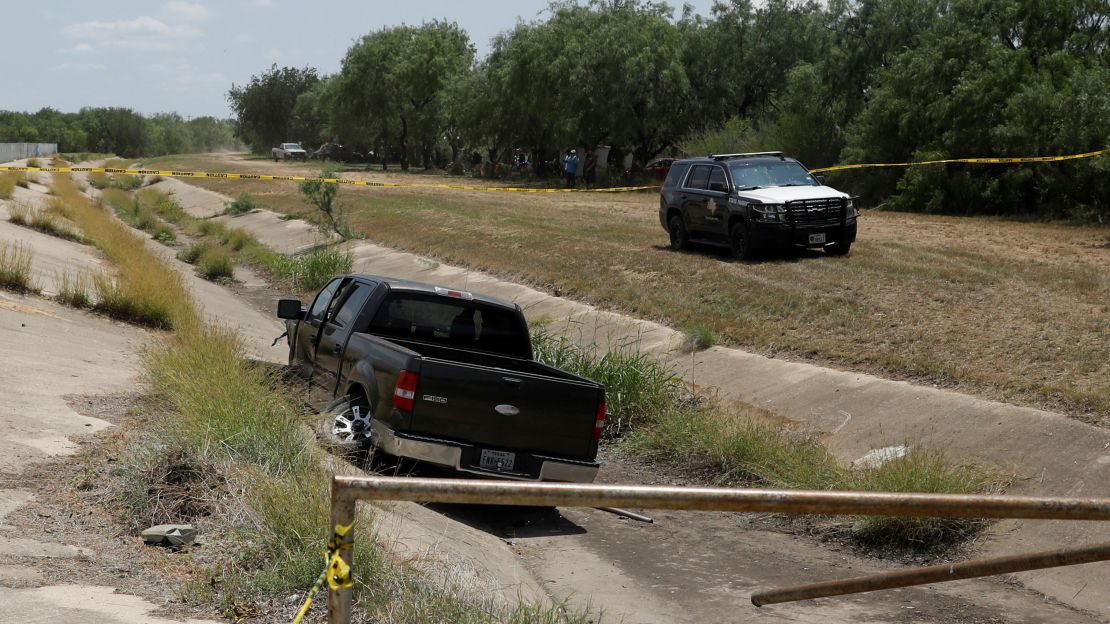 Ramos moved toward the school and entered through a back door, DPS Director Steven McCraw said.
The door had just been propped open by a teacher about a minute before Ramos' truck crashed near the school, McCraw said at a briefing Friday, citing video evidence.
Initially, authorities said a school resource officer "engaged" him, but no shots were fired.
On Thursday, DPS Regional Director Victor Escalon offered a different account of what happened, saying Ramos walked into the school without any confrontation from officers.
McCraw said at a news conference Friday that when two men at a nearby funeral home heard Ramos' truck crash, they went to see what happened. But when they saw a man with a gun get out of the truck, they ran. Ramos fired at them, but did not hit either man, McCraw said.
Video inside the school shows a teacher grab her phone and she "apparently calls 911," McCraw said. The teacher tells dispatchers that there was a crash outside and a man with a gun.
Ramos then walked toward the school and began shooting at the building while officers arrived at the funeral home, McCraw said. The patrol car then sped toward the school, but drove right past the shooter, who was "hunkered down" between cars in the parking lot.
At 11:33 a.m. local time, Ramos entered the school through the propped-open door and began shooting into the first classroom. He "shot more than 100 rounds based on the audio evidence at that time," McCraw said. In total, hundreds of shots were fired in just four minutes.
The suspect then barricaded himself in a classroom and an adjoining classroom. All of the 19 children and two teachers killed were in those rooms, DPS spokesperson Lt. Chris Olivarez said.
A total of seven officers were on scene within minutes, including six Uvalde Police officers and a county deputy sheriff, according to McCraw. Two of the officers received grazing wounds from the suspect. Eventually, a total of 19 officers were on scene.
"The initial group of officers that were on scene, at that point, they were at a point of disadvantage because the shooter was able to barricade himself inside that classroom. There was not sufficient manpower at that time and their main, their primary focus was preserve any further loss of life," Olivarez said. "So they started breaking windows around the school, and trying to rescue, evacuate children and teachers while that was going on."
Nearly an hour later, a specialized tactical team entered the locked classroom using keys obtained from the janitor and fatally shot the suspect, McCraw said. One officer was shot and had a non-life-threatening injury, he added.
McCraw explained the delay in entering by saying the officers on scene had switched from active shooter mode to trying to address someone who had barricaded himself in the classroom and may have been trying to entice officers to enter.
"From the benefit of hindsight where I'm sitting now, of course it was not the right decision. It was the wrong decision, period. There's no excuse for that," McCraw said.
Uvalde firefighter Chip King told CNN's Jim Sciutto that it took about 30 minutes after he arrived on the scene for the gunman to be neutralized by law enforcement.
The shooter was on the premises for up to an hour before law enforcement forcibly entered a classroom and killed him, officials said Wednesday. "It's going to be within, like 40 minutes or something, (within) an hour," McCraw said.
Investigators found one of the suspect's rifles, manufactured by Daniel Defense, in the school with the suspect, Whitmire said, citing the ATF. The gunman's other rifle was left in the truck that crashed, along with 15 magazines, according to McCraw.
McCraw said 58 magazines were found at the school – 11 inside the school, three on the shooter's body, two in Room 112, six in Room 111, five on the ground, and one was in the rifle. Thirty-two magazines were located outside the school, with most of them in a backpack he dropped outside. There were another two magazines found at his home, for a total of 60.
He had a total of 1,657 rounds of ammunition, McCraw said.
Ramos' grandfather, Rolando Reyes, told CNN on Thursday that he knows many of the families whose loved ones endured the mass shooting.
Some of them are my friends, and I'm going to have to face them some day," Reyes said.
Reyes' wife, the shooter's grandmother, suffered from a bullet that pierced her jaw and upper cheek and will undergo significant reconstructive surgery. Reyes said he doesn't understand why Ramos shot his grandmother, who took care of him.
He was a local student with few if any friends