Texas State Sen. Roland Gutierrez raised questions in a news conference on Thursday about whether information on 911 calls from inside Robb Elementary School was relayed properly to responders at the scene of the shooting.
Gutierrez said he spoke with the agency that regulates the 911 calls, the Commission on State Emergency Communications, and was told the 911 calls were handled by and relayed to the city's police force on the scene. However, what is unclear, is if that information was relayed to the school district police chief who was the incident commander on the scene.
"They were being communicated to a Uvalde police officer and the state agency that I have spoken to has not told me who that is," Gutierrez said.
Gutierrez also said he wants to know more about what was happening at the school that day.
"I want to know where the cops were in that room. I want to know how many of my cops were in there, how many state troopers were there. I want to know how many state troopers were outside. I want to know how many federal officers were inside for 19 minutes, I mean for 45 minutes," Gutierrez told reporters.
"I want to know specifically who was receiving the 911 calls," he said.
CNN has contacted the Commission on State Emergency Communications, Uvalde Police and Uvalde Consolidated Independent School District for comment on Gutierrez's statements.
The state senator also said that Texas Department of Public Safety Col. Steven McCraw told him he would receive information about the identities of the 19 officers who were in the hallway outside the classroom where the shooter was located, on Friday. Gutierrez promised to share that information with media once received.
"I urge you, do not allow these people to hide behind a district attorney investigation on procedural matters. Do not allow anybody, do not allow this governor to hide behind the local district attorney on these procedural failures, on these policy failures, under the guise that we're looking at a criminal investigation," the state senator urged.
"There's been a lot of failure here," he said.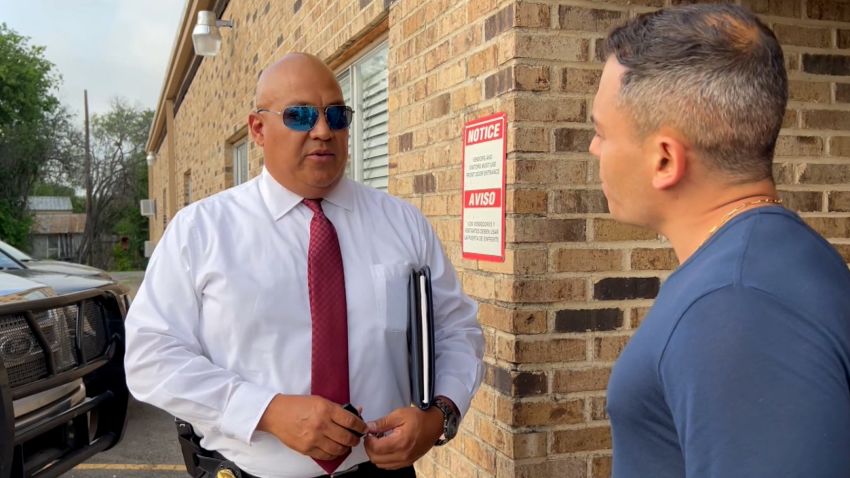 CNN confronts Chief Pete Arredondo. See the interaction
School district Police Chief Pedro "Pete" Arredondo was identified last week by DPS as the commanding officer who decided not to breach the adjoining classrooms where a gunman slaughtered 19 children and two teachers.
Arredondo spoke exclusively to CNN on Wednesday and declined to answer substantive questions about the massacre.
Search warrants have been issued for teen gunman Salvador Ramos' cell phone, the truck he was driving, and his grandparents' home, according to court records obtained by CNN.
One warrant, signed Wednesday by Uvalde County District Court Judge Camille DuBose, allows law enforcement to perform a forensic download of Ramos' iPhone 13 Pro Max, which was found next to his body after he was fatally shot by police.
During the bloodbath, a negotiator tried to call the shooter, but he didn't respond, Uvalde Mayor Don McLaughlin told reporters Wednesday.
"They tried every number they could find that he was associated with," McLaughlin said.
Now, this city engulfed in grief is also tormented by shifting police narratives, unanswered questions and the horror of knowing 21 victims were trapped with a gunman for more than an hour – despite repeated 911 calls for help from inside the classrooms.
A teacher's last call to her husband
In the 77 minutes of bloodshed at the Texas elementary school, teacher Eva Mireles spent some of her final breaths on the phone with her husband, telling him she was dying, Uvalde County Judge Bill Mitchell told The New York Times after being briefed by sheriff's deputies.
But Mireles' husband – school district police officer Ruben Ruiz – wasn't able to save his wife and 20 other victims massacred at Robb Elementary School.
Ruiz was among the many law enforcement officers to respond to the school during that attack.