With 14 French Open titles now to his name, the sporting world is running out of superlatives to describe Rafael Nadal.
For one athlete to have so much success at a single event is wholly unprecedented, while Nadal has also set himself apart from Roger Federer and Novak Djokovic by winning 22 grand slam titles to his rivals' 20.
"There is no word to describe this feat," Federer's coach Ivan Ljubicic said after the Spaniard's straight sets victory against Casper Ruud in Sunday's French Open final.
"Don't think good old Phillippe (Chatrier) would mind if his court changes the name to Rafael Nadal – (a) statue is not enough."
But Nadal, always eager to understate his achievements, thinks his record at Roland Garros could one day be bettered.
"I always consider myself a very normal guy, so if I did it, maybe somebody else can do it," he told CNN's Christiane Amanpour on Monday.
"It's obvious the record of 22 grand slams is something much more possible that somebody can increase that record. I am sure that's going to happen; 14 Roland Garros is something … very difficult."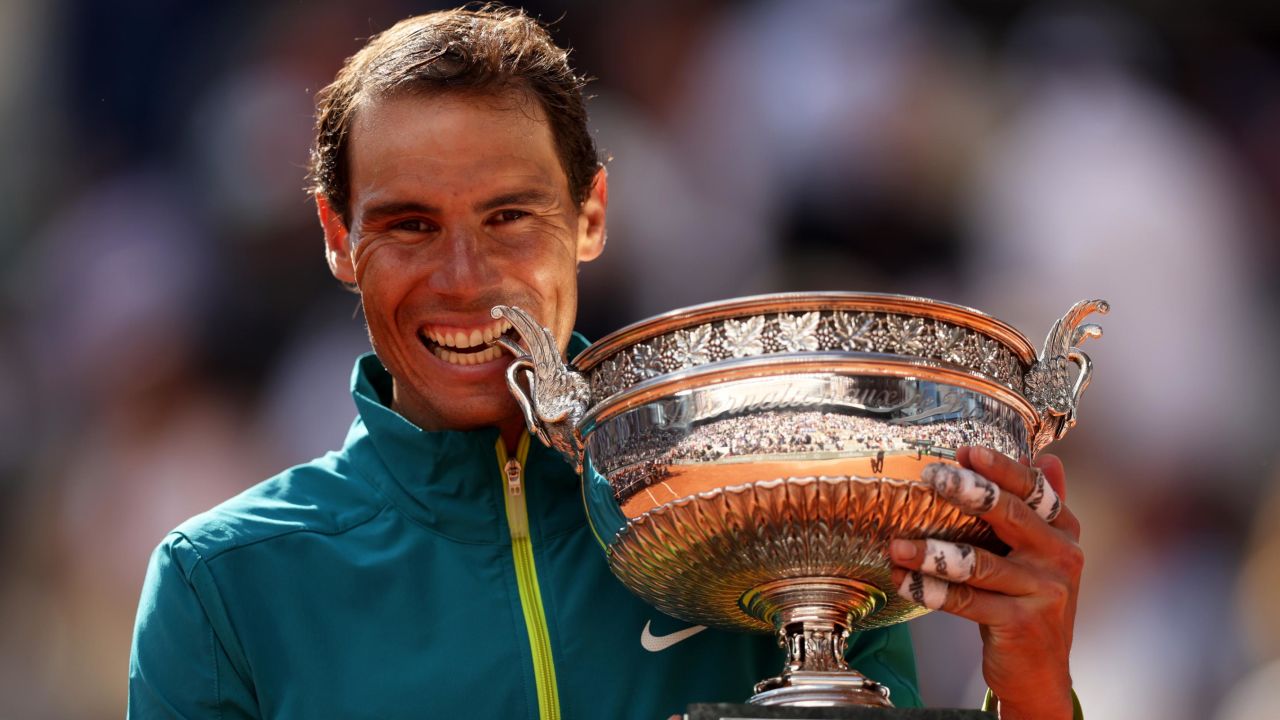 In the 17 years between Nadal's first and most recent French Open titles, he has lost just three matches on the Paris clay – two against Djokovic, including in the semifinals last year, and one against Robin Soderling.
Sunday's win saw Nadal, who turned 36 on Friday, become the oldest men's champion at Roland Garros, and it was also the first time he has won both the Australian Open and French Open in the same calendar year to take him clear of Federer and Djokovic's grand slam tallies.
"Of course, I want to be the player with (most) grand slams in history – that's competition," said Nadal.
"But it's not something that I am obsessed (with) and it's not something that changed my mind … Honestly, it's something that does not bother me if Novak wins 23 and I stay with 22. I think my happiness will not change at all, not even one percent."
Playing while injured
Events leading up to this year's French Open are likely to make this title seem particularly special – not least improbable – to Nadal.
At last month's Italian Open, he bowed out of the tournament against Denis Shapovalov in the last 16 while battling a foot injury – an ongoing problem that Nadal said required daily injections at the French Open in order to keep playing and training.
It meant he played the final without any feeling in his foot.
"After the pandemic, something happened in my foot. I am not able to manage the pain to play often and even practice," said Nadal, who has been beset by injury problems throughout his career.
"The only thing I can say is going through all these challenges, I always hold the passion to keep going and I always hold the love for the game," he added. "I always wanted to keep going. That's probably why I am in the position that I am today."
In Sunday's press conference, Nadal said he would undergo "radio frequency injection" on the nerve in his foot in a bid to ease the pain and continue playing.
Whether he competes at Wimbledon later this month depends on the success of that treatment, and for now, his long-term future in the sport is unclear.
"I never had in my mind (plans) to announce any retirement after this event, but of course, there is a possibility that things are not improving," he said. "Then I don't know what can happen."
Is the 'King of Clay' now just 'The King'?
Winning the first two grand slams of the year means Nadal, for the first time in his career, can potentially win a calendar grand slam by triumphing at Wimbledon and the US Open.
It's a feat Djokovic came one game away from completing last year, and one no male player has achieved since Rod Laver in 1969.
"The chances are small in this health situation," tennis journalist Christopher Clarey told CNN Sport's Christina Macfarlane on Monday about the likelihood of Nadal triumphing at the next two grand slam tournaments.
"Wimbledon is not his best surface anymore; it's been a while since he won. But how can you not try for that if you're healthy?"
Even if he does not add to his grand slam tally, it will be impossible to ever question Nadal's status as one of the greatest to play the game. And in time, "the King of Clay" may be remembered simply as "the King."
"I achieved my dream and I enjoy what I am doing," said Nadal, who remains unconcerned about how he ranks among his peers.
"I know the press and people are always caring a lot about this stuff, but in some way, I am an important part of the history of the sport and that makes me feel proud and happy.
"At the end, it doesn't matter much."