This is the weekly edition of CNN's coronavirus newsletter. Look out for your roundup every Wednesday. If you haven't subscribed yet, sign up here.
"This is a virus we understand: we have vaccines against it, we have treatments against it, and it's spread very differently than SARS-Cov-2 – it's not as contagious as Covid – so I am confident we're going to be able to keep our arms around it," White House Covid-19 Response Coordinator Dr. Ashish Jha told ABC's Martha Raddatz Sunday.
Vaccines are by far the most powerful tool available against the coronavirus, protecting people from getting seriously ill, being hospitalized, and dying from the virus.
Unlike many less developed countries, the US has enough doses to vaccinate everyone as well as the necessary infrastructure to support the rollout.
The problem: not everyone wants the shot.
"We do have a problem with vaccine uptake that is very serious in the United States and anything we can do to get people more comfortable to be able to accept these potentially life-saving medical products is something that we feel we are compelled to do," said Dr. Peter Marks, director of the Center for Biologics Evaluation and Research.
According to the US Centers for Disease Control and Prevention, 48.7% of people over the age of 12 have been fully vaccinated and received at least one booster dose in the US.
That is a lower rate than in other countries with similar access to vaccines. For example, 69.6% of people over the age of 12 have been boosted in the United Kingdom and 55.5% in Canada. Across the 27 European Union countries, 62.6% of adults have been boosted.
Marks was speaking to the US Food and Drug Administration (FDA) Vaccines and Related Biological Products Advisory Committee, as it considered the approval of a new Covid-19 vaccine developed by the US biotechnology company Novavax on Tuesday.
The committee voted overwhelmingly in favor of approving the vaccine, saying its emergency authorization by the FDA would be beneficial, CNN's Jacqueline Howard writes.
Vaccine hesitancy was among the topics discussed in the meeting.
The Novavax Covid-19 vaccine uses different technology from the three vaccines currently in use in the US and so it might be an option for people allergic to an ingredient used in mRNA vaccines.
Asked why there is a need for another Covid-19 vaccine in the United States when three vaccines have already been authorized for use – Pfizer/BioNTech, Moderna and Johnson & Johnson's Janssen, the latter a non-mRNA shot – Marks responded: "The Janssen vaccine is currently not being used as a frontline vaccine, the same way as the mRNA vaccines, which leaves the issue of vaccines for those who might not want to take an mRNA vaccine because of concerns they might have with an mRNA vaccine."
The FDA in May limited the emergency use authorization of Johnson & Johnson's Janssen Covid-19 vaccine to adults who cannot or will not have another type of vaccine, because of the risk of a rare and dangerous clotting condition after receiving it.
Novavax's Covid-19 vaccine – administered as two doses three weeks apart – is made using small laboratory-built pieces of the coronavirus to stimulate immunity.
This protein-based approach is a more traditional method of vaccine development than the mRNA vaccines from Pfizer/BioNTech and Moderna.
YOU ASKED. WE ANSWERED.
Q: Is Covid-19 contagious after treatment with Paxlovid?
A: The pandemic hasn't increased mental illness in teens, but instead "unmasked symptoms" that may have otherwise been managed, according to Dr. John Walkup, chief of child and adolescent psychiatry at Northwestern University Feinberg School of Medicine.
Walkup said that on average, 20% of kids have a mental health problem before they graduate in the US, with only half of them receiving an assessment or treatment. Of them, only about 40% of them received clinically meaningful benefits.
Walkup said this means only around 15% of kids who have a mental health issue are getting help.
"Then take away school, family, peer support and sports, and you force them to stay home. You know those kids are not going to do well over time," he explained.
Send your questions here. Are you a health care worker fighting Covid-19? Message us on WhatsApp about the challenges you're facing: +1 347-322-0415.
READS OF THE WEEK
According to KCNA, the country's latest death toll stood at 69 at the end of last week. However, given the lack of independent reporting inside North Korea, it is difficult to verify the figures and there has long been widespread skepticism over the country's Covid reporting.
The World Health Organization (WHO) has doubts about North Korea's claims of progress in the fight against Covid-19, believing the outbreak is getting worse, not better.
North Korean state media outlet KCNA has said that the Covid wave has been abating after daily numbers of "fever" cases topped 390,000 around two weeks ago.
But Pyongyang has never directly confirmed how many people have tested positive for the virus and experts suspect underreporting in the figures released through government-controlled media. That makes it difficult to assess the scale of the situation.
"We assume the situation is getting worse, not better," WHO's emergencies chief Michael Ryan said in a video briefing last week. WHO has offered assistance on multiple occasions, including vaccines and supplies, he said.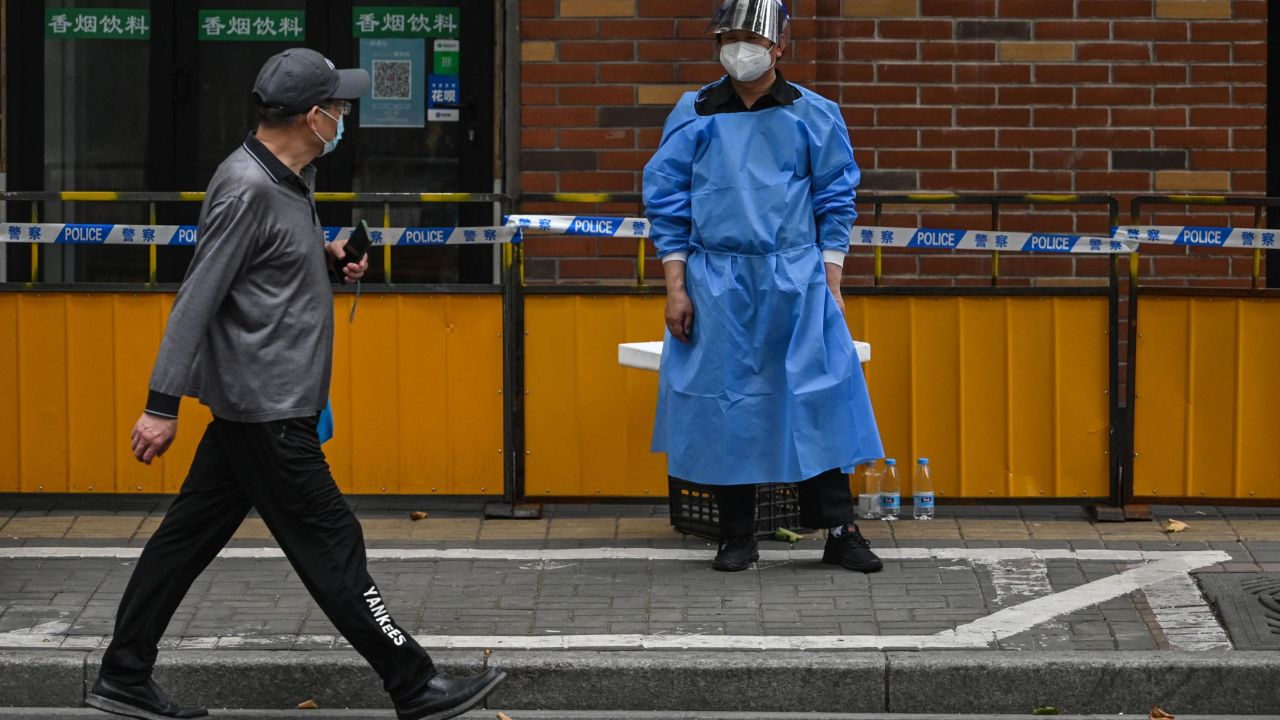 Shanghai neighborhoods return to lockdown a day after restrictions lifted
Shanghai finally lifted its two-month coronavirus lockdown last Wednesday, allowing most of its 25 million residents to leave their communities.
But only a day later, Shanghai officials said seven new Covid cases were detected in the city's Jing'an and Pudong districts. As a result, four neighborhoods were swiftly sealed off and designated as "medium-risk areas" – meaning nearly 2 million people will be confined to their homes for 14 days.
The swift return to lockdown is the latest reminder that despite the easing of restrictions, the Chinese government's zero-Covid policy, which includes mass testing, extensive quarantine and snap lockdowns, will continue to dominate everyday life,
CDC adds four destinations to 'high' risk list, including a Caribbean charmer
The US Centers for Disease Control and Prevention has added four places to its list of "high" risk destinations for Covid-19, including a small and charming Caribbean nation. St. Kitts and Nevis, part of the Leeward Islands east of Puerto Rico, was placed on the Level 3 category on Monday. The destination is known for its gorgeous, lush scenery and cultural experiences.
The CDC overhauled its ratings system for assessing Covid-19 risk for travelers in April. The Level 3 "high" risk category is now the top in terms of risk level. It applies to countries that have had more than 100 cases per 100,000 residents in the past 28 days. There were about 115 destinations at Level 3 on June 6. Level 3 locations now account for almost half of the roughly 235 places monitored by the CDC. Level 2 is considered "moderate" risk, and Level 1 is "low" risk.
TOP TIP
This "go slow" advice applies to all lingering effects of Covid, including cognition.
CNN Medical Analyst Dr. Leana Wen said that people who are generally healthy, vaccinated and boosted, are at low risk of severe illness due to Covid-19.
"It's reasonable for many people to say that, given their low risk, they are fine resuming pre-pandemic activities and are not going to restrict their travel or other activities," she said.
Wen said people should always consider their individual risk factors such as being fully vaccinated with boosters, their own medical risk, and the number of Covid cases in their intended destination.
"There will be many people who are still choosing to be cautious. The good news is that there are also many more tools available to them that were not before in the early stages of the pandemic. There are antiviral pills, for example, that reduce the chance of severe illness even further. And, of course, making sure that they are vaccinated and up to date on boosters also lowers the risk of both severe illness and symptomatic infection," she added.
Listen to our podcast
You've likely experienced feelings of calm and happiness while at the beach or a lake, but it turns out there are actually proven psychological and physical benefits to being near the water. CNN's Chief Medical Correspondent Dr. Sanjay Gupta talks with environmental psychologist Mathew White about the science behind water and why we all need more Blue Space in our lives. Listen here.