The athletes participating in Red Bull's Art of Motion mimic the wonders of the Greek island of Astypalea around them.
They hang from rooftops like the stalactites clinging to one of the caves on the island, cartwheel in mid-air like the small, conical windmills beside the road, and land lightly on narrow ledges like the cats watching the action from the opposite wall.
Art of Motion is a prestigious parkour competition that is held annually in some of the world's most beautiful places, and this year, the small, picturesque setting of Astypalea hosted the event over the course of three days from June 9-12.
Its old town rises out of the Aegean Sea towards a clifftop Venetian castle in a jumble of white-washed narrow streets, flat rooftops and balconies that provide a perfect, obstacle-filled arena for parkour.
"You have these certain ledges that offer so many different heights … You can lend your body to so many different movements with that," Sydney Olson, the eventual winner of the women's competition, told CNN Sport.
'You just work out little pieces of it'
Parkour – often referred to as freerunning – entails creatively moving through an urban environment: flipping, jumping and vaulting across various obstacles.
On Astypalea, the possibilities for parkour routines are endless, as illustrated by the variety of tricks each athlete unveiled at Art of Motion.
The competition's structure also encouraged creativity; it was split into three events, each held on a different day, that demanded a different skillset.
For the first challenge, the athletes explored the island and recorded a video clip in the location best suited to their style.
Then, they recorded a 45-to-60-second video with a videographer, and finally, they participated in a live challenge, creating 10-second strings of tricks called combos.
Bob Reese is renowned as one of the most creative parkour athletes and his unusual tricks have garnered him 3.9 million followers on TikTok.
At last year's Art of Motion, he noticed that everyone was throwing down similar routines, so he decided to incorporate a chair into his to stand out from the crowd.
"I want to be different … So I did that … And this year, I want to step it up a notch. I use not only a chair but a table and a broom for my video," he said.
For his live challenge, Reese eschewed props but still produced a memorable routine as he leaped across a street and somersaulted off the top of a one-story building.
Olson takes a more orthodox approach, slightly adapting her style to complement each location in which she competes.
"When I'm creating a line or something, I'll just start off with the first move and then I play around from there until more things come into my brain," she said.
"Eventually, it just feels like a pull line … and then you just work out little pieces of it and put it together."
Her live routine was full of twisting somersaults, including one off a building, and a backflip launched from a waist-high wall.
Overcoming injuries
When pushing the boundaries of what is possible, however, injuries can occur.
Japan's Ryuya Kawasaki, last year's champion Krystian Kowalewski and Australian Dominic Di Tommaso all had to abandon Art of Motion due to ankle injuries.
Aiden Rudolph, who won the online qualifying process, was forced to withdraw altogether just before the competition began and was replaced by his identical twin brother, Shea.
"Ever since I was young, this has been a dream of mine coming to Art of Motion and making it in," the 18-year-old said.
"So I was definitely a bit upset that I had to withdraw. We made the most of an unfortunate situation, there's no one else I'd rather have replace me."
Shea used his twin's disappointment as motivation and secured an exceptional fourth place overall.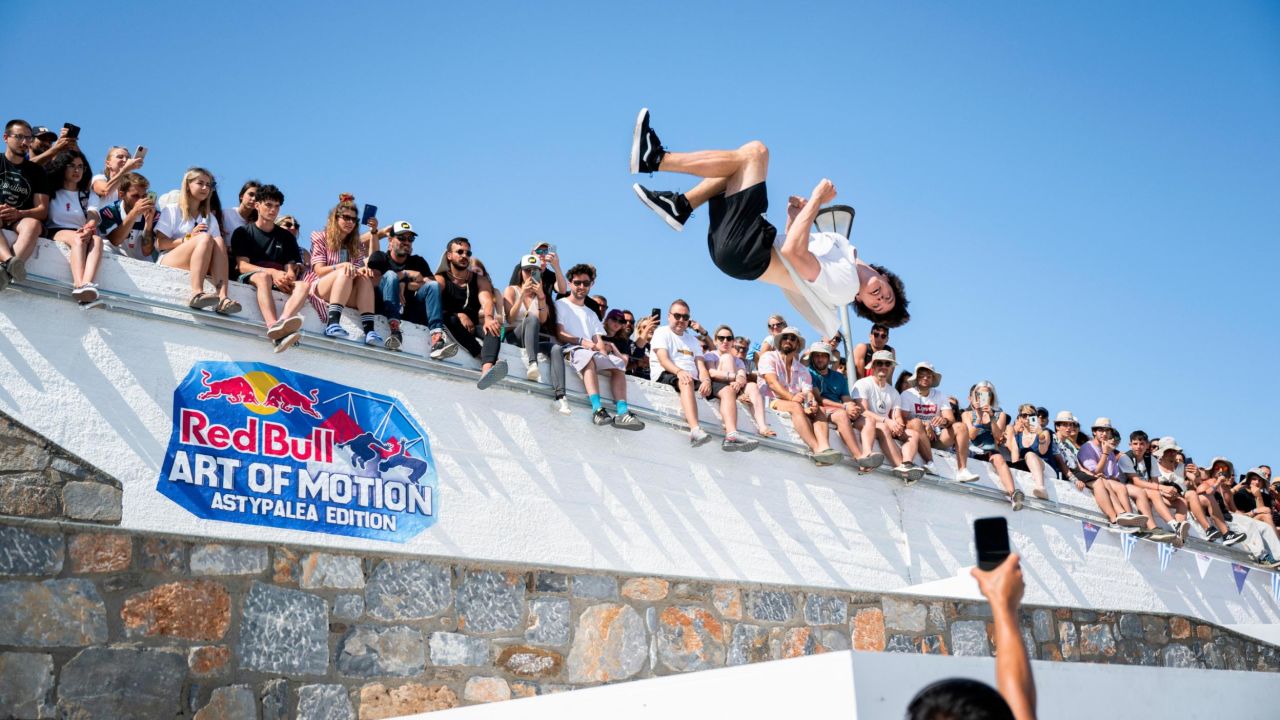 Olson has also suffered with injuries. During the Covid-19 pandemic, she underwent shoulder reconstructive surgery that took a year to heal.
"I thought I was done competing," she said before the competition.
"But there was something telling me to keep going … I'm 29 years old [which] seems older for the sport. I want to show that people my age can still throw down."
'How to break a fall'
Due to these dangers, parkour athletes carefully calibrate their routines to minimize injury.
"The first thing you learn when you do parkour is typically how to shoulder roll or how to break a fall," Reese said, "[and] how to do things where if you mess up the thing you're trying to do, you can actually fall and still do it safely."
Reese applies this method to every new move he learns, considering ways he might fall and taking steps to mitigate these risks before attempting anything.
His Instagram account details this process as he practices on smaller and smaller mats before he can eventually land the trick safely onto the ground.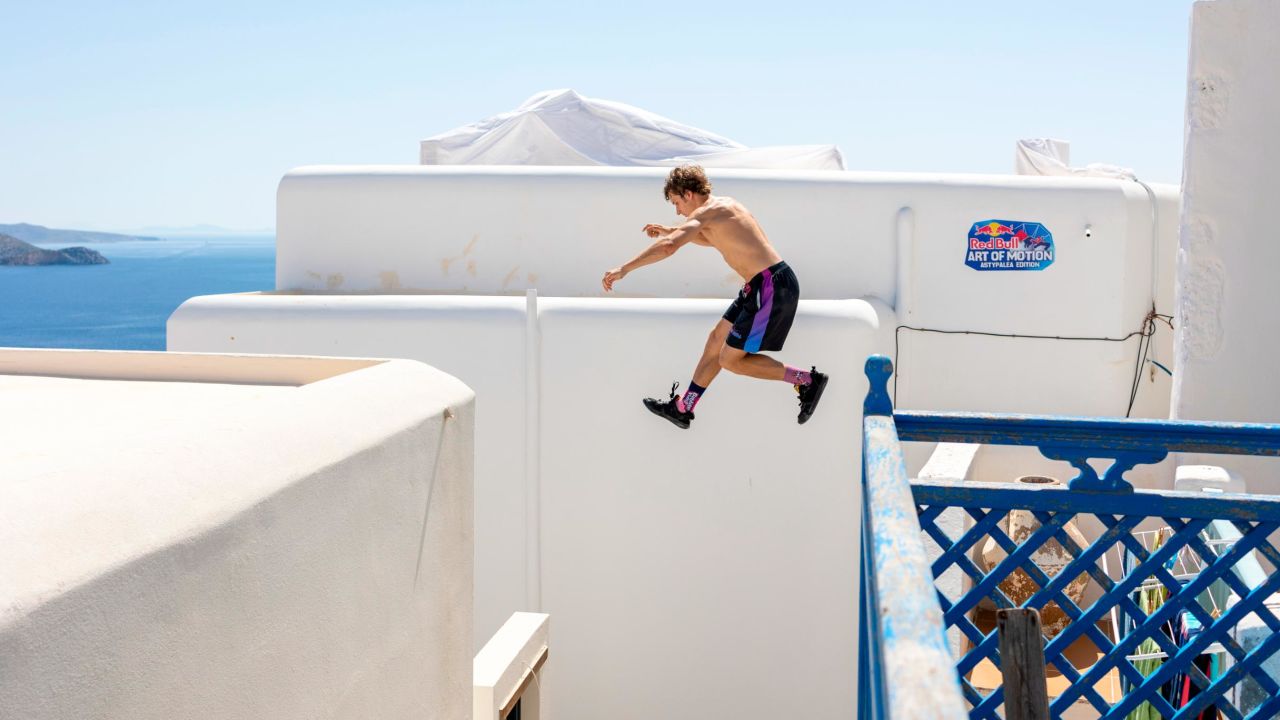 This considered approach contradicts the popular perception of parkour as a dangerous – almost foolhardy – discipline.
"[People] don't see the progression that goes into it," Olson said. "Nobody just starts out jumping a 20-foot gap across a roof … Everyone has a place that they start and then they get to that."
In fact, as Aiden Rudolph explained, some parkour athletes can spend years contemplating a particularly difficult jump.
"A lot more goes into it than just winging yourself off a building," he said.
'Never any real animosity'
In a relatively dangerous sport which is also a small, close-knit community, its showpiece events – such as Art of Motion – can be collaborative as well as competitive.
"I've never … felt like there was any real animosity there," Olson said. "I've always felt like people were just excited for me and I was always excited for them, and I think it's a really great thing. "
Instead, the little rivalries that do form seem to motivate the athletes to land bigger and better tricks.
"It's really good to see that, especially among the women," Olson continued.
"I'm just seeing so much amongst them that I've never seen before with the girls. And it's just really exciting to watch that progress."
Although the sport has progressed during her long injury layoff, Olson held off the younger athletes and secured her second win in the women's competition at Art of Motion to complete her comeback.
"It feels amazing to win again, it feels like an out-of-body experience," she said. "It's been one of the most incredible weeks of my life."