Editor's Note: Know someone who inspires you? Click here to nominate them as a CNN Hero.
Growing up in poverty in rural Kenya, Nelly Cheboi watched her single mother, who had only completed fifth grade, work tirelessly so Cheboi and her three sisters could attend school.
From an early age, Cheboi realized that her family, along with others like hers in their village, was stuck in a cycle that left them little hope.
"She was working really hard, and I was still going to bed hungry. I was still sent home for tuition. I was still living in a house that was flooding," said Cheboi, now 29. "Looking at the poverty in the household, looking at the community and suffering, it just became so clear that I needed to do something."
Cheboi attended college on scholarship in the United States, worked odd jobs to support her family, and discovered her passion for computer science. She credits computer literacy for her ability to find job opportunities and make money doing what she loves. She knew she wanted to share it with her community back home.
Today, she's giving 4,000 kids the chance for a brighter future through her nonprofit, TechLit Africa. The organization, whose name is short for Technologically Literate Africa, uses recycled computers to create technology labs in schools in rural Kenya.
"I know the pain of poverty, and that's why I feel so passionate about it," said Cheboi, a software engineer who splits her time between the US and Kenya. "I never forgot what it was like with my stomach churning because of hunger at night."
In 2012, Cheboi received a full scholarship to Augustana College in Illinois and began her studies with almost no computer experience. She handwrote papers and struggled to transcribe them on a laptop. She said she never felt comfortable using a computer until her junior year when she took a Java course required for her mathematics major.
"When I discovered computer science, I just fell in love with it. I knew that this is something that I wanted to do as my career, and also bring it to my community," she said.
Cheboi switched to a double major and earned a bachelor's degree. Yet she says skills like touch-typing that came seamlessly to some were still a steep learning curve for her. At one point after college, she had to practice for six months before she could pass a coding interview. It's a skill that is now a core part of the TechLit curriculum.
"I feel so accomplished seeing kids that are 7 years old touch-typing, knowing that I just learned how to touch-type less than five years ago," she said.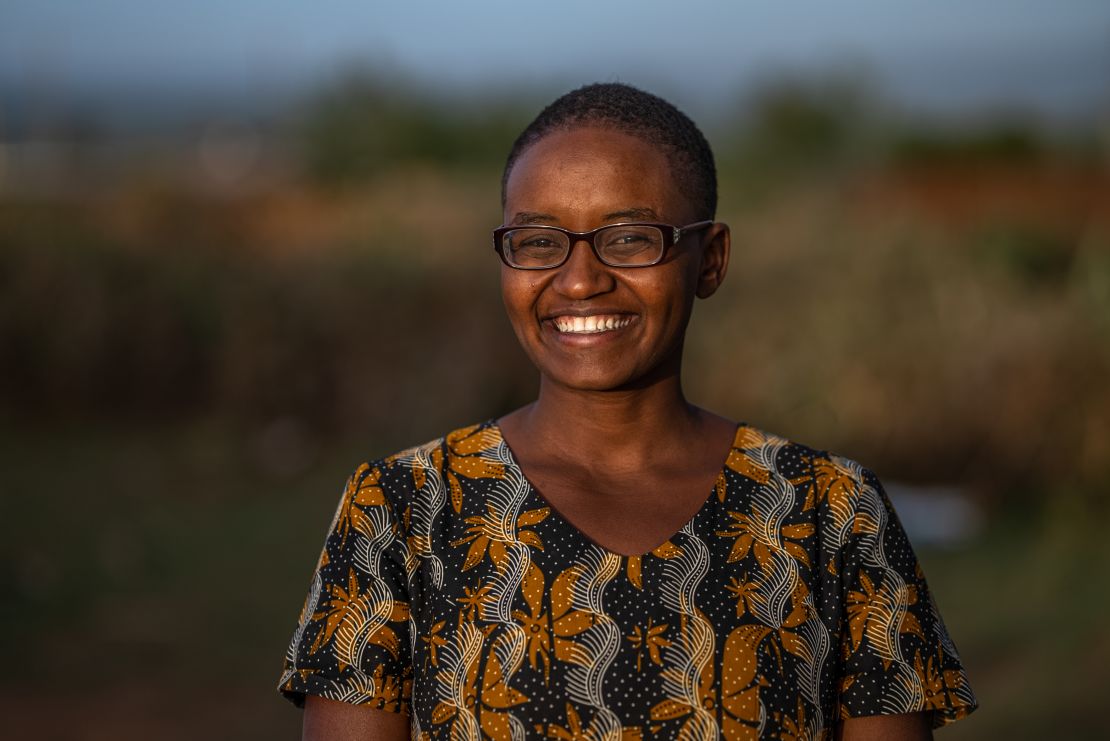 Cheboi made inroads with businesses in her profession, and in 2018 she began accepting recycled computers from them. She started small, carrying the machines to Kenya in check-on bags and handling customs fees and taxes herself.
"At one point, I was bringing 44 computers, and I paid more for the luggage than I did for the air ticket," she said.
TechLit Africa now works with freight and shipping companies to transport the donated computers so it's more cost efficient. The donated hardware is wiped, refurbished and distributed to partner schools in rural Kenya, where students aged 4 to 12 receive daily classes and frequent opportunities to learn from professionals and gain skills that will help improve their education and prepare them for future jobs.
"We have people who own a specific skill coming in and are just inspiring the kids (with) music production, video production, coding, personal branding," Cheboi said. "They can go from doing a remote class with NASA on education to music production with our artists."
Cheboi's organization maintains online and onsite ownership of the computers, providing tech support, software updates and troubleshooting. TechLit Africa installs new customer operating systems geared towards children, and schools are asked to pay a small fee for the services, which includes TechLit educators onsite from 8am-4pm.
The organization currently serves 10 schools, and by early next year, Cheboi hopes to be partnered with 100 more.
"My hope is that when the first TechLit kids graduate high school, they're able to get a job online because they will know how to code, they will know how to do graphic design, they know how to do marketing," Cheboi said. "The world is your oyster when you are educated. By bringing the resources, by bringing these skills, we are opening up the world to them."
Want to get involved? Check out the TechLit Africa website and see how to help.
To donate to TechLit Africa via GoFundMe, click here
CNN's Briana Duggan contributed to this report.