Editor's Note: This story was updated on October 17, 2023.
The rolling hills of Rwanda produce great endurance cyclists. They might not all be attempting the Tour de France, but perhaps even more impressively, some are able to traverse mountainous terrain with 100 kilograms of fruit on their heads and shoulders.
In this region, where bigger vehicles struggle on the dirt roads, bicycles and motorcycles are a common way for farmers to get their produce to market. But British-Rwandan delivery startup OX Delivers is looking to change that through its electric OX Trucks, which are designed to negotiate dirt roads while carrying up to two tons of goods – roughly 20 times a cyclist's capacity.
The truck was designed by former Formula One engineer Gordon Murray in 2016, commissioned by a non-profit called the Global Vehicle Trust, which wanted a vehicle that could help provide essential deliveries in developing countries.
The Global Vehicle Trust launched OX Delivers in 2020 and although it's headquartered in Warwickshire, England, the company describes it as an African-led operation. Rather than selling the vehicles, it rents out delivery space on the trucks, mostly to smallholder farmers and small-scale traders.
It launched a fleet of two trucks in Western Rwanda in April 2021, which has now grown to 24, transporting everything from fruit to livestock, lumber to school equipment. "Before, our clients would take any means of transport that would come around," explains Rwanda managing director Francine Uwamahoro. "They were taking bikes from their farm … and they would be gone for a long time – around two days."
The OX Truck boasts large tires and high ground clearance. The company says that parts are carefully selected to reduce breakdown time, and some basic components are interchangeable and easily removed in the event of being damaged by rocks (a regular occurrence on dirt roads).
Customers book space on a truck through a basic "app" designed for 2G feature phones. Since the app cannot yet process payments, drivers negotiate prices and build relationships face to face with their customers. "Our growth is in the hands of our drivers," says Uwamahoro.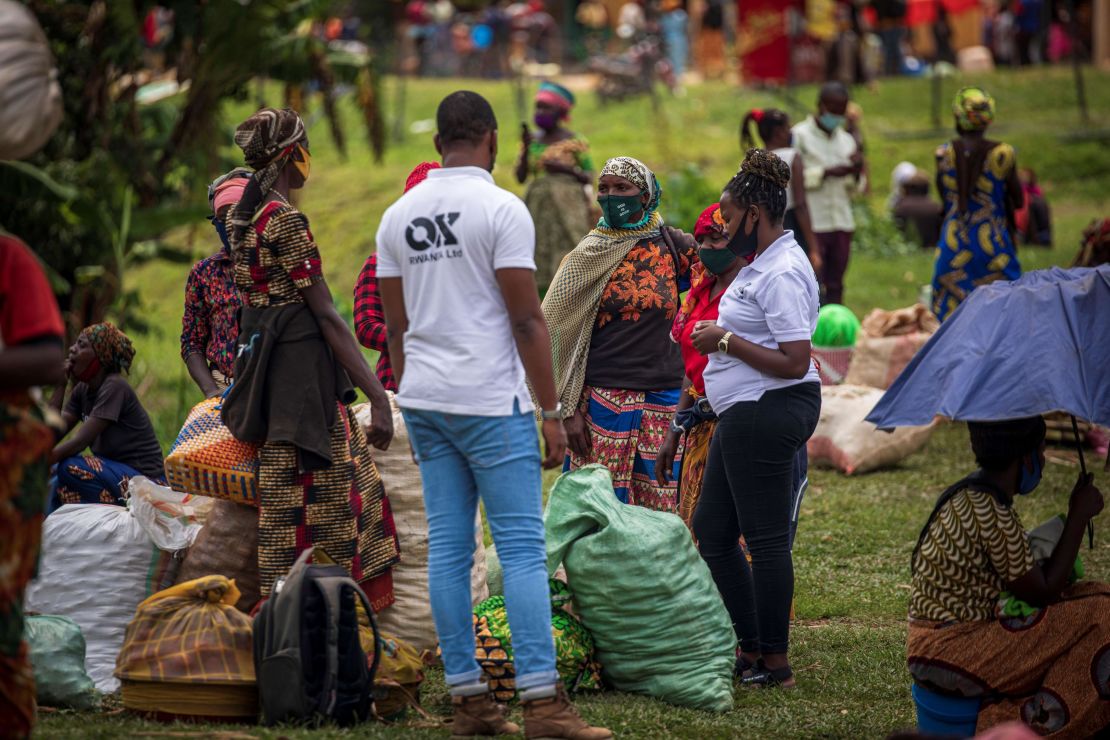 Connecting rural Africa
Sub-Saharan Africa has fewer than a quarter of the average paved roads per kilometer of all low-income regions. A lack of roads can mean higher cargo prices and longer transit times, which can make it harder for economies to develop.
"Bananas cost 10 times in Kigali (Rwanda's capital) what they cost in a village," says OX Delivers managing director Simon Davis. "You can get good fruit and ship it to Kigali, but the transport will just eat all the cost."
One solution is simply to build more paved roads, but Davis believes a more sustainable solution is to have more affordable vehicles that can drive on dirt roads.
"What happens when there's a flood and it washes away a bridge? You can't pay for a new one because you have no money," he says. "But if you build a truck that works on the existing roads, we create a bunch of revenue, and ultimately, some of that becomes tax revenue."
OX Delivers says it charges the same as cargo bicycles – around 50 cents to transport a 100 kilogram sack 10 kilometers (6.2 miles) – but can travel further, and offers a discount for return trips.
The company says it keeps down its costs by owning and streamlining every stage of the supply chain. Its parts, for example, are flown from Britain to Rwanda in flat-pack form, allowing materials for six vehicles to fit into a shipping container that would normally carry just two whole trucks. OX says the truck can be assembled by three "skilled (but not necessarily expert)" people in 12 hours, using an image-based, IKEA-like guide.
Davis says that running on electricity costs 50% less per day than diesel engines. The trucks have a range of 170 kilometers and the company has installed private charging depots – where they can take up to six hours to completely recharge – to make up for a lack of public charging infrastructure in Rwanda.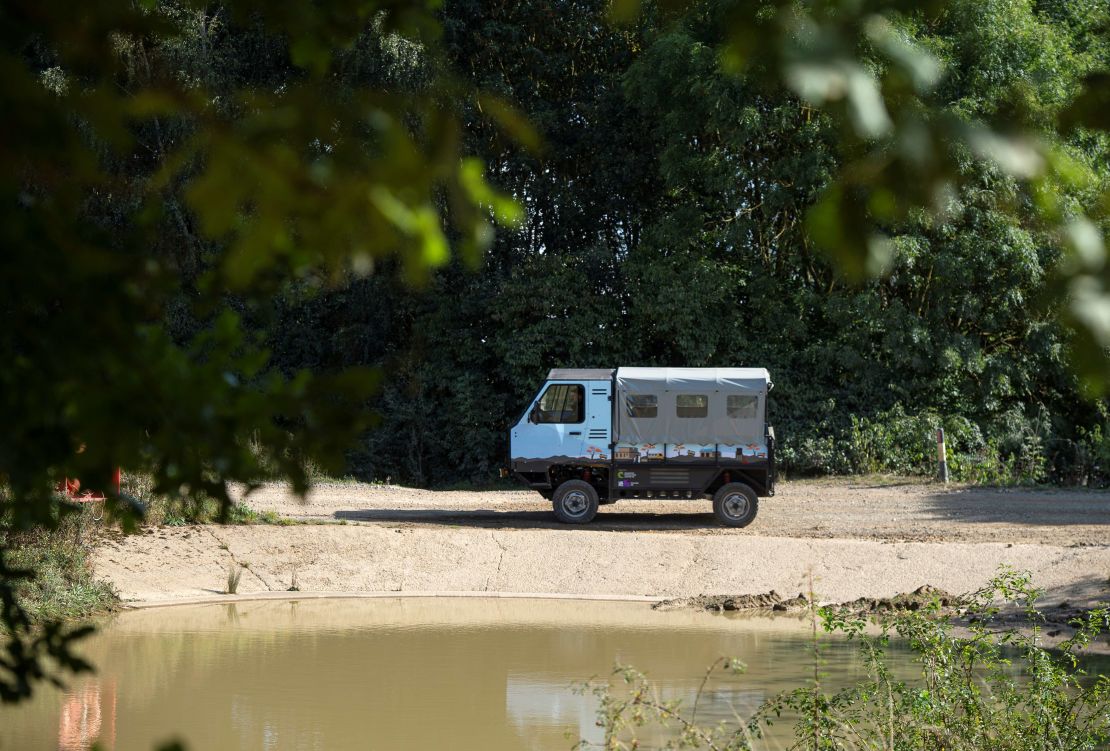 'Impacting people who have been left behind'
Fransua Vytautas Rasvadauskas, mobility and cities senior consultant at market research firm Euromonitor, agrees that the off-road delivery market could function as an infrastructure stopgap, but sees its potential in the short-to-medium term. "There is a lot of future potential for sub-Saharan Africa to grow and this would hopefully translate to better road infrastructure," he says. "But I think for the next 10, 20, maybe 30 years, off-road vehicles stand a good chance in the region."
Other companies in Rwanda have been trying to fill the gap in food delivery, with Vanoma geared towards last-mile delivery from online sellers to customers' homes, and Get It mostly transporting food from suppliers to hotels and restaurants. But OX Delivers is aimed squarely at undeserved rural traders looking to get their goods to market.
The company says it has more than 100 employees, including 70 in Rwanda, and has served 1,000 clients. Global Vehicle Trust is its biggest shareholder but it has also taken on for-profit "impact" shareholders and has £8 million ($9.6 million) in seed funding, as well as £20 million ($24 million) in UK government grants. It now plans to further develop its app and deploy a cold-store fitting for perishable cargo.
In theory, the model can be transferred outside of Western Rwanda. "It works in any rural African place where transport is a challenge," says Uwamahoro. "People depend on agriculture, and products need to be moved around."
Davis says the company has had offers to expand into other East African countries such as Zambia, Uganda and Kenya. But more than just being an example of growth, the business model is seen as a means of facilitating it.
"It's about impacting the people who have been left behind," says Uwamahoro. "OX is giving them power to grow economically."