Robert Lewandowski's transfer to Barcelona was announced on Tuesday, and it's fair to say Bayern Munich boss Julian Nagelsmann is baffled by it.
The 33-year-old joined the Spanish giant from Bayern for $46.1 million plus $5.12 million in additions, signing a four-year contract with a buyout clause of $512.47 million.
The Polish striker was on the bench for Barça's 6-0 thumping of Inter Miami and is the club's fourth high-profile signing of the summer as manager Xavi looks to revamp his squad.
As well as Lewandowski, Andreas Christensen and Franck Kessié signed on free transfers while the Blaugrana reportedly spent over $56.33 million plus add-ons to acquire Brazil star Raphinha from Leeds United.
And for a club which has gone through years of financial mismanagement, resulting in huge debt and a bloated wage bill, the vast sums of money spent have left Nagelsmann confused.
Although he admitted the transfer of Lewandowski was good for both clubs, he said Barcelona is "the only club in the world that has no money but can buy every player."
Speaking before Bayern's preseason game against DC United, he added: "It's kind of weird and kind of crazy for me, but at the end, they find solutions. I don't know how."
Financial mismanagement has forced Barça to cut loose many of its most valuable assets – including former captain Lionel Messi, the greatest player in the club's history.
Last year, President Joan Laporta revealed the full extent of the club's "very worrying" situation, stating that Barcelona were over $1.5 billion in debt with a negative net worth of $515 million.
The club signed a multi-year shirt and stadium sponsorship deal with audio streaming platform Spotify in the hopes of injecting some much needed funds to rebuild around a young squad.
Barcelona has also activated several financial "levers" to bring in hundreds of millions of euros to help ease the burden in the short term, most notably through the sale of a percentage of their La Liga TV rights for the next 25 years.
And now alongside some of its young stars – Pedri, Gavi and Ansu Fati – the team has a spine of more experienced players which it didn't have at the beginning of last season.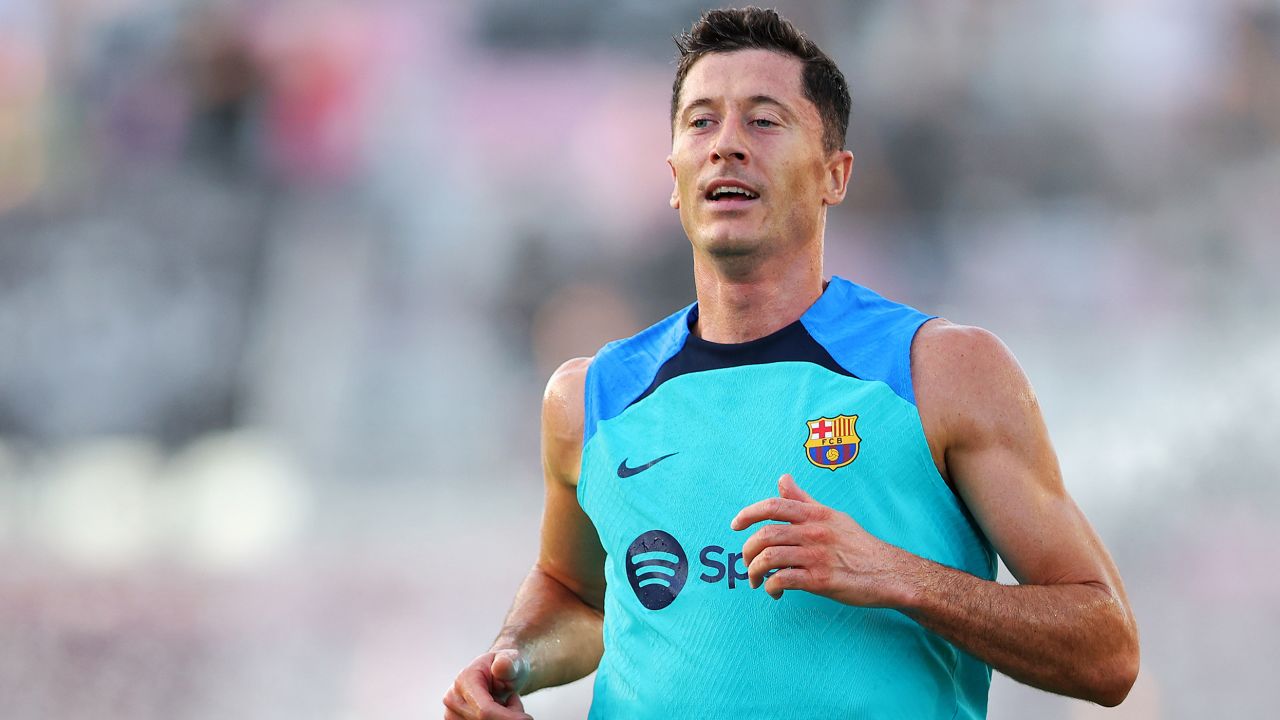 Lewandowski is the icing on the cake in this rebuilding, with the proven goal scorer providing a focal point for the team.
He scored 344 goals in 375 appearances for Bayern, second most for the club behind Gerd Müller, including 50 goals in 46 games last season.
He won the league in all eight seasons in Munich, as well as the Champions League in 2020, having joined on a free transfer from Borussia Dortmund in 2014.