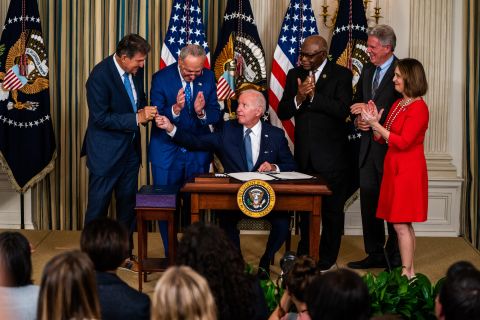 Updated 0329 GMT (1129 HKT) August 19, 2022
President Joe Biden signed a sweeping $750 billion health care, tax and climate bill into law at the White House on Tuesday, August 16 -- marking a major victory for his administration and the Democratic Party ahead of the midterm elections.
The act accomplishes several key Biden legislative agenda items, representing the largest climate investment in American history and making major changes to health care policy. It will raise over $700 billion in government revenue over 10 years and spend over $430 billion to reduce carbon emissions and extend subsidies for health insurance under the Affordable Care Act. The rest of the new revenue will be used to reduce the deficit.
Biden said the legislation, called the Inflation Reduction Act, is "one of the most significant laws in our history."
Here are some of the stories that made headlines over the past week, as well as some photos that caught our eye.