Of all the pandemic-inspired business adoptions, perhaps none is as reviled as the QR-code menus. And yet, it persists.
Early in the pandemic, restaurants ditched physical menus and instead revived a long-sidelined technology, the quick response code. It seemed like a good idea at the time. As restaurants reopened from government-mandated Covid lockdowns, restaurant design experts advised them to clear their tables of high-touch items like salt, pepper and ketchup bottles. Even the physical menu had to go, and thus the QR code — which, when scanned, opens up a digital menu — came into vogue.
As it became clear that Covid-19 was unlikely to be transmitted via surfaces, however, people revealed their true feelings about menu codes. They hated them.
But for restaurants, QR codes are more than just a way to offer a contact-free menu. The tech solves problems that restaurants have had for years and are especially painful now, like menu printing costs and staff shortages.
It's "an interesting quandary," said Robert Byrne, director of consumer and industry insights at the restaurant consulting firm Technomic. Should restaurants continue using a technology that diners loathe, or revert to the more cumbersome option?
Some have decided that QR-code menus have to go, because customers don't like them and end up ordering less overall because of them.
Other restauranteurs are holding onto the technology, or adding it for the first time, because the better option may be to turn it into something people actually want to use.
Indeed, improved QR codes may be the future. Square, which sells point-of-sales and digital services to restaurants, saw the use of its QR codes including ordering capabilities jump 143% among its restaurant customers last year, and grown even more this year so far.
'Bring back menus'
Bad reviews for QR codes are all over the internet. Last year, Slate ran a piece with the headline that demanded "Bring Back Menus!" Subhead: "I am sick of the QR codes." Earlier this year, a Vice headline declared "F*** QR Codes." followed by a plaintive "I just want to hold a menu again."
We're not talking about a vocal minority of haters here. A recent Technomic survey found that about 88% of respondents said they preferred paper menus to digital QR codes. About 66% of respondents agreed or strongly agreed that they didn't like QR codes because they involve pulling out your phone as soon as you sit at the table. About 57% agreed that using QR codes felt like a chore, and 55% agreed that QR codes were hard to read and browse through.
Some restaurants, knowing that customers hate them, have brought back physical menus.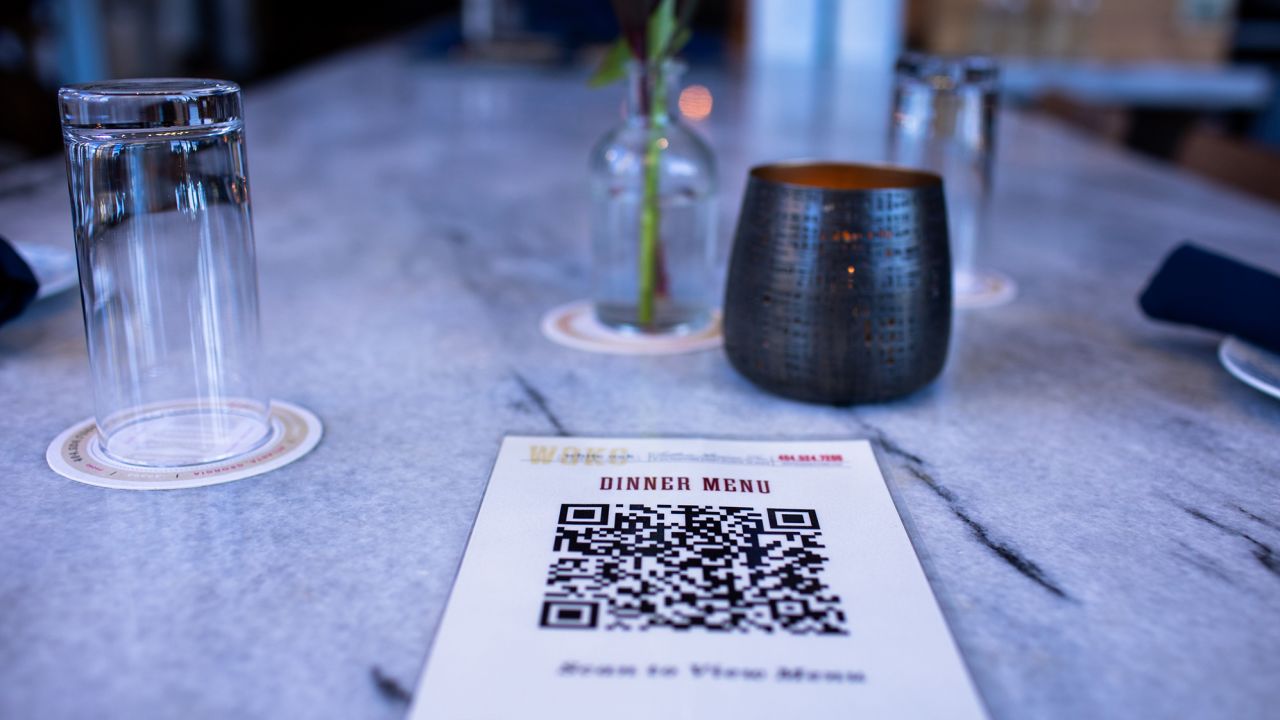 Darden Restaurants (DRI), which owns Olive Garden, Longhorn Steakhouse and other chains, used the codes early in the pandemic before transitioning to single-use menus and then back to regular ones because of customer preferences, a spokesperson said. BJ's Restaurants (BJRI) brought back its restaurant menus fall of last year. "One of the things we've heard from our guests is they love having a physical menu," said CEO Greg Levin during an October analyst call.
Jeremy Wladis, president of The Restaurant Group, which operates eight restaurants in North Carolina, Washington, D.C., and New York, has also switched back to tangible menus. Early in the pandemic, Wladis set up QR codes at his sit-down restaurants in New York City. But he ultimately ditched them.
With a physical menu,"I think people see more stuff and very likely order more food, and have a better experience," Wladis said. Plus, he prefers a real menu himself. "I like to see a whole menu," he said. "I'm old fashioned."
That's not to say that there weren't advantages to the QR code."It is easier, because you make a menu change and change it in the computer, and then [it's] done," he said. BJ'S Levin said in October, "I think we were all really excited in this business to get to HTML menus because everybody's thinking we're going to eliminate printing costs."
Beyond digital menus
QR codes may be a welcome relief to restaurant operators navigating a difficult environment, where ingredients are suddenly expensive or inaccessible, and the labor market is tight.
"When you're updating a menu, even with a small degree of frequency, that can get expensive," said Technomic's Byrne. Costs increase when an operator is running a chain of restaurants.
And these days, maintaining a menu adds another level of complexity, noted Bryan Solar, general manager of Square for Restaurants.
QR codes let restaurants update pricing and availability quickly and without added costs, he said, if "over the weekend, the price of your avocado went up 50 cents." Plus, with QR codes, hosts or servers don't have to waste time handing out menus to customers. That may ease the burden on a restaurant that's already short-staffed, as many are.
Still, Solar understands why many people don't like digital menus.
"When people say they'd like to see the QR code die, or they want to see it go away, I agree with that sentiment for QR code 1.0," he said, referring to codes that lead to static PDF menus or are otherwise hard to use.
But, he said, people might actually like digital menus if they're more responsive and interactive, and can be used to order directly, add to their tabs or pay for their meals. "Those are much, much, much more enjoyable experiences than the zoom in, zoom out of a PDF."
Waiting to pay for a check is "a much larger pain point for consumers," than reading a menu, said Byrne, and one that can be solved using similar technology. "Let me pay when I'm ready to go. And everybody's happy."