More than half of the Republican nominees for the 35 US Senate seats being contested in the 2022 midterms have challenged the legitimacy of the 2020 election – rejecting, raising doubts about or taking steps to overturn President Joe Biden's victory.
A CNN analysis found that at least 19 of this year's Republican nominees have contested or refused to affirm the 2020 results. The list includes five incumbent senators and 11 other candidates who have at least a reasonable chance of winning in November.
The success of election deniers in Republican Senate primaries around the country – from the southern border to the northern border; in swing states, conservative states and liberal states; among established officeholders and first-time candidates – is yet more evidence of the broad support among party voters for former President Donald Trump's lie that the election was stolen.
The 19 Republican Senate nominees on this list of election deniers and doubters join at least 11 Republican nominees for state secretary of state and at least 22 Republican nominees for governor. US senators generally have less power over elections than secretaries of state and governors do, but they do have the power to object to certifying electoral votes, to write and vote on election legislation, and sometimes to hold hearings and issue subpoenas on election issues.
Not all election deniers are alike. Some of the Senate candidates on the list have made formal attempts to reverse the will of the American people – for example, by voting to reject the congressional certification of electoral votes Biden won – while others have made false claims from the sidelines. Some of the candidates have aggressively spread specific conspiracy theories; others have evasively complained of "irregularities" and refused to answer directly when asked whether Biden was legitimately elected.
We will update the list if we find evidence that additional Senate nominees should be included. (There has been little media coverage of some longshot nominees, like Bob McDermott of Hawaii and Gerald Malloy of Vermont.) Here is the rundown as it stands in mid-September now that the primary elections have concluded.
Alabama: Katie Britt
Alabama Republican nominee Katie Britt told NBC News in May 2022 that she would have objected to the 2020 election results if she had been in the Senate on January 6, 2021. The next month, she told Fox: "I've said many times that there were major problems with the 2020 election, and we have to make sure that we uphold the integrity and security of our elections. I've called for a forensic audit to make sure we get to the bottom of it and that people can have faith in our electoral process."
AL.com reported in March 2022 that Britt would not go so far as to agree that the election was "stolen," but Britt also didn't reject that false notion. Instead, she responded indirectly, saying: "I believe that there was fraud. I think you have to have a forensic audit. You have to give people peace and clear confidence that their vote is going to matter the next time."
Britt is the former chief of staff to outgoing Sen. Richard Shelby and former chief executive of the Business Council of Alabama. Her Democratic opponent is Will Boyd, a pastor who once served as a city councilman in Illinois.
Britt's campaign did not respond to a request for comment for this article.
Arizona: Blake Masters
Arizona Republican nominee Blake Masters has been explicit in declaring that "the 2020 election wasn't free or fair." In an ad Masters released in November 2021, early in the Republican primary, he said, wrongly, "I think Trump won in 2020."
The rest of the ad was more subjective; Masters argued that Trump would have won in a "fair fight" without supposed anti-Trump media bias, "big tech" suppression of a late-election story about Biden's family, and some states having changed their rules to allow for easier mail-in voting. But Masters' ad-opening claim that Trump actually did win is plain false.
Masters, a venture capitalist, has also made or promoted other false claims about the 2020 election. Two days after the election, Masters chided the media for supposedly declining to investigate claims about ballots being cast in the names of dead people in some Democratic-dominated cities; the claims appeared dubious from the start, and media outlets were investigating them – and debunking them. In September 2021, Masters echoed one of Trump's favored conspiracy theories, falsely declaring that opinion polls that showed Biden with big leads during the 2020 campaign were "designed to suppress the Trump vote."
At a campaign event in June 2022, Masters spoke supportively of the baseless suggestion that there is mass cheating in the vote-counting process. He said he couldn't prove his father wrong when his father told him that, if Masters were to win his Senate race by 30,000 votes against Democratic incumbent Sen. Mark Kelly, "I think that they'll find 40,000 for Mark Kelly." Masters added, "I think there's always cheating, probably, in every election. The question is, what's the cheating capacity? I don't know exactly how many illegal and legal votes each of Trump and Biden got in 2020, but I look at all the signs, I look at things going wrong…"
At the end of the Republican primary in early August, Masters' campaign website claimed that "if we had had a free and fair election, President Trump would be sitting in the Oval Office today." After Masters won the primary, CNN's KFile team reported, that language was removed from the site and replaced with this vague declaration: "We need to get serious about election integrity."
Masters' campaign did not respond to a request for comment for this article.
California: Mark Meuser
Earlier this year, California Republican nominee Mark Meuser told television station KPIX 5 of the 2020 election: "There are so many irregularities about this election that I do not feel any American who looks at it can have confidence that they know what the actual results are."
Meuser, a lawyer who was trounced in a California secretary of state election in 2018 and in a state Senate election in 2012, is making a longshot challenge to incumbent Democratic Sen. Alex Padilla, who beat him in the 2018 secretary of state race. Meuser's campaign did not respond to a request for comment for this article.
Georgia: Herschel Walker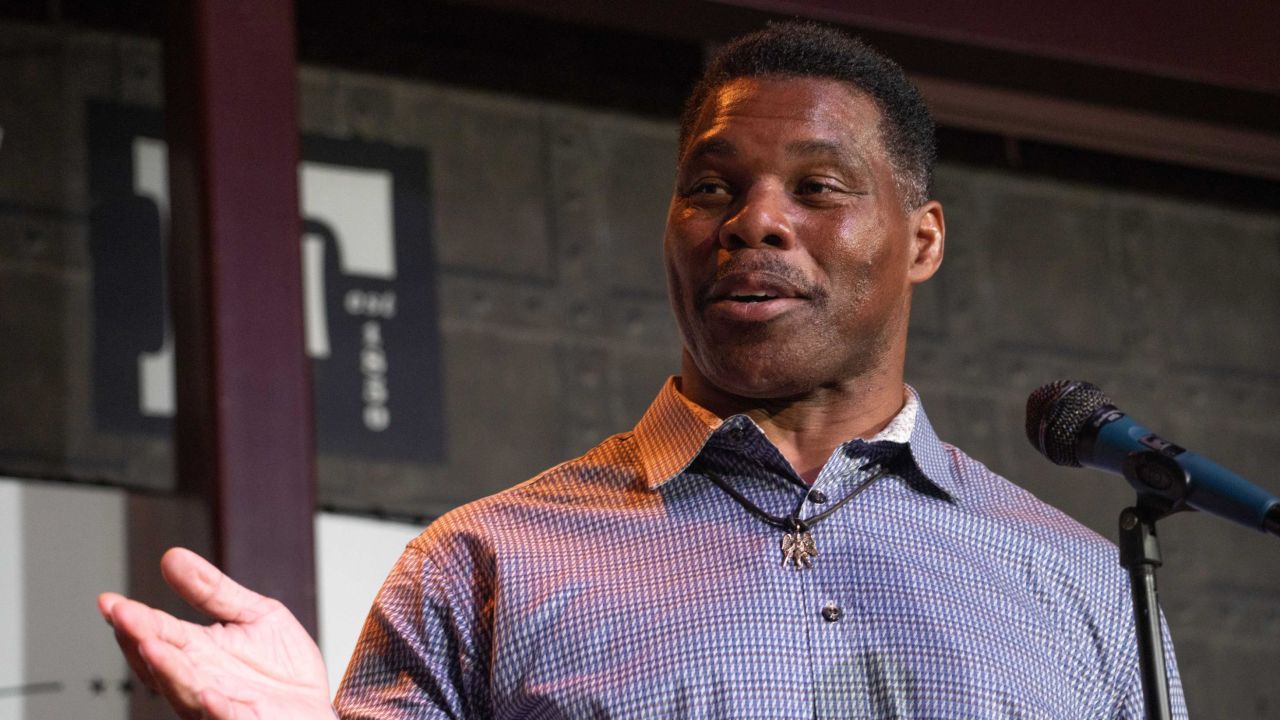 Herschel Walker, the Georgia Republican nominee and a former football star, has made a variety of wild false claims about the 2020 election.
In a tweet on January 6, 2021, after the Capitol was attacked by pro-Trump rioters, Walker said he wanted Trump to get to the bottom of "who stole this election."
In late 2020 and early 2021, Walker falsely declared he could "guarantee you" that Biden "didn't get 50 million people voting for him" (in fact, more than 81 million people voted for Biden), promoted a baseless conspiracy theory about Dominion Voting Systems technology and another conspiracy theory about imaginary vote-stealing software, said Georgia should refuse to certify Biden's victory Georgia victory because of "serious Election Fraud," wrongly alleged "Country wide election fraud," and proposed that all votes in Georgia, Arizona, North Carolina, Pennsylvania, Michigan, Nevada and Wisconsin be tossed out and that these seven states – six of which were won by Biden – "vote again."
In May 2022, Walker told reporters that "I don't know" whether Biden was lawfully elected and that there were "problems" with what happened in the election, The New York Times reported.
Walker is challenging incumbent Democratic Sen. Raphael Warnock. Walker's campaign did not respond to a request for comment for this article.
Kentucky: Rand Paul
Incumbent Kentucky Sen. Rand Paul voted to certify Biden's victory on January 6, 2021, noting that "it was never intended by our founders that Congress have the power to overturn state-certified elections."
But Paul has also made false claims about the 2020 election. He declared at a Senate hearing in December 2020: "The fraud happened. The election in many ways was stolen." As a supposed example, Paul said, "We can't just say, 'Oh, 4,000 people voted in Nevada that were non-citizens, and we're just going to ignore it. We're going to sweep it under the rug.'" There is no evidence of thousands of non-citizens voting in Nevada; an investigation by the office of Nevada's secretary of state, a Republican, later found that fraud wasn't proven by the data that Republican activists had cited to make this allegation.
Three days after the election in November 2020, Paul tweeted that while it is usually difficult for "voter fraud in absentee voting" to affect the outcome of an election, there were many more mail ballots than usual this time. (Again, voter fraud didn't affect the outcome.) Paul went further later that month, falsely claiming on Twitter, "When the media says no evidence of widespread fraud, perhaps they mean no evidence, if you look the other way…" (He linked to an article that did not demonstrate fraud.) In another November 2020 tweet, Paul asked people to "decide for yourself" whether so-called "data dumps" late on the night of the election – in reality, just votes being counted and publicly reported – represented fraud or statistical anomalies.
Paul has also made a subjective argument that state officials acted improperly by changing election rules without approval from state legislators. Paul spokesperson Kelsey Cooper said in an email to CNN in August 2022: "Senator Paul voted to accept the state certified electors consistent with the constitutional mandate that states conduct elections. Discussing election fraud is in no conceivable way an incitement to anything but legislative reform. Senator Paul will continue to advocate that no state official can change election law without a vote from the majority of the state legislature."
Paul's Democratic opponent is former Kentucky state representative Charles Booker.
Louisiana: John Kennedy
Incumbent Louisiana Sen. John Kennedy objected to the certification of Biden's victory in Arizona, though Kennedy voted to certify Biden's victory in Pennsylvania.
Kennedy has tried to differentiate himself from congressional colleagues who wanted to overturn the entire election. He said in a May 2021 interview with WWL-TV that he chose to object only to Biden's victory in Arizona because Biden would still have prevailed without that state's 11 electoral votes.
Nonetheless, Kennedy still attempted to override the will of millions of Americans. And he has broadly questioned the legitimacy of the election as a whole.
Days before the votes on January 6, 2021, Kennedy issued a statement, along with some of his Republican colleagues, that said: "By any measure, the allegations of fraud and irregularities in the 2020 election exceed any in our lifetimes." (There were indeed many allegations of fraud, but there was a tiny amount of actual fraud.) And in December 2020, Kennedy sent out a fundraising email, previously reported by the Louisiana Illuminator, in which he wrote that there had been "a lot of tomfoolery and a few too many shenanigans with this election" and that "I'm thinking we may need to take a second look at those ballots and the legitimacy of this election."
That email also tried to straddle both sides; Kennedy wrote, "I'm not saying that something DID happen, but I'm not so sure something DIDN'T HAPPEN." Kennedy has continued to say such things since. He said in the May 2021 interview: "You will never find where I ever said, anywhere, that the election was stolen or not stolen. You won't find it." After alleging in the interview that Democrats in some states "exploited the pandemic to change their states' election laws in an unconstitutional manner," he added, "Now having said that, I have never seen demonstrated evidence, proven in a court of law, that it made a difference. I'm not saying it did, I'm not saying it didn't."
Kennedy is the top Republican in Louisiana's open primary, whose field also includes a