Chinese leader Xi Jinping on Sunday vowed to steer China through grave challenges toward national rejuvenation, advancing a nationalistic vision that has put it on a collision path with the West.
Speaking at the opening of the 20th Party Congress, where he is poised to secure a norm-breaking third term in power, Xi struck a confident tone, highlighting China's growing strength and rising influence under his first decade in power.
But he also repeatedly underscored the risks and challenges the country faces.
Describing the past five years as "highly unusual and extraordinary," Xi said the ruling Communist Party has led China through "a grim and complex international situation" and "huge risks and challenges that came one after another."
The very first challenges Xi listed were the Covid-19 pandemic, Hong Kong and Taiwan — all of which he claimed China had come away from victorious.
The Chinese government, Xi said, had "protected people's lives and health" from Covid, turned Hong Kong from "chaos to governance," and carried out "major struggles" against "independence forces" in the island of Taiwan, a self-governing democracy Beijing claims as its own territory despite having never controlled it.
Wen-Ti Sung, a political scientist with the Australia National University's Taiwan Studies Program, said Xi's decision to flag the Taiwan issue early on in his speech was a departure from previous speeches and conveys a "newfound urgency on making progress on the Taiwan issue."
Xi won the loudest and longest applause from the nearly 2,300 handpicked delegates inside the Great Hall of the People when he spoke about Taiwan again later in the speech.
He said China would "strive for peaceful reunification" — but then gave a grim warning, saying "we will never promise to renounce the use of force and we reserve the option of taking all measures necessary."
"The wheels of history are rolling on towards China's reunification and the rejuvenation of the Chinese nation. Complete reunification of our country must be realized," Xi said to thundering applause.
Xi also underscored the "rapid changes in the international situation" — a thinly veiled reference to the fraying ties between China and the West, which have been further strained by Beijing's tacit support for Moscow following Russia's invasion of Ukraine.
He said China has "taken a clear-cut stance against hegemonism and power politics" and "never wavered" in opposition to unilateralism and "bullying" — in an apparent jab at what Beijing views as a US-led world order that needs to be dismantled.
Laying out broad directions for the next five years, Xi said China would focus on "high quality education" and innovation to "renew growth" in the country's crisis-hit economy. China will "speed up efforts to achieve greater self-reliance in science and technology," he said, in comments that come just months after his damaging crackdown on the country's private sector and major tech companies.
Xi also vowed to speed up efforts to build the People's Liberation Army (PLA) into a "world-class military," pledging to improve the PLA's ability to safeguard national sovereignty and build strategic deterrence. He also urged the PLA to strengthen its training and improve its "ability to win."
Xi's speech was peppered with the Chinese term for "security" — which was mentioned about 50 times. He called national security the "foundation of the rejuvenation of the Chinese nation," and urged enhancing security in military, economy and "all aspects," both at home and abroad.
Another point of focus was Marxism and ideology. "I don't think there will be any relaxation of the ideological atmosphere in the coming five years," said Victor Shih, an expert on elite Chinese politics at the University of California.
Dali Yang, a political scientist at the University of Chicago, said the directions laid out in Xi's opening speech were a continuation of his previous policies. By emphasizing the challenges and struggles, he said, it justifies "the need for a strong party and its great leader."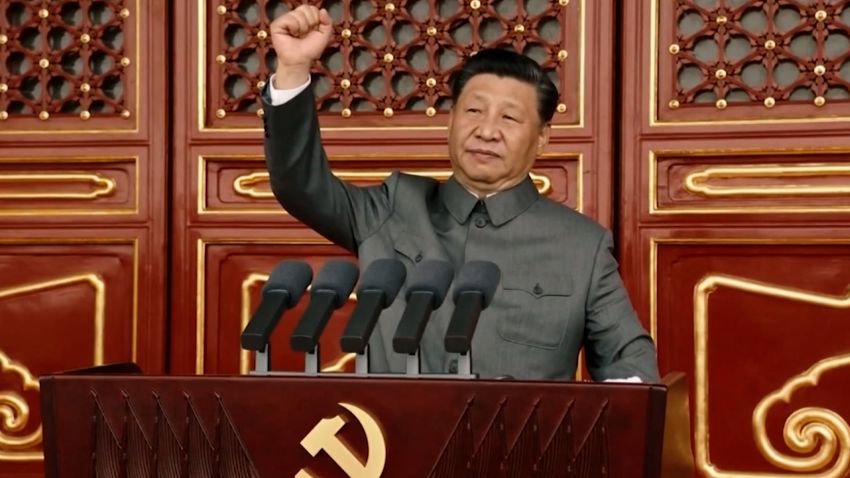 Here's Xi Jinping's vision to make China great again