China's vast security apparatus has moved swiftly to smother mass protests that swept the country, with police patrolling streets, checking cell phones and even calling some demonstrators to warn them against a repeat.
In major cities on Monday and Tuesday, police flooded the sites of protests that took place over the weekend, when thousands gathered to vent their anger over the country's tough zero-Covid policy – some calling for greater democracy and freedom in an extraordinary show of dissent against Chinese leader Xi Jinping.
The heavy police presence has discouraged protesters from gathering since, while authorities in some cities have adopted surveillance tactics used in the far western region of Xinjiang to intimidate those who demonstrated at the weekend.
In what appears to be the first official response – albeit veiled – to the protests, China's domestic security chief vowed at a meeting Tuesday to "effectively maintain overall social stability."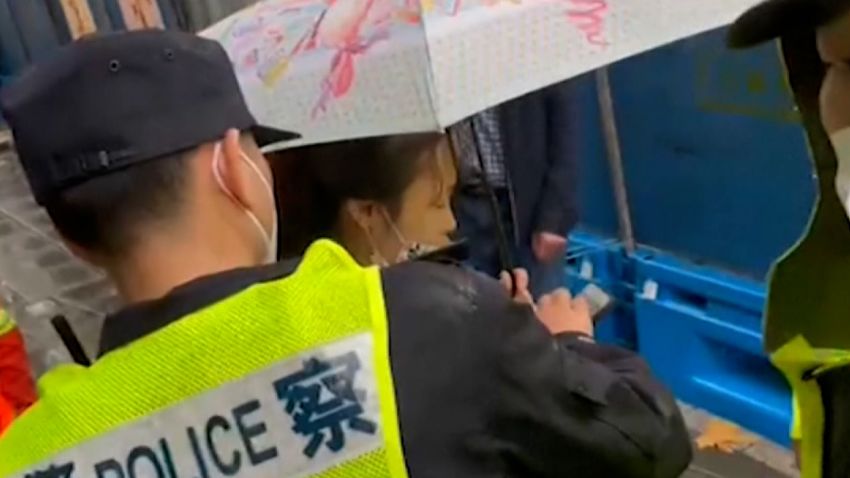 CNN's Beijing reporter breaks down latest police moves to suppress protests
Without mentioning the demonstrations, Chen Wenqing urged law enforcement officials to "resolutely strike hard against infiltration and sabotage activities by hostile forces, as well as illegal and criminal acts that disrupt social order," the state-run news agency Xinhua reported.
The tough language may signal a heavy-handed crackdown ahead. While protests over local grievances do occur in China, the current wave of demonstrations is the most widespread since the Tiananmen Square pro-democracy movement of 1989. The political defiance is also unprecedented, with some protesters openly calling for Xi, the country's most powerful and authoritarian leader in decades, to step down.
Some of the boldest protests took place in Shanghai, where crowds called for Xi's removal two nights in a row. The sidewalks of Urumqi Road – the main protest site – have been completely blocked by tall barricades, making it virtually impossible for crowds to congregate.
Ten minutes' drive away, dozens of police officers patrolled the People's Square – a large plaza at the heart of the city where some residents had planned to gather with white paper and candles on Monday evening. Police also waited inside a subway station there, closing off all but one exit, according to a protester at the scene.
CNN is not naming any of the protesters in this story to protect them from reprisals.
The protester said he saw police checking the cell phones of passersby, and asking them if they had installed virtual private networks (VPNs) that can be used to circumvent China's internet firewall, or apps such as Twitter and Telegram, which though banned in the country have been used by protesters.
"There were also police dogs. The whole atmosphere was chilling," the protester said.