China announced sweeping changes to its national pandemic response on Wednesday, the clearest and most significant sign yet that the central government is moving away from its strict zero-Covid approach that prompted protests across the country.
In a statement reported by state broadcaster CCTV, China's State Council unveiled 10 new guidelines that loosen some restrictions – most notably, allowing home quarantine and largely scrapping the health QR code that has been mandatory for entering most public places.
Local governments had already taken steps this week that indicated a possible change in direction – including some major cities loosening requirements on Covid testing.
But this is the first official change in Covid policy on a national level – a notable turnaround by Beijing, which for the past three years has insisted that unwavering restrictions are the only effective way to stamp out the highly transmissible virus.
Here are some of the biggest changes.
QR codes scrapped
Since early in the pandemic, China has used health codes on mobile phones to track individuals' health statuses. The color of these codes – in red, amber or green – decides whether users can leave their homes, use public transport and enter public places, or potentially need to quarantine.
Under the guidelines released Wednesday, people will be able to enter most places without showing a negative test result or their health code – a significant step after nearly three years of disruption to people's daily routines and livelihoods.
Only a few exceptions will still require these checks, including nursing homes, medical institutions and secondary schools. Businesses can now determine their own prevention and control policies, the report added.
Home quarantine allowed
In another massive change, asymptomatic Covid patients or those with mild symptoms will be allowed to quarantine at home instead of being taken to a government facility, unless they choose otherwise.
Patients whose condition deteriorates will be transferred to hospital for treatment, the report said. Close contacts can also quarantine at home.
Throughout the pandemic, Chinese residents have described the chaos and stress of going into quarantine camps, many saying it was unclear when they would be allowed to leave, and others complaining of crowded or poor conditions.
In several cases, health workers reportedly killed the pets of those taken to government quarantine, citing health risks – triggering outrage on Chinese social media each time. Others criticized the policy after reports earlier this year of elderly residents being forced out of their homes in the middle of the night for transport to quarantine.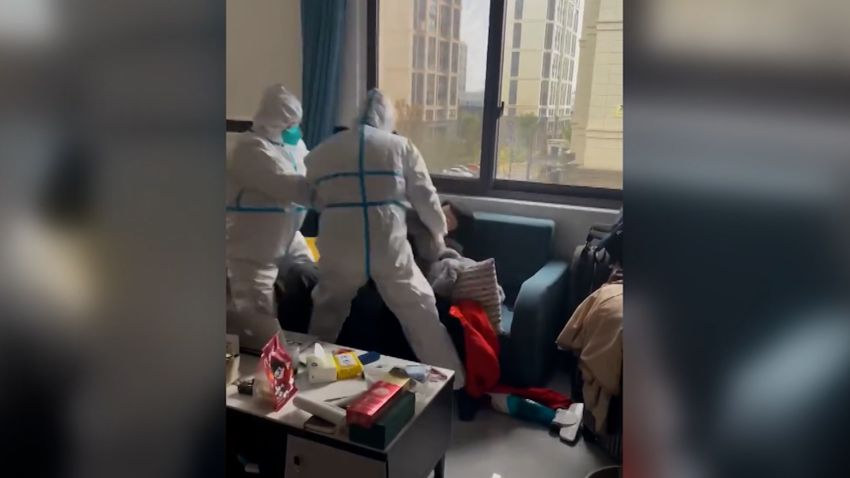 Man dragged out of home after allegedly refusing to go to quarantine facility
Limits on lockdown