The full report was published December 22, 2021. Read here.
The House select committee investigating the January 6, 2021, attack on the US Capitol has concluded that former President Donald Trump was ultimately responsible for the insurrection, laying out for the public and the Justice Department a trove of evidence for why he should be prosecuted for multiple crimes.
"That evidence has led to an overriding and straight-forward conclusion: the central cause of January 6th was one man, former President Donald Trump, who many others followed," the committee writes in a summary of its final report released on Monday. "None of the events of January 6th would have happened without him."
The summary describes in extensive detail how Trump tried to overpower, pressure and cajole anyone who wasn't willing to help him overturn his election defeat – while knowing that many of his schemes were unlawful. His relentless arm-twisting included election administrators in key states, senior Justice Department leaders, state lawmakers, and others. The report even suggests possible witness tampering with the committee's investigation.
The committee repeatedly uses forceful language to describe Trump's intent: that he "purposely disseminated false allegations of fraud" in order to aid his efforts to overturn the 2020 election and to successfully solicit about $250 million in political contributions. "These false claims provoked his supporters to violence on January 6th."
The full report, based on 1,000-plus interviews, documents collected including emails, texts, phone records and a year and a half of investigation by the nine-member bipartisan committee, will be released Wednesday, along with along with transcripts and other materials collected in the investigation.
Here's what's in the report summary:
The committee thinks Trump and others committed crimes, and is referring them to DOJ
The House committee lays out a number of criminal statutes it believes were violated in the plots to stave off Trump's defeat and says there's evidence for criminal referrals to the Justice Department for Trump, Trump attorney John Eastman and "others."
The report summary says there's evidence to pursue Trump on multiple crimes, including obstruction of an official proceeding, conspiracy to defraud the United States, conspiracy to make false statements, assisting or aiding an insurrection, conspiring to injure or impede an officer and seditious conspiracy.
The committee says it also has the evidence to refer Eastman on the obstruction charge, and it names him as a co-conspirator in other alleged criminal activity lawmakers have gathered evidence on.
In addition, several others are named as being participants in the conspiracies the committee is linking to Trump, including then-DOJ attorney Jeffrey Clark and Trump chief of staff Mark Meadows, as well as Trump-tied lawyers Kenneth Chesebro and Rudy Giuliani.
The committee alluded to evidence of criminal obstruction of the House investigation but the summary does not go into detail about that evidence.
Several of the individuals named by the committee – including Trump, Eastman and Giuliani – had their own responses Monday.
Trump's false victory declaration was 'premeditated'
The committee outlines 17 findings from its investigation that underpin its reasoning for criminal referrals, including that Trump knew the fraud allegations he was pushing were false and continued to amplify them anyway.
"President Trump's decision to declare victory falsely on election night and, unlawfully, to call for the vote counting to stop, was not a spontaneous decision. It was premeditated," the summary states.
The committee revealed emails from Tom Fitton, president of the conservative group Judicial Watch, from before the 2020 presidential election that say Trump should declare victory regardless of the outcome.
It also notes that Trump's top allies, including those who testified before the committee, acknowledged they found no proof to back up the former president's claims.
"Ultimately, even Rudolph Giuliani and his legal team acknowledged that they had no definitive evidence of election fraud sufficient to change the election outcome," the summary states, referring to Trump's then-personal attorney.
"For example, although Giuliani repeatedly had claimed in public that Dominion voting machines stole the election, he admitted during his Select Committee deposition that 'I do not think the machines stole the election,'" it states.
Trump's belief that the election is stolen is no excuse, lawmakers say
Sources familiar with Trump's legal strategy in the Justice Department probe have told CNN that his attorneys believe prosecutors face an uphill battle in proving he did not believe the election was stolen despite being told as much by senior members of his own administration.
In making its case for a Justice Department prosecution of Trump, the House committee took aim at that possible defense.
In describing why the committee believes Trump's conduct meet the prongs of each criminal statute, the summary stresses evidence that Trump had been warned that his schemes were unlawful.
Trump raised about $250 million by crying fraud
The committee says it gathered evidence indicating that Trump "raised roughly one quarter of a billion dollars in fundraising efforts between the election and January 6th. Those solicitations persistently claimed and referred to election fraud that did not exist."
"For example, the Trump Campaign, along with the Republican National Committee, sent millions of emails to their supporters, with messaging claiming that the election was 'rigged,' that their donations could stop Democrats from 'trying to steal the election,' and that Vice President Biden would be an 'illegitimate president' if he took office,'" the summary states.
Several members of Congress are being referred to the House Ethics Committee
The select committee is referring several Republican lawmakers who refused to cooperate with the investigation to the House Ethics Committee.
House Minority Leader Kevin McCarthy, as well as Reps. Jim Jordan of Ohio, Scott Perry of Pennsylvania and Andy Biggs of Arizona, could all face possible sanctions for their refusal to comply with committee subpoenas.
Concerns about witness credibility and Trump-allied attorneys
The committee raised concerns that attorneys paid by Trump's political committee or allied groups were incentivized to protect the former president, saying, "lawyers who are receiving such payments have specific incentives to defend President Trump rather than zealously represent their own clients. The Department of Justice and the Fulton County District Attorney have been provided with certain information related to this topic."
In one instance, a witness whose lawyer was being paid by a Trump-allied group was told she could "in certain circumstances, tell the Committee that she did not recall facts when she actually did recall them." When the witness raised concerns with her lawyer about that approach, the lawyer said, "They don't know what you know, [witness]. They don't know that you can recall some of these things. So you saying 'I don't recall' is an entirely acceptable response to this," according to the report summary.
When it came to a specific issue that reflected negatively on Trump, the lawyer told his client, "No, no, no, no, no. We don't want to go there. We don't want to talk about that."
The committee notes both Trump and his allies attempted to contact witnesses ahead of their committee testimony.
"The Select Committee is aware of multiple efforts by President Trump to contact Select Committee witnesses. The Department of Justice is aware of at least one of those circumstances," according to the summary.
Ivanka Trump and Kayleigh McEnany
The committee also, in its final report, highlighted two high-profile witnesses – Ivanka Trump and then-White House press secretary Kayleigh McEnany – as being less cooperative than others. They and others "displayed a lack of full recollection of certain issues, or were not otherwise as frank or direct as Cipollone."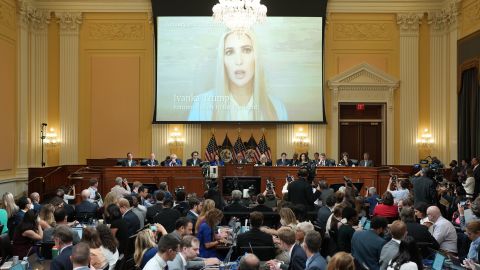 In another instance, Trump had an angry conversation with Pence in which he referred to the then-vice president as "The P word," according to a committee interview with Ivanka Trump's chief of staff, Julie Radford.
In Radford's recollection, the name-calling was upsetting to Ivanka at the time, but when the committee asked Ivanka whether there were any "particular words" her father used in the conversation with Pence, "She answered simply: 'No.'"
The summary states: "In several circumstances, the Committee has found that less senior White House aides had significantly better recollection of events than senior staff purported to have."
As for McEnany, the committee called her testimony "evasive, as if she was testifying from pre-prepared talking points," noting she was deposed early in the investigation and wasn't as forthcoming as others from Trump's press office.
Impropriety by Trump Justice Department officials
The report points the finger at two Trump appointees at the Justice Department who the committee believes abused their positions and acted unethically.
Clark, the former acting assistant attorney general for the Civil Division, is already well known for trying to weaponize the Justice Department to help Trump overturn the 2020 election. The committee raises the prospect that Clark broke the law. The Justice Department is already investigating Clark and federal agents have searched his home.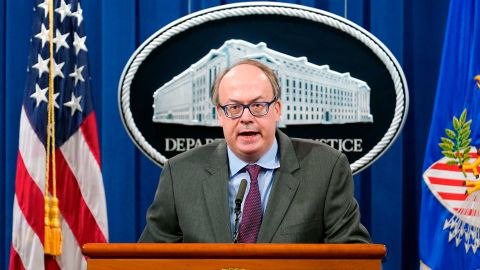 One of the most egregious things Clark did was draft a letter for the Justice Department to send to election officials in battleground states, urging them to essentially overturn their results. The letter, crafted with help from fellow Trump appointee Ken Klukowski, falsely asserted that the department believed there were problems with the results.
"This was an intentional choice by Jeff Clark to contradict specific Department findings on election fraud, and purposely insert the Department into the Presidential election on President Trump's behalf and risk creating or exacerbating a constitutional crisis," the summary states.
In a new development, the panel flagged its concerns about Klukowski's conduct.
He worked for the Trump campaign before joining the Justice Department during the final weeks of the administration. And while at the department's civil division, he spent some of his time helping Clark with his attempts to overturn the election, "despite the fact that election-related matters are not part of the Civil portfolio," the summary says.
Trump and others may try this again, committee warns
The summary's section outlining the referrals makes a case for why the Justice Department's prosecutions should extend beyond the rioters who physically breached the Capitol.
The committee says that Trump "believed then, and continues to believe now, that he is above the law, not bound by our Constitution and its explicit checks on Presidential authority."
"If President Trump and the associates who assisted him in an effort to overturn the lawful outcome of the 2020 election are not ultimately held accountable under the law, their behavior may become a precedent and invitation to danger for future elections," the summary says. "A failure to hold them accountable now may ultimately lead to future unlawful efforts to overturn our elections, thereby threatening the security and viability of our Republic."
The summary revisits Trump's infamous phone call with Georgia Secretary of State Brad Raffensperger, where he begged Raffensperger to "find" enough votes to nullify Biden's victory in the state. The summary also highlights that Trump doxed the leader of the Michigan Senate by tweeting out his cell phone number after he publicly said he wouldn't undermine the election results.
Lawmakers also highlighted the plight of former Georgia election workers Ruby Freeman and Wandrea "Shaye" Moss, who previously testified about the abuse they suffered when Giuliani and others in pro-Trump circles falsely accused them of rigging the results in Atlanta.
Like Freeman and Moss, other officials who faced Trump's ire received death and rape threats and an avalanche of phone calls and emails, and some of them feared for their safety.
Pardon requests show that Trump allies knew they were in possible legal jeopardy
The evidence that Trump allies sought pardons as the administration drew to a close shows that they knew their conduct was legally problematic, the committee argues.
The summary points to previously public accounts of pardon requests from members of Congress, while providing new details of Florida Republican Rep. Matt Gaetz's alleged attempt for a pardon, which had been discussed in the public committee testimony of ex-White House aide Cassidy Hutchinson.
CNN previously reported that the McEntee testimony linked Gaetz's pardon request to a separate DOJ probe; Hutchinson, however, said Gaetz and others asked "blanket" pardons for participants at a meeting where election-related schemes were discussed.
Intelligence and law enforcement agencies knew of threats of violence on January 6, but information didn't get through
The summary of the report lays out how the intelligence community and law enforcement agencies were receiving information that January 6 was likely to be violent and shared that information with the White House and US Secret Service.
For example, on January 3, 2021, Department of Justice officials received an intelligence summary of plans to "occupy the Capitol" and "invade" the Capitol on January 6. According to testimony from Chairman of the Joint Chiefs of Staff Gen. Mark Milley, then-Deputy Secretary of Defense David Norquist predicted on a National Security Council call that the Capitol could be the target of violence.
"I'll never forget it," Milley said in testimony revealed by the committee.