Editor's Note: This story had been updated to reflect the number of times Hamlin was resuscitated based on information from a family spokesperson and his uncle. Read the latest update here.

Buffalo Bills safety Damar Hamlin still was sedated Tuesday night after he suffered a cardiac arrest Monday during an NFL game, his uncle Dorrian Glenn told CNN outside of the University of Cincinnati hospital.
"I'm not a crier, but I've never cried so hard in my life. Just to know, like, my nephew basically died on the field and they brought him back to life," Glenn said Tuesday.
"They sedated him just to give a better chance for him to just continue to heal better. We are just taking it day by day. It seems like he's trending upwards in a positive way," Glenn said, asking people to continue to pray for his nephew.
Hamlin's heartbeat was restored on the field as staff tended to him, the Bills have said, before he was taken to the University of Cincinnati Medical Center. Hamlin was resuscitated only once, a family spokesman clarified Wednesday, not twice, as his uncle told CNN on Tuesday.
Hamlin still is in critical condition after the 24-year-old collapsed on the field during Monday night's game in Cincinnati, his team said Tuesday, a stunning moment that left players weeping, praying and embracing as their teammate was taken away by ambulance. Hamlin spent the night in the intensive care unit at the medical center, where he remained Tuesday, the team said.
Hamlin is "flipped over on his stomach" in the hospital to help with the blood on his lungs, according to Glenn. Doctors told Glenn his nephew is in that position to help take the pressure off the lungs, so they don't have to work as hard.
The next step is to get Hamlin, who is still sedated on a ventilator, to breathe on his own, he said.
During the first quarter of Monday's game, Hamlin fell on his back just moments after getting up from an open field tackle of Cincinnati Bengals wide receiver Tee Higgins. "His heartbeat was restored on the field" and he was transferred to the medical center "for further testing and treatment," the Bills tweeted early Tuesday.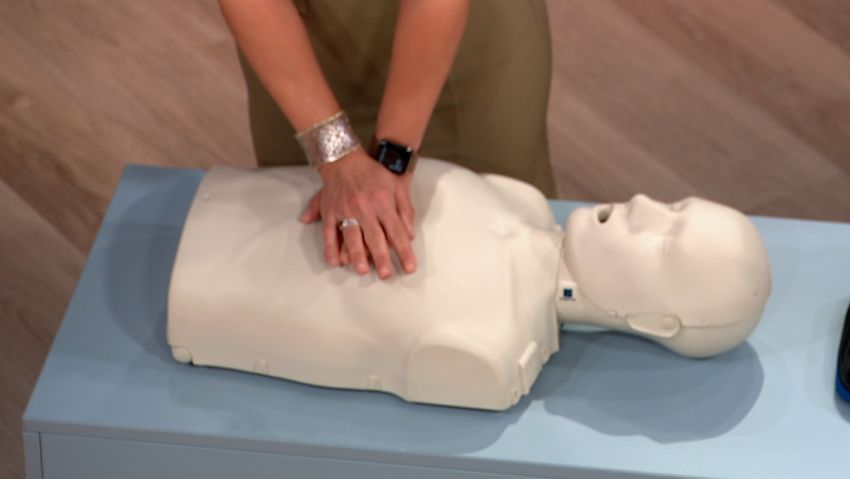 If you don't know how to perform CPR, watch this
Cardiac arrest results from electrical disturbances that cause the heart to suddenly stop beating properly, and death can be quick if help isn't rendered immediately. It is not the same as a heart attack or heart failure.
CNN Chief Medical Correspondent Dr. Sanjay Gupta said sometimes when the heart is not beating well, fluid can back up into the lungs and make it hard for the medical staff to oxygenate the patient. So, they will flip the person on their stomach to what is known as the prone position to make breathing easier.
Gupta also said it sounds like Hamlin is still having a significant amount of cardiac dysfunction and his heart cannot pump enough blood.
One of the treatment options is to decrease the demand of the body for oxygenated blood, he told Anderson Cooper.
"So you want to improve the amount of circulation but in the interim, you can also decrease the demand by sedating somebody, by keeping them on a breathing machine," he said. "Sometimes they'll even use cooling agents, hypothermia it's called, to basically almost put the body in more of a hibernation-like state so it's not demanding as much oxygenated blood. That's part of the reason he would be on a breathing machine as well."
Gupta said it is still unclear to what led to the cardiac arrest.
Aid came within seconds
Hamlin's collapse left players distraught – in tears, kneeling with arms around one another before returning to their locker rooms – and called to mind some of the league's most disturbing in-game injuries. The game was suspended with nearly six minutes left in the first quarter and later was officially postponed – an unusual move for a league that often resumes play even after severe injuries.
The late-season game – initially anticipated as a match that would help settle playoff seeds for two AFC stalwarts – will not be resumed this week, and no decision has been made about whether it will ever be resumed, the NFL said Tuesday afternoon.
Within 10 seconds of Hamlin's collapse, Bills team trainers were treating him. An ambulance was on the field in less than five minutes, footage shows, and he was given CPR before being taken to the hospital, according to an ESPN broadcast.
Bills players and staff on Tuesday were still processing what they witnessed the previous night, a source within the team told CNN's Coy Wire.
Their teammate's medical emergency – on top of having to mentally deal with a deadly mass shooting at a Buffalo grocery store in May, the deaths of least 41 people in Erie County, New York, due to a recent blizzard, having a home game in November moved to Detroit and getting stuck in Chicago during the holidays – has been heavy on everyone associated with the club, the source said.
As for Hamlin, the source said the Bills, including the team's medical staff, are in a "wait-and-see mode."
The plane carrying players and staff who returned home didn't land in Buffalo until 3:30 a.m. ET on Tuesday.
"Everyone is exhausted," the source told CNN.
'He's a fighter,' friend says
Support for Hamlin – a Pennsylvania native who had played every game this season – has poured in from fans and others in pro sports, from the NFL's Russell Wilson and JJ Watt to NBA star LeBron James.
Hamlin was intubated, and his mother, who was at the game, had ridden in the ambulance with him, said Jordon Rooney, a friend and marketing representative of the player.
"He's a fighter all the time. … If there's anyone that, you know, I have confidence in making it out of anything, it's him," Rooney, who flew from Dallas to Cincinnati after Hamlin's collapse to be with him, told CNN on Tuesday. "He is someone who always figures out a way to come out on top."
Hamlin's family expressed "our sincere gratitude for the love and support shown to Damar during this challenging time" in a statement released by Rooney late Tuesday morning.
The statement thanked the Bills, the Bengals, fans and medical personnel.
'Guys were openly weeping'
The stunning play involving Hamlin happened around 8:55 p.m. ET Monday, early in what initially was regarded as an important matchup between two AFC powers – the Bills at 12-3 and the Bengals at 11-4 – trying to stay in contention for top conference seeding in the approaching NFL playoffs.
With the Bengals up 7-3, Higgins caught a short pass in Bengals territory and ran a few yards near midfield, where Hamlin met him.
Higgins lowered his right shoulder and drove into the chest of Hamlin, whose arms were out wide anticipating a tackle. Hamlin, now falling back, wrapped his arms around Higgins' shoulders and neck and twisted Higgins to the ground with him.
Hamlin stood up and appeared to adjust his face mask, then fell backward. An official whistled for the clock to stop with 5:58 left in the quarter, and Bills staff rushed to the motionless player.
Soon, three teammates took their helmets off and knelt as Hamlin remained motionless. Minutes later, after two ESPN commercial breaks, most players for both teams were on the field looking on with concern, including Bills wide receiver Stefon Diggs, shown with a tear-streaked face.
Bills players and staff eventually gathered in a circle, kneeling on the field in prayer as an ambulance drove off with Hamlin.
Some of Hamlin's teammates decided to stay in Cincinnati while the rest of the team traveled back to Buffalo, NFL Executive Vice President of Operations Troy Vincent said in a media call.
NFL history shadowed by devastating injuries
The league announced after 10 p.m. ET Monday that the game was postponed.
After his collapse, neither of the teams' coaches nor players asked to continue playing, Vincent said. The NFL and the NFL Players Association agreed to postpone the game, the NFL said.
"I've never seen anything like it since I've been playing," he said. "So, immediately, my player hat went on. How do you resume play after you've seen such a traumatic event occur in front of you in real time?"
The NFL has seen devastating in-game injuries before, including temporary or permanent paralysis of players including Darryl Stingley (1978), Mike Utley (1991), Dennis Byrd (1992) and Ryan Shazier (2017).
CPR previously had been performed on players during NFL games at least twice, including one incident in which the player died.
In 1971, Detroit Lions receiver Chuck Hughes, 28, collapsed near the end of a home game against the Chicago Bears, and CPR was performed on the field, according to the Detroit Free Press. The game's last 62 seconds were played. Hughes was taken to a hospital, and players learned of his death after the game, the reports said.
In December 1997, Lions linebacker Reggie Brown stopped breathing after suffering a serious spinal cord injury while making a tackle in a home game against the New York Jets, The Detroit News reported. After CPR was begun, he was taken to a hospital, and though players were shaken, the game resumed. Brown eventually would regain mobility after surgery and rehabilitation, but the injury ended his football career.
The postponement throws into question how the teams' regular seasons will end and how that will affect playoff seeding.
NFL Commissioner Roger Goodell, "after speaking with both teams and the (players' union) leadership," told the clubs that the Bills-Bengals game "will not be resumed this week," the league said Tuesday.
"The NFL has made no decision regarding the possible resumption of the game at a later date," the league said as it heads into the final scheduled week of the regular season.
This coming weekend's schedule has not changed, the NFL said Tuesday.
The Bills are scheduled on Sunday to host the New England Patriots, and the Bengals are set to host the Baltimore Ravens. The two teams are vying with the Kansas City Chiefs (13-3) for the AFC's top playoff seed, which would mean a first-round bye and home-field advantage throughout the conference playoffs.
Support swells for Hamlin after his collapse
Hamlin joined the Bills in 2021 as a sixth-round draft pick after playing for the University of Pittsburgh in the 2016-20 seasons.
Overwhelming support for him flooded in Monday night from the city of Buffalo and from fans and players across the sports world.
Buffalo Mayor Byron Brown tweeted Tuesday: "The entire City of Buffalo is praying for Damar Hamlin. Our thoughts and prayers are with Damar, his family and the @BuffaloBills during this difficult time. We wish him a full recovery."
The NFL Players Association tweeted Monday night that the organization and "everyone in our community is praying for Damar Hamlin."
"We have been in touch with Bills and Bengals players, and with the NFL. The only thing that matters at this moment is Damar's health and well being," the players union said.
NBA star James applauded the decision to postpone the game after the medical emergency, saying player safety "is always the most important."
"My thoughts and super prayers go up to the skies above for that kid's family, for him, for that brotherhood of the NFL, and everybody who's a part of the NFL family," James said.
Well wishes and prayers were sent by several star athletes, including Denver Broncos quarterback Wilson, Chicago Bears quarterback Justin Fields, Baltimore Ravens quarterback Lamar Jackson, and free agent Odell Beckham Jr.
Watt, an Arizona Cardinals defensive end, tweeted, "The game is not important. Damar Hamlin's life is important. Please be ok. Please."
In the hours after Hamlin's collapse, the Christmas toy drive fundraiser he started had raised millions as it was flooded with donations from supporters rooting for his recovery.
The player created the drive to raise money to buy toys for children in a Philadelphia community, writing at the time, "As I embark on my journey to the NFL, I will never forget where I come from and I am committed to using my platform to positively impact the community that raised me."
In the hour after Hamlin's cardiac arrest, the fundraiser had raised about $70,000 from less than 4,000 donations. But by Tuesday evening, the GoFundMe had skyrocketed to more than $5 million raised from over 177,000 donations, including one of $20,000.
CNN's Adrienne Broaddus reported from Cincinnati and David Close, Jason Hanna and Homero De la Fuente reported and wrote from Atlanta while Elizabeth Wolfe reported and wrote from Los Angeles. CNN's Wayne Sterling, Kevin Dotson, Holly Yan, Michelle Watson, Amanda Watts, Chris Boyette and Steve Almasy also contributed to this report.