Kevin McCarthy was elected House speaker in the early hours of Saturday morning – a major victory for the California Republican that elevates him to a powerful position leading the GOP majority in the chamber and an outcome that followed days of painstaking negotiations and failed votes.
To secure the gavel, McCarthy had to chip away at opposition from a bloc of hardline conservatives in what became the longest contest in 164 years. To win over critics, McCarthy and his allies made a series of concessions to conservatives – a move that frustrated moderates concerned the concessions may make it harder for the new GOP majority to effectively govern.
As Republicans turn their attention to implementing their agenda, the struggle McCarthy faced to lock down votes may serve as a preview of the kind of challenges he will face in trying to unite his members in the future. The deal-making McCarthy engaged in also appears poised to leave him with a weaker hand to play in his new position of authority, though the California Republican has disputed that notion.
The speaker election unfolded over a series of days – beginning on the first day of the 118th Congress – and highlighted divides between conservatives and moderates. The final hours before McCarthy was elected were punctuated with chaotic and tense moments on the House floor with lawmakers on the edge of their seats waiting to see how a handful of remaining holdouts would vote.
A number of top Republicans expressed confidence that McCarthy could win in the 14th round of voting, but ultimately he fell just short. That outcome threw the House into disarray and prompted Republicans to move to adjourn. At the last moment, however, Republicans switched their votes to be able to instead move to a 15th ballot – and in that round of voting, McCarthy finally won.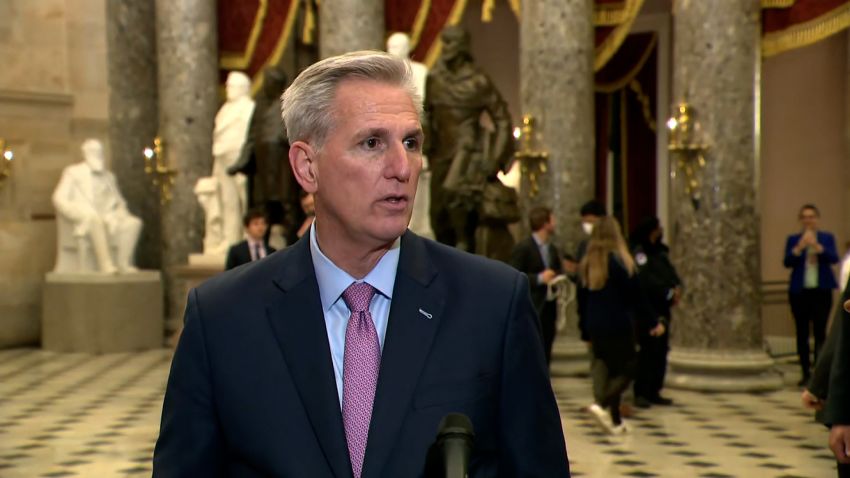 McCarthy explains tense House floor discussion with Gaetz
McCarthy picks up key support amid concessions
In a major shift, McCarthy and his allies successfully flipped more than a dozen GOP votes into his column Friday afternoon – the first sign of serious momentum in support of his speaker bid after a series of failed votes over the course of multiple days.
Here is a list of key concessions and promises McCarthy and his allies have made over the course of the negotiations, based on CNN reporting:
Any member can call for a motion to vacate the speaker's chair – this is significant because it would make it much easier than it is currently to trigger what is effectively a no confidence vote in the speaker. Conservatives pushed hard for this, while moderates are worried it will weaken McCarthy's hand.

A McCarthy-aligned super PAC agreed to not play in open Republican primaries in safe seats
The House will hold votes on key conservative bills, including a balanced budget amendment, congressional term limits and border security

Efforts to raise the nation's debt ceiling must be paired with spending cuts. This could become a major issue in the future when it is time to raise the debt limit to avoid a catastrophic default because Democrats in the Senate and the White House would likely oppose demands for spending cuts

Move 12 appropriations bills individually. Instead of passing separate bills to fund government operations, Congress frequently passes a massive year-end spending package known as an "omnibus" that rolls everything into one bill. Conservatives rail against this, arguing that it evades oversight and allows lawmakers to stick in extraneous pet projects.

More Freedom Caucus representation on committees, including the powerful House Rules Committee

Cap discretionary spending at fiscal 2022 levels, which would amount to lower levels for defense and domestic programs

Seventy-two hours to review bills before they come to floor

Give members the ability to offer more amendments on the House floor

Create an investigative committee to probe the "weaponization" of the federal government

Restore the Holman rule, which can be used to reduce the salary of government officials