Buffalo Bills safety Damar Hamlin posted a photo of himself on social media Sunday that shows him sitting up in his hospital bed and rooting on his teammates less than a week after his cardiac arrest and on-field collapse.
"GAMETIME!!!" Hamlin wrote in the post. The image showed him with his hands together in a heart sign and wearing a number 3 hat and a "Love for Damar" shirt.
It was one of a number of posts Sunday from Hamlin, who tweeted more than a dozen times reacting to the Bills win over the New England Patriots and other news around the NFL.
In the six days since Hamlin suffered a cardiac arrest and collapsed after making a tackle in Monday's game against the Cincinnati Bengals, he has shown continued progress with his recovery and is expecting to be released from the University of Cincinnati Medical Center in the coming days, a source told CNN.
He remains in the intensive care unit, but there has been cautiously positive news about his prognosis since. His breathing tube was removed overnight into Friday, and he joined a team meeting via FaceTime on Friday and spoke to players and coaches. "Love you boys," he told the team.
Despite that scary medical emergency, on Sunday morning Hamlin expressed his desire to be out on the field for the Bills' game against the Patriots.
"It's GameDay & There's Nothing I Want More Than To Be Running Out That Tunnel With My Brothers," he wrote alongside a video of himself from earlier in the season. "God Using Me In A Different Way Today! Tell Someone You Love Them Today!" He added the hashtag #Prayfor3, his jersey number.
Across the league – and particularly in Buffalo – players, coaches and fans expressed their support for Hamlin with T-shirts, signs and jersey patches featuring his name and his number 3. Several of his Bills teammates took the field at Highmark Stadium in Orchard Park, NY, waving flags with Hamlin's name and jersey number.
Once discharged from the hospital, Hamlin will immediately return to Buffalo, according to the source.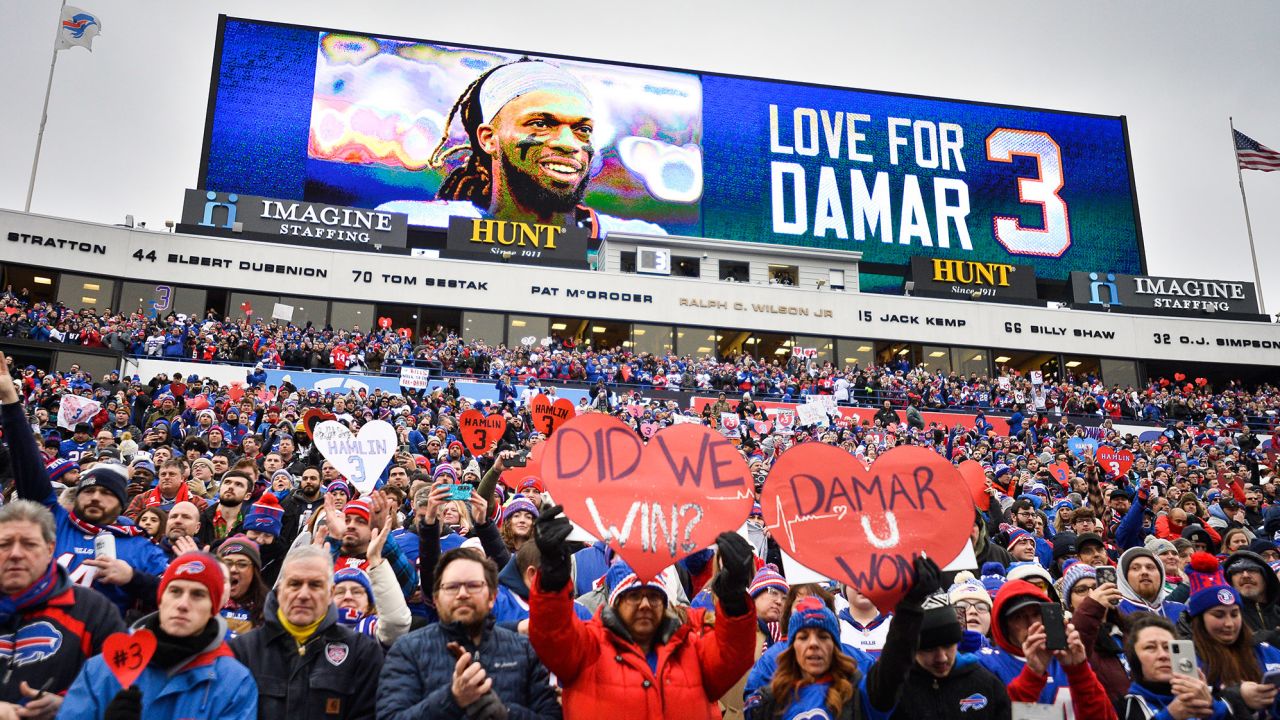 Bills star quarterback Josh Allen arrived to the stadium today wearing a sweatshirt with a large number 3 and a quote from Hamlin: "If you get a chance to show some love today do it! It won't cost you nothing." Hamlin retweeted a photo of Allen and added, "That's My Quarterback."
In Orchard Park, the public address announcer read a statement of support for Hamlin and received a roar from the crowd. Fans all around the stadium held up signs of support for Hamlin such as "BILLI3VE," "All the heart for #3," "Love for Damar" and "Thank You Medical Staff!"
The Bills medical and athletic training staff members were recognized ahead of the game, including assistant athletic trainer Denny Kellington, the man credited with saving Hamlin's life. Bills wide receiver John Brown also gave Kellington a game ball after his touchdown catch in the third quarter.
Hamlin live-tweets the Bills win
The Bills gave Hamlin something to smile about immediately once the game began.
Bills returner Nyhiem Hines took the opening kickoff for a 96-yard touchdown, a storybook start that sent the crowd into euphoria and spurred Hamlin to tweet, "OMFG!!!!!!!!!!!!!" and "Free Hines." It was the first kick return touchdown for the Bills since October 2019 – three years and three months ago, conspicuously Hamlin's jersey number.
"I can't remember a play that touched me like that, I don't think in my life," quarterback Josh Allen said after the game. "It was just spiritual. I was going around to my teammates and saying, 'God's real.' You can't draw that one up (or) write that one up any better.
"I was just told … it's been three years and three months since the last kickoff return (touchdown)," he said through tears. "So it's pretty cool."
Hines said he was "speechless" about his own play on that opening kickoff.
"I'm so thankful it was me to bring that juice but it was way bigger than me and that's what I always thought about and that was what I felt all day," he said. "That it was bigger than me, bigger than those 10 guys who did a great job blocking for me."
Hines added a second kick return touchdown in the 3rd quarter, and Hamlin followed up with a tweet saying, "HINES FREE" and open lock emojis.
In the first half, Bills tight end Dawson Knox scored a touchdown, went up to a camera and made a heart gesture with his hands. Hamlin then tweeted, "I love you too @Dawson_Knox."
The Bills ultimately won the game 35-22, denying the rival Patriots a spot in the playoffs. Afterward, Hamlin tweeted a link to an online sale of shirts with the hands-as-heart gesture and the phrase "Did we win?" a reference to Hamlin's first question after waking at the hospital.
"We all won," Hamlin tweeted. "I want to give back an ounce of the love y'all showed me. Proceeds of this shirt will go to first-responders and the UC Trauma Center. Go get yours!"
Hamlin apologized to his teammates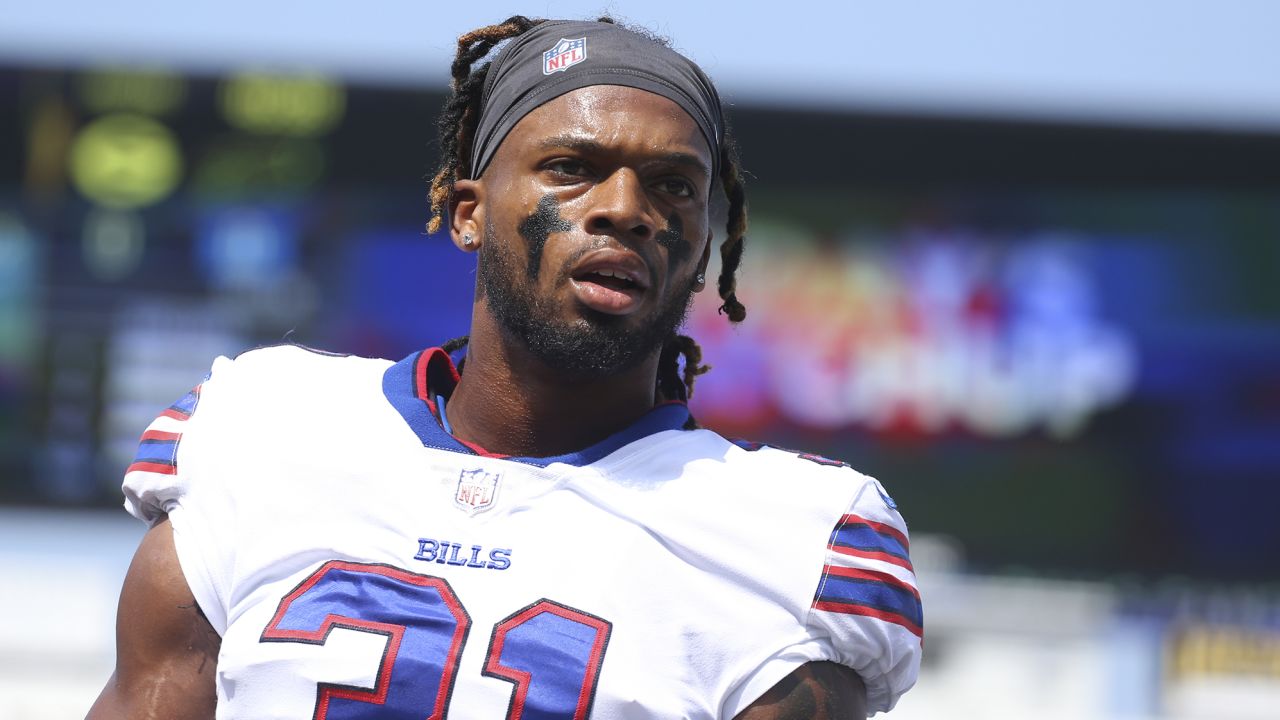 Bills cornerback Tre'Davious White revealed Sunday Damar Hamlin texted members of the team prior to Sunday's game apologizing for his own injury.
"We got a text from Damar yesterday around 2:31 am in the morning. For him to text us – and what he said was, 'I'm thinking about y'all, I'm sorry that I did that to y'all,' " White said. "For him to check on us when he is the person that's going through what he's going through, that just shows what type of person he is for him to check on us."
White said he "can't wait to hear his voice, touch him" and "hug the sh*t" out of Damar when he sees him next.
Bills head coach Sean McDermott said there was no need for an apology.
"Damar should in no way shape or form feel bad or apologize for him putting his teammates through this. I think we would all agree that God's hand is in this and has been in it from the first moment," McDermott said.
"When you watch how at times divided we can be as a country in the world. I think the thing we all recognize this week was when people can put love first and people first and come together how powerful this country and this world can be for the good. The amount of love that people can have for one another," he added. "Maybe it took a sporting event for that to happen but I think that's a great example to all of us and we should continue with that moving forward."
Prior to the game, McDermott said Hamlin's positivity has uplifted the team ahead of their return to play.
"He is amazing. His spirit is so positive. He is going to be 'locked in,' he said, to watch the guys today. We will be thinking of him for sure."
McDermott said he had exchanged texts with Hamlin Saturday night and Sunday morning. In McDermott's pregame interview on CBS, he said Hamlin's improved health has really been a "huge lift for the guys to get their minds off of that, off of Damar a little bit, enough to focus on their preparation for this game."
Hamlin's teammates, many of whom were in tears as they watched the medical team resuscitate the 24-year-old, met Wednesday for a walk-through and held their first full practice of the week Thursday.
In a news conference earlier this week, Allen told reporters focusing on football has been hard with their teammate still in the hospital.
"I think putting that helmet back on was a really good thing for our team and just to go through that process," he said Thursday. "But I would be lying to you if I didn't say, some people are going to be changed forever after being on the field and witnessing that and feeling those emotions."
Bills linebacker Tremaine Edmunds said it was a tough week for players trying to prepare for a game with Hamlin on all their minds.
"It was definitely an emotional week for all of us. He gave us strength throughout the week, just constant positive updates. Just knowing that he was doing better," he said. "And I can't lie, that FaceTime call we had with him earlier this week put a lot of our hearts at ease a little bit just knowing that he's doing better. Knowing that he's going to be fine. Still a long journey for him, but I mean it touched a lot of our hearts because obviously that was a scary moment for a lot of us."
CNN's Adrienne Broaddus, Kevin Dotson and Chuck Johnston contributed to this report.