The last eight years have been the eight warmest on record as the growing concentration of heat-trapping gases in the atmosphere pushes global temperatures toward a dangerous tipping point, a new report shows.
An analysis by the European Union's Copernicus Climate Change Service published on Tuesday said that 2022 was the fifth-warmest year for the planet since records began. It also reported Europe recorded its warmest summer last year and its second warmest year overall, exceeded only by 2020.
Copernicus described 2022 as "a year of climate extremes" that brought record-breaking heatwaves in Europe, deadly floods in Pakistan, extreme widespread flooding in Australia, and that saw the Antarctic Sea reach its lowest minimum extent on record.
The report said that annual average temperature reached 1.2 degrees Celsius above pre-industrial levels, marking the eighth year in a row of temperatures at least 1 degree above the 1850 to 1900 reference period.
Under the 2015 Paris Agreement, most countries agreed to limit warming to well below 2 degrees above pre-industrial levels, but preferably to 1.5 degrees.
The UN Intergovernmental Panel on Climate Change (IPCC) identified the 1.5-degree mark as a key threshold and said breaching it would dramatically increase the risk of extreme weather events and irreversible changes.
Svitlana Krakovska, who heads the Ukrainian delegation to the IPCC, has an analogy for anyone wondering what difference a few degrees of warming could make.
"Your normal body temperature is 36.6. Now we have plus [1.2] degrees and we are already sick. And if we will have 1.5, or 2, look at the difference. We cannot allow this," she told CNN at the COP27 climate conference in Egypt in November. "Every bit of warming matters," she said.
The Copernicus report also highlighted the rising atmospheric concentration of CO2 and methane, potent greenhouse gasses that trap heat in the atmosphere and warm the planet.
Before humans started to burn large quantities of fossil fuels, the concentration of CO2 in the atmosphere was around 280 parts per million. According to Copernicus, it hit an annual average of 417 parts per million in 2022, an increase of 2.1 parts per million compared to 2021. Records show the concentration of carbon in the atmosphere has not been this high in around 2 million years, Copernicus added.
The IPCC has said that the world needs to cut greenhouse gas emissions nearly in half by 2030 and achieve net zero by 2050 to have any chance of keeping global warming to 1.5 degrees Celsius above pre-industrial levels.
Scientists say the link between the greenhouse gasses concentrations and the rising temperatures is unmistakable.
"The tumbling of temperature records combined with the unprecedented heatwaves, droughts and intense rainfall and flooding events across the planet, along with the sustained global warmth over the past decade, are all entirely consistent with a world rapidly warming," Richard Allan, professor in climate science at the University of Reading, told CNN in an email. Allan said this is happening because of "the additional heating effect of the greenhouse gases we're collectively pumping out into the atmosphere."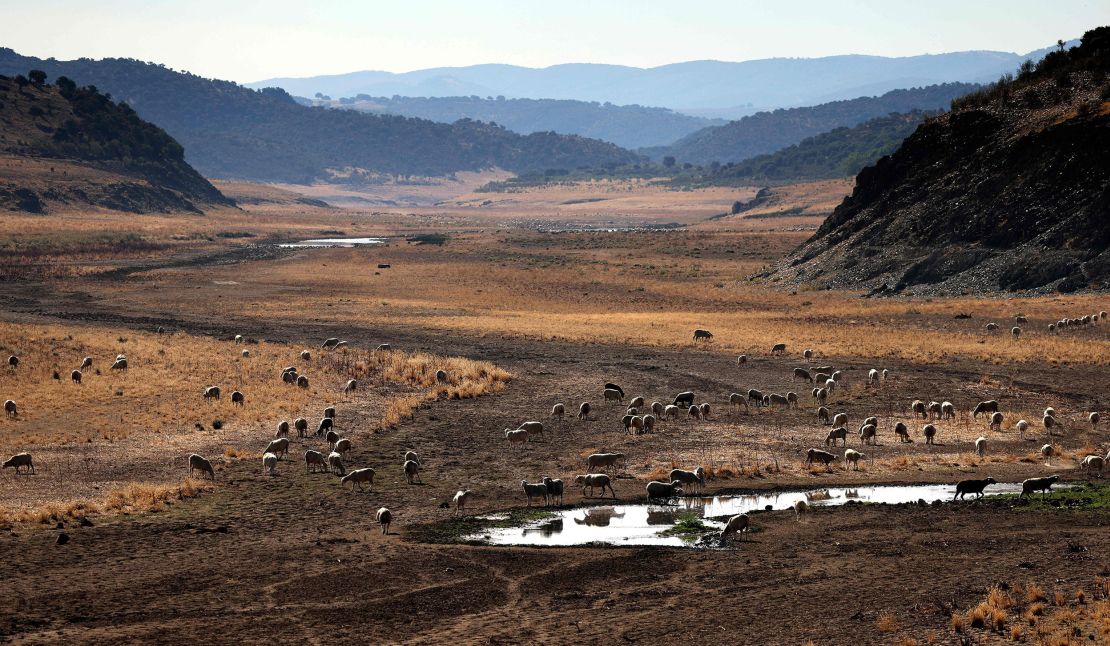 Scientists said 2022 was an exceptionally warm year despite the La Niña phenomenon, which has now been observed for three consecutive years and which normally leads to cooler global average temperatures.
"It is very likely that the recent La Niñas have been masking some of the warming from global climate change," said Marybeth Arcodia, a postdoctoral researcher at Colorado State University. She added that because El Niño – the opposite phase of La Niña – tends to cause higher than average temperatures, it is "probable that when the next El Niño occurs, the global average temperature will be higher than what we have been seeing in the past few years."
Extreme heat in Europe
The Copernicus report comes just days after the UK Met Office announced that 2022 was the UK's hottest year on record, with an average temperature of over 10 degrees Celsius recorded for the first time.
In a report released last week, the Met Office said that human-induced climate change has made the record-breaking annual temperature around 160 times more likely. Its scientists calculated that what would normally be around "one in 500 year annual temperature" is now likely every three to four years because of climate change.
Météo-France, the French national meteorological service, said Friday that 2022 was the hottest year in mainland France since records began in 1900, adding that eight of the warmest 10 years on record occurred since 2010.
It said the extreme heat France experienced in 2022 was a "clear sign of climate change" and that similar temperatures could become the norm by mid-century.
Italy's Institute of Atmospheric and Climate Sciences said 2022 was the hottest year on record for Italy, while the German National Meteorological Service said 2022 was "at least" tied for the hottest year on record with 2018, and could surpass 2018 once final data is analyzed this month.
CNN's Allison Chinchar contributed reporting.