A man clenched his fist as he squeezed his upper body through the small window of a bus leaving the Brazilian Federal Police Headquarters in Brasilia on Tuesday.
"Victory will be ours," he screamed. "This is our freedom!"
He is one of the more than 1,500 supporters of former Brazilian President Jair Bolsonaro who were arrested after breaking into the nation's Congress, Supreme Court and Presidential Palace this past Sunday – some armed with knives, axes and even grenades – in scenes reminiscent of the January 6 Capitol insurrection last year in the United States.
Many are now being released by authorities after processing by the Federal Police and will not face charges.
"Our flag will never be red," he kept chanting, in reference to leftist President Luiz Inácio Lula da Silva's Workers Party.
Next to him, fellow Bolsonaro supporter Wagner Lopes Loureiro was equally animated after spending two nights in jail. "Always! I will always continue to fight," he said. "I cannot let this disgrace continue."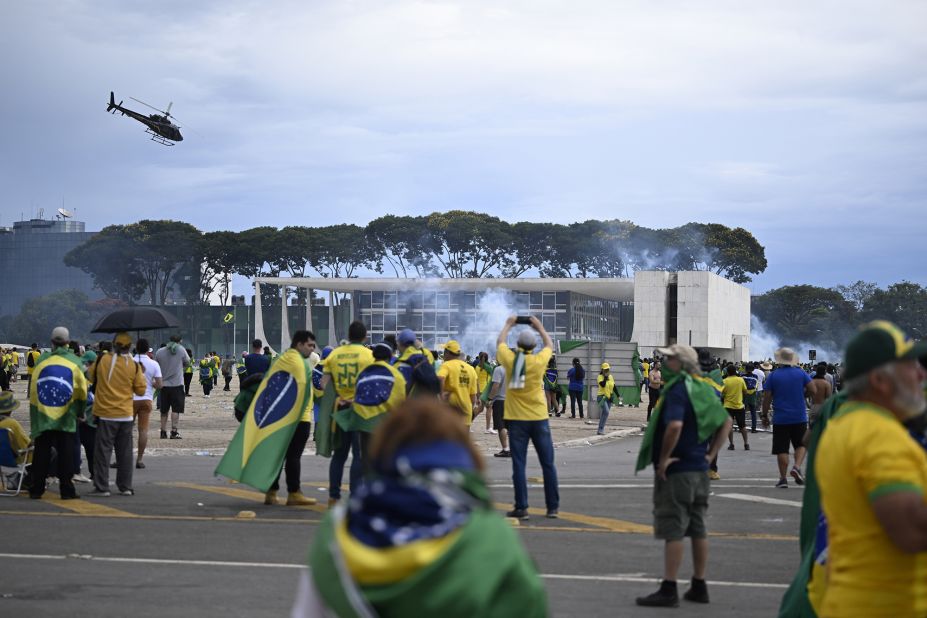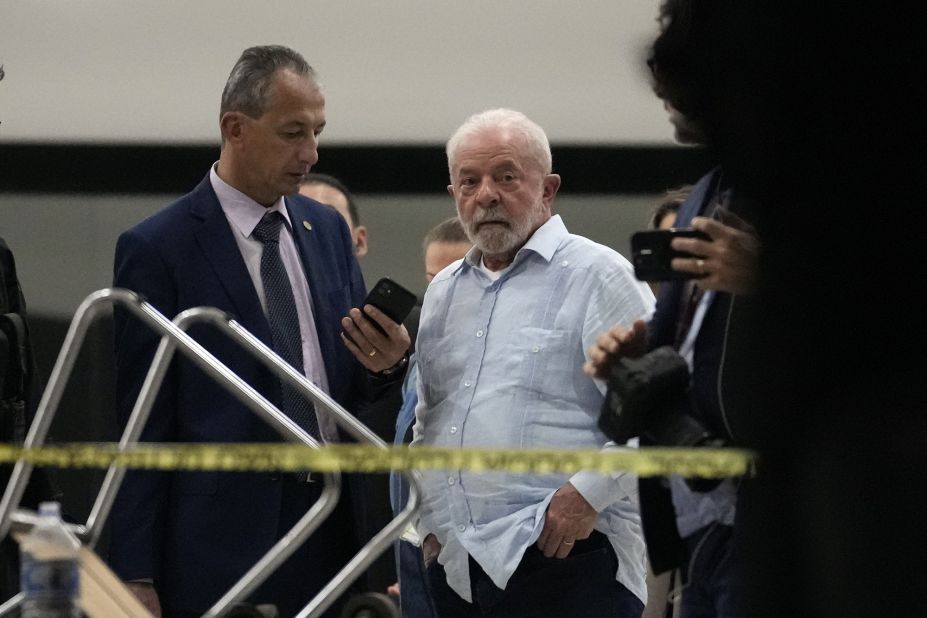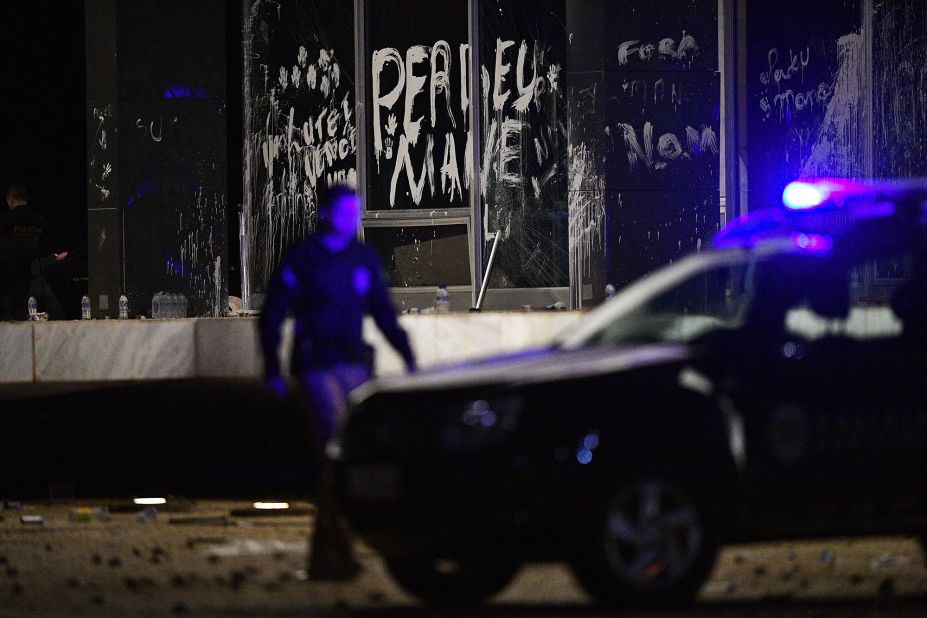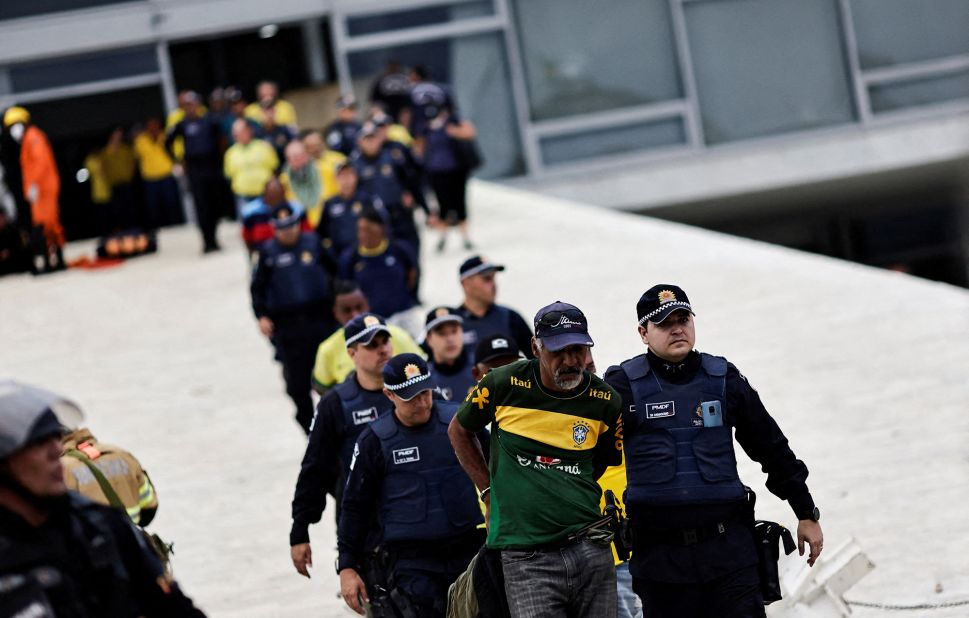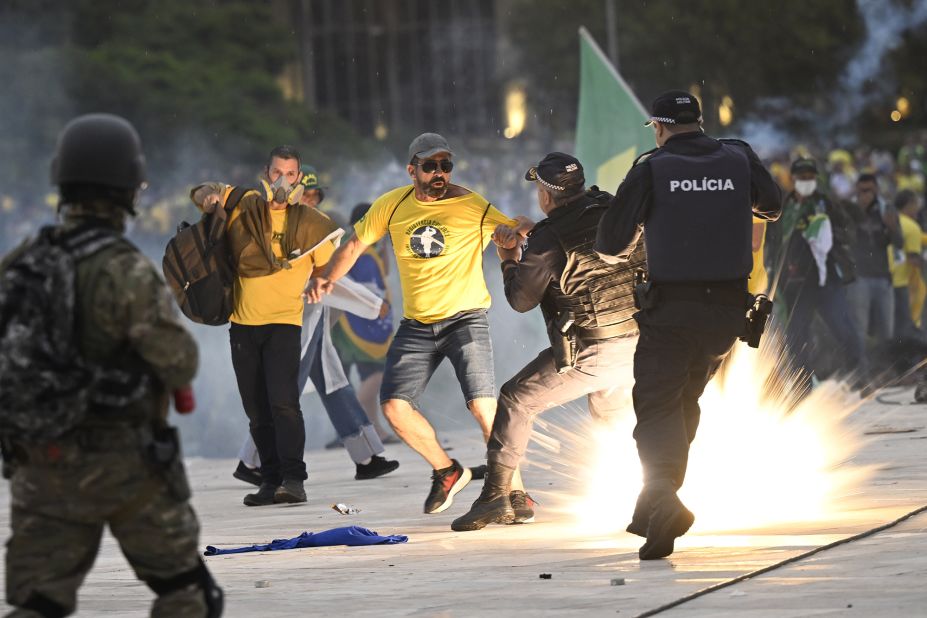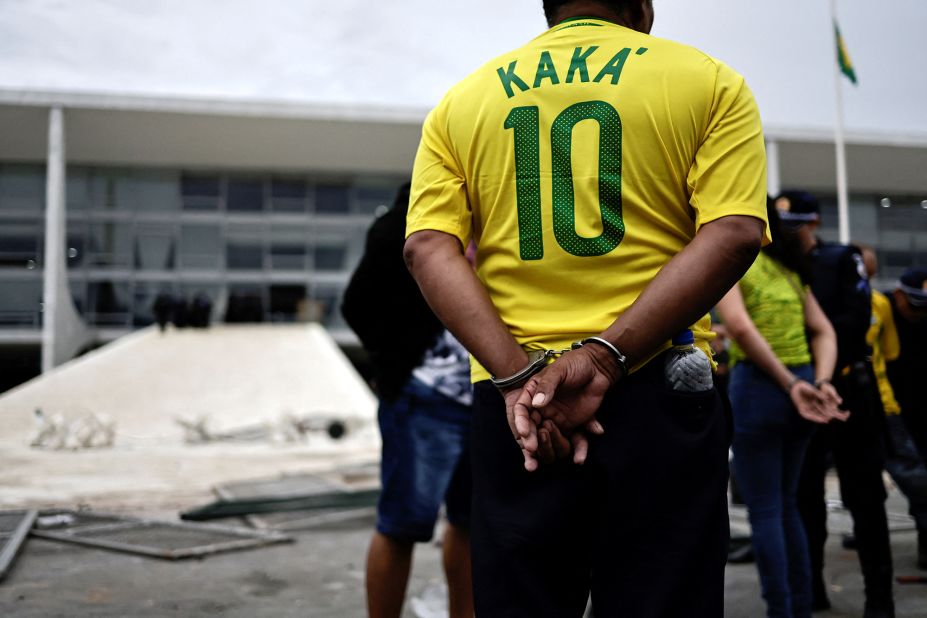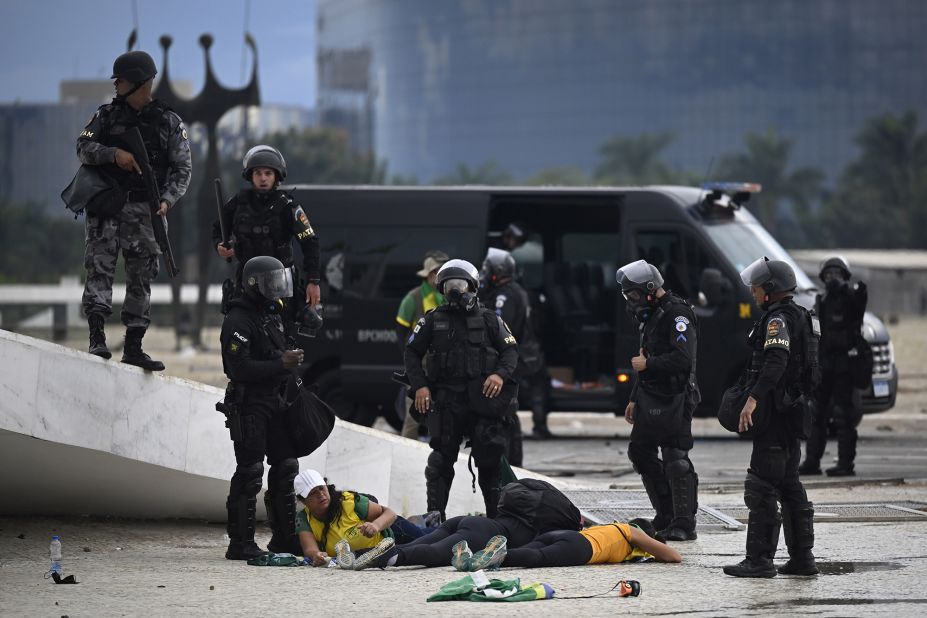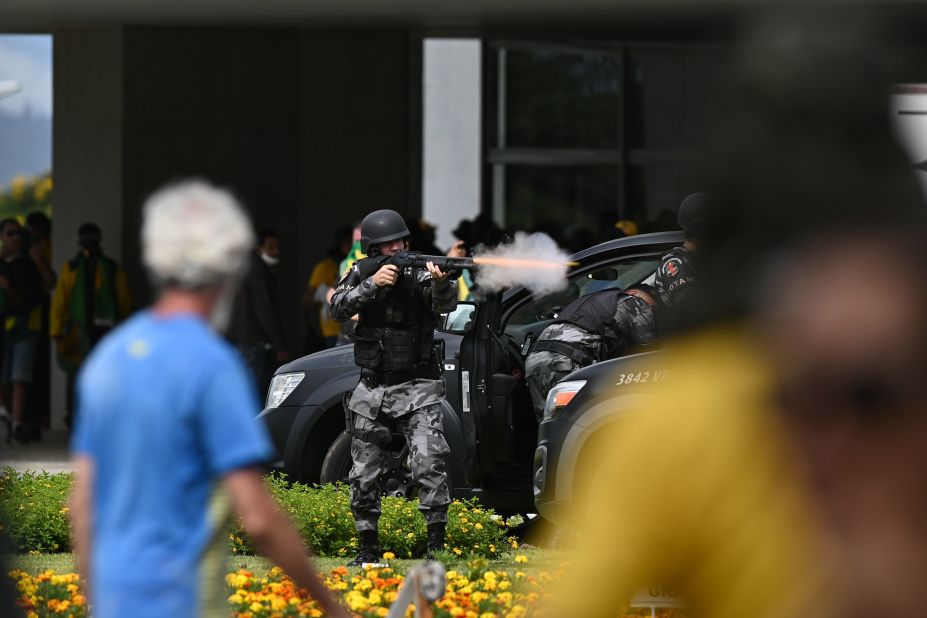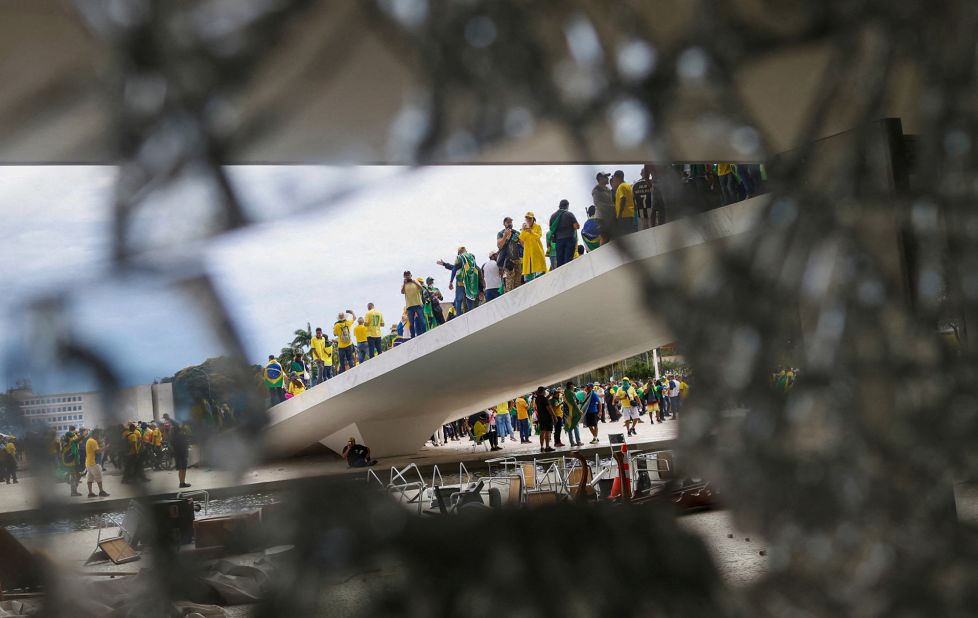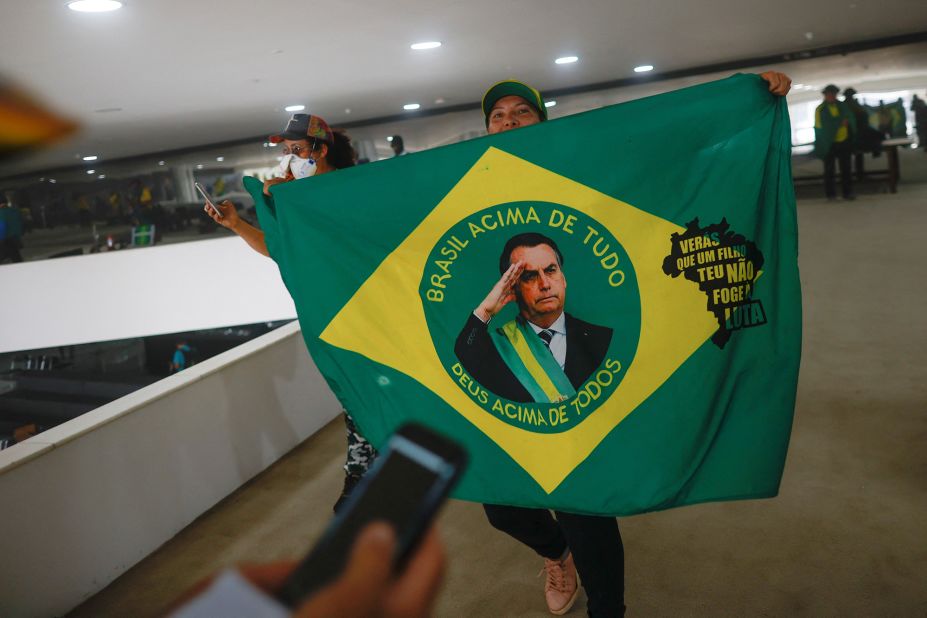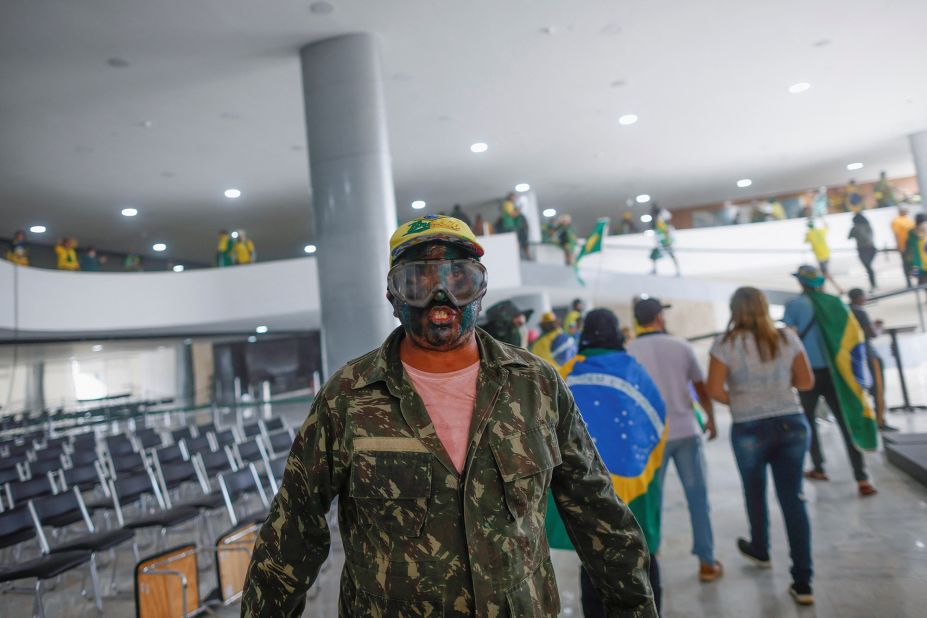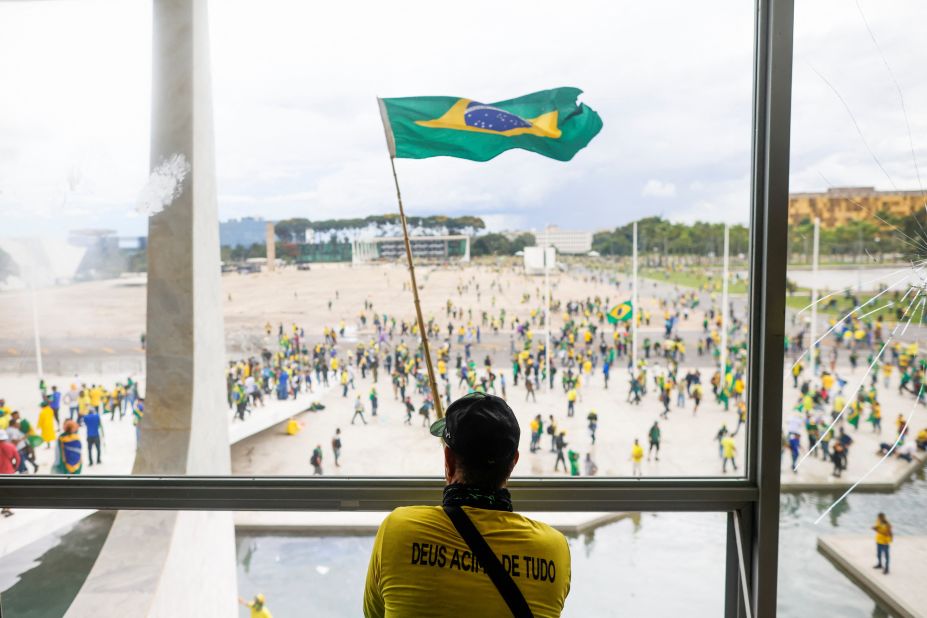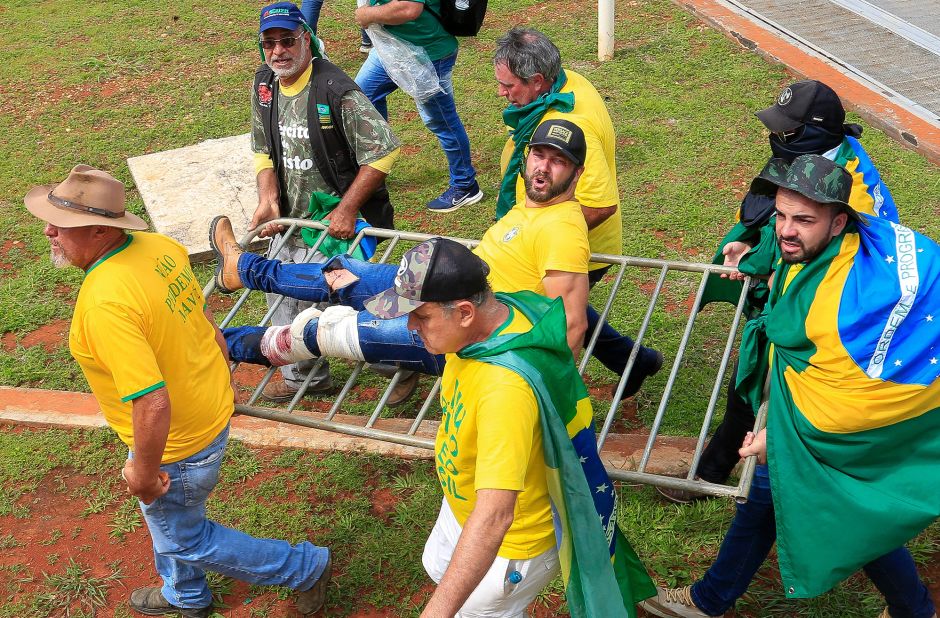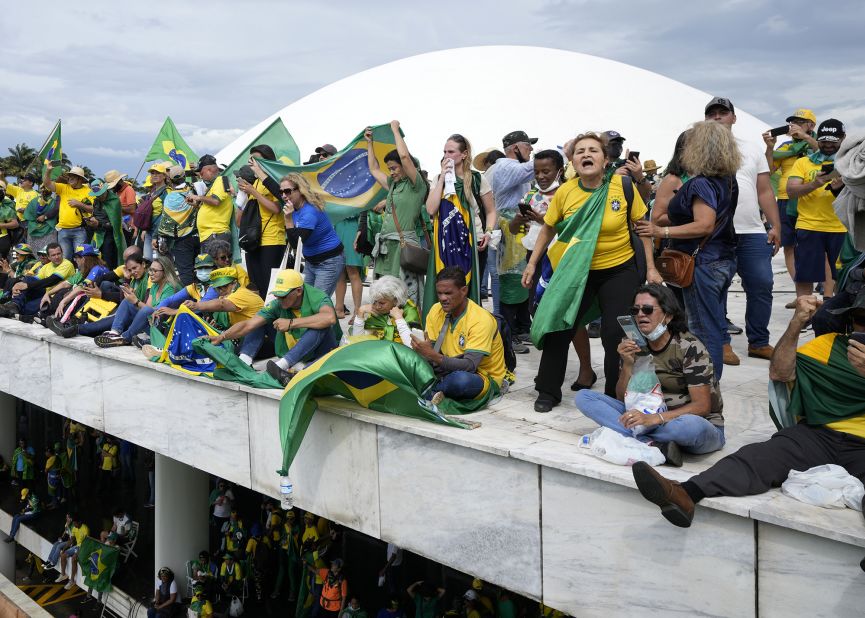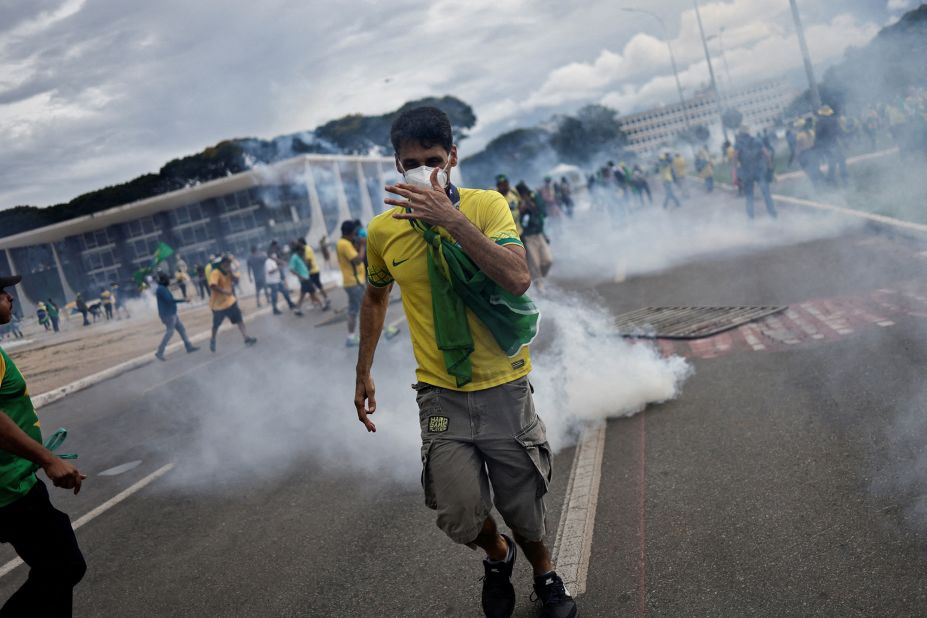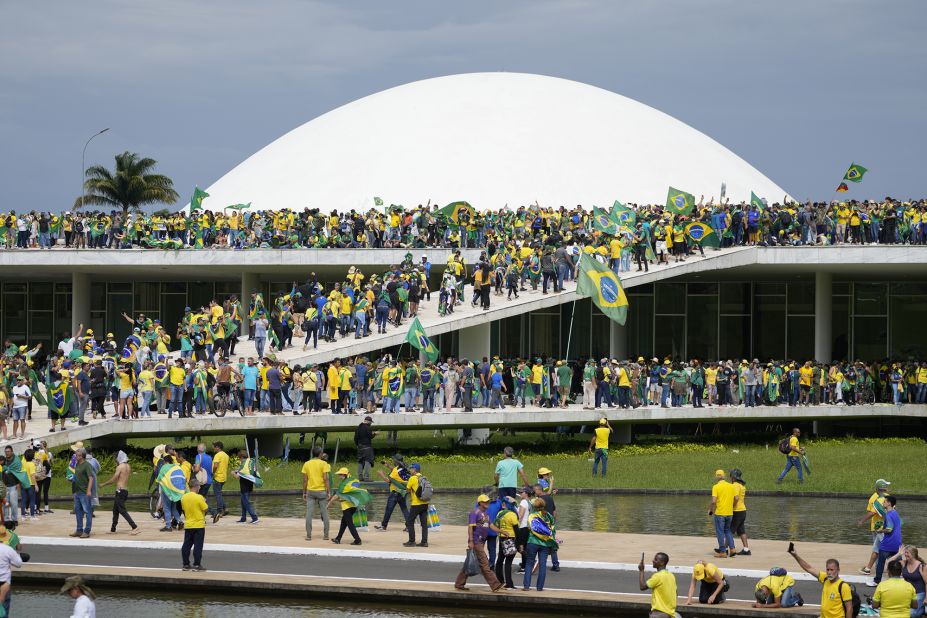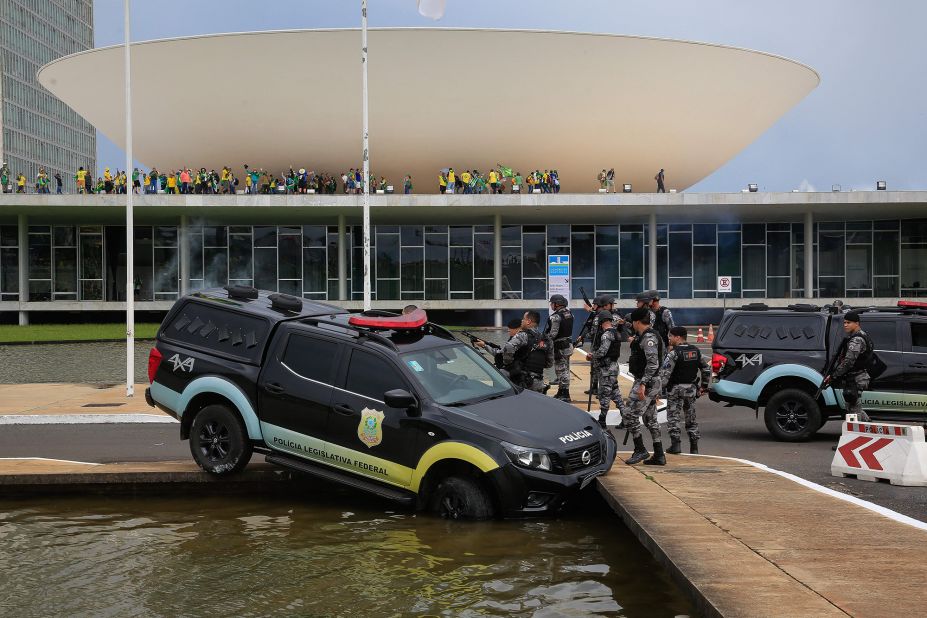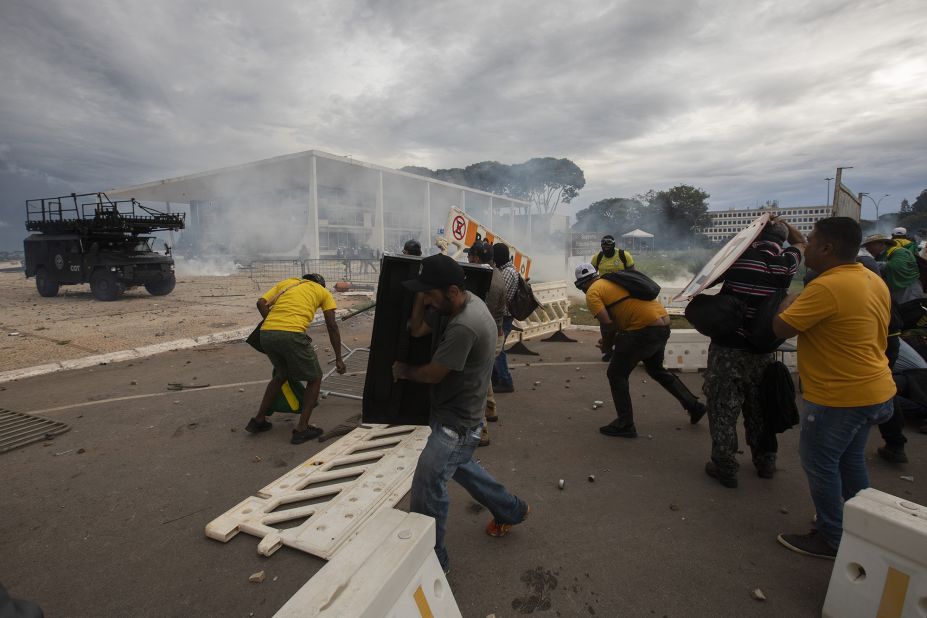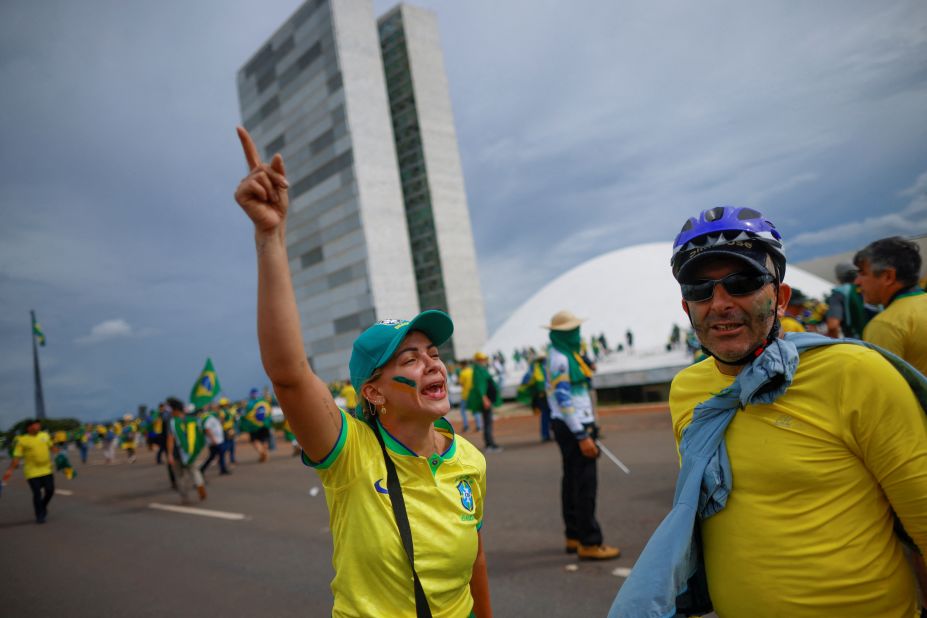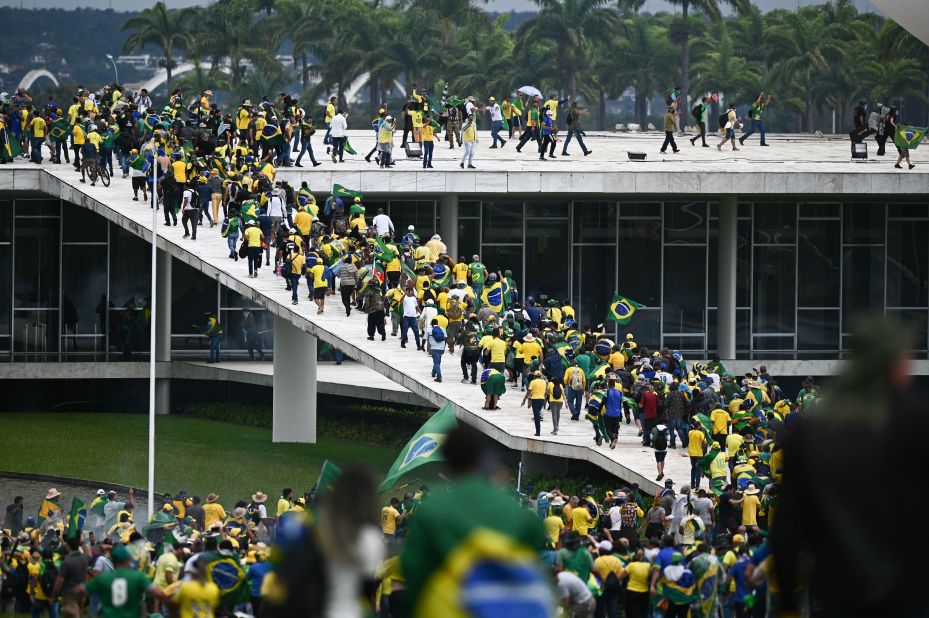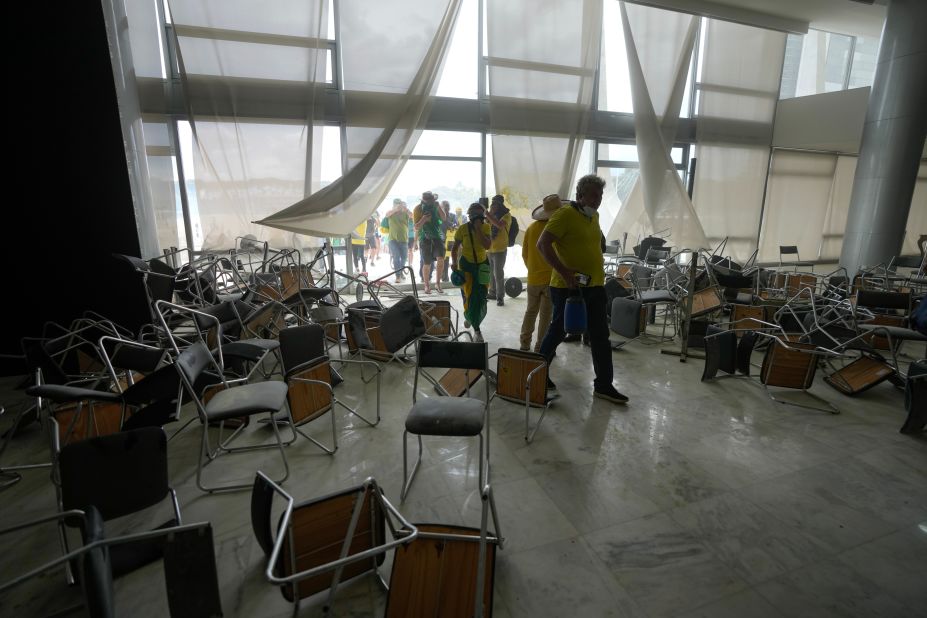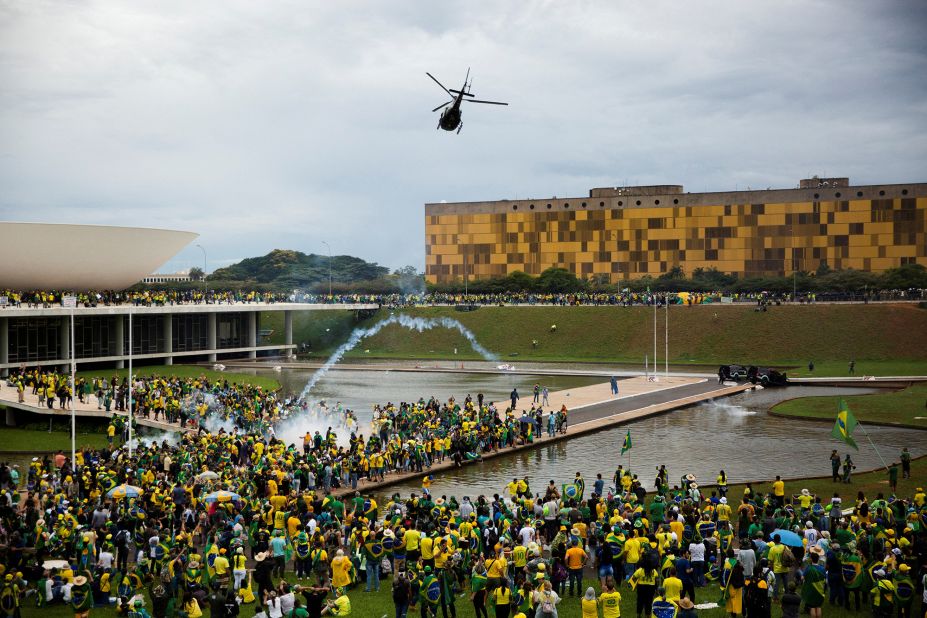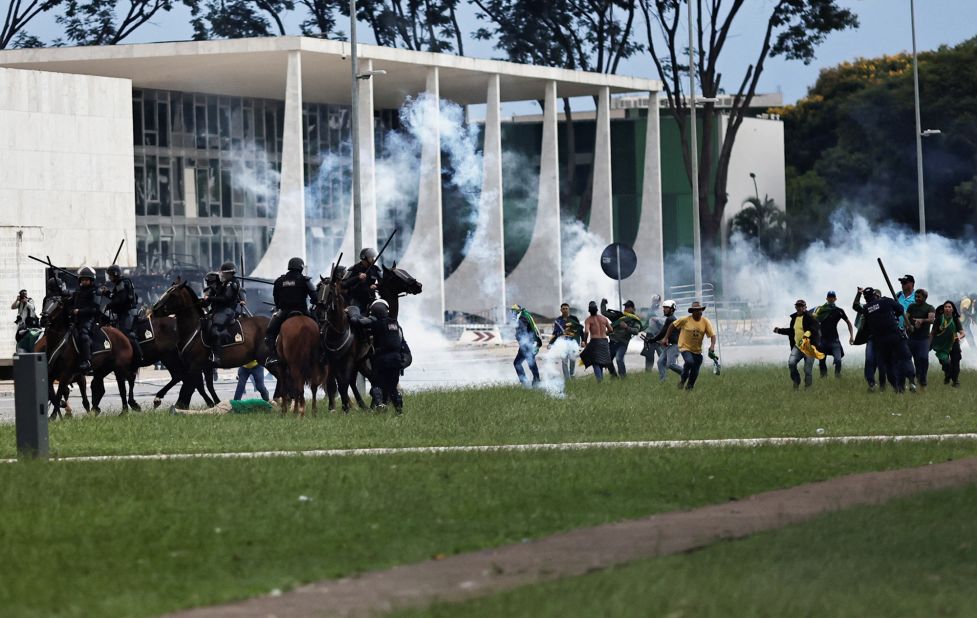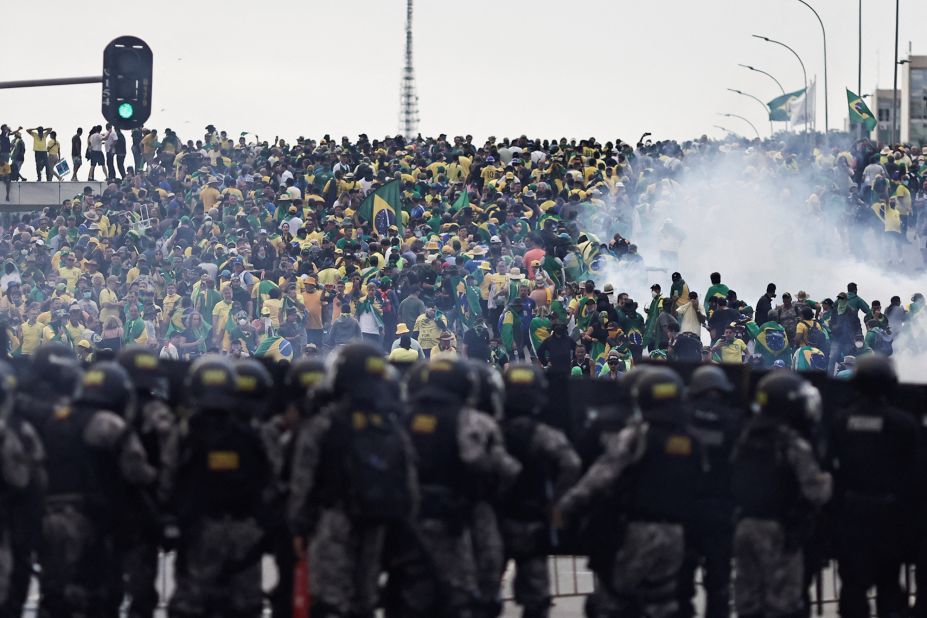 In pictures: Bolsonaro supporters storm Brazilian Congress
The pair, like many of Bolsonaro's supporters involved in Sunday's assault on Brazil's seat of government, refuse to recognize the results of Brazil's national presidential vote last year, which saw Lula narrowly win one of the tightest contests in decades.
Authorities have released a large portion of the pro-Bolsonaro protesters arrested in connection with the riots and ransacking of government facilities in Brasilia.
As they leave, most deny any wrongdoing.
Among those who remain in custody, one protester told CNN that she had entered government buildings along with the protesters who forced their way in, but also denied being part of any violence.
"Right now (the police) are still interrogating people. Yesterday they did it with the oldest and those with health problems," she said of the scene inside the police headquarters.
"It's chaos here because we don't know anything, they can't say exactly if people are imprisoned, if they're going to get out," she said.
So many protesters have been taken into custody since Sunday that authorities had to house them inside a gym at the headquarters. Many were allowed to keep their phones, some sending pictures and video of the location.
The jailed protester told CNN that she had spent 50 days protesting outside the Brazilian army headquarters in Brasilia, hoping the military would intervene to overturn the election she believes was stolen from Bolsonaro.
The former president had stoked concerns about Brazil's electoral system ahead of the election by criticizing the country's electronic ballot system and speculating that it could be corrupted. He also refused to explicitly concede the vote. However, Brazil's military found no sign of vote-rigging in the election and Bolsonaro has condemned Sunday's riots.
"Our intention? Not agreeing with everything that was happening," the protester said. "The ballot boxes, we keep claiming this all the time, asking for help from the Armed Forces, to help the people. Because it was their coup."
For her, at the heart of the issue is Lula, a two-time former president who enjoyed great popularity in previous terms but later served time on corruption charges. Lula's conviction was annulled on a jurisdictional technicality by a Brazilian judge in March 2021. The judge ordered Lula's case be retried in the correct jurisdiction, clearing the way for his political rebound.
"I don't accept Lula," she said. "We didn't agree that he should be president and we wanted to know how many people voted for the other side."
She says she's not a terrorist, because she was unarmed. "I'm not a terrorist. I don't have weapons," she said. "I couldn't see who started it. It was quick."
And she does not regret her role in one of the darkest days in Brazilian democracy.
"I don't regret it. I don't regret it. Because I wasn't armed, I didn't go with a mask, I didn't go with goggles. I didn't go with a bomb. I was there democratically, for the future of my children, for something I believe," she said.
"We came looking for our future. Isn't it democratic for us to make an act for something?"
But for most of Brazil – and even many of those who would have preferred Bolsonaro to remain president – Sunday's riots were an affront to the very democracy she believes she's defending.
Public officials arrested in relation to attacks
On Tuesday the Supreme Court issued an order for the arrests of Anderson Torres, a former justice minister under Bolsonaro who had just assumed the role of Security Secretary for the Federal District, and Fabio Vieira, former military police commander of the Federal District, in relation to the attacks.
Both Torres and Vieira have been accused of attempting a coup d'état, terrorist acts, damage to public property, criminal association, and violent abolition of the rule of law.
The order suggests that the actions of Torres and Vieira "demonstrate a possible criminal organization that has as one of its purposes to destabilize republican institution."
Viera was arrested on Tuesday afternoon by Brazil's Federal Police, but Torres is currently in the United States on vacation.
Torres has denied any involvement in the attacks against the government buildings, and said that he would present himself to authorities.