House Republicans are spotlighting the issue of abortion as they roll out their legislative agenda in the new Congress – a move that comes after the Supreme Court's highly consequential decision last summer to overturn the landmark 1973 Roe v. Wade ruling.
The GOP-led House voted on Wednesday to pass a bill that would require health care providers to try to preserve the life of an infant in the rare case that a baby is born alive during or after an attempted abortion. The bill is not expected to be taken up in the Democratic-controlled Senate, but passage in the House serves as a messaging opportunity for the new Republican majority. The vote was 220 to 210.
Under the bill, health providers who fail to comply with the requirements for care could face fines or up to five years in prison. The bill would not impose penalties on the mother and would grant the mother protection from any kind of prosecution.
Opponents have argued that such measures restrict abortion access by threatening health care providers. It is already considered homicide in the US to intentionally kill an infant that is born alive.
The decision by the new Republican majority to hold the vote comes after Democrats worked to make abortion a front-and-center issue during the midterm elections following Roe's reversal. Republicans succeeded in taking back control of the House in the midterms, but a much-anticipated "red wave" failed to materialize, leading to questions – and finger pointing within the GOP – over exactly which factors played a key role in the outcome.
The measure the House voted on – called the "Born-Alive Abortion Survivors Protection Act" – was introduced on Monday by Republican Rep. Ann Wagner of Missouri.
NARAL Pro-Choice America released a statement on Tuesday criticizing the bill, along with several others.
"These bills make it plain: House Republicans are patently rejecting the will of the overwhelming majority of Americans who voted to support legal abortion in November," the organization's president Mini Timmaraju said. "Meanwhile, our Democratic reproductive freedom champions in the House are ready and willing to fight to restore and expand access to abortion—and we thank them for that."
The House also voted on Wednesday to pass a separate measure condemning "recent attacks on pro-life facilities, groups and churches."
Republicans control only a razor-thin majority in the House – and divides between moderates and conservatives were on full display in the chaotic, dayslong effort to elect Kevin McCarthy as speaker. Now, the new GOP majority faces the challenge of bringing bills to the floor that will unite, not divide, their conference – and Republicans are attempting to thread the needle.
Rep. Nancy Mace, a South Carolina Republican who has been a vocal critic of her party's abortion messaging, called on Republican leadership to balance "women's rights" with the "right to life," warning Wednesday that there are "political dangers" for Republicans if they don't "find some middle ground on the issue."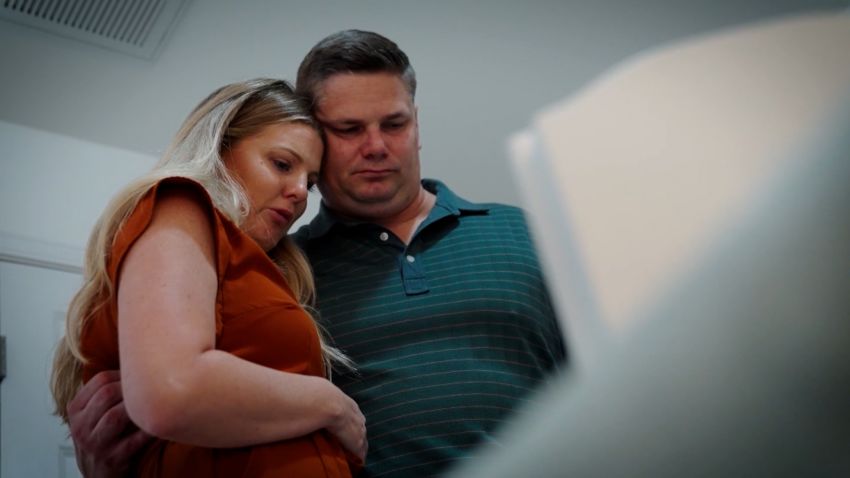 Conservative Christian couple advocating for abortion rights (December 2022)
"I have been very vocal, both privately with my leadership, and also publicly," Mace said. "This is an issue that we lost on. We buried our heads in the sand after Roe v. Wade, and we lost seats because of this issue."
Mace voted for both abortion-related bills that were on the House floor Wednesday, but expressed concern over a potential federal abortion ban if it includes language that requires women to report their rapes or imprisons doctors who provide the procedure.
Asked how she thinks the GOP can better address women's rights, Mace – a rape victim who who has spoken openly – said she is working on legislation related to rape kits, as well as legislation expanding birth control access.
"We'll see how seriously those things are taken," she added.
This story and headline have been updated with additional developments.
CNN's Shawna Mizelle contributed to this report.