The United Arab Emirates has appointed the head of one of the world's largest oil producers to preside over the UN's COP28 climate summit, in a move activists warned could undermine this year's global conference.
Sultan Al Jaber, CEO of the Abu Dhabi National Oil Company, will oversee COP28, which takes place from November 30 in Dubai. Political leaders and representatives from more than 190 countries will congregate to discuss how to put the world on course to meet the Paris Climate Agreement ambition of limiting temperature rises to 1.5 degrees Celsius above pre-industrial levels.
Announcing Al Jaber's appointment, the UAE praised his climate credentials, including his position as the country's climate change envoy and role as founder of the renewable energy company Masdar.
"The UAE is approaching COP28 with a strong sense of responsibility and the highest possible level of ambition," Al Jaber said in a statement.
The UAE, a big oil producer, has pledged to reach net-zero emissions by 2050, meaning it would remove from the atmosphere at least as much planet-warming pollution as it emits.
Former UK Prime Minister Tony Blair welcomed the appointment.
"I am confident that Dr Sultan has both the standing and the capability to offer groundbreaking leadership for COP28," he said in a statement.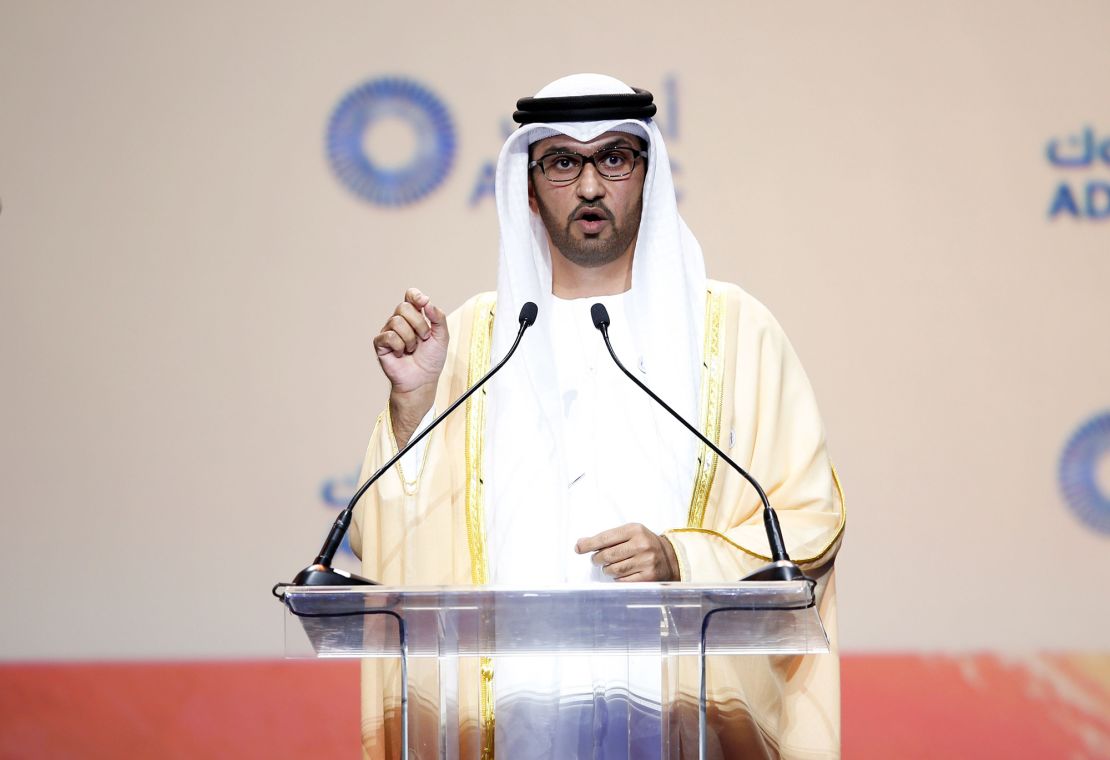 The appointment has caused a backlash among some climate groups, given the role fossil fuels play in driving climate change.
Climate organizations have said at Al Jaber's appointment would undermine the possibility of achieving ambitious climate pledges and some have called for Al Jaber to relinquish his oil industry job to take this post.
The appointment raises questions about the credibility of the UAE's COP28 presidency, said Tom Evans, a policy advisor at the European climate change think tank E3G. "At face value, the head of a national oil company is obviously facing a massive conflict of interest," he told CNN.
Tasneem Essop, executive director of Climate Action Network International said in a statement: "[Al Jaber] cannot preside over a process that is tasked to address the climate crisis with such a conflict of interest, heading an industry that is responsible for the crisis itself."
She added: "If he does not step down as CEO [of Abu Dhabi National Oil Corporation], it will be tantamount to a full scale capture of the UN climate talks by a petrostate national oil company and its associated fossil fuel lobbyists."
Last year's COP27 ended with countries affirming the goal to limit global warming to 1.5 degrees Celsius, but a proposal to phase out fossil fuels was blocked by countries including China and Saudi Arabia. Climate campaigners accused the fossil fuel industry of exercising outsized influence at the summit, which was attended by more than 600 fossil fuel lobbyists.
"For the summit hosts to be taken seriously as honest brokers for change, they need to go above and beyond to avoid a conflict of interest," UK-based humanitarian group ActionAid said in a statement. "This is vital for the safety and protection of our planet. Unfortunately, COP28 looks like it is off to a bad start in that regard."
However, others have said Al Jaber's appointment is not a surprise as he has been at the forefront of renewable energy advocacy in the region.
"He was the CEO of Abu Dhabi's clean energy vehicle, he is still chairman of Masdar and he recently took a stake in renewables and hydrogen business," Robin Mills, CEO of Dubai-based energy consulting firm Qamar Energy, told CNN's Becky Anderson. "So what we are seeing here is a well thought out and long-term strategy, and energy diversity which emphasizes climate compatibility."
Al Jaber, who is the first CEO to ever hold a COP presidency according to the UAE's statement, said: "[COP28] will be a critical moment to mobilize political will to respond to what the science tells us will need to be achieved to remain on target and limit global warming to 1.5C by 2050."
CNN's Celine Alkhaldi and Ivana Kottasová contributed reporting.