Editor's Note: In her monthly kitchen recommendations column, recipe developer and food writer Casey Barber shares her suggestions and tweaks to make your meals better.
Before there were Crock-Pots and Instant Pots, slow cookers and air fryers, there was the Dutch oven. A multipurpose pot that has been a workhorse for cooks for centuries, it is one of the most useful, versatile pieces of kitchen equipment one can own.
There are several styles of Dutch ovens on the market, and likely you're most familiar with the brightly colored, enameled cast iron versions that have graced many a stovetop over the years. Quality comes at a price, with many Dutch ovens costing more than $100, so it could reasonably be considered an investment piece. But its versatility makes up for the initial cost, and your return on that investment will span decades.
Here's why I love my Dutch ovens — yes, ovens plural; I own a few different sizes — and why you should too.
What can you do with a Dutch oven?
The better question might be "what can't you do with a Dutch oven?" and I'm honestly hard-pressed to think of an answer. You can sauté and sear ingredients, simmer and poach, boil and braise, fry and even bake in a Dutch oven. At the risk of sounding repetitive, this pot can be used for nearly anything.
The shape and construction of a Dutch oven is what makes it so versatile. (More on that below.) It's got a heavy, wide bottom and high sides, so it can handle ingredients in large quantities — the largest round Le Creuset model holds 13 quarts! — and cook them evenly. It's designed to retain heat and, with its sturdy lid, keep moisture in.
These characteristics are what make a Dutch oven the natural choice for slow-cooked stews and other dishes that call for braising tougher cuts of meat for long periods of time. Use one to make falling-off-the-bone-tender meals like pulled pork or beef stew, meat sauces like Bolognese or any type of chili — these old-fashioned, comforting dishes are just as succulent as they were in the days when cooks made them in an open fire with their Dutch ovens.
But if you want a quick, one-pot meal, a Dutch oven is also your go-to. One-pot pastas and similar dishes like rice and beans or spicy chicken and noodles can easily be made with the oven, from start to finish.
If you've always been intimidated by deep frying at home, let a Dutch oven ease your mind. Deep frying on your stovetop is not as difficult as you'd think — the heavy oven keeps oil at a constant temperature and its high sides keep splatter to a minimum. Try making homemade fries therein and have a steak frites evening with an assist from your cast iron skillet.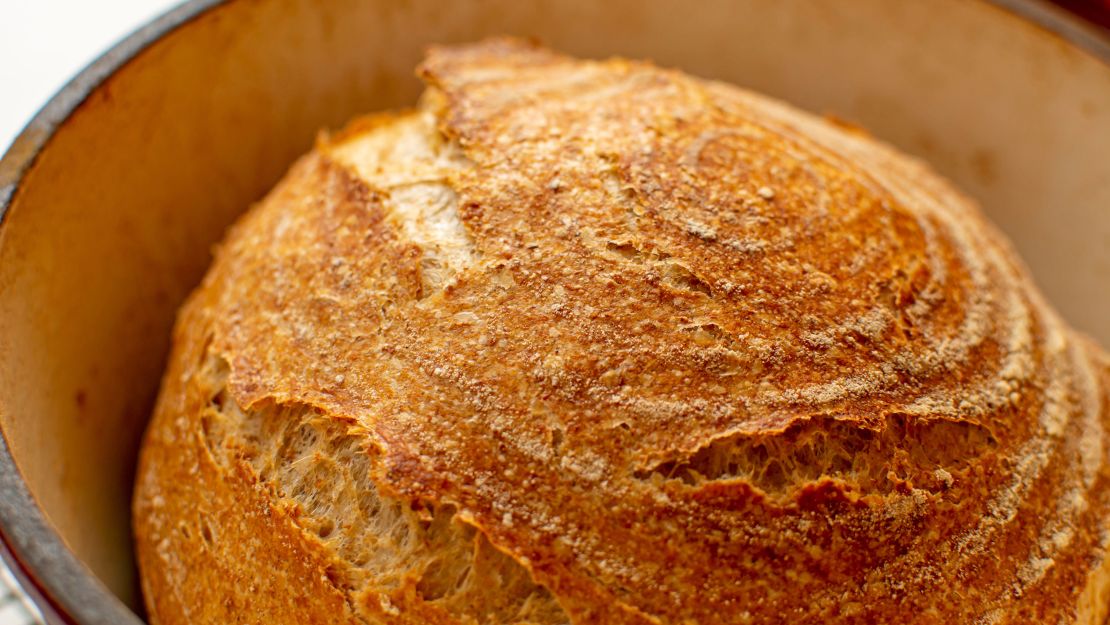 You can even bake bread in a Dutch oven. There are a number of variations of no-knead bread recipes, but the basic gist is that a slow, cold rise helps the bread develop flavor and texture, and the Dutch oven works like a steam oven to create the bread's signature crust.
And while I don't turn to my Dutch oven for baking cakes and pastries like my ancestors likely did, I do use it for one very important and beloved dessert: Rice Krispie treats! The even heating and high sides of my largest Dutch oven make it simple to melt butter and marshmallows over low heat and stir in cups of cereal without losing a grain.
READ MORE: Sign up for CNN's Eat, But Better: Mediterranean Style newsletter, an eight-part series that guides you in an expert-backed eating lifestyle that's good for your health.
Which Dutch oven to buy?
As you'd expect from a pot first developed in the 17th century, Dutch ovens are built to withstand heat and hold it in for a long period of time. The original Dutch ovens — which, as their name suggests, were adapted from a metal-casting method invented in the Netherlands — were made from cast iron.
And that's still the case for many of today's models: The colorful cast iron Dutch ovens made by brands like Le Creuset, Staub and Lodge are venerable and reliable, and feature an enameled coating for a natural nonstick finish that also sears and browns ingredients. (The enameling is also soap-friendly for easy cleanup.) Over time, the finish may discolor with heavy use, but the darkening doesn't affect the performance of the pan.
Newer cookware companies also make lighter-weight Dutch ovens, substituting out cast iron for aluminum and coating pots in ceramic nonstick finishes. Aluminum heats more quickly than cast iron, but it does not retain heat as effectively. If you're using your Dutch oven as a serving vessel or to keep your soup warm off the stove, aluminum won't hold the heat for long.
However, if the idea of lifting a 15-pound cast iron Dutch oven filled with bubbling hot stew is not something you feel comfortable with, then one of these more modern options may still be the better choice. After all, a pot you don't want to use isn't a worthwhile investment.
My personal Dutch oven arsenal includes two flame Le Creuset models (3 1/2 quart and 7 1/4 quart) that I've owned for more than a decade, as well as a footed, non-enameled cast iron Dutch oven for campfire cooking. It's rare a week goes by without one of these dishes on my stove, and after steady, heavy use, they're no worse for the wear.
I'm also in possession of a bunch of oven mitts and trivets to make sure nothing around my kitchen, including my hands and arms, gets scorched from the heat coming off them. For cleaning, I always hand-wash, using a non-abrasive cleaner when necessary for any stuck-on browned bits.
Buy it once, love it forever: a Dutch oven is the low-maintenance pot you'll use for a lifetime.
Casey Barber is a food writer, artist and editor of the website Good. Food. Stories.