A serving officer in London's Metropolitan Police has admitted to 49 offenses, including 24 counts of rape over an 18-year period, reigniting calls for urgent reform in the United Kingdom's largest police force.
David Carrick appeared at Southwark Crown Court in the British capital Monday to plead guilty to four counts of rape, false imprisonment and indecent assault relating to a 40-year-old woman in 2003, the UK's PA Media news agency reported.
At the Old Bailey criminal court in London last month, Carrick admitted to 43 charges against 11 other women, including 20 counts of rape, between March 2004 and September 2020, according to PA.
A series of recent scandals has shed light on what the UK police watchdog called a culture of misogyny and racism in London's police service.
In September 2021, Metropolitan Police officer Wayne Couzens was sentenced to life in prison without parole for the abduction, rape and murder of Sarah Everard, a case that horrified the nation and sparked debate about violence against women.
The Metropolitan Police Service Commissioner Cressida Dick resigned from her post in 2022, after a damning review by the Independent Office for Police Conduct issued 15 recommendations "to change policing practice" in the country.
London's Metropolitan Police are now investigating as many as 1,000 sex offenses and domestic abuse claims involving approximately 800 of its officers, the force's Commissioner Mark Rowley admitted Monday.
"That's 1,000 cases to look at. Some of those will be things of no concern in the end when we look at them because it will be an argument overheard by neighbors where inquiries show there's nothing to be concerned about," Rowley said in an interview with UK media.
"But in there, I'm sad to say, there will be some cases where in the past we should have been more assertive and looked to throw officers out and we haven't done."
"We are going to turn all those stones over, we're going to come to the right conclusions and we'll be ruthless about rooting out those who corrupt our integrity. You have my absolute assurance on that," he said.
'Absolutely sickened'
The UK's Crown Prosecution Service (CPS) called Carrick's case one of the "most shocking" it's ever seen.
"The scale of the degradation Carrick subjected his victims to is unlike anything I have encountered in my 34 years with the Crown Prosecution Service," CPS Chief Crown Prosecutor Jaswant Narwal said.
"I commend every single woman who courageously shared their traumatic experience and enabled us to bring this case to court and see justice served," Narwal continued while speaking outside Southwark Crown Court Monday.
The senior investigating officer in the case, Detective Chief Inspector Iain Moor, called Carrick's crimes "truly shocking."
"The police service is committed to tackling violence against women and girls in all its forms," Moor said, adding "no one is above the law."
Assistant Commissioner for the Metropolitan Police Barbara Gray also apologized on behalf of the police force to all the victims.
Gray said Monday that Carrick "should have been dismissed from the police service a long time ago."
She later added: "We should have spotted his pattern of abusive behavior and because we didn't, we missed opportunities to remove him from the organization. We are truly sorry that Carrick was able to continue to use his role as a police officer to prolong the suffering of his victims."
"The duration and nature of Carrick's offending is unprecedented in policing. But regrettably he is not the only Met officer to have been charged with serious sexual offences in the recent past," she said.
The Mayor of London, Sadiq Khan, said: "Londoners will be rightly shocked that this man was able to work for the Met for so long and serious questions must be answered about how he was able to abuse his position as an officer in this horrendous manner."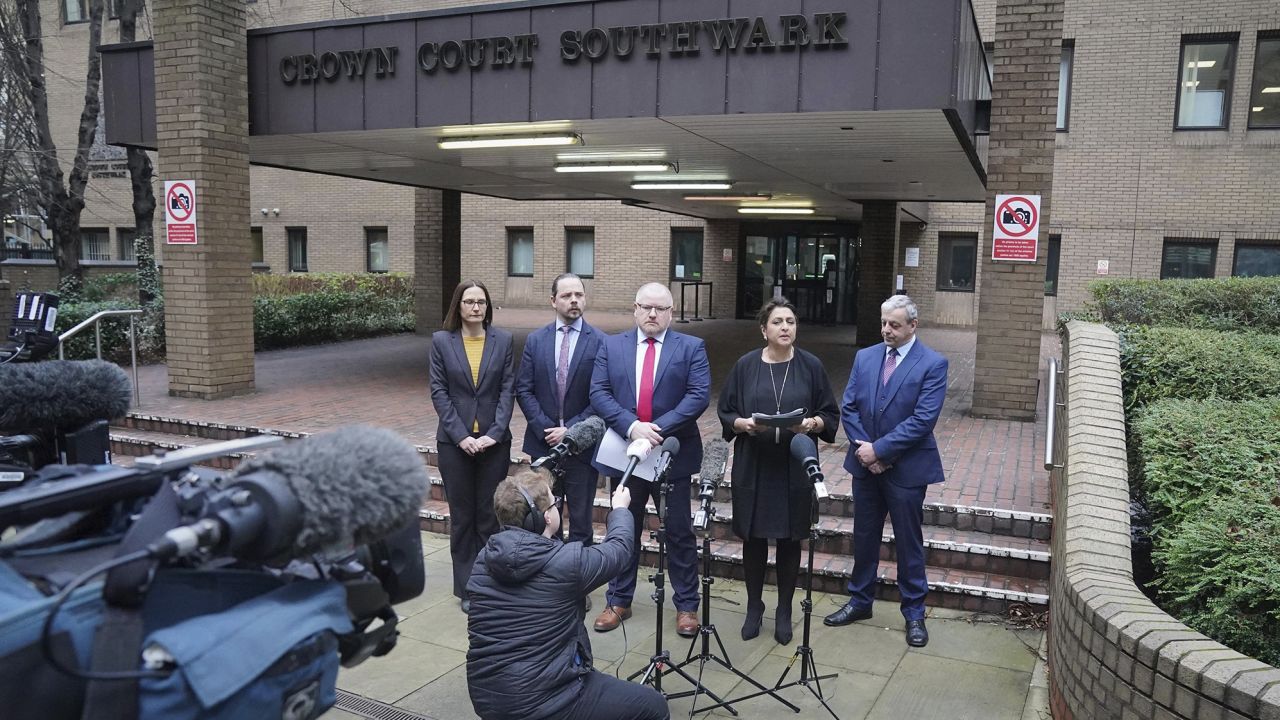 Khan commented that work to reform the culture and standards of the Met has already started following an interim review and that a new, anonymous police complaints hotline and anti-corruption team has recently been established by Metropolitan Police Commissioner Mark Rowley.
"But more can and must be done," added Khan on Twitter. "It's vital that all victims of crime have confidence in our police, and we simply must do more to raise standards and empower police leaders to rid the Met and all other police services of those officers who are clearly unfit to serve."
An institution 'in crisis'
Women's rights organizations called for an inquiry into the Met following Carrick's case.
UK domestic abuse charity Refuge called Carrick's crimes "utterly abhorrent."
"When a man who has been charged with 49 offences, including 24 charges of rape, is a serving police officer, how can women and girls possibly be – or feel – safe," Refuge tweeted Monday.
UK organization End Violence Against Women also posted on Twitter: "This is an institution in crisis. That Carrick's pattern of egregious behaviour was known to the Met and they failed to act speaks more loudly than their empty promises to women."
"Solidarity with the victims & all who are feeling the weight of the traumatic details being reported," it added.
The British Women's Equality Party tweeted: "The Met knew about the allegations for TWENTY years. They did nothing as a serial rapist abused his power. They are complicit. Misogyny will never be stripped from the police without a nationwide, statutory inquiry."
The Fawcett Society, which campaigns for gender equality and women's rights, said on Twitter: "Any act of sexual violence is a disgrace. But it is particularly harmful when, yet again, these crimes have been perpetrated by a person who has additional responsibilities to keep the public safe."
CNN's Hannah Ritchie, Ivana Kottasová and Laura Smith-Spark contributed reporting.