Novak Djokovic dispelled any concerns that the lingering hamstring injury which has hampered him since last week would affect his performances at the Australian Open, as the world No. 5 battled past Spain's Roberto Carballés Baena 6-3 6-4 6-0 in the opening round in Melbourne.
It was certainly a stern opening test for Djokovic, as world No. 75 Carballés Baena proved a gritty and determined opponent for the opening two sets.
However, Djokovic eventually broke Carballés Baena's resistance with a truly stunning third set of tennis to get his quest for a record-extending 10th Australian Open title off to the best possible start.
Djokovic received a warm welcome from the crowd in Melbourne, as he had done last week during his victorious run at the Adelaide warmup event, in what was his first Australian Open appearance since the deportation debacle one year ago.
"Unbelievable atmosphere, thanks for staying this late everybody," Djokovic said to huge applause and cheers in his post-match interview. "Also thank you for giving such a welcome and reception I could only dream of.
"I'm very happy I'm back in Australia and back here on the court where I've had the biggest success of my career. This court is the most special in my life.
"The more you win on a certain court, the more comfortable and confident you feel. That's probably one of the reasons I've been fortunate enough to win a lot of matches on this court in the night session.
"If I have to choose one court and one condition, it would be night sessions on the Rod Laver Arena all day long."
Novak is back
The win was Djokovic's 35th straight victory in Australia and the signs were ominous for Carballés Baena in the opening exchanges.
With the scores tied at 2-2 and the match just 19 minutes old, the difference in exertion between the two players was already apparent.
At one end, Carballés Baena was breathing heavily, his soaked shirt already sticking to him. At the other, it looked as though Djokovic had barely broken a sweat.
The Serb was soon made to work hard, however, as Carballés Baena manufactured a 0-40 lead in the fifth game to earn himself three break points.
Djokovic's left thigh was heavily strapped as he continues to manage the hamstring injury that forced him to pull out of a practice match last week and fans perhaps would have briefly started to wonder if it was hindering him.
But the 21-time grand slam champion swiftly allayed those fears and ripped off five straight points to hold serve and then promptly proceeded to break Carballés Baena to love.
It wasn't just the Spaniard's serve that Djokovic had broken but his spirit, too, as the world No. 5 won 13 of the next 15 points to take a commanding 5-2 lead.
Keeping up that early level of intensity just to keep pace with Djokovic was always going to be difficult for Carballés Baena and the nine-time Australian Open champion soon closed out the first set 6-3.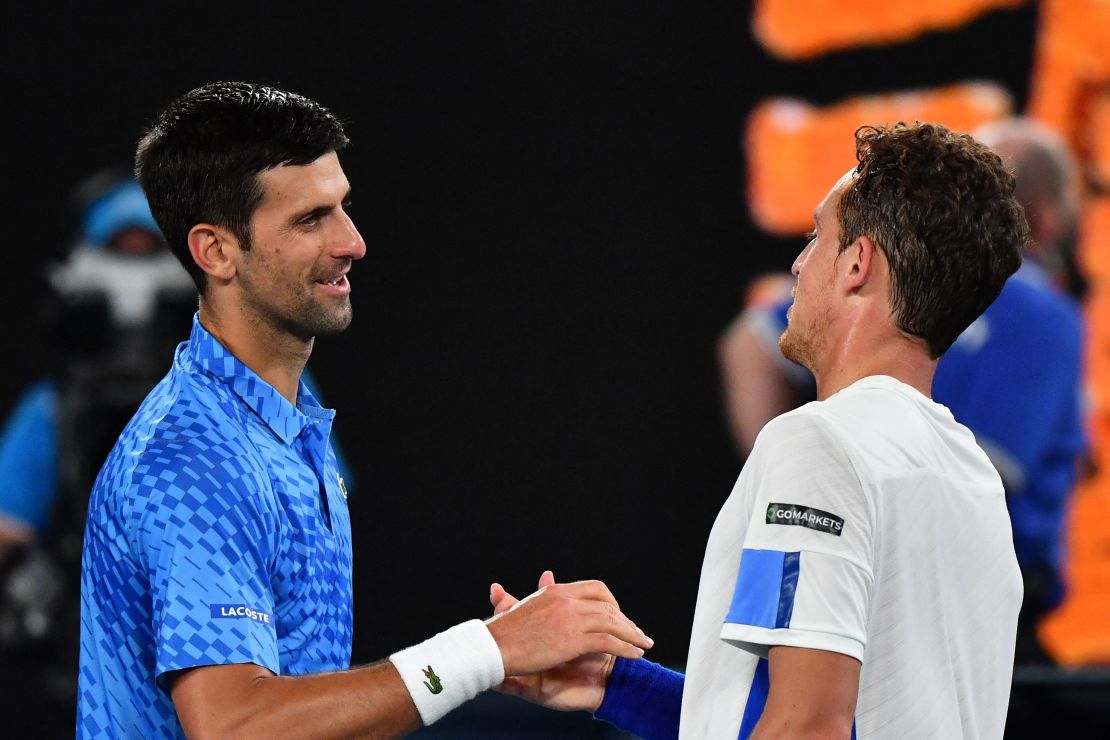 However, huge credit must go to Carballés Baena for not letting the disappointment of the first set affect his morale, as the 29-year-old continued to play aggressive tennis and some stunning defense to really make Djokovic earn his first service game of the second set.
With the scores tied at 3-3, an epic 28-shot rally – which Djokovic won after chasing down a Carballés Baena drop shot – set the tone for what would be the deciding game of the second set.
It was a grueling five-minute long slog with Djokovic eventually coming out on top to break serve for the first time in the set, before going on to hold to love in the very next game.
Another hold of serve from Carballés Baena ensured Djokovic would have to serve for the second set, but he once again held to love to take a commanding two-set lead.
The match was now seemingly over as a contest as Djokovic won the opening two games of the third set to love and then broke Carballés Baena to take a 3-0 lead.
It was a truly absurd spell of tennis, during which Djokovic won 16 of 17 points as the Serb turned up the heat and entered the zone that has made him completely unplayable at moments during his career.
For any of Djokovic's prospective Australian Open opponents that were watching, perhaps the most frightening part of this final set was that the 35-year-old was seemingly still playing well within his limits.
Djokovic closed out the final set without dropping a game to send a real statement of intent to the rest of the draw.
It was a harsh end to the match for Carballés Baena, who had performed admirably in the opening two sets to make this opener a real contest.
If there was anyone doubting Djokovic's status as the favorite for the Australian Open prior to this match, there won't be now.