A spate of nine whale deaths in New York and New Jersey in the last two months have prompted several New Jersey GOP lawmakers to question whether the deaths were linked to development of a major proposed offshore wind farm in the area. But scientists say there's no evidence to support a connection between the two.
After a young humpback whale washed up on shore last week in Brigantine, New Jersey, several local, state and federal Republican lawmakers called for a halt to the development of the planned offshore wind project until an investigation could be done.
Fox News host Tucker Carlson went further, blaming the wind project for the death of the whales and calling offshore wind "the DDT of our times."
A preliminary necropsy on the humpback whale conducted last weekend by scientists at the Marine Mammal Stranding Center found the whale "suffered blunt trauma injuries consistent with those from a vessel strike." And on Wednesday, officials from the National Oceanic and Atmospheric Administration and the Bureau of Ocean Management told reporters no whale deaths have been attributed to offshore wind projects to date.
"There are no known connections between any of these offshore wind activities and any whale strandings, regardless of species," said Benjamin Laws, deputy chief for the permits and conservation division with the NOAA Fisheries Office of Protected Resources.
Laws also said speculation that the sonar equipment wind companies use to map the ocean floor could have fatally harmed the whales has also not been proven. Officials noted the New Jersey wind energy project is prohibited from using levels of sonar so loud they could be fatal to whales or other marine life.
"There is no information that would support any suggestion that any of the equipment that's being used in support of wind development for the site characterization surveys could directly lead to the death of a whale," Laws said.
As the anti-wind energy rhetoric heats up, scientists and US officials are trying to figure out what actually killed those nine whales. The New York and New Jersey coast is an area where more whales have been swimming in recent decades, officials said, as their food source has rebounded.
In addition to being the site of a future wind farm, the region is also a major shipping corridor.
"Unfortunately, it's been a period of several years where we have had elevated strandings of large whales, but we are still concerned about the pulse over the past six weeks or so," said Sarah Wilkin, coordinator of the Marine Mammal Health and Stranding Response Program in NOAA Fisheries' Office of Protected Resources. "We want to know the answers."
'People are overlooking the obvious'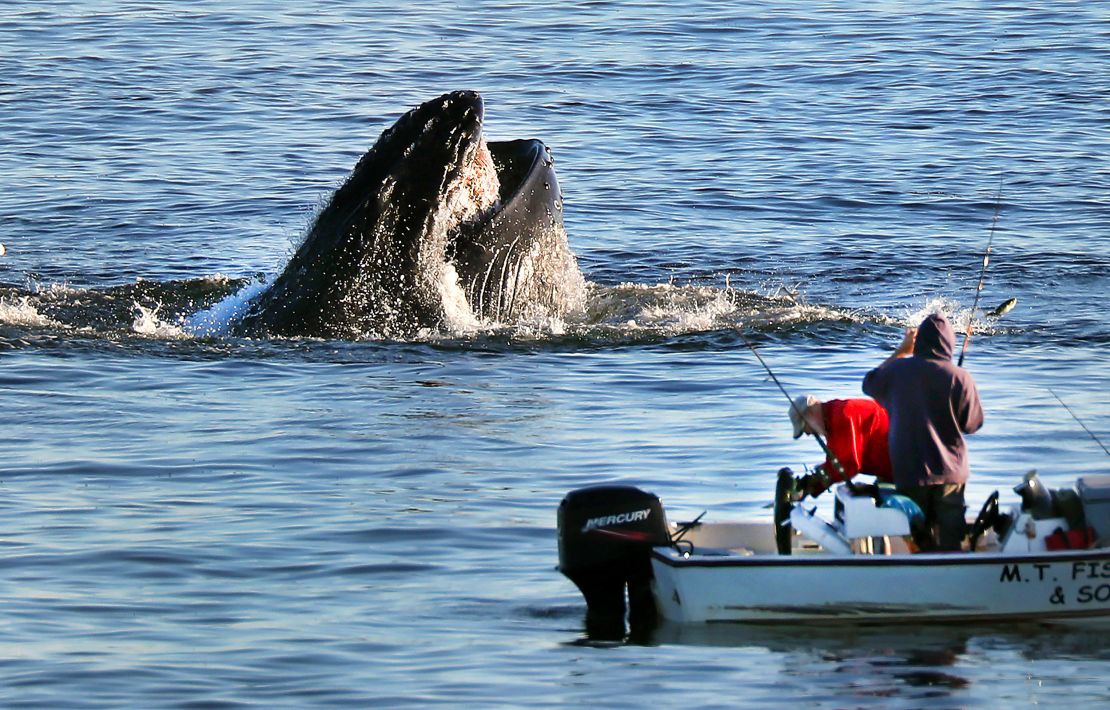 Since 2016, scientists have been tracking elevated numbers of humpback whale deaths on the East Coast. From Maine to Florida, 178 whales have died, and scientists have examined about half of the incidents. Of those, about 40% were because whales were struck by ships or got tangled in ropes or nets in the water.
More recently, the focus has been on nine whales that had been stranded off the New York and New Jersey coast since early December. Of that number, seven were humpback whales and two were sperm whales. Wilkin said NOAA scientists are concerned about the "increased number and all of these happening in a relatively tight geographic area and time."
There are several factors that may be contributing to increase whale strandings in the mid-Atlantic region, federal officials and local experts said. As the humpback whale population has increased, more of them are swimming into the New York and New Jersey region as they are following menhaden – a small fish the whales eat.
But menhaden swim in an area that intersects with a major shipping lane bringing freight into New York and New Jersey ports, which can increase the whales' risk of being struck.
"The fish are likely to be in areas where (shipping) channels are," said Paul Sieswerda, executive director of the New York-based nonprofit Gotham Whale, which studies and advocates for the local whale population. "The whales are coming to area where there's a lot of boat traffic."
Climate change and warming oceans can influence where whales travel as they follow their food or move to waters that have more favorable conditions, said Lauren Gaches, director of public affairs for NOAA Fisheries.
Numerous scientific studies have documented the whale population's growth in the area. Sieswerda, whose group has contributed whale sightings to one study's data, said there has been an "explosion" in the whale population along the Mid-Atlantic shore. This is driven by the menhaden population growing, as well as a cleaner Hudson River and better offshore habitats for whales.
"Ship strike and entanglement are real threats and they're happening continuously," Sieswerda said. "People are overlooking the obvious just because there's some news going on about wind farms."
A focus on offshore wind
Ocean Wind, the large offshore wind project planned for the New Jersey coast, has not yet started construction.
Danish company Ørsted has been conducting survey work and soil sampling of the ocean floor to determine where offshore wind turbines and the cables to carry electricity back to shore could be installed.
In a statement to CNN, Ørsted's New Jersey head of government affairs, Maddy Urbish, said the vessels the company had contracted to do its survey work haven't "experienced any marine mammal strikes during offshore survey activity in the U.S."
"Our current work off the coast of New Jersey consists of surveys and does not involve sounds or actions that will disturb whales or any ocean mammals," Urbish added. The company's testing uses a drill on top of the vessel that presses a metal rod into the seafloor, testing the resistance of the ocean floor's soil.
Ørsted has had one ship at a time doing survey work in the area, starting in 2021.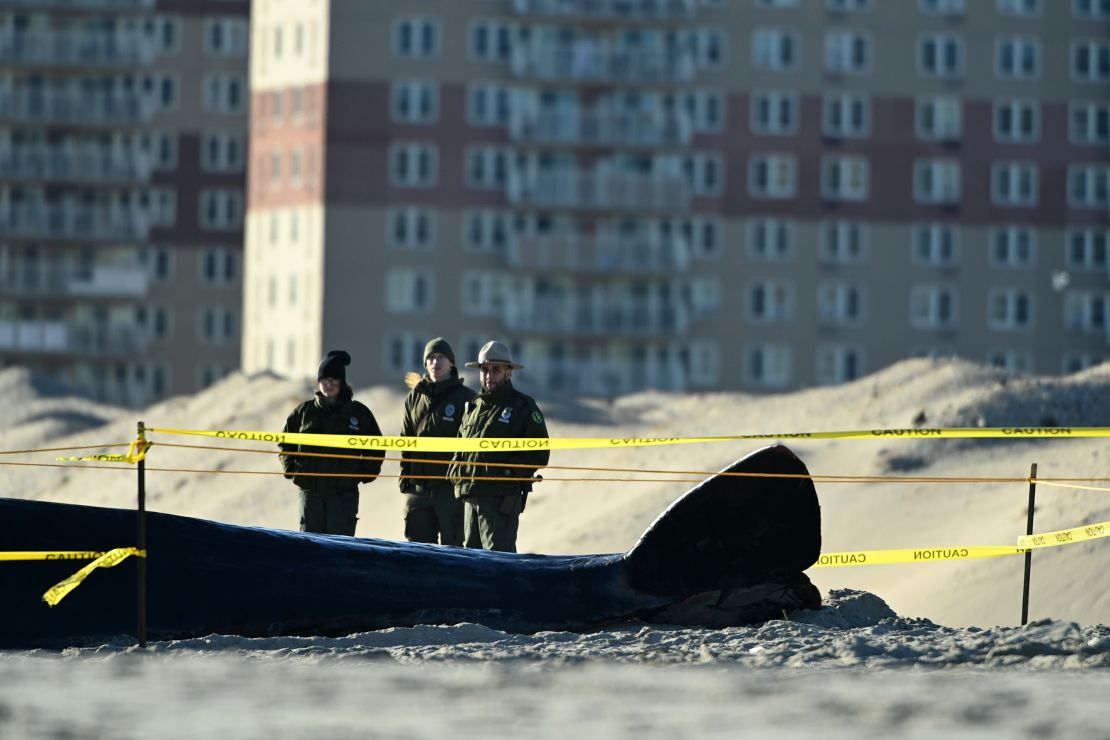 Other survey work can use sonar and sounds to map out the ocean floor, US officials said. Officials stressed that the acoustic instruments used by wind projects are typically less sound-intensive than the seismic air guns used by offshore oil and gas operations to penetrate deeper into the seabed.
The sound sources used by wind energy operations "are generally expected to be much lower in impact than seismic air guns," said Erica Staaterman, a bioacoustician with the Bureau of Ocean Energy Management's Center for Marine Acoustics.
In addition, federal regulations mandate that there are multiple observers on vessels conducting survey and construction work, watching for whales, dolphins and turtles, and calling for work stoppages when the animals are swimming in the area.
The speculation over how offshore wind operations may have impacted the whales has split some environmental and advocacy groups in the New Jersey area. Some, including Clean Ocean Action, have called for a halt to the Ørsted New Jersey operation as well as stopping future planned wind farms.
Other groups, including the state chapters of the Sierra Club, League of Conservation Voters and Anglers for Offshore Wind, say the wind farms will help humans and whales alike in the long run by reducing the use of fossil fuel and its planet-warming emissions.
"We're on the side of the whales, all we do is care about the whales," said Paul Eidman, a New Jersey boat captain who runs the local chapter of Anglers for Offshore Wind. "We're accepting the fact that humans have messed up and climate change is because of us. This is one of the ways we can stop burning fossil fuels; we're looking at the big picture."