Pro Football Hall of Famer Shannon Sharpe was involved in a fiery courtside exchange with Memphis Grizzlies players Ja Morant and Dillon Brooks during the Grizzlies' 122-121 loss to the Los Angeles Lakers on Friday.
Sharpe, who was seated courtside, had been exchanging words with Brooks throughout the first half and was seen yelling at Morant at half-time.
Both players, and Grizzlies teammate Steven Adams, then approached Sharpe who stood up from his seat. Morant's father, Tee, also got involved in a heated exchange with Sharpe.
Referees, players and security were needed to separate the men before Sharpe, who works as a commentator for Fox Sports, was ushered away from the court. He later returned to his seat.
At the end of the third quarter, Sharpe was seen shaking hands with Tee Morant and the pair embraced at the end of the game.
After the game, Brooks initially did not want to speak about the altercation saying, "I ain't talking about that. You can ask him. He's the blogger or whatever he is. I don't really care about all that. Next question."
But when asked about whether fans should behave like Sharpe he said, "A regular pedestrian like him? No. He should have never come back in the game. But this is L.A."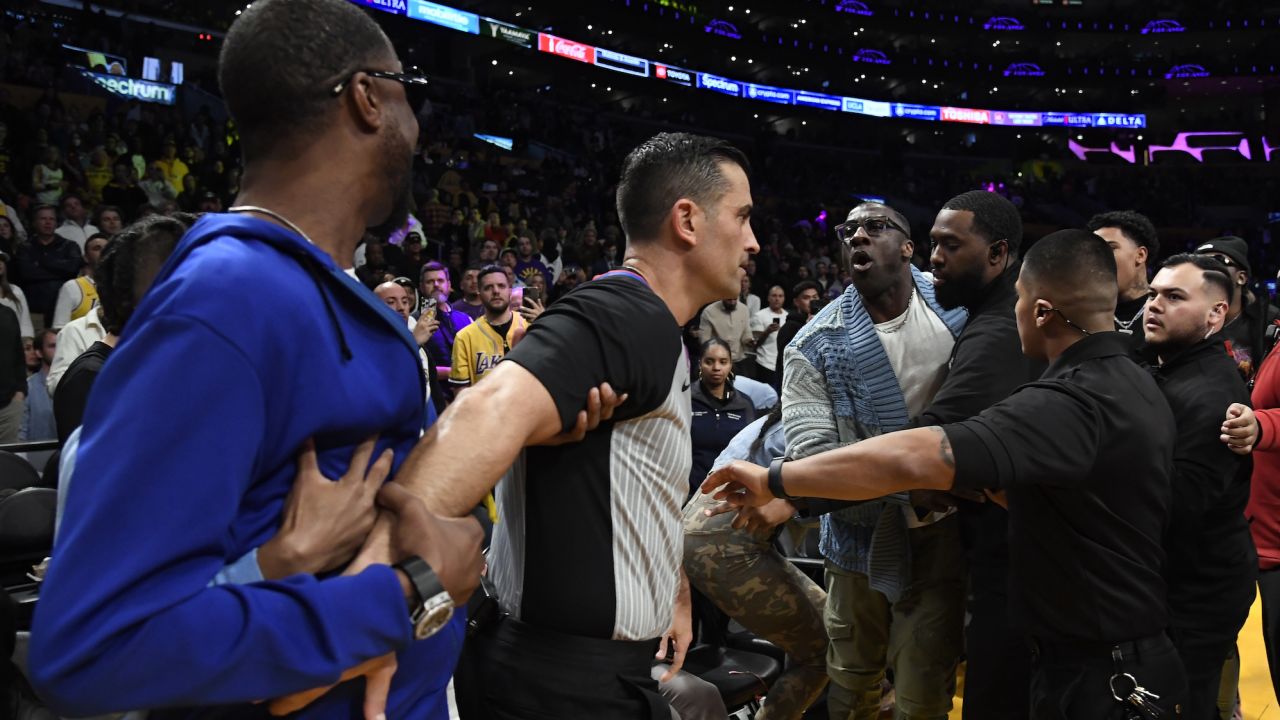 Meanwhile, Morant refused to comment on the situation when asked by reporters, saying, "I ain't going to address that."
"They didn't want this smoke," Sharpe told ESPN's Dave McMenamin at the half.
"They do all that talking and jockeying and I ain't about that jockeying. It started with Dillon Brooks. I said he was too small to guard LeBron."
The Fox Sports commentator is famous for his outspoken love for the Lakers and NBA star LeBron James, who Brooks was defending against in the game.
Sharpe regularly appears on his show, "Undisputed," sporting a James jersey and even has appeared wearing a goat mask in reference to his opinion that James is the greatest of all time in the NBA.
James, who scored 23 points and is now 261 points from breaking Kareem Abdul-Jabbar's NBA record for all-time points scored, appreciated Sharpe's presence on the courtside.
"I mean, I ride with Shannon for 365 days, 366 on a leap year, 24/7," he said after the Lakers win.
"So, that's my guy. So I'll always have his back, and he's got mine. He can talk with the best of them, for sure."