A large crowd of family, friends and public mourners gathered Sunday in front of the famed Graceland estate in Memphis, Tennessee, for the memorial service of Lisa Marie Presley, the sole daughter of late singer Elvis Presley.
Priscilla Presley, Lisa Marie Presley's mother, spoke briefly and quietly, reading a poem and remarks from one of her granddaughters.
"She knew it was close to the end. Survivor's guilt, some would say, but a broken heart, is the doing of her death. Now she is home where she always belonged, but my heart is missing her love," Priscilla Presley said on behalf of the grandchild.
"Our heart is broken," Priscilla said. "Lisa, we all love you."
Priscilla Presley is grandmother to Lisa Marie Presley's daughters Riley Keough, 33, and 14-year-old twins Finley and Harper Lockwood.
Lisa Marie Presley was also mother to Benjamin Keough, who died by suicide in 2020.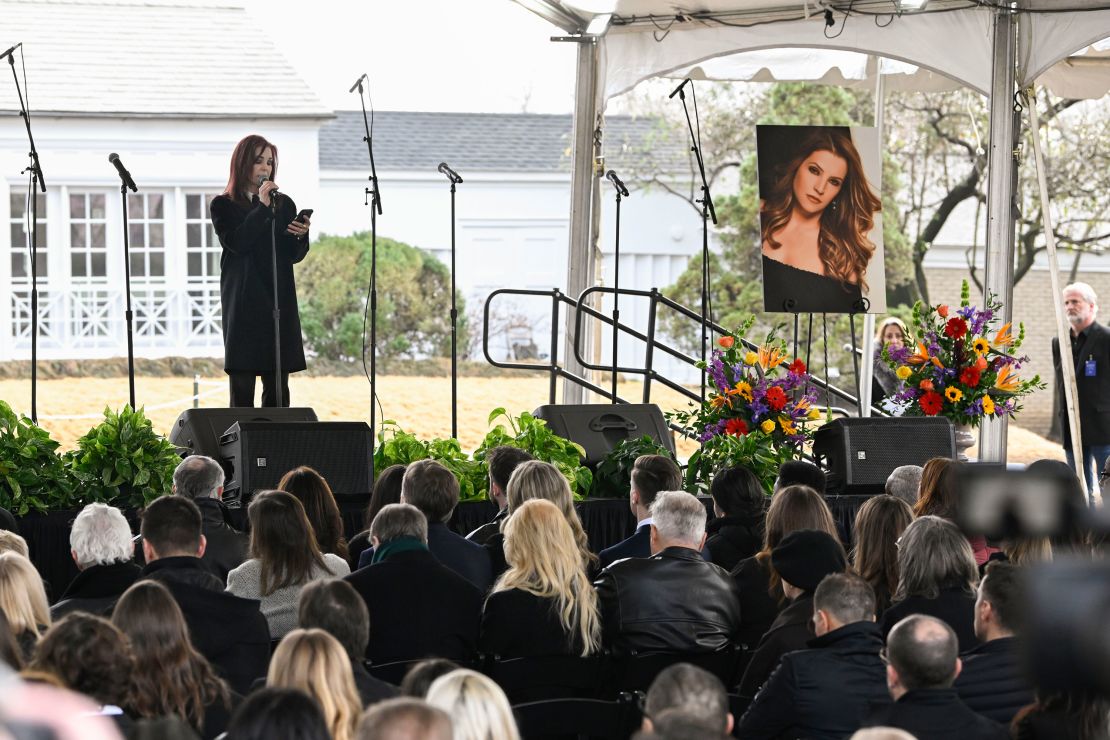 Lisa Marie Presley died on January 12, hours after being hospitalized following an apparent cardiac arrest, CNN reported. She was 54.
Lisa Marie Presley was last seen publicly the week of her death at the Golden Globe Awards, which she attended with her mother to support the Baz Luhrmann film "Elvis" about her late father.
Longtime friends of Lisa Marie and the Presley family also spoke at the service, including former Memphis Mayor A.C. Wharton; Sarah Ferguson, The Duchess of York; manager Jerry Schilling; and Elvis Presley Enterprises managing partner Joel Weinshanker.
Musical performances included Axl Rose, Alanis Morissette, Billy Corgan and Jason Clark and The Tennessee Mass Choir.
Schilling, who was an aide and producer to Elvis and manager to Lisa Marie, told stories of him and "a girl named Memphis," which is what Schilling called her.
In 1967, Schilling said he spent Christmas and New Year's at Graceland and was asked by Elvis himself to stay until Lisa Marie's birth in February 1968.
Schilling said Lisa Marie had asked him to accompany her on the red carpet at the recent Golden Globe Awards.
"Last thing she said to me was, 'Jerry Schilling, I love you,'" Schilling said.
"As I was in the hospital with her father when Priscilla was giving birth, I was at the hospital with her mother when she left us," Schilling said. "Memphis, I will always love you."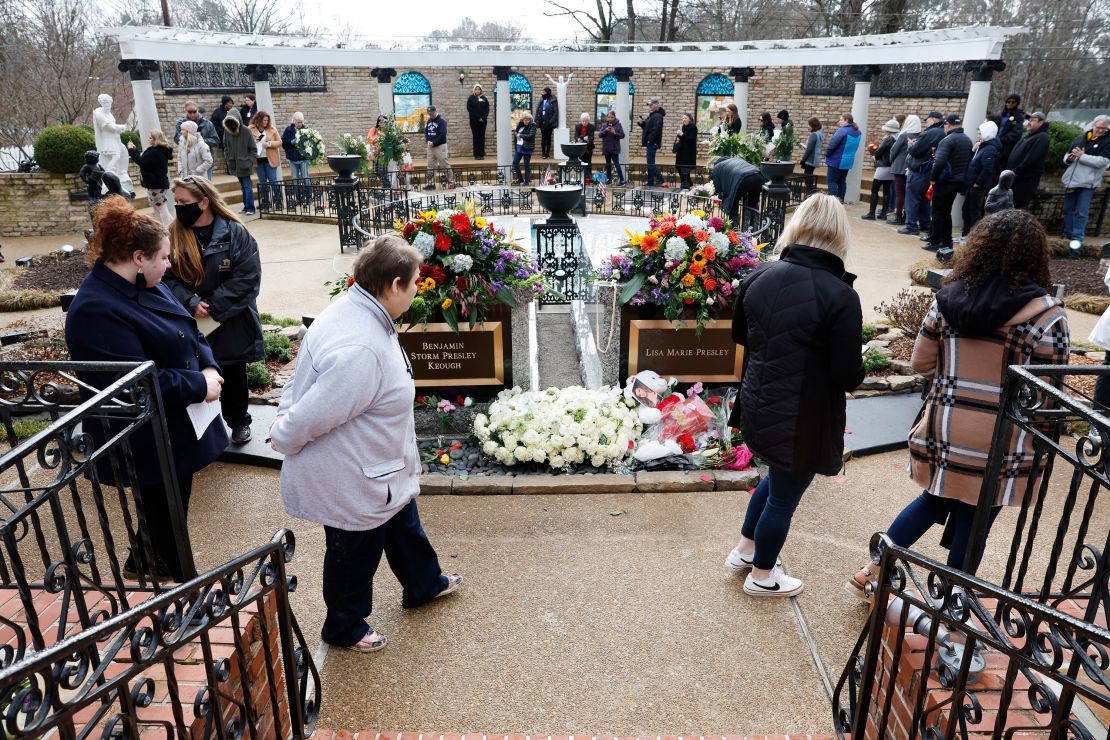 Ben Smith-Petersen, Keough's husband, shared a letter on her behalf during the memorial service.
In the letter, Keough said she was certain she chose the best mother in the world.
"I remember how it felt to be loved by the most loving mother I've ever known. I remember how safe it felt to be in your arms," the letter said. "I remember that feeling as a child, and I remember that feeling two weeks ago on your couch. Thank you for showing me that love is the only thing that matters in this life. I hope I can love my daughter the way that you loved me."
"I'm a product of your heart, my sisters are a product of your heart, my brother is a product of your heart. We are you; you are us," Keough's letter also said. "My eternal love, I hope you finally know how loved you were here. Thank you for trying so hard for us. If I didn't tell you every day, thank you."
Lisa Marie Presley is being laid to rest on the Graceland property, next to Benjamin.