A local lifeguard in Hawaii was the surprise winner of the prestigious Eddie Aikau Big Wave Invitational – dubbed the "Super Bowl of surfing" – after beating off competition from some of the sport's biggest names.
Luke Shepardson took approved breaks from his lifeguarding duty at Waimea Bay to compete in the event – affectionately known as the Eddie – and finished with a near-perfect score of 89.1 points, ahead of defending champion John John Florence in second.
The 27-year-old accepted the award wearing his yellow lifeguard t-shirt and red board shorts, saying it was a "dream come true" simply to participate in the competition on Sunday.
The Eddie is only held when waves consistently reach a height of 20 feet during the winter months at Waimea Bay on the North Shore of Oahu.
This was just the 10th time it has been held since its inception in 1987 and the first since 2016, when Florence took the title.
Other past winners include surfing veterans Kelly Slater in 2002 and Ross Clarke-Jones, who competed again this year, in 2001. No surfer has ever won the Eddie more than once.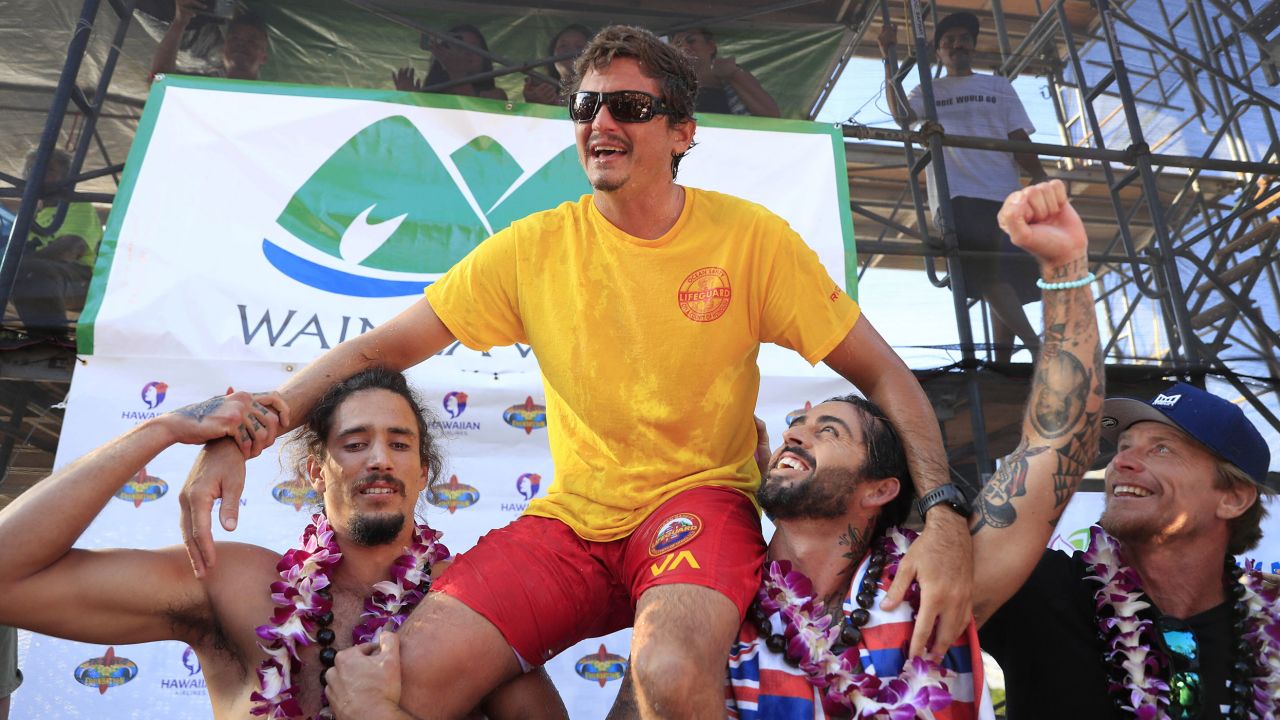 The event is held in memory of big-wave surfer Eddie Aikau, the first official lifeguard on the North Shore who died after volunteering to seek help when a canoe trip recreating an ancient Polynesian migration route hit bad weather.
It seemed fitting, then, that this year's champion was also a local lifeguard.
When he was announced as the winner, Shepardson was hoisted onto the shoulders of his fellow competitors, doused in beer, and mobbed by spectators eager to get a photo.
He won $10,000 for taking first place with scores of 30.0, 30.0, and 29.1 across his three best waves, just shy of a perfect score of 90 points.
Florence finished with 84.2 points ahead of Mark Healey in third and Billy Kemper in fourth.
This year also saw women – six in total – take part in the competition for the first time, and it was Andrea Moller who made history as the first woman to catch a wave at the Eddie.
In 2016, Keala Kennelly became the first woman to be invited to the competition when she was named as an alternate.
The enormous waves at Waimea Bay produced a series of breath-taking, nerveless performances from those invited to take part in the Eddie this year.
The competition drew huge crowds, who were instructed to stay behind a yellow tape close to the shoreline to avoid being swept up in the dangerous swell.
"I want to thank everyone for being here today," Clyde Aikau, the competition director and brother of Eddie, said during the awards ceremony.
"I want to praise every single contestant who paddled out because just paddling out today was a feat in itself, and congratulations to all the contestants."