The man suspected of killing four people at a California mushroom farm and three others at a nearby site Monday had legal possession of a semi-automatic weapon that was registered to him, a sheriff said.
The suspect, Chunli Zhao, 66, was not known to local law enforcement before the massacre and had shown no red flags as far as the sheriff's office was aware, San Mateo County Sheriff Christina Corpus told CNN on Tuesday morning.
"There was nothing that would have kind of elevated or raised us to have any concern with him at this time, prior to this incident," the sheriff said, adding it was a case in which someone "snaps," and "innocent people were killed."
Zhao, who was arrested Monday, was formally charged Wednesday with seven counts of murder and one count of attempted murder by the San Mateo District Attorney's Office.
The murder counts all include enhancements for the use of a firearm, great bodily injury and multiple murder. The suspect is expected to enter a plea at a February 16 hearing.
A Mandarin language translator was used to deliver communications between the court and the suspect. Zhao will be held in custody without bail.
The suspect, who is a Chinese citizen, gave a statement to the sheriff's office after he was taken into custody, according to San Mateo County District Attorney Stephen Wagstaffe. That interview was also conducted through a translator who spoke Mandarin, and an attorney was not present because Zhao did not request one, the prosecutor said in a Wednesday news conference.
Officers on Monday afternoon found four people dead and one wounded at the mushroom farm and, moments later, found three more people dead at a separate site about 2 miles away, officials said.
The attack was a "workplace violence incident," Corpus said, adding Zhao targeted specific people and, though he had the opportunity to hurt others, "he went after and pursued" certain individuals.
The suspect was a "coworker or former coworker" of the victims at each shooting site, the sheriff's office said.
Many questions are still unanswered about the attack, including what could have motivated the shooting, who the victims were and why they were targeted.
Here's what we know about the suspected gunman.
Zhao had a note in his car
Zhao, who authorities believe acted alone, was arrested roughly two hours after authorities received the first reports of a shooting.
Deputies were dispatched a little after 2:20 p.m. At roughly 4:40 p.m., the suspect was taken into custody after authorities found him in his vehicle at the parking lot of a sheriff's office substation, the office said in a news release.
A weapon was also found in his car, the release added.
There was also a note found in the suspect's car, Wagstaffe said during Wednesday's news conference, but would not share further details about what it said. The prosecutor added that Zhao's gun was a Ruger semiautomatic firearm.
There were search warrants that were executed in connection with the case, Wagstaffe said, but they are currently under seal. There are no plans at this time to add additional charges, the prosecutor noted.
He had been accused of violence before
Though authorities knew of no "preceding factors" that would have suggested Zhao would carry out the attack, county officials said, it wasn't the first time he was accused of violence against someone he worked with, court records obtained by CNN show.
Zhao was subject to a temporary restraining order after a former coworker and roommate accused him of attacking and threatening him in 2013.
Yingjiu Wang, who worked with Zhao at a restaurant and lived with him in a San Jose apartment, wrote in a court declaration that Zhao's violent behavior started after Zhao quit that job in March 2013.
Early in the morning two days later, Zhao came into Wang's room and asked for his salary. When Wang told him to pick it up at the restaurant, Zhao said he would kill Wang, then "took a pillow and started to cover my face and suffocate me," Wang wrote.
"While I couldn't (breathe), I used all my might within the few seconds to push him away with my blanket," Wang wrote. He said he called for help and another roommate came to the door, but Zhao had allegedly locked it. The two men ended up wrestling on Wang's bed before Zhao calmed down, according to Wang.
Two days later, he wrote, Zhao threatened him again, saying "he can use a knife to cut my head if he can't come back to work." Wang had no control over Zhao's work status at the restaurant, he wrote.
A judge issued a temporary restraining order against Zhao, which prevented him from getting too close to Wang and banned him from owning or buying a gun, according to the court paperwork. The restraining order expired in July 2013. An attorney for Zhao in the 2013 complaint did not respond to requests for comment and Wang could not be reached for comment.
The incident was first reported by the San Francisco Chronicle.
Authorities in San Mateo are now investigating whether Zhao has any other criminal history and acknowledged there was an incident in another county that they are currently looking into, the district attorney said.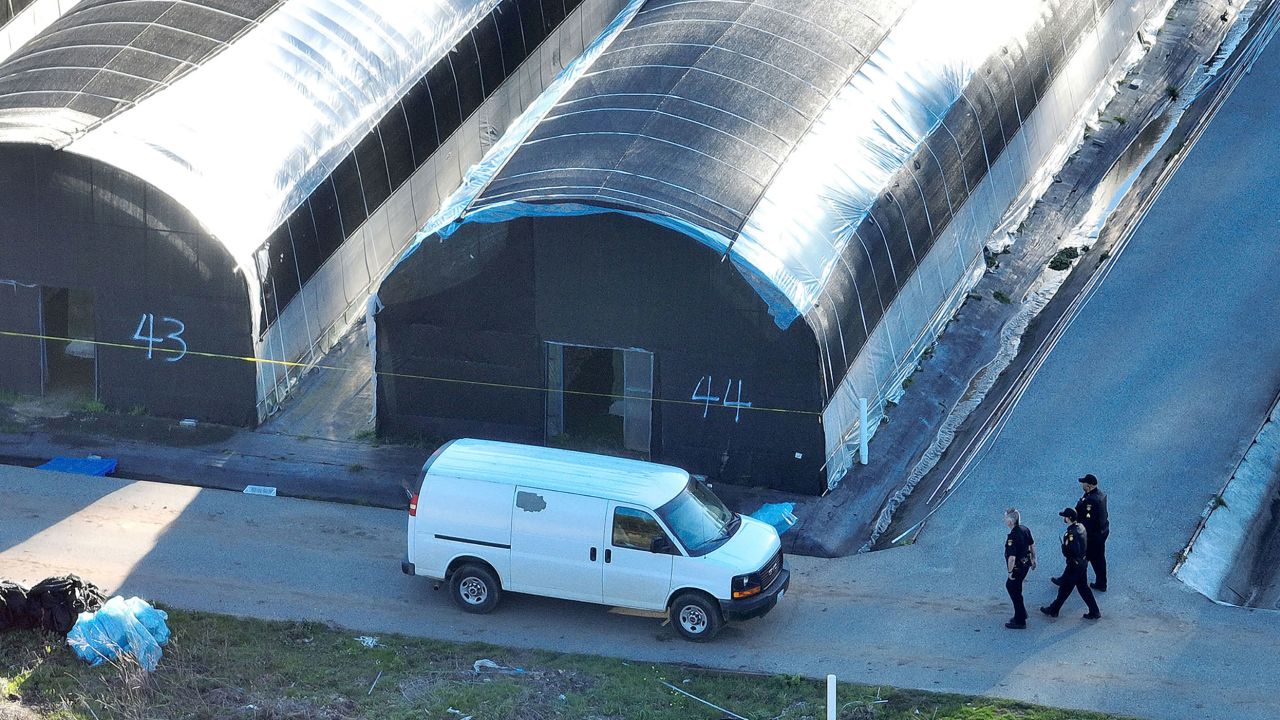 Suspect lived on the property for 7 years
Zhao lived at the first property, where four victims were killed, for about seven years, according to California Terra Garden spokesperson David Oates. The site, formerly known as Mountain Mushroom Farm, was acquired by the company California Terra Garden in March 2022, Oates said.
There are several mobile homes and trailers for employees on the property, which is where the suspect lived, Oates added.
Zhao was one of about 35 employees working at the farm, the spokesperson said, adding standard background checks for all employees revealed "nothing to indicate anything like this was even a possibility."
An employee who did not want to be named told CNN he had known the suspect for about six years and had considered him to be friendly and a "nice guy." The two were coworkers at the farm and had both been working Monday, the employee said.
The employee took cover when the shooting began Monday, and when the gunfire stopped, he saw the suspect drive away from the scene on a forklift, he said.
CNN's Jeff Winter, Taylor Romine, Paul Vercammen, Kevin Flower and Stella Chan contributed to this report.