A Russian warship armed with advanced hypersonic missiles completed a drill in the Atlantic Ocean, ahead of joint naval exercises with the Chinese and South African navies scheduled for next month, the Russian Defense Ministry said Wednesday.
Russia's Admiral Gorshkov frigate, armed with Zircon hypersonic missiles, practiced "delivering a missile strike against an enemy surface target," the ship's commander Igor Krokhmal said in a video released by the ministry.
The exercise, described by state news agency Tass as an "electronic launch" or virtual simulation, confirmed the "designed characteristics" of the missile system, said Krokhmal, who pointed to the missiles' purported ability to reach distances of more than 900 kilometers (559 miles).
The test was part of a long voyage of the Admiral Gorshkov frigate launched earlier this month, when Russian state media said the warship was dispatched with the hypersonic missiles. The deployment will also include joint training with the Chinese and South African navies off the coast of South Africa, according to Moscow and Pretoria.
The exercises come as Russia nears the first anniversary of its full-scale invasion of Ukraine and marks both a show of force and – with the joint exercises – an opportunity for Moscow to show it is not isolated on the world stage, despite wide international condemnation of its unprovoked war.
The White House on Monday said the US "has concerns about any country … exercising with Russia while Russia wages a brutal war against Ukraine."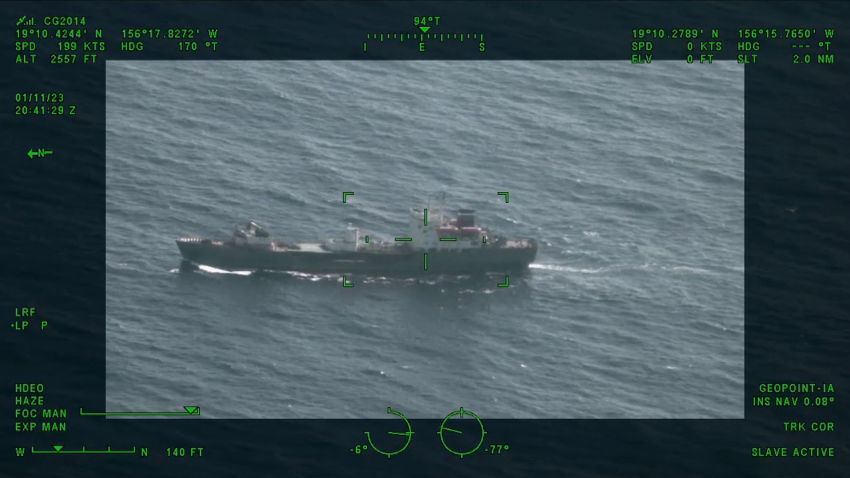 US Coast Guard says this ship off Hawaii coast is a Russian spy ship
During a joint meeting in Pretoria Monday, Russian Foreign Minister Sergei Lavrov and his South African counterpart Naledi Pandor defended the naval drills, with Lavrov saying Moscow does not want any so-called "scandals" regarding the exercises.
Pandor, who posed alongside Lavrov while smiling and shaking hands, claimed it is normal practice for all countries to conduct military exercises with "friends worldwide."
"There should be no compulsion on any country, that it should conduct them with any other partner. It's part of a natural course of relations between countries," she added, without explicitly referencing criticism leveled at South Africa for its refusal to condemn Russia's invasion.
In a separate statement detailing the joint exercises, which run February 17-27, South Africa's Defense Department said that "contrary to the assertions" from critics, South Africa "was not abandoning its neutral position on the Russian-Ukraine conflict" and "continues to urge both parties to engage in dialogue as a solution to the current conflict."
China concerns
China has not made a statement directly confirming its participation, but its Ministry of Defense website on Monday posted an article from state news agency Xinhua referencing South Africa's announcement of the drills. China is celebrating a week-long Lunar New Year holiday.
The US has repeatedly warned Beijing – which has a close strategic partnership with Moscow – against providing material support to the Russian army in its war in Ukraine.
The Biden administration recently raised concerns with China about evidence it has suggesting that Chinese companies have sold non-lethal equipment to Russia for use in Ukraine, though it was not clear whether Beijing was aware of the purported transactions.
The joint maritime exercise is expected to include some 350 South African National Defense Force personnel participating alongside their Russian and Chinese counterparts, according to South Africa. An earlier exercise between the three navies took place in 2019.
It's the first time that the drills will include the Admiral Gorshkov frigate carrying Zircon hypersonic missiles, which were first tested in late 2021.
The long-range weapons, which Russian President Vladimir Putin earlier this month said had "no analogues in any country in the world," travel more than five times the speed of sound and are harder to detect and intercept.
The frigate was actively involved in testing the missiles, designed and produced by the Research and Production Association of Machine-Building, part of Russia's Tactical Missiles Corporation, according to Tass.
It's current deployment, initiated January 4, was expected to see the ship transit through the Mediterranean Sea and into the Indian Ocean, Tass reported at the time.
CNN's Eve Brennan in London and Brad Lendon in Seoul contributed reporting.