Sundance returned to Park City, Utah for a fully-fledged, in-person festival for the first time since 2020.
Festival organizers aimed to project the image that it was back to business as usual, and the industry reciprocated by dusting off their check books with varying degrees of enthusiasm.
Streamers proved to have the deepest pockets. Netflix bought corporate psychodrama "Fair Play" for a reported $20 million and Australian horror "Run Rabbit Run" for an undisclosed fee, adding to freediving documentary "The Deepest Breath" that it had acquired ahead of the festival. Apple reportedly paid around $20 million for feel-good musical drama "Flora and Sun" – the third year in a row the streamer has pushed the boat out, after big deals for "Cha Cha Real Smooth" in 2022 and "CODA" in 2021. But the altitude didn't lead to many dizzying sales figures, as legacy studios made conservative bets, although Searchlight landed musical "Theater Camp" for a reported $8 million.
As far as festival themes go, there were plenty. Women shined in CJ "Fiery" Obasi's West African folktale "Mami Wata" and Nida Manzoor's wedding comedy "Polite Society." The latter, along with Raine Allen Miller's "Rye Lane," an uplifting South London riff on Richard Linklater's "Before" trilogy, were strong debuts from British directors that will be distributed by Focus Features and Searchlight Pictures respectively.
Masculinity was put under the microscope by several films. Jonathan Major's hulking performance as a bodybuilder struggling to connect with society drew comparisons to "Taxi Driver" and "Joker," and in the aforementioned "Fair Play," Alden Ehrenreich turned toxic when his fiancé was promoted over him. Then there was poor Alexander Skarsgaard, dommed by Mia Goth on a holiday from hell in the shocking "Infinity Pool" (not that the actor minded – Skarsgaard turning up in collar and leash to the film's Q&A).
On the documentary side of the program, where Sundance typically excels, "The Longest Goodbye" and "The Deepest Breath" looked at isolation caused by the pursuit of excellence – one in space, the other at sea – to sobering effect. "Kim's Video" investigated the mysterious fate of 55,000 rare VHS tapes, and "Still: A Michael J. Fox Movie" told the actor's Parkinson's story in his own words; both made seamless use of archive movie and TV footage to make their points.
The awards, handed out on January 27, fell elsewhere. Grand Jury Prizes were awarded to A.V Rockwell's mother and son tale "A Thousand and One" in the US Dramatic category, and "Going to Mars: The Nikki Giovanni Project," Joe Brewster and Michele Stephenson's profile of the titular poet, won for US Documentary. "Scrapper" and "The Eternal Love" won for World Dramatic and World Documentary respectively, while the Festival Favorite Award, voted for by audiences, was handed to "Radical," about a life-changing teacher in Mexico, played by "CODA's" Eugenio Derbez.
Here's a look at six Sundance standouts:
"Fair Play"
Chloe Domont's lacerating workplace thriller is the sinister offspring of "Scenes From a Marriage" and "Working Girl," with some of David Fincher's DNA thrown in for good measure.
Emily (Phoebe Dynevor) and Luke (Alden Ehrenreich) are newly engaged New York hedge fund analysts who've kept their relationship from their employer, due to the small wrinkle they're breaking company policy. But just when they're preparing to come clean, Emily gets a promotion they both expected was Luke's. The power dynamic shifts – she's now her fiancé's boss – and the secret they've been hiding from the firm and leering CEO Eddie Marsan becomes weaponized.
The film wastes no time in tearing this couple down as their paths diverge. Luke's reaction betrays the idea that he ever believed he was in a relationship of equals, and Emily's assumption that the promotion was his is revealing too. Despite his fiancé supporting him in a second attempt at promotion, Luke can't hold down rising bile. The late-night work calls; the drinks with the boss. How exactly did she get the job? And over him?
Ehrenreich wonderfully conveys brittle masculinity crumbling in on itself – petty, flailing, dangerous – while Dynevor is a mirror to this awful behaviour while no wallflower herself. Both know each other's triggers and Domont's prickly screenplay has plenty of barbs that cut to the quick. The duo's performances crank up the anxiety as the idea that their relationship and careers have become a zero-sum game, and some advantage might be gained by shorting either, comes into view. It makes for a chilling but compelling watch; one that will have audiences both recoiling and nodding with familiarity at the nasty truths that underpin this psychosexual drama.
"Mami Wata"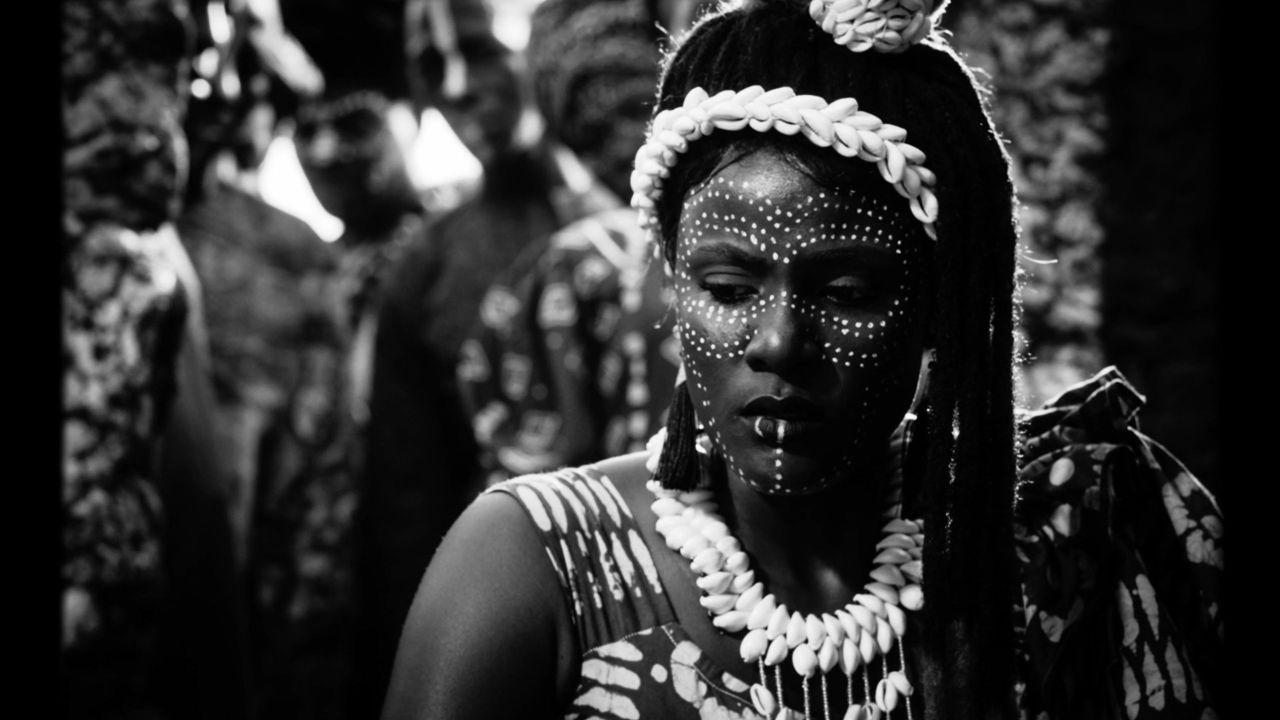 The titular water god of CJ "Fiery" Obasi's film might be out of sight, but she's never out of mind in this arresting West African folk story.
The village of Iyi has a particular connection with Mami Wata, in the face of encroaching modernity. The god's intermediary and Iyi's de-facto leader Mama Efe is keen to keep it that way, but when a crisis of faith strikes the community, she and her children Prisca and Zinwe find their social status upended and lives endangered.
Shot on film in stark, high-contrast black and white, everything pops in this gorgeously composed movie. Obasi's eye recalls the likes of Ousmane Sembene and Carl Dreyer, and even has some of the surrealist leanings of David Lynch. If the writing can't quite match the heights of its visual storytelling, there are still some interesting questions about in whom or what one should place their faith. Tradition vs reform, science vs religion – these binaries are painted at familiar loggerheads. But what happens when the promises offered by both sides fail to materialize?
A rich, expressionist parable, if there was a more gorgeous looking film at Sundance this year, I didn't see it.
"Infinity Pool"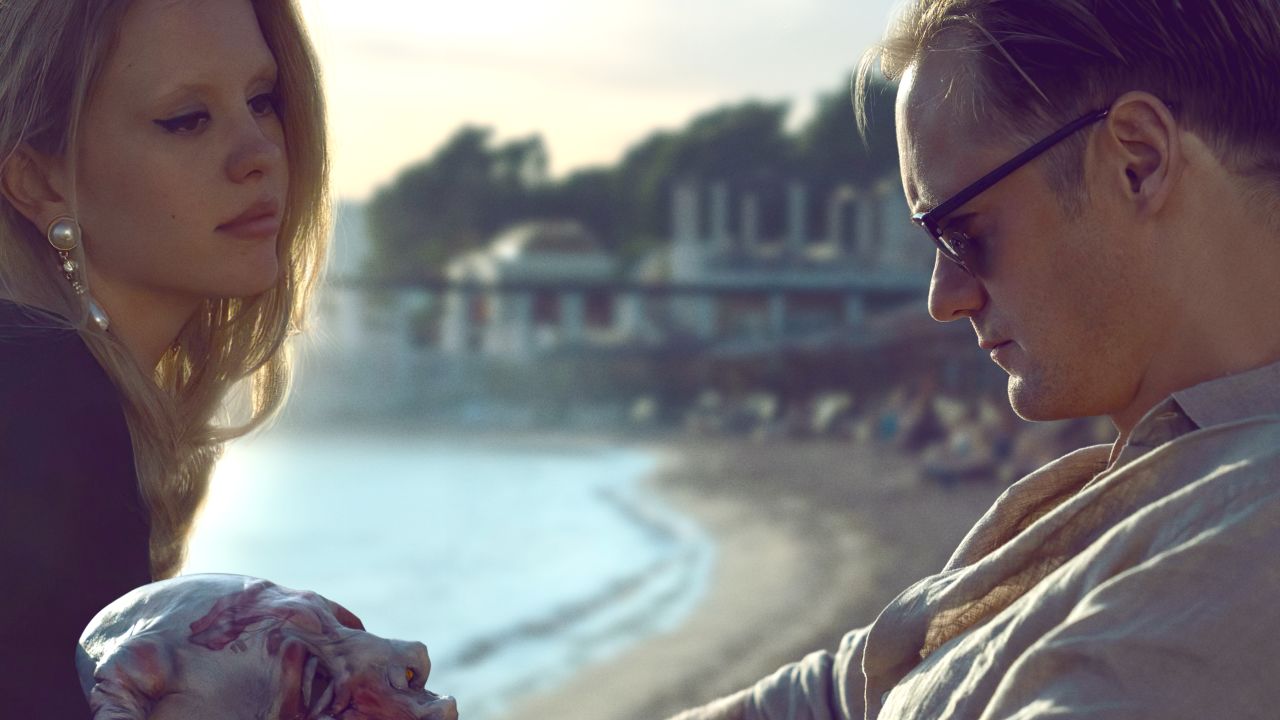 The latest film from Brandon Cronenberg might have dad David checking in to see if everything's alright. The son of the king of body horror has outdone himself with this, surely the festival's most controversial offering.
In another pleasingly egoless turn, Alexander Skarsgaard subverts his alpha image and finds himself under the spell of Mia Goth as a tourist on a very bad trip. The Swede plays James, an author of nominal success vacationing with his wife in a luxury resort on a fictional island. They're taken in by Goth's Gabi and her husband, before a drunken accident puts them in the jaws of the island's draconian legal system. But even the harshest sentences can be avoided at the right price – and with the help of a little cutting-edge science.
The true cost of escaping justice is not just financial, though. These things weigh on the soul, as James will learn and just as soon forget as Gabi and her clique lure him into a cycle of depraved, hedonistic crime. He finds himself reborn time and again, tested by the limits of what he'll permit himself to do.
Skarsgaard can portray wide-eyed innocence and dead-eyed menace equally well, and has ample opportunity to do both, while scream queen Goth gives another raucous turn as a temptress without morals. Cronenberg's hallucinogenic image-making pushes beyond his last movie "Possessor" into truly shocking, video nasty territory (some of which will be excised when the NC-17 version shown at Sundance is released as a R in the US this weekend). Nevertheless, there's a lot of method to "Infinity Pool's" madness. Its nihilistic vision is full of ideas about how far beyond the grasp of reasonable society the rich have become, and how tempting it can be to live without consequence. Text and subtext are equally frightening.
"Polite Society"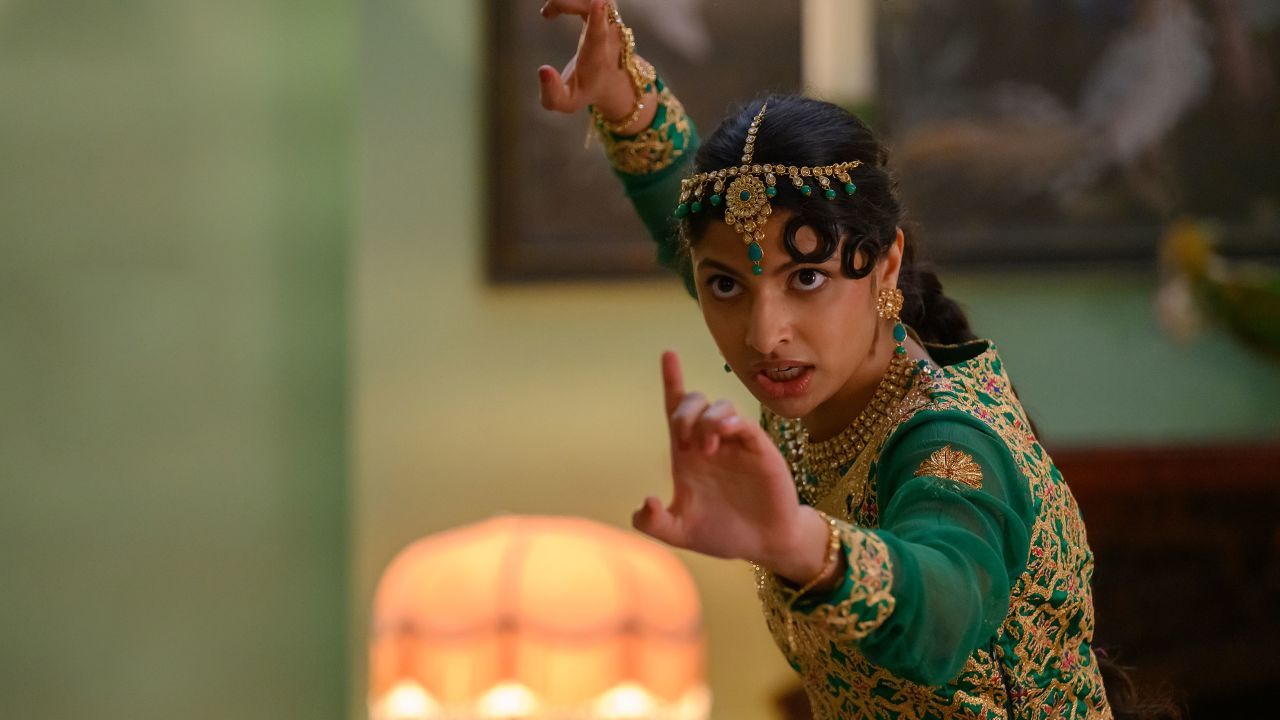 Schoolgirl Ria is about to lose her big sister Lena in the most devastating fashion: after a whirlwind romance, she's going to get married and move to a tropical island halfway around the world. Ria is determined to rescue her, but Lena's not so sure she wants saving.
"We Are Lady Parts" creator Nida Manzoor ventures into feature filmmaking with a winning British family comedy. Her astute take on the institution of marriage (specifically, semi-arranged British Pakistani marriage) is frenetic and frequently laugh-out-loud, all thanks to a joyous script and a cast equal to it.
Priya Kansara leads as Ria, a daydreamer and keen martial artist who aspires to become a stuntwoman. A ball of energy, she and two classmates cook up a series of half-baked plans to break off the engagement. It would be a short film if any of them worked, but there's some instantly quotable material along the way.
Manzoor's hyperreality is framed around a series of fights, closer to Edgar Wright's "Scott Pilgrim vs The World" than Daniels' "Everything Everywhere All At Once," and more low key than either. It's content to be lovably dorky, and let kids be kids and make some very funny mistakes on their path to self-knowledge.
Sure, some of its moves are familiar ("there's a reason tropes are tropes – it's because they work!" says one character, with a nod and a wink) but if the formula ain't broke, why fix it? The pleasure here is found in how Manzoor weaves the tried and tested into a new and hilarious context. The results are irreverent and irrepressible, with strong mainstream appeal.
"Little Richard: I Am Everything"
Little Richard, the self-proclaimed architect of rock n roll, insisted he never got his dues, and by the end of Lisa Cortés' shimmering profile, you'll likely agree.
From his roots in rural Georgia to the world stage and his decades of invention and reinvention as a musical originator, Richard never had it easy. He was kicked out of the family home as a teen, signed up to unfavourable record deals and leeched on by White artists who covered his early hits. He watched peers hit heights he never did, though so many got their start in his slipstream. His career is an object lesson in the perils of coming first, and anyone in his position might have an axe to grind.
Cortés is out to set the record straight, albeit in a familiar groove. Alongside a trove of archive footage, she assembles a supporting cast including Mick Jagger, John Waters and Billy Porter, plus Richard's old bandmates and cultural academics, who make the case for him. They offer vital context, particularly as a man who "existed in contradiction," we're told: a gay Black man from the South whose sexuality was at odds with his devout Christian faith – a conflict that spilled over into his music to ecstatic effect.
The film (whose producers include CNN Films and HBO Max, both part of Warner Bros. Discovery) might be light on revelations, and some of its conclusions slightly overegged, but one suspects it's nothing the maestro wouldn't have approved of. Like one of Richard's hits, it's an infectiously good time.
"Passages"
Around the third or fourth time Franz Rogowski, playing film director Tomas, tells one of his actors exactly how to walk down a flight of stairs, you realise "Passages" is going to be good. Very good indeed. The kind of carefully cultivated insouciance Tomas aspires to coax out of his performer is exactly what Ira Sachs achieves in this, the director's first film since 2019 and a return to form.
Sachs' sexy, slinky drama unites three darlings of European cinema for a menage-a-trois of sorts in Paris. On a night out, Tomas sleeps with Agathe (Adèle Exarchopoulos), to the surprise of his husband Martin (Ben Whishaw). Both are curious about this turn of events ("I had sex with a woman, can I tell you about it, please?" Tomas pleads) but they also see it for what it is: further evidence that their marriage is on the rocks. This clarity doesn't mean they're willing to patch things up, however. Affairs ensue, relationships overlap, and everyone looks very beautiful while doing so.
Martin is perhaps the most incisive of the three, and Wishaw plays him with a disturbingly-even keel. Exarchopoulos's Agathe is not just the wedge between these two men but fully-fleshed with motivations of her own. However this is Rogowski's film, playing a man newly unsure of himself and what he wants.
Tomas, who bends people to his vision for a living, must learn that he can't exert that kind of control over the real world. It's a difficult journey towards accepting that fact, and Rogowski marries softness and restraint with petulance and pettiness along the way with total believability. He's simply one of the best in the business right now.