Editor's Note: A version of this story first appeared in CNN's Meanwhile in the Middle East newsletter, a three-times-a-week look inside the region's biggest stories. Sign up here.
Turkey is less than four months away from a presidential election that could extend the 20-year rule of President Recep Tayyip Erdogan into a third decade. Analysts say that the result may be a close call for the long-term leader.
The poll, which is expected May 14, takes place amid the most serious collision between Russia and the West since the end of the Cold War. And Russia's war on Ukraine has seen Turkey's foreign influence grow to a level that has become an annoyance for some and useful for others. The 68-year-old president has perhaps never been as polarizing on the international scene as he has become of late.
"From the standpoint of the global powers, Turkey fits at the intersection of the West and the rest," said Sinan Ulgen, a former Turkish diplomat and chairman of Istanbul-based think-tank EDAM.
Ahead of the vote, Erdogan has been on a quest to mend fraying ties and strengthen old ones. He has also been eager to leverage Turkey's NATO membership and position himself as a mediator in the Ukraine conflict to both achieve national interests and promote himself as a regional and global leader.
Among those keenly watching the Turkish election on the international stage, there are those who may be rooting for Erdogan, those who have decided to live with him, and those who want nothing more than to see him relegated to the history books. Here's a breakdown:
Russia
Moscow's preferences in Turkey are no secret. The Ukraine war has been a defining moment for Turkey's international influence, but also its relationship with Russia.
Erdogan's close ties with Russian President Vladimir Putin have given his country the unique position of being the only NATO nation whose ear Russia has. He hasn't followed his Western allies in imposing sanctions on Moscow, and is expanding energy ties with Russia while the West is severing them.
"Putin has given a considerable degree of support to Erdogan before the elections in a way that no other global leader has," Ulgen told CNN, citing their growing cooperation as evidence of their deepening ties.
Ankara and Moscow are working on creating a regional natural gas hub in Turkey, which Erdogan previously said can be used to transport gas to Europe.
Turkey is also expected to add nuclear power to its growing energy dependence on Russia. Built, owned and operated by Russia, the country's first nuclear plant is expected to become operational this year, according to state news agency TASS.
The two nations also coordinate their activities in Syria, where both have a military presence but back opposing sides. Analysts say that Erdogan often seeks a green light from Moscow – which backs President Bashar al-Assad's regime in Syria – before launching attacks in the country.
"It is clear that Putin has made his choice very transparent about who he wants to win in Turkey," said Ulgen.
Gulf states
The Gulf states have been uncomfortable with Turkey's role in the Middle East, but they have put those differences aside and decided to work with Erdogan.
Recent rapprochements with Gulf states brought not only a much-needed cash injection into the slowing Turkish economy, analysts say, but also served as an endorsement of Erdogan and a vote of confidence in his rule.
A landmark visit by Erdogan to Saudi Arabia last year marked the end of a bitter dispute between Turkey and Riyadh that exploded after the killing and dismemberment of Saudi Washington Post columnist Jamal Khashoggi in 2018 at the Saudi consulate in Istanbul. Both Riyadh and the United Arab Emirates have also opposed Erdogan's support for Islamist parties in the region.
The Turkish leader also made his first state visit to the UAE in a decade last year, where he met with then-Crown Prince Sheikh Mohamed bin Zayed Al Nahyan (known as MBZ), who is now president. The visit followed a landmark trip by MBZ to Ankara in 2021.
Both those détentes came with financial benefits for Turkey. Ankara got a pledge for a $5 billion central bank deposit from Saudi Arabia and the UAE established a $10 billion investment fund for Turkey.
"(Erdogan) has never won elections when not delivering (economic) growth," said Soner Cagaptay, director of the Turkish Research Program at The Washington Institute for Near East Policy. "That's why he is trying to cultivate financial inflows from outside actors; resetting with wealthy (Gulf states like) the Saudis, the Emiratis."
That U-turn in relations indicated that Gulf Arab states expect Erdogan to remain in power for the foreseeable future, Omer Taspinar, a professor at National Defense University in Washington, DC, told CNN.
"Saudi Arabia and the UAE see Erdogan as a fellow king/strongman and do not really believe kings leave power with elections," he said, adding that the newly mended ties are "a marriage of convenience" that balances the Gulf's concerns as well as grants Erdogan financial support.
The West
Western states would be glad to see a post-Erdogan Turkey, according to analysts.
The United States and the European Union have struggled with the Turkish leader as he continues to stand in the way of Finland and Sweden's accession to NATO and continues to cooperate with Russia. Turkey's reasoning for the stalling of the membership is that the Nordic state have not taken concrete actions against "terrorist" groups – mainly the separatist militant Kurdistan's Workers Party, also known as PKK – that Turkey accuses Sweden of harboring.
Turkey's final straw appeared to be the burning of the Quran during a protest outside the Turkish embassy in Stockholm last weekend.
The US has had its own share of problems with Erdogan. The Turkish president has been working for months to get a sale of 40 F-16 fighter jets to Turkey approved, especially since his country has been removed from the F-35 program since 2019 after purchasing the Russian-made S-400 missile system.
Congressional sources two weeks ago told CNN that the Biden administration, which has been weighing Turkey's F-16 request for more than a year now, is preparing to ask Congress to approve the sale of the jets. Erdogan isn't very popular in Congress either, and US politicians have been critical of Turkey's human rights record.
Biden is yet to invite Erdogan on an official visit, but the two leaders met on the sidelines of the G20 summit in November.
"The EU and the US would be happy to see a post-Erdogan Turkey," said Taspinar. "Such an outcome would prove that Turkey is still a democracy and could create hope for a honeymoon with the West."
The digest
Ten Palestinians killed in deadliest day for over a year
At least nine Palestinians, including an elderly woman, were killed on Thursday during raids by Israeli forces in the West Bank, the Palestinian Ministry of Health said, in addition to a tenth Palestinian who died in later clashes with Israeli forces. The deaths prompted the Palestinian Authority (PA) to suspend its security coordination with Israel. Later in the evening, seven rockets were fired toward Israel from Gaza, likely a response from Islamic Jihad militants who the Israeli forces say they were targeting in Jenin.
Background: Israeli security forces conducted an unusual daytime raid in Jenin Thursday to apprehend a "terror squad belonging to the Islamic Jihad" organization which the Israelis say were about to carry out an "imminent attack." Last year was the deadliest for both Palestinians in the West Bank and for Israelis in nearly two decades, CNN analysis of official statistics on both sides showed. Israel is increasing its defensive posture against Palestinian attacks in the wake of the raid, the Israeli Ministry of Defense said. The PA said it will cease security coordination with Israel starting immediately.
Why it matters: The death toll makes Thursday the deadliest day for Palestinians in the West Bank in over a year, according to CNN records. Security coordination between Israel and the Palestinians involves a range of civilian and security matters, including sharing of some intelligence for security operations targeting militant groups – seen as key to preventing terror attacks targeting Israelis and to curb militant groups in the West Bank who might challenge the PA. But the PA leadership has come under pressure to cut the coordination, especially over the past year.
Bahrain's crown prince calls Qatari emir in apparent step towards mending fences
Bahrain's crown prince spoke with Qatar's emir by telephone, Reuters cited the BNA state news agency as saying late on Wednesday, in a sign the two Gulf states could move towards repairing relations two years after an Arab boycott of Qatar was lifted. BNA said that Bahrain's crown prince and Prime Minister Prince Salman bin Hamad Al Khalifa, had in the call with Qatari Emir Sheikh Tamim bin Hamad al-Thani "emphasized the importance of joint efforts to resolve all outstanding differences."
Background: Saudi Arabia, the UAE, Bahrain and Egypt ended a three-and-a-half-year embargo of Qatar in January 2021 but since then there have been no bilateral discussions between Doha and Manama to resolve differences. This conversation came after Qatar's emir and Bahrain's king attended a small Arab summit hosted by the UAE's president in Abu Dhabi last week that was also attended by the rulers of Oman, Jordan and Egypt.
Why it matters: Regional heavyweight Saudi Arabia has led efforts to rebuild ties with Qatar and, along with Egypt, re-established diplomatic relations. The UAE and Bahrain have yet to do so. All but Bahrain restored travel and trade links in 2021. Bahrain, a Sunni Muslim-ruled monarchy with a restive Shiite population, has deep unease over Qatar's relations with Iran. Bahrain also has territorial disputes with Qatar.
Iran has amassed enough material for 'several nuclear weapons,' says IAEA chief
Diplomatic efforts to prevent Iran developing a nuclear weapon should restart, said International Atomic Energy Agency chief Rafael Grossi, warning that Tehran has amassed enough material for "several nuclear weapons."
Background: The EU has mediated indirect talks between the US and Iran aimed at relaunching the nuclear deal that former US President Donald Trump pulled out of in 2018, but negotiations stalled last year after the Iranian government demanded further guarantees. The talks were then brought to a complete halt by protests that engulfed the country in September.
Why it matters: Uranium enriched to more than 90% can be weaponized. Iran has 70 kilograms (154 pounds) of uranium enriched to 60% purity and 1,000 kilograms to 20% purity, according to Grossi, who will head to Tehran in February for a "much-needed political dialogue."
Around the region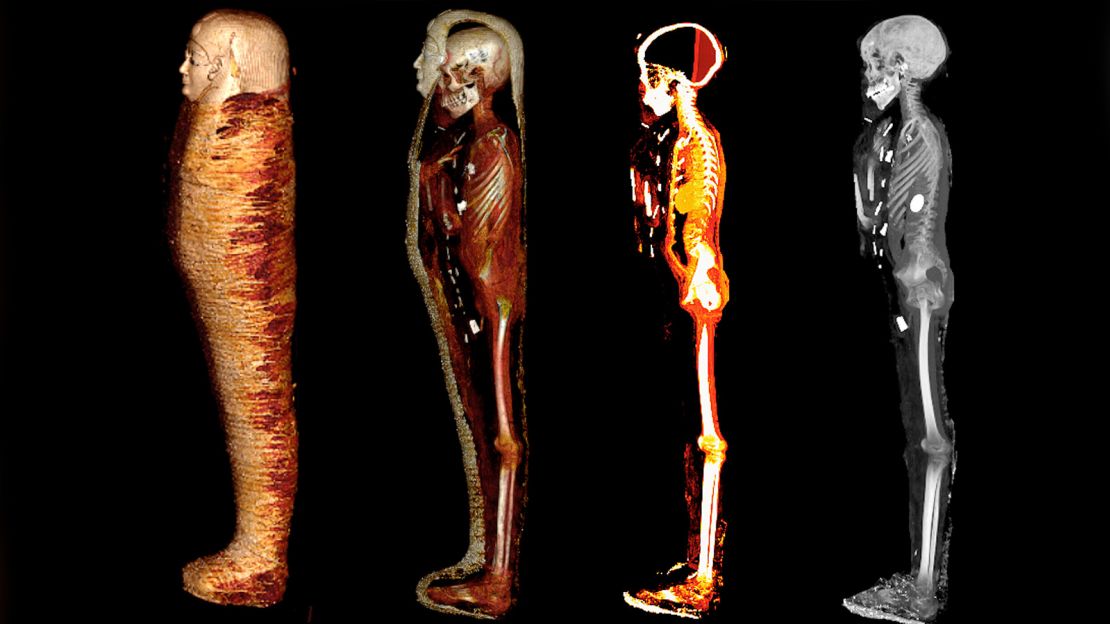 When a teenage boy died 2,300 years ago in Egypt, he was mummified and adorned with 49 protective amulets and a golden mask to guide him in the afterlife.
Researchers discovered the amulets placed on and inside the body of the mummified "golden boy" when they used computerized tomography scans to digitally unwrap the remains without disturbing them.
His remains were first uncovered in 1916 at a cemetery called Nag el-Hassay, which was used between approximately 332 BC and 30 BC in southern Egypt. Thousands of preserved bodies, were excavated in Egypt in the 19th and early 20th centuries before being moved to the Egyptian Museum in Cairo.
Like many others, the mummy remained unexamined and was moved into the museum's basement.
Although researchers are interested in learning more about ancient human health, unwrapping mummified remains is a destructive process. In recent years, researchers have used CT scans to peer beneath the wrappings while leaving the bodies intact.
Scans showed that the boy, thought to have been between 14 and 15 years old, wore a gilded head mask inlaid with stones and a protective covering called a cartonnage across his torso. All of his organs had been removed, with the exception of his heart, and his brain was replaced with resin.
His identity remains unknown, but his good dental hygiene, the high quality of his mummification and the amulets suggest he was of high socioeconomic status, according to the study.
The golden boy has been moved to the main exhibition hall of the Egyptian Museum and will be surrounded by CT images and the copy of the heart scarab to provide more insight into the mummification process, and the death rites of ancient Egyptians.
Read the full story here.
By Ashley Strickland
Photo of the day