Just days into Kevin McCarthy's tenure, Republican Rep. Don Bacon of Nebraska had an issue he needed the House speaker to address.
Bacon told CNN he had the impression that two bills were being fast tracked for floor votes. Neither was on the calendar officially, but Bacon was worried. One of them was a hardline border bill authored by Republican Rep. Chip Roy of Texas that concerned some moderates because of the way it handled asylum claims. The other, the Fair Tax Act, moved to abolish the IRS and impose a hefty sales tax instead.
Neither bill, Bacon argued to McCarthy's staff in a phone call last week, had the votes to pass with members of the centrist-leaning Main Street Caucus. Both, he said, could be improved with amendments and by going through the committee process.
"I called and said that's BS," Bacon told CNN of the idea these bills would go straight to the floor. "It's gotta go through committee just like every other bill, and I think these bills will be improved."
He was assured: The bills would go through regular order.
It's the kind of member management and careful tap dance that foreshadows the delicate balance ahead for GOP leadership. Their majority is narrow and divided sharply between the moderates – who hail from Biden-won districts and are the reason Republicans have the majority in the first place – and the hardliners who from the outset have asserted themselves as the ultimate deciders of McCarthy's fate as speaker.
That dynamic, combined with a lengthy list of concessions McCarthy made in his quest to secure the speaker's gavel, could make it more difficult for the House GOP to pass even messaging bills – let alone essential and heavier lifts like raising the nation's borrowing limit or politically dicey questions like whether to impeach President Joe Biden or a member of his Cabinet.
Further complicating matters, McCarthy abolished the House's remote voting system put in place during the pandemic, making the GOP's razor-thin majority even more tenuous. Already, House Republicans are down one vote for the next few weeks with the absence of Rep. Greg Steube of Florida, who was recently injured after a fall.
"Our biggest challenge will be attendance," House Majority Whip Tom Emmer told CNN in an interview. "People staying healthy and staying on the field."
It's an issue Emmer is already trying to encourage members to communicate with him about early.
In a closed-door meeting Wednesday, Emmer asked members for a few things he argued would help Republicans succeed in the months ahead. First, he told them, he needed to know if members had even the smallest unease with legislation before it came to the floor. Second, he asked them to trust him with their personal business. Members have families, health issues, absences and their own calendars to manage, he acknowledged during the meeting. But with a narrow margin, even a few absences can cause a calamity on the floor.
Emmer said he told his conference Wednesday, "We are not in the business of discussing your business. You gotta view us as a small-town law office. Information comes in, but it doesn't go out."
It's a familiar saga for any new leadership, Democratic or Republican, in which the campaign rhetoric is always harder to implement than it is to promise. Republicans were united on the trail in their messages against crime, an overrun border, out-of-control spending and an inept IRS. But the very real details of how to fix the issues now with a narrow and diverse majority that can't vote remotely anymore are already proving to be a test for leaders and the entire Republican conference – especially after McCarthy committed to a more transparent legislative process.
"We all say we want regular order and the old traditional process. Well, this is what it entails," Rep. Mike Johnson of Louisiana, a member of the GOP leadership team, told CNN. "It may slow things down, but it's healthy for the institution."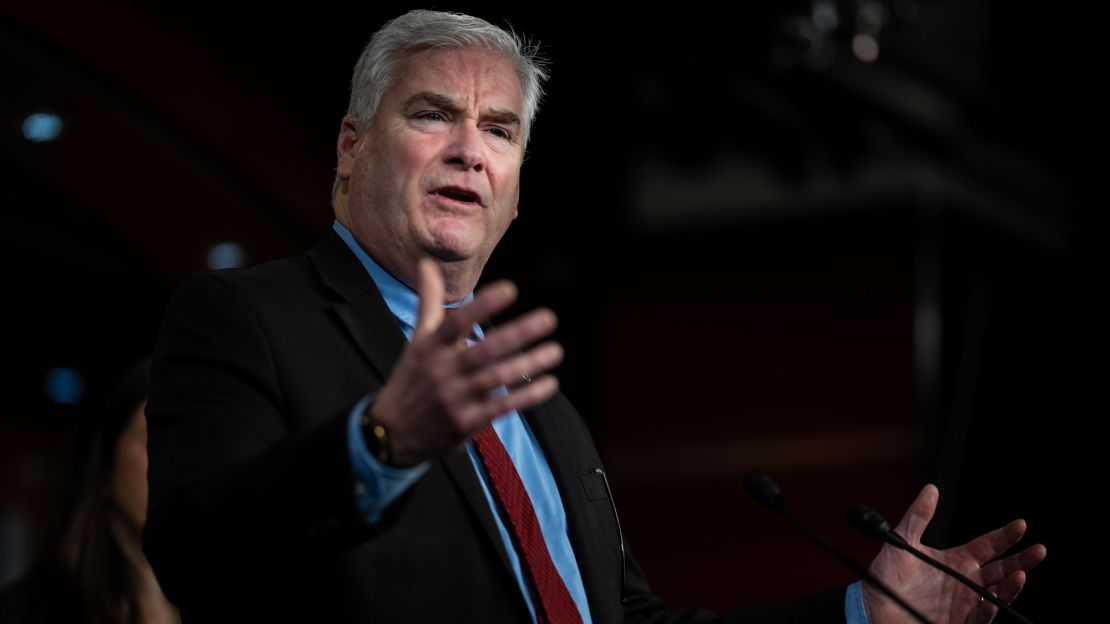 The hardest job in Washington
Emmer now finds himself smack dab in the middle of the fray. A lawmaker who cut his teeth as the director of the party's campaign arm in the last two election cycles, Emmer credits part of his ascension to leadership with the lessons he learned as a hockey coach and in the state legislature in Minnesota, often regaling his staff and members with stories from his days navigating team dynamics in a sport that is everything back home.
Emmer's biggest job now: counting. It's a practice he's already become familiar with in the opening days of the 118th Congress. It was Emmer and his "cheerful persistence," Republican Rep. Patrick McHenry of North Carolina recalled, who helped forge the negotiations between the 20 hardliners and the Speaker's office that eventually won McCarthy the gavel after 15 ballots.
"He understands the political moment we are in, and he understands members and he actually is secretly a policy guy too. It's a tough job, but he has the capacity to pull people together," McHenry said. "He's quite flexible in how he responds, but he is dogged in pursuing the outcome."
During the heated speaker's race, Emmer was seen as a trusted negotiator even for conservatives who were more hesitant to engage directly with McCarthy after a tense conference meeting early in the race.
"Tom's pretty open. You kind of know where you stand right up front whether you like it or not, which is good," Republican Rep. Scott Perry of Pennsylvania, one of those 20 hardliners, told CNN. "He's direct."
That directness, Emmer told CNN in an interview comes from years in the state legislature where he used to shudder at messages from his more seasoned colleagues that he needed to keep his "powder dry."
"In my mind, I think you get a better result when you have some tension, when you have some conflict, when you get people … you poke them until they get upset and they want to tell you something," Emmer said. "Too many people in this business do not want to offend. They don't want to have that discussion and because they don't want to offend another human being, they don't tell you what they are actually thinking and what is bothering them."
Emmer's philosophy is his office has to be a safe space, a place where members can come freely, early and often with their concerns, some of which he is already familiar with after shepherding them through their elections as chairman of the National Republican Congressional Committee.
"He knows a lot of these new members because he helped recruit them and helped them win their elections," said Rep. Jeff Duncan, a Republican from South Carolina. "That gives him a leg up."
But Emmer's most challenging days are ahead with the House on a collision course with the White House on the debt ceiling and the country's financial outlook at stake. McCarthy promised he wouldn't put a clean debt ceiling bill on the floor and that any increase in the country's borrowing limit would have to come with spending cuts. What and how deep those cuts are could be yet another place where GOP disagreements take hold.
While House Republicans – including those in Biden-won districts – are largely in agreement with McCarthy's position that they should demand spending cuts in exchange for raising the debt ceiling, there's less consensus about where those cuts should come from or whether they should touch entitlement programs.
And then there are some Republicans, such as hardline conservative Rep. Andy Biggs of Arizona, who don't think they should raise the nation's borrowing limit under any circumstances, further complicating the path forward for GOP leaders.
"Everybody's conservative, until it cuts their program," said South Carolina Rep. Ralph Norman, a conservative hardliner. "So we'll see how it works out."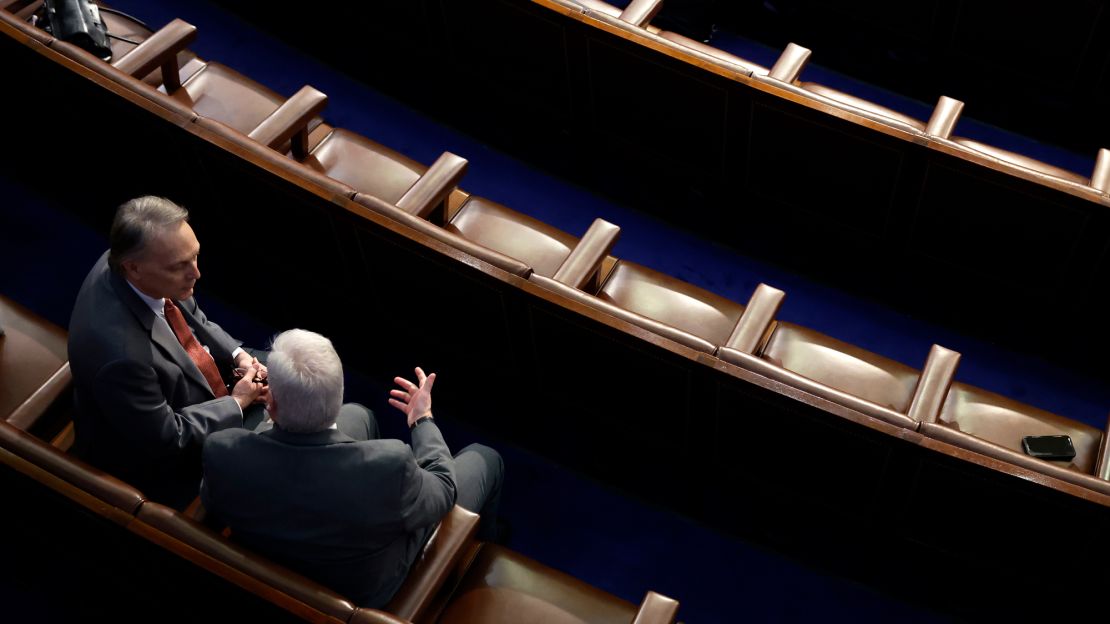 The early hiccups
In the opening days of the new Congress, the conference has already found itself at odds over legislation that was supposed to be the easy stuff.
Bills that seemed to unite the conference in the minority were punted. One of them, legislation that would require prosecutors to report the data of crimes they chose to prosecute and not to prosecute, stalled out after conservatives raised concerns about the federal government imposing too much power in local jurisdictions. A vote on a resolution on policing also was delayed as was a vote on legislation that would have required gun shop owners to call immigration services if an immigrant residing in the US illegally tried to buy a gun.
Even the House rules package, which governs how the House operates and is the first piece of legislation the chamber votes on each Congress, had become a point of contention inside the Republican conference, with some members worried about the deals McCarthy cut to become speaker.
Leadership and rank-and-file members chalk up some of the early scuttles as growing pains, but not a sign of things to come. They also argue that working out the kinks before bills come to the floor will only strengthen the legislative process, even if it slows things down.
"Bills are always better when they've gone through committee first," McCarthy told CNN. "Look, we've got a five-seat majority. When we had a 27-seat majority, we had challenges. But you can't just throw something on the floor. That's why the committee will be a better process."