More than 40 million people from Texas to West Virginia are under winter weather alerts Monday as a system threatens heavy precipitation, significant icing and bitter cold, with roads due to be treacherous and quick frostbite possible in places.
Ice accumulation is expected across at least 15 states, the National Weather Service's Weather Prediction Center said.
"Total freezing rain amounts could become significant across parts of central Texas, southwest Oklahoma, central Arkansas, and western Tennessee, where over a quarter inch of ice accrual is forecast. Additionally, low to moderate chances for three-day ice accretion over a half inch exists over parts of central Texas and Arkansas," the center said.
Wintry precipitation will come in several waves across the region through Wednesday, and while there may be breaks in the active weather, roads will remain slick throughout the event as temperatures stay cold.
Dangerously bitter cold air also settled in behind the arctic front as it slowly moved through the West over the weekend, with more than 15 million people under wind chill warnings Monday morning.
Wind chills as low as 45 degrees below zero are possible. The coldest wind chills can cause frostbite in a little as 10 minutes.
Here's what to expect in the coming days:
Monday: Freezing rain and sleet is likely to begin Monday morning from parts of Texas to the Ohio and Tennessee Valleys, while a mass of cold air delivers temperatures up to 30 degrees below average from the central High Plains to the Upper Midwest. Meanwhile, snow is expected in parts of the Central Appalachians and showers are forecast for parts of the Lower Mississippi, Tennessee and Ohio Valleys, as well as parts of the Northeast, the Mid-Atlantic and Southeast.
Monday night: An ice storm warning goes into effect Monday evening for Memphis and surrounding areas in Tennessee, Arkansas and Mississippi. The warning is expected to last through Wednesday afternoon and travel could be "nearly impossible," the warning states.
Tuesday and beyond: The freezing precipitation will continue into Tuesday with parts of Texas and Oklahoma, including Austin, Dallas and Oklahoma City, under winter weather alerts through Wednesday. Heavy rain and flash flooding concerns rise in eastern Texas by Tuesday, with a slight risk of excessive rainfall in place from eastern Texas to northwest Louisiana Wednesday.
In Austin, freezing rain could begin as early as Monday morning. Icing will be possible mainly late at night through mid-morning, when temperatures will be coldest. Dallas is also expected to see significant icing from one-tenth to a quarter of an inch.
Snowfall up to an inch and ice around two-tenths of an inch are possible in Oklahoma City. Meanwhile, snow and sleet up to an inch and ice up to a tenth of an inch are possible in Springfield, Missouri, and ice accumulation up to a tenth of an inch in St. Louis.
"The snow will result in reduced visibility and the snow/ice will produce hazardous driving conditions," the weather service warned.
Storms make for hazardous conditions on the road
The most significant travel impacts in the Texas area are expected Tuesday, with icy bridges and slick roadways possible, according to the weather service's Fort Worth office. Drivers were asked to watch out for patches of black ice and slippery roadways.
"Avoid travel if you can, but if you have to get out, watch out for ice/black ice, make sure to give yourself plenty of time and to slow down while driving," the weather service said.
In Oklahoma, deteriorating travel conditions were expected to begin Monday morning as sleet and freezing rain moved into the area, according to the weather service office in Norman.
And as freezing drizzle spread into central Illinois Sunday evening, the weather service office in Lincoln warned that slick roadways, sidewalks and parking lots are possible. "Use caution if heading out tonight," forecasters said.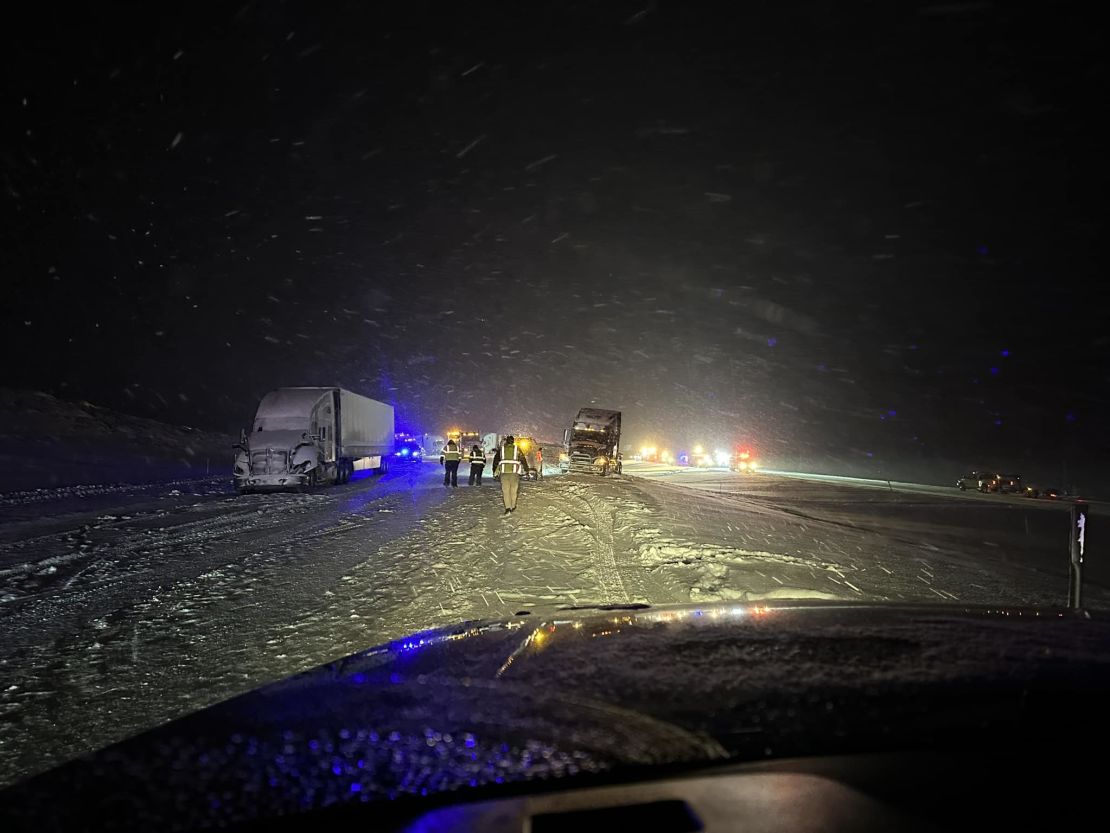 Poor weather may have been a factor in a deadly multi-vehicle crash in Carbon County, Wyoming, over the weekend.
The crash on Interstate 80 left one person dead and injured several others Saturday evening as an arctic front was slowly moving through the area.
While the exact cause of the collision it is not known, excessive blowing snow and winds kept visibility down when it happened – even at times when no new snow was falling. Areas along the I-80 saw between 1 and 5 inches of snow, with isolated areas along the highway seeing even higher accumulations.
A total of 44 vehicles collided between two separate crashes on the interstate, the post stated.
CNN's Monica Garrett and Nouran Salahieh contributed to this report.