Sneakers designed to feel like running barefoot used to be the hottest phenomenon in exercise. Now, the opposite is true. The ugliest, chunkiest sneaker brand is flying off the shelves.
Hoka, which started in 2009 in France as a running shoe for hardcore marathoners, is growing rapidly with casual runners, hikers and weightlifters. The brand, which hawks $125-and-up ultra-cushioned shoes, has also become something of a fashion symbol outside of exercise. Hoka is appealing to consumers looking for everyday walking shoes, and it's been spotted on celebrities, including Gwyneth Paltrow and Emily Ratajkowski.
"This is the antithesis of minimalist sneakers. It's the maximum amount of comfort," said John Fisher, the former CEO of Saucony and currently a senior lecturer at Boston College's Carroll School of Management. "They take comfort and they translate it to the greatest depth of midsole and outsole on the market."
Hoka, owned by Deckers (DECK), the company behind Ugg and Teva shoe brands, hit $892 million in sales in 2021, a 56% increase from the year prior. On Thursday, when Deckers (DECK) releases sales for 2022, the brand is expected to announce Hoka's revenue topped $1 billion.
Hoka's growth reflects a careful expansion strategy and consumers prioritizing casual, comfortable attire they can wear to exercise, work and throughout the day.
"They were able to successfully update the 'dad shoe' or the 'ugly shoe'" by investing in the functional benefits of the sneakers, said Elizabeth Semmelhack, director and senior curator at the Bata Shoe Museum in Toronto.
It's an unexpected success story.
When Deckers bought Hoka in 2012, the brand had just over $2 million in sales. Nobody outside of elite runners had heard of it.
Hoka, with its with its bulky appearance and oversized outsoles, was an outlier in athletic shoe stores filled with lightweight and slim sneakers influenced by the leading apparel companies.
At the time, so-called minimalist sneakers were gaining in popularity. In 2005, Nike launched its Nike Free line, which set off a wave of similar versions from rivals.
"There were a lot of brands trying to emulate that look," said Jay Sole, a retail analyst at UBS. "There wasn't anyone doing what Hoka was doing."
But Hoka carved out a niche in specialty running shops.
It built a strong reputation among ultra-marathon runners who choose sneakers that they believe will help prevent injuries, said Sole. Many long- distance runners are more concerned with performance than style or brand, he noted.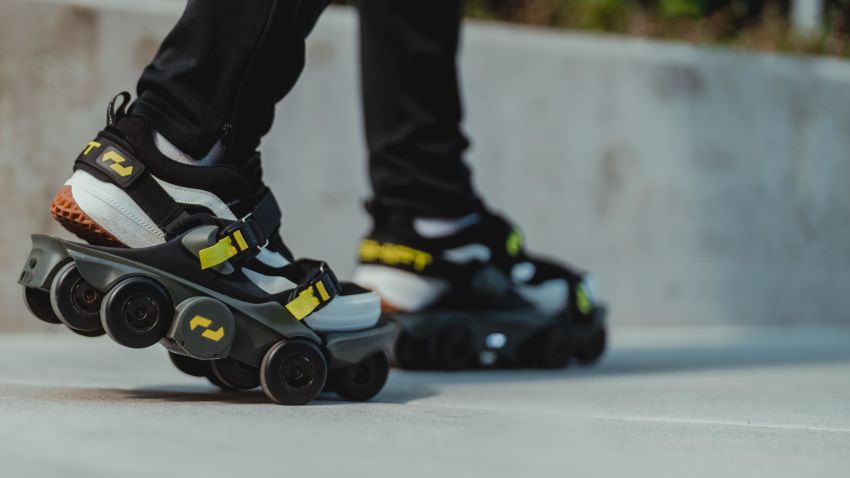 These battery-powered shoes make you walk 2.5 times faster
01:46
- Source: CNN Business
Hoka's bulky silhouette helped it stand out with marathoners.
"That chunky heel says to people 'that's the shoe I can wear and run long distance and not get hurt,' Sole said.
As Hoka became popular with marathoners, more casual runners began to see them in the wild and opted to buy the shoes. The brand capitalized on its wider appeal by adding shoes for trail running, hiking, weightlifting and walking.
It also broadened its wholesale customers, moving into mainstream shoe and sporting-goods chains like Dick's Sporting Goods (DKS), REI and Zappos.
By 2019, Hoka sales topped $220 million. A year later, they reached $350 million.
To keep growing, Hoka plans to release new products more frequently, including clothing, and open standalone retail stores to introduce the brand to customers who've never heard of it.
"We don't see this as just a running brand," Deckers CEO David Powers said in October. "This is a running, trail, hike brand that is more like a North Face" than Brooks running shoes.
But it's unlikely Hoka will ever expand to mass retailers like Walmart (WMT) or Amazon (AMZN) and risk giving up its premium price and brand positioning.
"Brands are careful not to give up a premium position," said Sole. "The risk in that is you can damage pricing."