Editor's Note: Editor's Note: A version of this story appeared in CNN's Meanwhile in China newsletter, a three-times-a-week update exploring what you need to know about the country's rise and how it impacts the world. Sign up here.
When Antony Blinken makes an expected trip to Beijing in the coming days for what would be the first visit to China by a US secretary of state since 2018, he will be cutting a stark contrast to the scene in the Chinese capital one year earlier.
Then, Chinese leader Xi Jinping welcomed Russian President Vladimir Putin for the opening of the Beijing Olympics – meeting for talks and dinner in Putin's honor, and declaring a "no limits" partnership between the two neighbors.
Weeks later, as Russian tanks rolled across the border into Ukraine starting an invasion that would devastate the country and cause a humanitarian crisis, Chinese leaders did not shrink from that declaration.
Though Beijing claimed impartiality in the conflict and no advance knowledge of Russia's intent, it also refused to condemn Moscow. Instead, it parroted Kremlin lines blaming NATO for provoking the conflict – further fracturing relationships with both Europe and the US.
A year on, the contrast of a Blinken visit would be no coincidence.
Economically drained by its now-abandoned zero-Covid strategy, Beijing has been softening its tone on foreign affairs and upping its diplomacy with Western governments, analysts say, in a bid to win back lost ground and stabilize its relations.
In meetings with Blinken during his expected early February trip – as well as European leaders who've signaled they may visit in the coming months – Chinese counterparts are likely to emphasize their long-standing calls for a peaceful resolution and play up what they claim is China's "objective and impartial position" on the conflict, analysts say.
But while the optics may be different from this time last year, China's support for Russia – when measured by its annual trade, diplomatic engagements and schedule of joint military exercises – tells a different story.
Those metrics show that over the past year China has continued to bolster, not retreat from, its "no limits" partnership – a relationship that has been strengthening in recent years and which analysts say Beijing continues to view as key to its fundamental goals of maintaining national security and pushing back at a US-led world order.
"China is very skilled in calibrating the narrative depending on the audience," said Alexander Gabuev, a senior fellow at the Carnegie Endowment for International Peace.
But when it comes to China's ties with Russia in the wake of the Ukraine war, "I don't see any buyer's remorse," rather, he added, "China is helping itself to the opportunities that this crisis provides."
Retired colonel has a theory about why suspected Chinese spy balloon is over Montana
'Global partner'
Since the early days of the war in Ukraine, US President Joe Biden's administration has warned the Chinese government of potential consequences for any material support for Putin's invasion.
US intelligence officials have consistently said they have not seen evidence China provided lethal aid to Russia, but the US recently raised concerns with China about evidence suggesting state-owned Chinese companies had sold Russia non-lethal equipment – a charge Beijing vehemently denies.
While a handful of Chinese companies have been placed on US blacklists in connection with the conflict, most have appeared to calibrate their business to steer clear of violating the extensive sanctions unleashed by the US and its allies against Moscow.
Beijing has long stressed that it seeks to play a "constructive role" toward peaceful resolution of the conflict – and during a September meeting, Putin conceded Beijing had raised "questions and concerns" about the crisis.
Yet China has continued to expand trade with its northern neighbor, opening – for the first time – two permanent bridges to facilitate trade over a key border river and drumming up a record 1.28 trillion yuan ($190 billion) last year, according to Chinese data released last month.
That marked an increase of around 30% from 2021, driven in part by Chinese companies snapping up discounted oil and coal, even as other governments moved to shun Russian fuel, shouldering mounting energy prices to avoid financing Russia.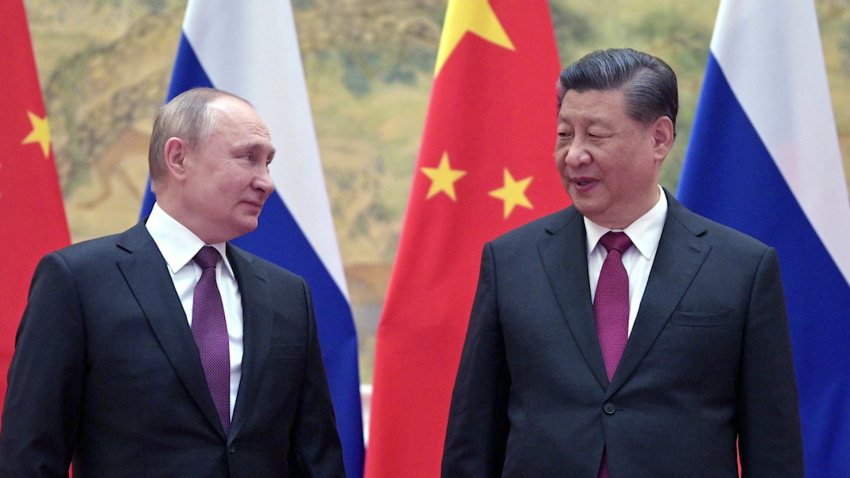 Russia's invasion of Ukraine reveals 'limits' of Russia-China relations
Xi congratulated Putin on the boosted trade numbers during a customary end-of-year talk between the two leaders, where he also called for the two countries to "enhance strategic coordination" and "continue to be each other's development opportunity and global partner." The talk, conducted over videolink in December, was one of at least four sets of conversations, including one face-to-face meeting, between Xi and Putin since the start of the war.
Xi has yet to speak to Ukrainian President Volodymyr Zelensky during that time, though the Ukrainian leader has publicly expressed an interest.
Meanwhile, the security relationship between China and Russia has raised concern among America's Asian allies.
In recent months, China has sent more than 2,000 personnel into Russia for a joint drill, dispatched its strategic warplanes for patrols alongside Russia's over the Sea of Japan and East China Sea, and deployed a number of vessels for week-long, live-fire joint naval exercises in waters near Japan.
On Tuesday, Japanese Prime Minister Fumio Kishida and visiting NATO Secretary General Jens Stoltenberg voiced concerns over Russia's "growing military cooperation with China," including "joint operations and drills in the vicinity of Japan," in a meeting in Tokyo, according to their joint statement.
But even as those engagements – as well as its flourishing trade and diplomacy – may have elevated wariness about the China-Russia relationship in the West, they remain a foundation for China's overall foreign policy, in which Russia also plays a key role bolstering China's influence at the UN, according to Jean-Pierre Cabestan, an emeritus professor at Hong Kong Baptist University's Department of Government and International Studies.
"(The relationship with Russia) prevails in terms of China's external interests … because it's aimed against the United States and the United States' alliance systems, both in Europe … and in Asia," he said. "China's main objective is to weaken those alliance systems."
'Charm offensive'
While the importance of its Russian relationship may not have changed, China has made efforts to dial down its overall rhetoric toward the West and revamp its diplomacy, analysts say, as it pushes for economic recovery following one of its worst annual economic performances in nearly half a century.
"The overwhelming priority for China is economic recovery, and economic recovery requires … not having a destabilizing relationship with the United States," said Yun Sun, director of the China Program at the Stimson Center think tank in Washington.
"That's contributing to this charm offensive," she said, adding that this is more likely a short term maneuver as China seeks to recover its faltering growth – not a fundamental revision of Beijing's assertive foreign policy.
Western governments will be carefully watching this tone shift and diplomatic outreach – and whether it has any potential impact on the war in Ukraine.
For Blinken, who is expected to arrive in China on the heels of a relatively amicable face-to-face between Biden and Xi at the Group of 20 in November – the Ukraine war is expected to be one of several key issues of focus during the visit.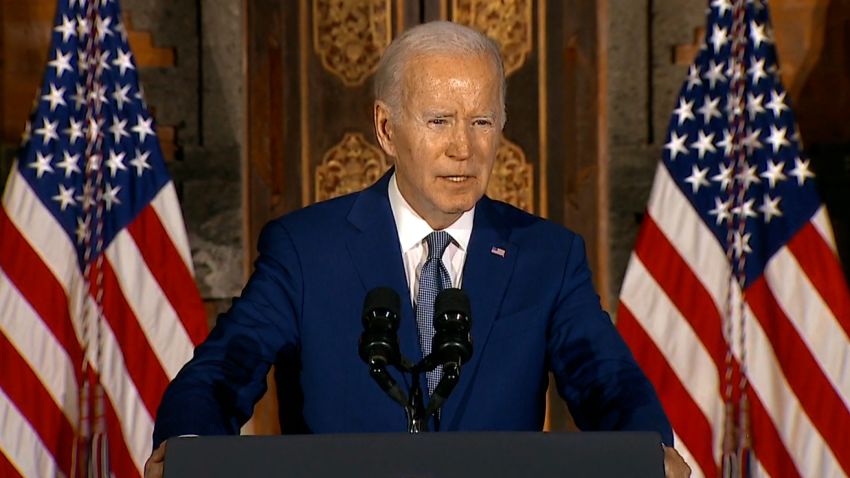 Biden describes what he discussed with Xi Jinping in G20 meeting
The secretary will likely repeat past American warnings about supporting the Russian war efforts, but may also look to scope out any potential for Beijing to influence Moscow toward peace, analysts say.
This has been a line of thinking in Europe, where leaders like French President Emmanuel Macron, who is also expected to visit China in the coming months, have expressed hope for Beijing to assume such a role.
But analysts are skeptical: China is "very carefully feeding these misconceptions" that it could influence Putin over the war – something Beijing likely has little confidence it could do, according to Carnegie Endowment's Gabuev.
While managing expectations, China could look to parlay this perception to "get some goodwill," but Beijing will still remain well aware that the root of tensions and challenges in its relationships with Western powers run far deeper than concerns over its rapport with Russia, he said.
That means expectations that China could help the West to resolve the conflict – an outcome China too has called for – are likely to meet their limit at Beijing's bottom line.
As Sun puts it: "You will never see a scenario where China abandons Russia because in China's dictionary, if Russia stands to fall, China is next."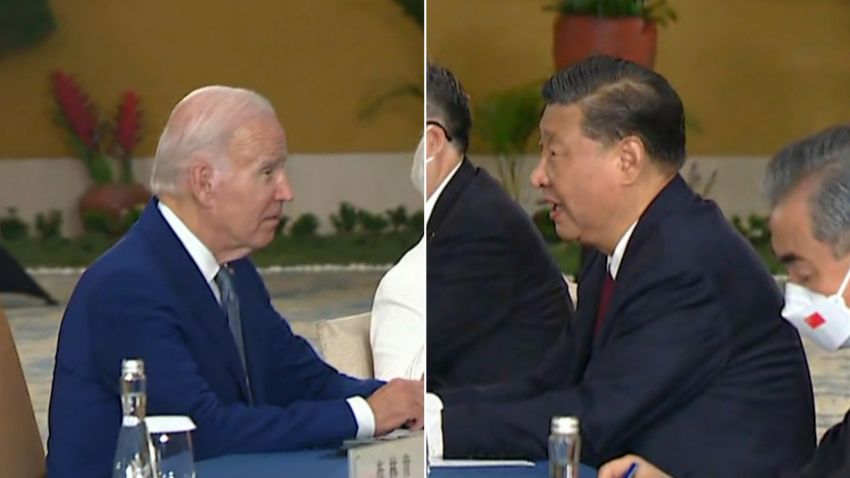 Hear what Biden and Xi said to each other in first meeting as heads of state