Science fiction regularly explores exaggerated visions of real-world problems, including apprehensions about the climate crisis. In the last few weeks, that's produced a pair projects, Syfy's "The Ark" and the Netflix movie "JUNG_E," which begin from the premise that humans have so defiled Earth they need to venture out into space in order to find a new place to live.
The idea certainly isn't a new one, having provided the foundation for the 2008 Disney/Pixar movie "WALL-E," in which a lonely robot was left behind while bloated people took refuge in space.
These new productions use the threat of climate calamity to explore different themes and sci-fi motifs – in the case of "The Ark," which comes from producer Dean Devlin (of "Independence Day" and "Stargate" renown), what amounts to a wagon train of pioneers on a space-faring vessel; and in the South Korean film, a contemplation of artificial intelligence through a mother-daughter relationship and a decades-long civil war involving outposts of survivors.
Both fall somewhat flat, in separate ways.
Set 100 years in the future, "The Ark" focuses on Ark One, the first of several massive ships dispatched into space, each seeking to establish colonies that can offer salvation to those left behind. The occupants of the craft, however, are awakened prematurely from their cryogenic sleep by an unknown accident that has killed most of the "mentor class," forcing junior officers and more youthful personnel to try to save the mission and the crew of 150 survivors on board.
Alas, that conceit results in a lot of young-adult-oriented flourishes that come across as particularly stilted, as if the "Star Trek" cadet class was put in charge amid pressing concerns about water, food and other rations that weren't expected to be needed this early in the voyage.
If this sort of series is only as good as its characters, "The Ark" is a poorly populated enterprise, not to be confused with the Enterprise.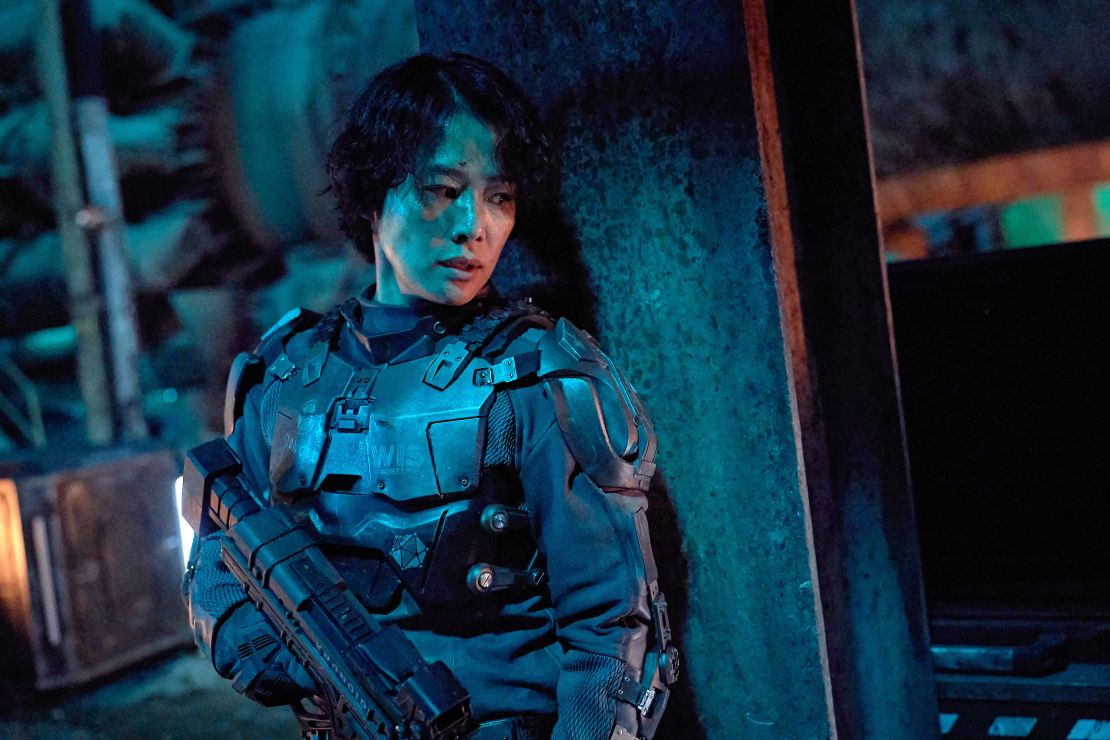 As for "JUNG_E," the film turns out to be visually striking and narratively muddled, with a story that starts somewhere in the middle, throws around lots of provocative science-fiction concepts and comes to a rather abrupt end.
The narrative opens with humanity embroiled in 40 years of civil war, after climate change has forced people to off-planet shelters that have declared war on each other. Seeking to end the conflict, a team of scientists is working to create an army of warriors based on a legendary soldier, Yun Jung-yi (Kim Hyun-joo), using her brain data in android hosts more than 30 years after her death.
Adding an emotional hook, the project is spearheaded by the soldier's now-grown daughter, Yun Seo-hyun (Kang Soo-youn, who died last year, shortly after completing work on the movie).
Directed by Yeon Sang-ho ("Train to Busan"), "JUNG_E" devotes too much of its time to those research simulations, as the daughter and her team try to perfect the prototype.
The importance of that plan feels hazy – that is, why the model in question is deemed a potential game-changer in the war – further confused by the machinations of the conglomerate behind it amid a conflict that has dragged on for decades.
Perhaps inevitably, both "The Ark" and "JUNG_E" feel like mash-ups of previous sci-fi concepts. That includes the latter's impressive design and look, which perhaps most closely resemble the Will Smith movie "I, Robot" in terms of the androids, with a pinch of "Blade Runner's" grimy dystopia.
Early pioneers sought better lives, so there are old-school underpinnings to the notion of venturing out among the stars – "The final frontier," as Gene Roddenberry eloquently put it – as humanity pursues refuge. That becomes more sobering, of course, when people are forced to do so by their own failed stewardship of the planet.
Yet while the concept is provocative, in science fiction it's inevitably just a jumping-off point – and with these two projects, a start that leads to fairly forgettable journeys into the unknown.
"The Ark" premieres February 1 at 10 p.m. ET on Syfy and Peacock. "JUNG_E" is available on Netflix.