Evacuation and shelter-in-place orders remain in effect in a northeastern Ohio town after a train derailment sparked a massive fire and concerns about air quality.
A Norfolk Southern train with more than 100 cars derailed in East Palestine, about 15 miles south of Youngstown, according to the National Transportation Safety Board.
There were 20 cars with hazardous material in the train – 10 of which derailed. Of those 10, five were carrying vinyl chloride, the NTSB said Saturday night.
"We have not confirmed vinyl chloride has been released other than from the pressure release devices," the agency added.
NTSB board member Michael Graham said in a news conference earlier Saturday there was still an "active fire scene," and could not estimate when the flames would be put out.
The cause of the derailment was not known Saturday.
Investigators say the train had image and data recorders onboard. It will take four to six weeks for the NTSB to have a preliminary report on the accident, Graham said.
No injuries were reported.
EPA: No harmful levels of compounds in air
One car released some of the vinyl chloride through a safety release valve, Graham said. State environmental officials say they have not detected any harmful levels of the chemical in the community.
Exposure with vinyl chloride, a colorless gas, is associated with a higher risk of certain forms of cancer, according to the federal government's National Cancer Institute.
No harmful levels of compounds had been detected in the air as of Saturday evening, a spokesperson with the Ohio Environmental Protection Agency told CNN in an email.
"Ohio EPA will remain on site and air monitors will remain in place as long as necessary," Ohio EPA spokesperson James Lee said in a statement. "Ohio EPA has established containment to help limit any damage to local streams and rivers from water runoff from the firefighting."
The agency will work with local officials and the railroad company to "identify the nature and extent" of any possible contamination and will work to ensure cleanup efforts to protect human health and the environment, Lee said.
Evacuation order remains in effect
Officials issued a shelter-in-place order for the entire town of roughly 5,000 people, while an evacuation order was in effect within a mile of the train crossing at James Street as of early Saturday. Conaway said he did not know when those orders would be lifted.
Two evacuation stations have opened to provide shelter to residents, and the Red Cross has been notified, Trent Conaway, the mayor of East Palestine said.
Conaway on Saturday called for the "exercise of all necessary emergency authority for protection of lives and the property of the residents of the Village of East Palestine, Ohio."
The proclamation also called on citizens to comply with the emergency measures.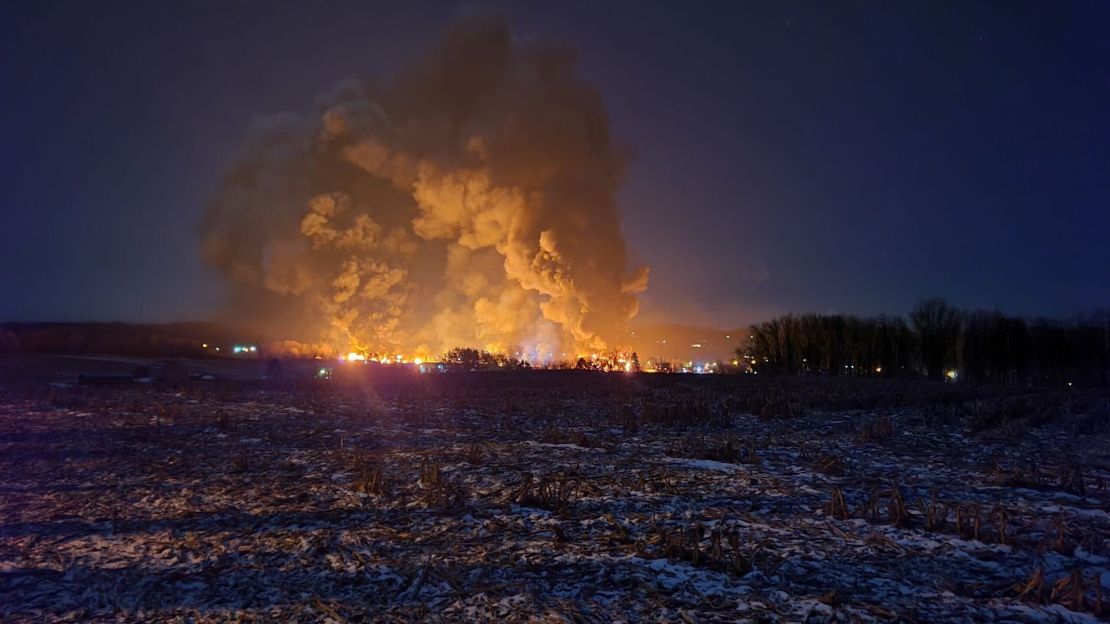 Traci Spratt, the interim manager of the village of East Palestine, said late Saturday the one-mile radius evacuation order from the incident remained in place "until further notice," and stressed, "We need everyone to stay away from the scene."
Spratt also said officials were conducting "continuous air monitoring and have found zero health risks."
"The village's drinking water is safe to drink and is being continually monitored," Spratt added.
Photos from the scene showed a large, dense cloud of smoke engulfing flames atop the train. Firefighters from three states, Pennsylvania, Ohio and West Virginia responded, according to Conaway.
Pennsylvania Gov. Josh Shapiro said Saturday he was briefed on the derailment and state authorities were "prepared to help our neighbors."
The Norfolk Southern train departed from Madison, Illinois, and was bound for Conway, Pennsylvania, when it derailed, according to the NTSB.
Norfolk Southern Railway said in a statement its team members were at the scene and added it was "coordinating with federal, state and local agencies."
The company said it set up a family assistance center "to address the needs of the community and support those directly impacted."
"Additionally, we are supporting the efforts of the American Red Cross and their temporary community shelters through a $25,000 donation," the company said.
CNN has reached out to Norfolk Southern for further comment.
CNN's Andy Rose contributed to this report.