Kahramanmaras, Turkey
CNN
—
The body of a 4-year-old girl wrapped in a pink blanket was brought out Wednesday from the wreckage of a building in the Turkish city of Kahramanmaras. She's one of the latest young victims of Monday's massive quake.
Elsewhere, excavators dug out the body of man believed to be a Syrian refugee in his 40s, who seemed to be on a mattress, like many of those who died after the quake struck around 4 a.m.
In the room where he was found were children's toys, and a box for a Barbie doll. It was unclear if there was anyone else under the rubble.
In a neighboring building, also collapsed, rescuers were digging down from the top to try to reach one or possibly two people thought to be alive. A generator was brought up to power a pneumatic hand-operated drill; the man directing it cleared away the rubble with his bare hands.
He appeared to have spotted signs of life beneath the wreckage, but rescuers sent away a waiting ambulance, saying there was still a lot of work to do.
More than two days after the deadly earthquake and aftershocks rocked the city, rescue teams continued to search through the rubble, the tempo picking up as the day wore on.
More than 15,000 people have now been confirmed as having died across southern Turkey and neighboring Syria.
Heavy machinery has been increasingly brought into areas where a day earlier cautious searchers relied on their hands to dig through the rubble. The risk posed to those trapped alive must be weighed against their chances of surviving many more hours in the bitter cold.
In the lower part of the city, where buildings are predominantly older and the damage is worse, the sound of mechanical excavators is now everywhere.
While some people are still being pulled alive from the debris, most of the time rescuers are retrieving bodies.
A man volunteering at one of the hospitals in Kahramanmaras told CNN Wednesday there were 350 bodies in the morgue that had not been collected by relatives because their family members had died.
As Turkey continues to reel in shock and the death toll climbs, President Recep Tayyip Erdogan on Wednesday arrived in the country's southern Kahramanmaras region, the epicenter of Monday's deadly earthquake, to take in the devastation for himself.
Flanked by officials, he visited an emergency relief area set up by the country's disaster management agency, AFAD. Row after row of shining white tents could be seen in the sports stadium, destined to house some of the thousands of families who've lost their homes.
More troops arrived Wednesday morning ahead of his visit and the police presence also appeared to have been stepped up.
In a televised briefing from the relief center, Erdogan said the government's target was to rebuild the Kahramanmaras region "in one year" and that people would get help with emergency housing.
"We can never let our citizens stay on the streets," Erdogan said. "Our state is using all its resources with AFAD and municipalities. We will continue to do so."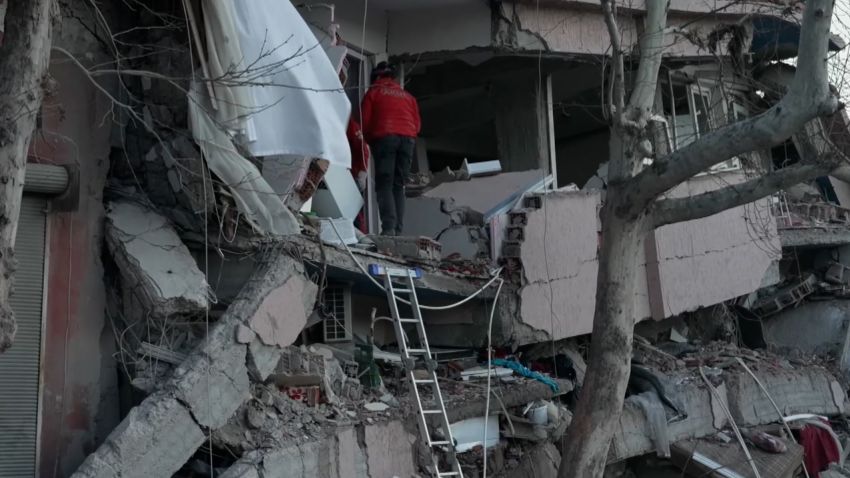 CNN captures the moment Turkey residents are rescued from debris
He acknowledged the government's initial response "had some problems" in terms of natural gas supply and roads, but said the situation was "under control." The government is planning to give 10,000 Turkish liras (around $531 USD) to help families impacted, he added.
"We are in better place today, will be even better tomorrow," he said.
Very few buildings in the city of Kahramanmaras have been left unscathed by the quakes, although those in mostly newer neighborhoods higher up the valley have suffered less obvious damage.
At the bottom of the city, many people could be heard crying and lamenting by the tumbled buildings where they or their relatives lived until disaster struck.
A handful clutched photographs of loved ones who are under the rubble, less in hope of their rescue than as an act of remembrance – holding out snaps of their children or wedding pictures and saying "they are gone."
Some anger could be seen, too, amid the debris, as desperate survivors tried to urge rescuers to search for their lost loved ones first.
In addition to the huge number of fatalities, the quake – one of the strongest to hit the region in more than 100 years – has left tens of thousands injured.
A three-month state of emergency has been declared in 10 Turkish provinces, and aid agencies have warned of "catastrophic" repercussions in northwest Syria, where millions of vulnerable and displaced people were already relying on humanitarian support.
In Kahramanmaras, all people can do is watch, and wait, in anguish as the clock ticks on efforts to find any remaining survivors.
CNN's Isil Sariyuce, Hamdi Alkhshali and Hande Atay Alam contribued reporting.