Editor's Note: A version of this story appears in today's Meanwhile in the Middle East newsletter, CNN's three-times-a-week look inside the region's biggest stories. Sign up here.
Syrian victims of the devastating earthquake that hit their country and Turkey on Monday may become hostages of the politics that have divided Syria for over a decade, analysts have warned.
The 7.8 magnitude earthquake, which struck southern Turkey in the early hours of Monday, was followed by more than 100 aftershocks and a second 7.5 magnitude earthquake. More than 11,000 have been killed across Syria and Turkey, and hundreds more are feared trapped under the rubble.
While Turkey has received an outpouring of support and aid from dozens of countries, outreach to Syria has been less enthusiastic, raising concerns that victims on one side of the Turkish-Syrian border may be neglected while others are provided for.
"Syrians must not be forgotten," Aya Majzoub, Amnesty International's deputy regional director for the Middle East and North Africa, told CNN. "Often, those who suffer the worst during such disasters are those who were already vulnerable."
Observers say politics is to blame.
Turkey is a NATO member whose international stature has only grown in recent years. Syria, on the other hand, is ruled by a myriad of disparate groups. Its regime, internationally sidelined and heavily sanctioned due to its brutal suppression of an uprising there that started in 2011, counts Iran and Russia as its closest allies – both global pariahs.
The Syrian regime is shunned by most Western countries. But leader Bashar al-Assad has begun forging ties with former enemies as regional states welcome him back into the fold. Last year, the United Arab Emirates welcomed Assad in Abu Dhabi, and last month Turkish President Recep Tayyip Erdogan said that the pair may soon meet for peace talks.
Some of the areas of Syria most impacted by the earthquake are controlled by the regime, others by Turkish-backed and US-backed opposition forces, Kurdish rebels and Sunni Islamist fighters. Idlib, one of Syria's last opposition strongholds, is controlled by Hayat Tahrir al-Sham (HTS) organization, an armed Sunni Islamist group.
"It's still an active conflict zone, the Syrian crisis is far from over," said Charles Lister, senior fellow and director of the Syria and Countering Terrorism & Extremism program at the Middle East Institute in Washington, DC. "The UN aid mission is a complicated set up."
Seventy countries and 14 international organizations have offered Turkey relief following the quake, Erdogan said on Tuesday, including the United States, the United Kingdom, the UAE, Israel and Russia.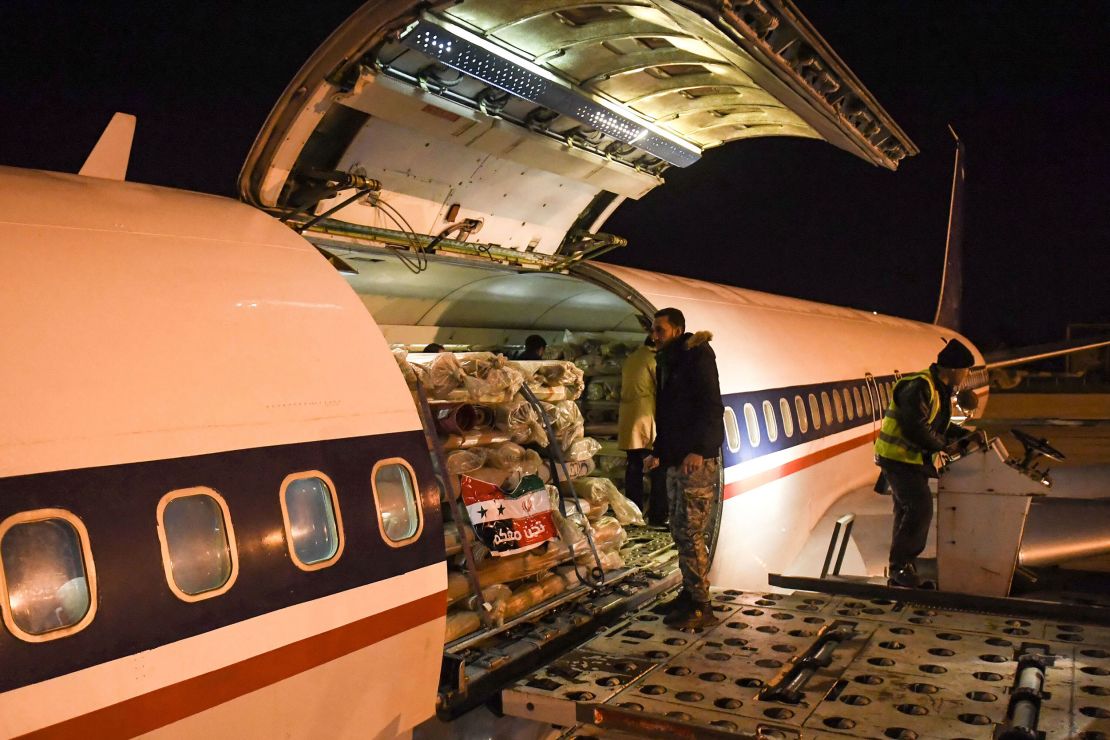 Aid must go through Damascus
The international aid situation in Syria is less clear. So far, the UAE, Iraq, Iran, Libya, Egypt, Algeria and India have already sent relief directly to regime-controlled airports. Others such as Taliban-ruled Afghanistan, Saudi Arabia, Qatar, Oman, China, Canada and the Vatican have pledged aid; however it is unclear if that relief will be sent directly to the regime.
The regime insists that all aid to the country, including aid that is meant for areas outside its control, be directed to the capital Damascus.
"We are ready to work with all who want to provide Syria, from inside Syria, so access from inside Syria is there," Syria's representative to the UN, Bassam al-Sabbagh, told a news conference in New York on Monday. "So, anyone who'd like to help Syria they can coordinate with the government and we will be ready to do so."
That hasn't been received well by activists and observers who fear that the regime could hamper timely aid to thousands of quake victims in rebel-held areas, most of whom are women and children, according to the UN.
"The Assad regime has systematically siphoned off aid and/or blocked it from reaching non-regime areas (in the past)," tweeted Mai El-Sadany, a Washington-based human rights lawyer and managing editor at the Tahrir Institute for Middle East Policy. "The international community must urgently find ways to ensure that emergency assistance and support reaches the people of northwest Syria."
Syria's ministry of foreign affairs did not respond to CNN's request for comment.